WWE Survivor Series Results: Match-by-Match Breakdown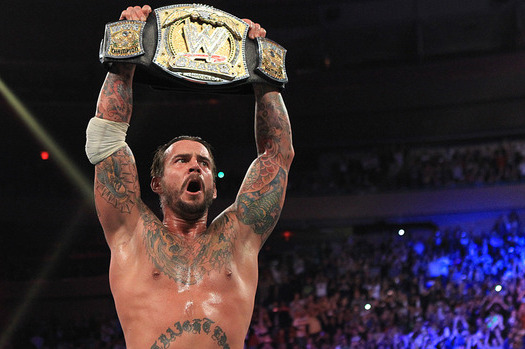 photo from wwe.com
The buildup to Survivor Series 2012 was primarily about CM Punk defending his WWE title against both Ryback and John Cena.
That main event certainly delivered, but a number of other matches surprised with their effective storytelling and thrilling action.
Fans got the gift of a bonus traditional elimination match. The Divas match was not the automatic snack break that it has historically been.
Breaking down every match on the card, this list examines who were the pay-per-view's real winners, what were the best moments and what overall rating each encounter earned.
Begin Slideshow

»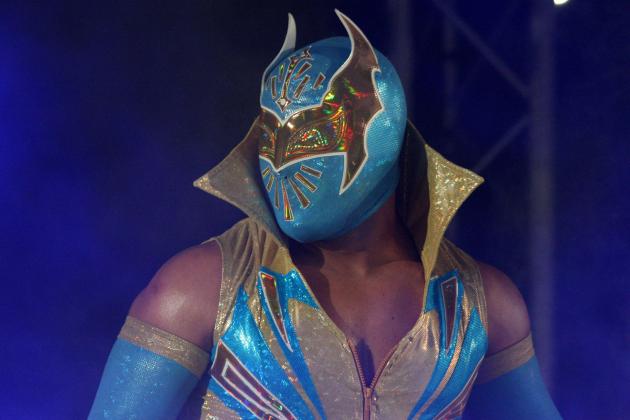 Gallo Images/Getty Images

For a match tossed in at the last minute without a smidgen of buildup, the Survivor Series opener thrilled at moments.
Gabriel and Kidd began the match by tagging in and out, dominating Epico. After a feel-out period, the pace quickened. The surplus of high-flyers provided a number of crowd-pleasing moments.
Sin Cara was graceful and exciting, becoming the spark plug that WWE has wanted him to be since the company signed him.
Tyson Kidd looked the strongest of all the superstars. He eliminated both Titus O'Neil and Epico. His mid-air dropkick to Epico was a work of art, getting the biggest reaction from the crowd.
One by one, the heel team lost each one of their members.
Darren Young became the last man standing for his team. He soon fell victim to a layup line-like series of aerial moves that did him in.
Rey Mysterio got the final shot at him and pinned him for the win.
Best Moment: Kidd's dropkick to Primo
Real Winner: The tag team division
WWE's bonus addition to the card gave four teams a chance to shine.
Rating: 3.25 out of 5 stars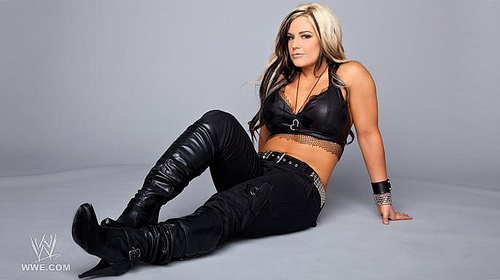 photo from wwe.com
Right before the match, a mysterious blond woman attacked Kaitlyn backstage. Kaitlyn responded with a flurry, slamming her attacker into some sound equipment and tearing off her wig.
The wig-wearing attacker turned out to be Aksana.
The dustup before the match set the tone for a surprisingly violent Divas match.
Kaitlyn and Eve started off catfighting in the middle of the ring. In a match far longer than most Divas matches, Eve fought back with kicks, Kaitlyn pounded the champion and looked great doing it.
The challenger donned a new look with olive-green pants and military boots.
Eve played an intriguing heel. She begged Kaitlyn off at times at others, smiled while choking her foe.
It was refreshing to see the women allowed to tell a complete story in the ring and for the action to become a touch brutal at spots.
Eve pinned Kaitlyn after a spinning neckbreaker for the win.
Best Moment: The two bumps the women took outside of the ring
WWE turned up the violence a touch by including both women crashing to the floor on separate occasions.
Real Winner: Kaitlyn
Despite the loss, Kaitlyn looked like a serious contender both before and during the match.
Rating: 3.5 out of 5 stars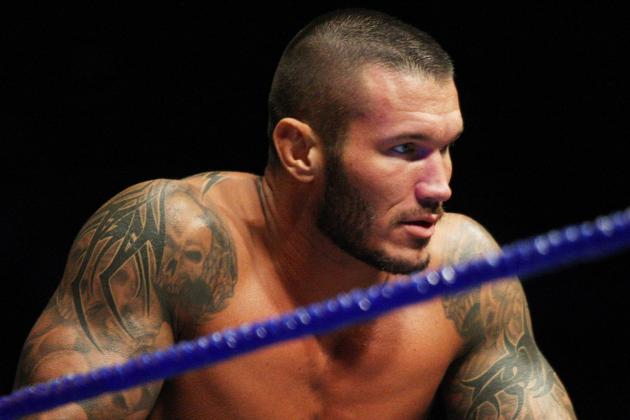 Gallo Images/Getty Images

The match that was rearranged and shuffled aplenty turned out to be pretty darn entertaining.
The crowd went ballistic for Daniel Bryan and also clearly bought Miz as a face.
The match's theme was team dysfunction. It was that flaw that allowed Ziggler to eliminate a distracted Kane early on. It looked like it might also be the downfall of Team Foley when Miz refused to tag in at first.
Ziggler sold the heck out of a monkey flip by Kofi Kingston. Kingston sparked the crowd with a beautiful springboard crossbody.
Mick Foley got into the action when he punched Ricardo Rodriguez and stuck Mr. Socko into his maw.
The teams traded eliminations until Randy Orton found himself alone against Alberto Del Rio and Dolph Ziggler.
It looked like Orton was going to continue his history of being the sole survivor of the winning team, but Ziggler thwarted a punt attempt with a superkick, capping a high-octane match.
Best Moment: Dolph Ziggler sells a Kofi Kingston monkey flip like only he can.
Real Winner: The Miz
The crowd was firmly behind WWE's newest face. He looked good eliminating Wade Barrett and knocking other members of Team Ziggler around.
Rating: 3.75 out of 5 stars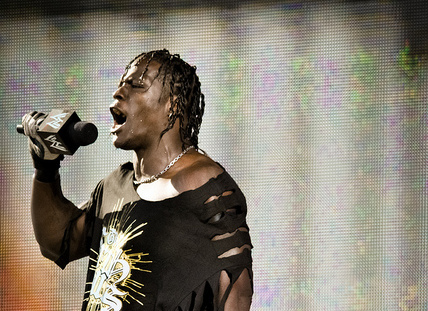 photo by Reckless Dream Photography
The United States champ sauntered to the ring while delivering an anti-American rant. Obesity references are quickly becoming his trademark.
A match that featured a contrast of styles and personality underwhelmed, despite the talent involved.
Both Truth and Cesaro seemed to be holding back, especially with their strikes. Cesaro sported bandaged fingers, so perhaps an injury had him going at less than full force.
Cesaro grounded his opponent for much of the match.
He held Truth down with a waistlock and eventually retained his title thanks to his finisher.
The match suffered from low energy. The slow pace made sense with how the match played out, but there was little variety and nothing memorable between the ropes.
Best Moment: JBL and Michael Cole's banter on commentary.
Real Winner: Antonio Cesaro
He continues his title reign and looked dominant in doing so.
Rating: 3 out of 5 stars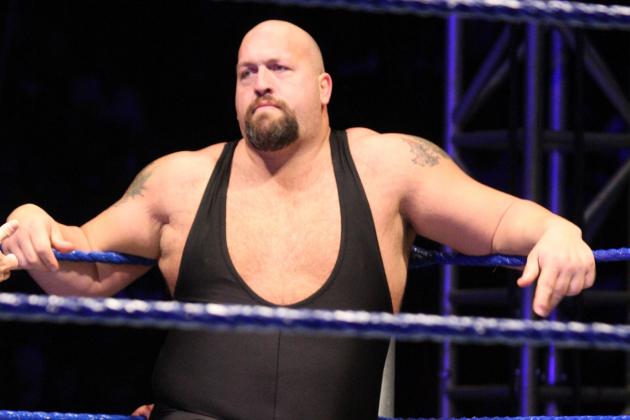 Gallo Images/Getty Images

After a delightfully brutal bout at Hell in a Cell, Sheamus and Big Show continued their in-ring war.
Sheamus began the match with a series of wild punches, going at the giant fearlessly. Big Show found himself caught up in the ropes and Sheamus took to clubbing him.
The match turned when Big Show caught Sheamus with a mid-air spear.
From that point on, Big Show pounded his opponent, delivering power move after power move. While not as intense a brawl as their Hell in a Cell fight, the two men fought hard and delivered a compelling match.
Just when it looked like Sheamus would fight all the way back from a Big Show beatdown, the champ pulled the referee in front of an incoming Brogue Kick.
While Sheamus bent over the referee in concern, Big Show swooped in and swung his massive fist for what looked like a winning strike. Another ref reversed the decision and disqualified Big Show.
Sheamus let out his fury in the form of a series of chair shots.
Best Moment: Sheamus hitting an electric chair drop to the big man.
Real Winner: Big Show and Sheamus' feud
With the controversial ending and Sheamus' post-match attack, WWE writers have plenty to work with in the coming months. Perhaps a chair match at TLC is in order.
Rating: 3.75 out of 5 stars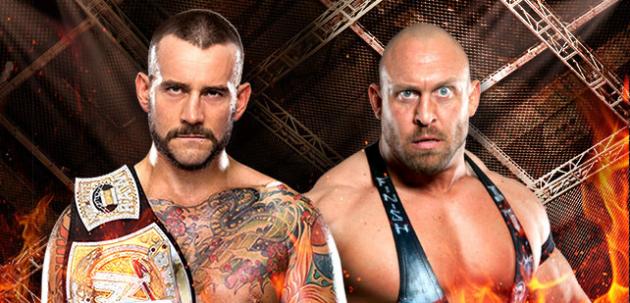 photo from wwe.com
Punk began his title defense by darting in retreat. Ryback and John Cena took turns beating on him until they were forced to face each other.
There was a big-fight feel with those two powerhouses in the ring alone.
Ryback fended off Cena's attacks, looking indestructible at times. Much of the rest of the bout involved one of the three stars preventing someone from getting a pin or submission.
The match's pace stayed frantic.
Cena became the scavenger, trying to pick up wins off other guys' moves. Ryback tore through his opposition except when he was outnumbered. Punk looked maniacal and exceedingly arrogant.
The wrestlers used the steel steps and the announce table to up the violence.
Cena kicked out of the GTS. Punk kicked out of the Attitude Adjustment.
There were several moments where it looked certain Punk would lose his title, but none more than when Ryback hit him Shell Shock.
That's when the NXT invasion began.
Wrestling super-fans everywhere must have rejoiced as Roman Reigns, Dean Ambrose and Seth Rollins stormed the ring and laid a beating on Big Hungry.
There was no indication as to why they attacked Ryback, but it allowed Punk to win and retain his WWE title. It's going to be an interesting Raw and beyond thanks to those guys.
Best Moment: The NXT guys storm onto the WWE scene by throwing Ryback through a table.
Real Winner: CM Punk
His reign will now surpass a full year. He survived seemingly impossible odds. The Rock awaits.
Rating: 4.25 out of 5 stars