UFC 154 Results: Why You Should Be Impressed by GSP's Performance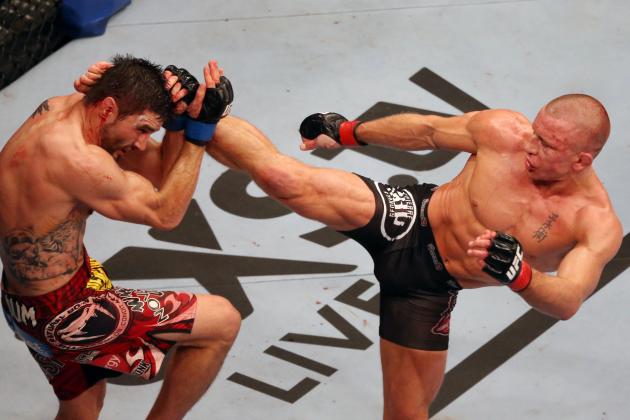 Tom Szczerbowski-US PRESSWIRE

It wasn't the easiest win of his career, but UFC welterweight champion Georges St-Pierre definitely put on an impressive performance while headlining Saturday's UFC 154 in Montreal.
Fighting in front of his hometown crowd, Canada's king of the Octagon triumphantly returned to mixed martial arts with a hard-fought, unanimous decision victory over interim title holder Carlos Condit. Reclaiming sole possession of the welterweight crown, St-Pierre proved that his knee is fully healed and that he's ready to rock the mixed martial arts world.
As always, though, there's going to be critics of the champ's performance, mostly due to the fact that St-Pierre once again did not finish his foe. However, this time around, that critique is not going to fly as there were a lot of reasons to be impressed by the champ (unless you're Nick Diaz).
Here are five reasons why GSP's return was a very impressive performance.
Begin Slideshow

»
After being out of the Octagon for over a year due to a torn ACL, the mere fact that St-Pierre came back at all should be seen as a blessing by MMA fans.
Knee injuries are scary for any athlete, but particularly for fighters who need that stability and power in order to pull off the variety of moves inherent to the sport. A lot of guys can't bounce back from an ACL tear and end up retiring—but not GSP.
St-Pierre looked great Saturday night and had zero issues with his knee, an impressive sign that the champ is back to his old self.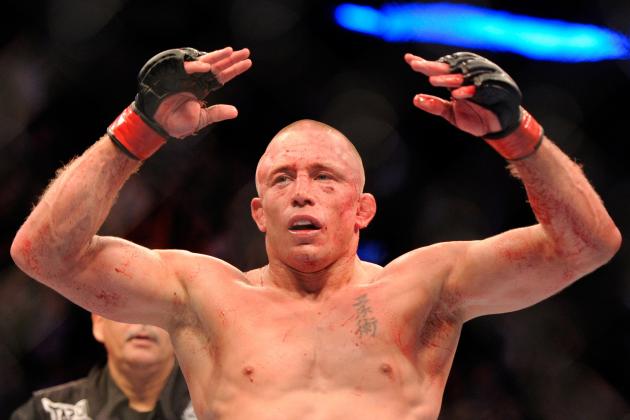 Eric Bolte-US PRESSWIRE

While I wouldn't say that ring rust was a huge issue for St-Pierre, I will admit that he did look tentative at times against Condit.
With one of the best striking defenses in all of MMA, the champ actually got caught off guard in the third round, eating a roundhouse kick to the face following a slick punching combo by the interim title holder. The blow put St-Pierre on his butt and Condit quickly swarmed with ground-and-pound strikes.
But like any seasoned champ, St-Pierre did not panic or react out of fear. The welterweight king stayed calm and did exactly what he had to do to get back to his feet and turn the tables.
Overcoming this moment of adversity is the mark of a true champ.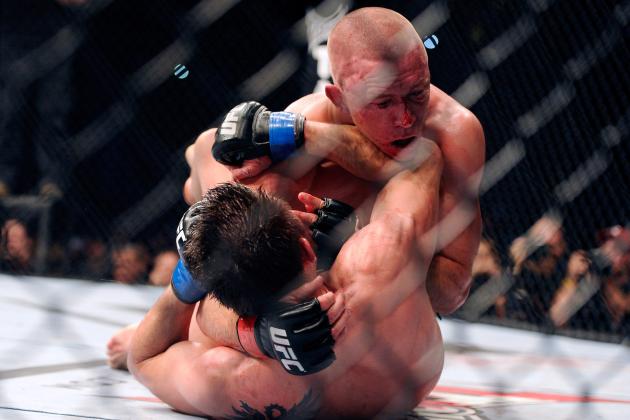 Eric Bolte-US PRESSWIRE

Not only was the champ forced to defend Condit's onslaught of strikes, but he also had to look out for "the Natural Born Killer's" slick submission attempts as well.
Whenever St-Pierre was fighting inside Condit's guard, the now former interim champ was constantly attacking off his back, throwing up armbar, triangle choke and kimura attempts whenever possible. St-Pierre, a fantastic grappler in his own right, defended each attempt calmly and with ease.
I didn't expect Condit to be so versatile off his back, but regardless, St-Pierre masterfully stopped each of his opponent's submission attempts and made him pay for it a few times with some vicious ground-and-pound strikes.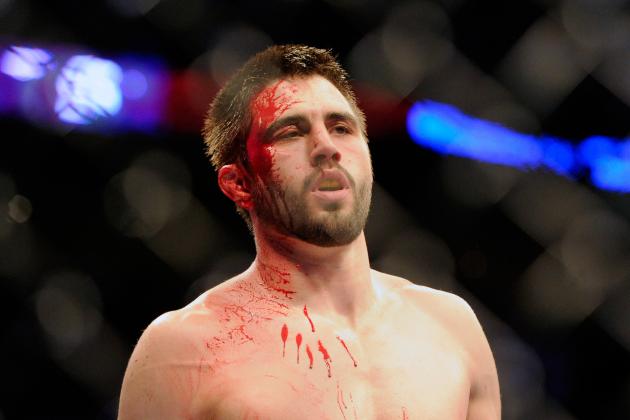 Eric Bolte-US PRESSWIRE

Overall, St-Pierre did a great job at neutralizing Condit's strengths and systematically forcing "the Natural Born Killer" to fight out of his comfort zone.
Condit's a guy who likes his distance so he can string together lengthy and creative combinations like his third-round head kick combo that knocked down GSP. Other than that mistake, however, St-Pierre did not let Condit get comfortable standing up and kept pressuring him with jabs, combos and takedowns to make him fight inside, where he's weak.
On the ground, the champ neutralized Condit's submissions and landed huge ground-and-pound strikes that started to sap the challenger's strength. While "the Natural Born Killer" kept looking for a miracle finish, St-Pierre denied him at every turn and made him pay with elbows, knuckles and takedowns.
To beat such a talented fighter with a history like Condit's makes this victory even more impressive.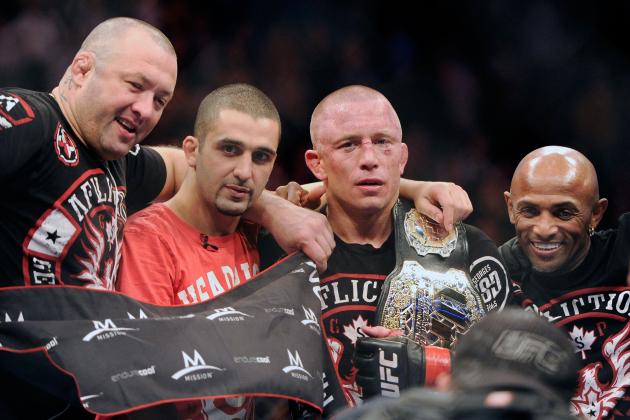 Eric Bolte-US PRESSWIRE

GSP's overall performance was a vintage one for the champ and a sign that the long layoff did not affect his skills or warrior spirit.
The way St-Pierre was able to mix his wrestling with his striking was mesmerizing to watch and a signal that the old St-Pierre is back. His uncanny ability to integrate the disciplines in such a seamless manner was the key to defeating Condit.
This was by no means a perfect performance by the champ, as he came out a bit bruised and scathed. But I think that he needed to get roughed up a bit in his return, a way to shake off the dust and reestablish that feeling for the Octagon.
Overall, fans need to be excited because the welterweight king is back to kicking butt and is ready to take it to the next level.
Be sure to like me on Facebook or follow @MattJuulMMA