Updated Report Card Grades for Every Golden State Warriors Player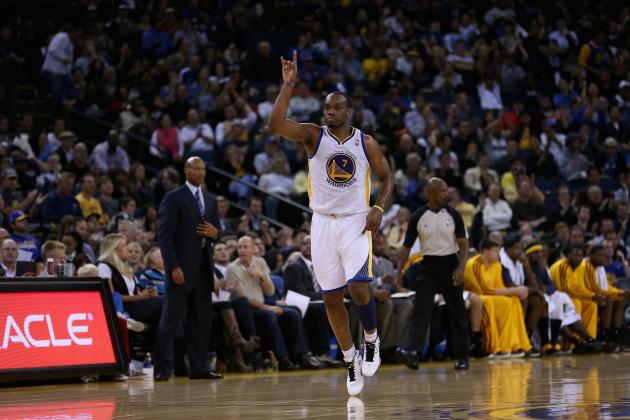 Ezra Shaw/Getty Images

The 2012-13 Warriors are 5-5 through 10 games. While a .500 record will not get the Warriors into the postseason, they've played six on the road and more than their share against the West's elite teams. Ten games is not worth reading too far into anyway, but if we're going to read into them, the Warriors appear to be more or less on track.
Golden State has not only lived up to expectations but been slightly impressive considering that they lost their best player in Monta Ellis and have been mostly without their new best player in Andrew Bogut.
The Warriors' relative success has been due to several new faces stepping up. For the team to break above .500 and become the Western Conference power they have the potential to be, others will need to up the ante.
I will grade the early-season performances of each Warriors player who plays significant minutes in this article. All stats used in this article were accurate as of Nov. 18 and are courtesy of NBA.com. Every player has appeared in all 10 games except where otherwise noted.
Begin Slideshow

»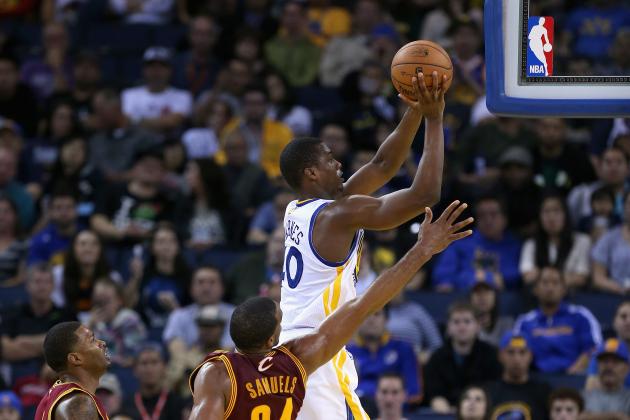 Ezra Shaw/Getty Images

Stats: 26.9 MPG, 10.7 PPG, 4.0 RPG, 48.2 FG%
The growth rate of Harrison Barnes has been remarkable. In his first few NBA games, Barnes was hesitant to attack the basket, timid on the glass and quick to commit fouls on defense.
Now, 10 games into his career, Barnes is already looking like a go-to guy for Golden State. The 20-year-old has begun attacking the basket consistently, and his ability to both finish and decide to dish it off at the last second has made him a dribble-penetration threat. On top of that, Barnes has ferociously attacked the glass, giving Golden State the help rebounding they have lacked from the 3 for years.
Grade: A-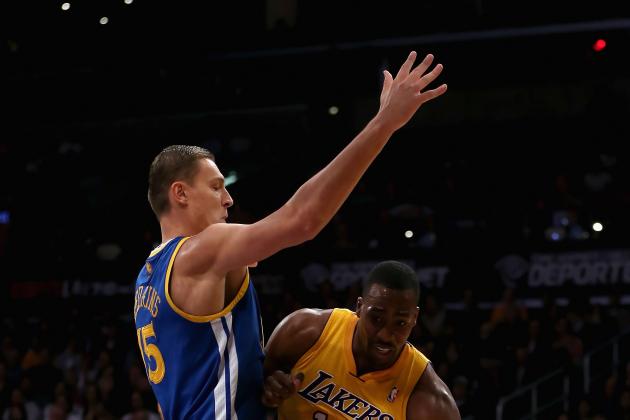 Jeff Gross/Getty Images

Stats: 7 GP, 11.0 MPG, 0.9 PPG, 3.1 RPG
Six games into the 2012-13 season, it looked like Andris Biedrins was going to be a non-factor for Golden State. Five games and an Andrew Bogut setback later, Biedrins looks better than he has in the last four years.
While his offensive game is still nonexistent, Biedrins has been defending the paint, getting on the glass and making hustle plays up and down the court. He's still the third-best center and fifth-best frontcourt player on the Warriors, but his play of late is certainly encouraging considering Bogut's durability.
Grade: B-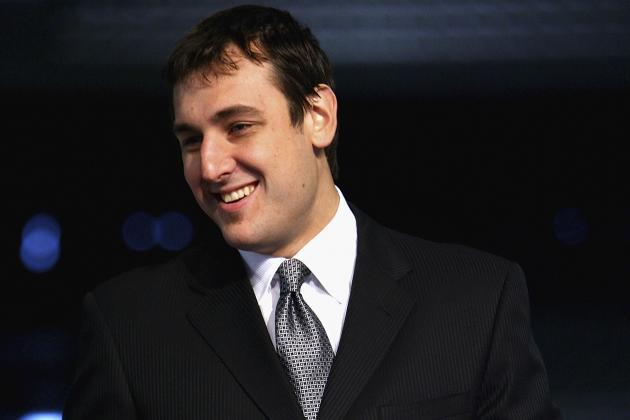 Robert Prezioso/Getty Images

Stats: 4 GP, 18.3 MPG, 6.0 PPG, 3.8 RPG, 2.0 APG, 1.0 BPG, 55.0 FG%
The fact that Bogut has not played at full strength is both encouraging and discouraging for Golden State.
It's encouraging because the "Bogut-lite" the Warriors saw for four games was the best center they've seen in several years. He defended the rim, rebounded, scored down low and distributed the ball in ways that altered the game.
It's discouraging, of course, because Bogut has not yet fully recovered from his broken foot. Knee, ankle and especially foot injuries are often very tough for big, bulky seven-footers to come back from, and the Warriors are just hoping that Bogut will eventually reach 100 percent.
Grade: B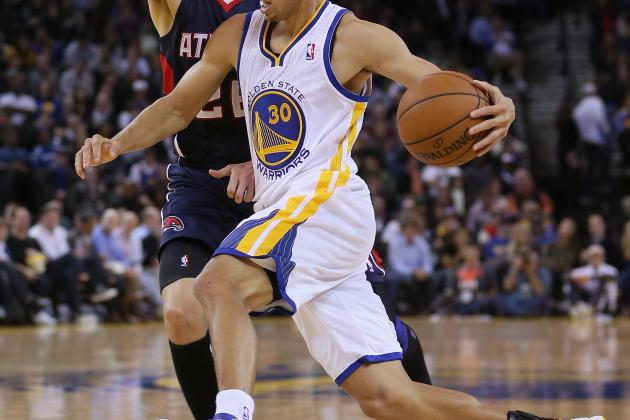 Ezra Shaw/Getty Images

Stats: 35.4 MPG, 17.5 PPG, 5.5 APG, 4.2 RPG, 1.7 SPG, 3.3 TOG, 40.5 FG%, 33.3 3PT%
Stephen Curry has been two things this year: consistent and underwhelming.
It isn't as if Curry is grossly underperforming; his point, rebound, assist and steal totals are right in line with his career averages. It's simply that his shooting percentages are far below where they need to be, and if they were even close to his career marks, he'd be scoring over 20 points per game.
Still, despite the poor shooting, Curry has been very consistent. He's scored in double figures every game since his awful opening night, scored at least 17 seven times and not once shot the Warriors out of game by making himself a volume shooter.
Grade: C
Jeff Gross/Getty Images

Stats: 16.3 MPG, 3.3 PPG, 4.1 RPG, 0.7 BPG, 46.2 FG%
Festus Ezeli is technically the Warriors starting center until Andrew Bogut returns, but the team is not asking him to play anywhere close to starter minutes. This is for good reason, as Ezeli's per-36 totals project to be far worse than those of Carl Landry and David Lee, the Warriors most frequent frontcourt combination right now.
In his limited minutes, Ezeli is making a positive contribution on the defensive end, protecting the rim and using his strength to battle on the offensive glass. His ability to score is minimal, but he doesn't take unnecessary shots and converts a respectable percentage of the ones he does take.
Grade: B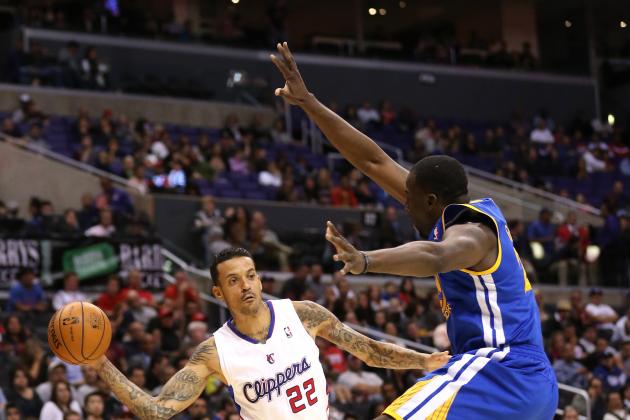 Stephen Dunn/Getty Images

Stats: 8.2 MPG, 1.8 PPG, 1.4 RPG, 31.6 FG%, 22.2 3PT%
After a rough start to his NBA career in which Draymond Green saw minimal minutes and struggled mightily when on the court, he's begun to show signs of the player he was at Michigan St. over the past three games.
Green does just about everything well: He defends, he shoots, he handles, he rebounds, he passes. Above all else, he hustles. None of his skills are outstanding, and he still needs to adjust to the pace of the NBA, but Green has already shown signs of the guy the Warriors drafted him to be: a bench player that is damn tough to take off the court.
Grade: C+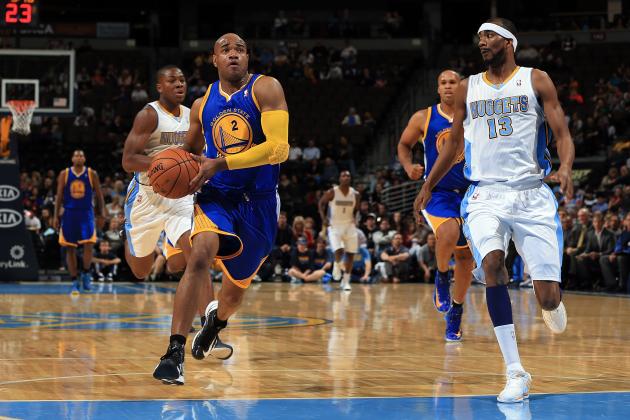 Doug Pensinger/Getty Images

Stats: 24.8 MPG, 9.2 PPG, 3.2 RPG, 4.2 APG, 1.1 TOG, 51.4 FG%, 45.5 3PT%
An argument could be made that Jarrett Jack has been the Warriors MVP thus far into the season. The team is substantially better when he is on the floor, as his ability to score with efficiency, find open shooters, limit his turnovers and defend the perimeter are all unmatched on the Warriors thus far.
Of course, Jack does what he does in less than starter minutes, which no doubt keeps his legs fresh and his percentages up. Without him, however, the Warriors would be without any plus-defenders in their backcourt, as well as forced to stretch Steph Curry and Klay Thompson. Considering their shooting struggles thus far, it's safe to say that the Warriors would be 3-7 at best without Jarrett Jack.
Grade: A
Ezra Shaw/Getty Images

Stats: 15.2 MPG, 4.2 PPG, 1.4 RPG, 33.3 FG%, 16.7 3PT%
Richard Jefferson has picked his play up as of late, but his game still remains far below where the Warriors would like it to be. Jefferson has struggled to find any consistency with his shot, has been indecisive on offense, average at best on defense and sluggish up and down the court.
The emergence of Draymond Green over the last three games has given Mark Jackson an opportunity to reduce Jefferson's minutes. Less floor time for RJ is what's best for the Warriors right now. Hopefully, it's what's best for Jefferson as well; he may prove to be more effective as a situational three-point shooter than a full-time rotation player at this point in his career.
Grade: D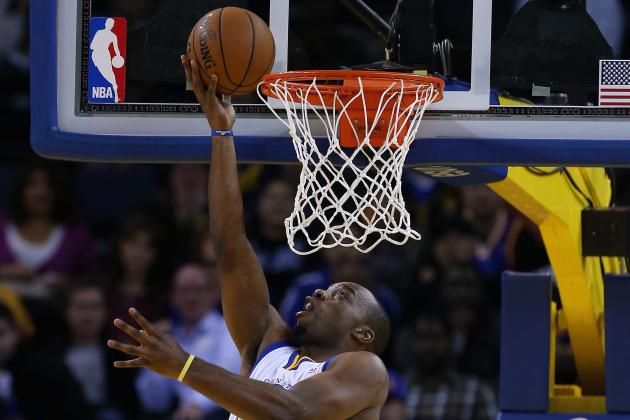 Ezra Shaw/Getty Images

Stats: 26.7 MPG, 15.2 PPG, 7.2 RPG, 3.0 ORPG, 61.3 FG%
If Jarrett Jack is the Warriors MVP through 10 games, Carl Landry is a close second. At his best, Landry has taken over games, scoring 20-plus at an extremely high rate by shattering the offensive glass and relentlessly outworking the opposition's post defenders.
At his worst, Landry has been an efficient source of scoring, rebounding and energy. Landry's play has made Andrew Bogut's slower-than-expected recovery much easier to deal with, taken pressure off David Lee and Festus Ezeli and stolen no less than two wins for the Warriors.
Grade: A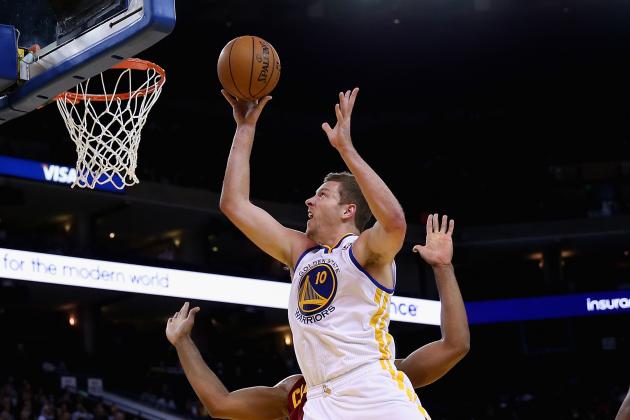 Ezra Shaw/Getty Images

Stats: 36.8 MPG, 15.5 PPG, 10.2 RPG, 3.6 APG, 44.8 FG%
After failing to register a double-double in his four games, David Lee has done what he's paid to do in five of six games. He's also begun to convert from the field at a much higher rate and has been the minutes workhorse Golden State needs in Andrew Bogut's absence.
Lee has struggled on defense, as per usual, but his offensive game—scoring down low, getting on the glass and elite passing for a power forward—more than offsets his poor defense. Lee is still not the elite 4 that the Warriors hoped he would be when they signed him, but a guy who scores and rebounds as consistently as Lee does is worth overpaying for.
Grade: B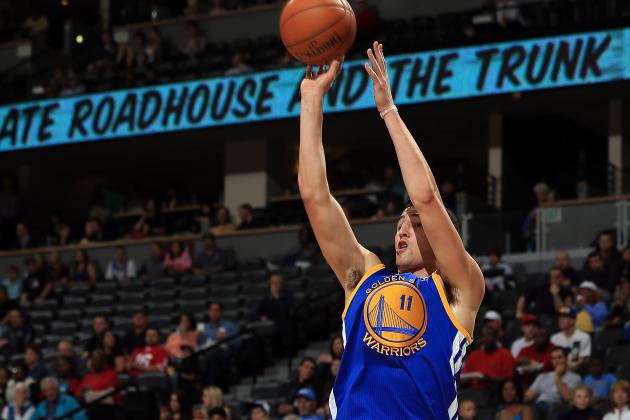 Doug Pensinger/Getty Images

Stats: 33.2 MPG, 14 PPG, 4.3 RPG, 35.2 FG%, 31.8 3PT%
Klay Thompson will not be this cold from the field all season. For now, though, he is that cold, which makes him relatively ineffective at this stage in his career.
Thompson has the athleticism to attack the basket, the height and hops to rebound well and the wingspan and footwork to become a strong perimeter defender. Unfortunately, he has yet to put these natural assets to use, which means that the consistency of his shot is what currently defines his success.
While his shot certainly needs to start falling, it is equally, if not more important, for him to begin developing the all-around game that the Warriors banked on him having when they traded Monta Ellis.
Grade: D-