Who Should Stay and Who Should Go for New York Jets?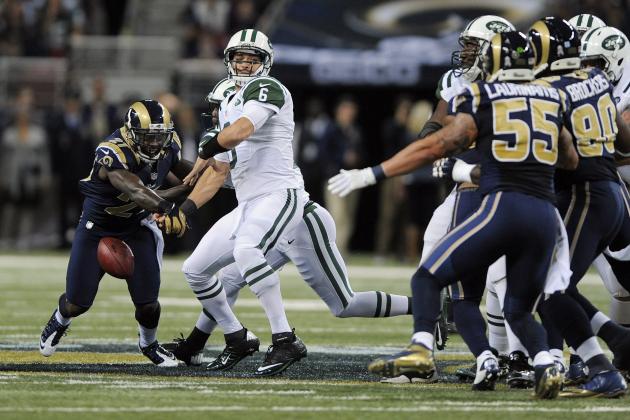 Jeff Curry-US PRESSWIRE

Even after a sound win against the Rams to get the Jets to 4-6, there will be a considerable amount of changes after the season.
These final six games will play a huge part in terms of who stays and goes, especially for guys like Mike Tannenbaum, who has taken most of the blame for the Jets' failures this season.
This slideshow will look at some top decision-makers, free agents and other possible cuts the Jets are facing a decision on at the conclusion of the season.
Here are the Jets who should stay and go after the 2012 season.
Begin Slideshow

»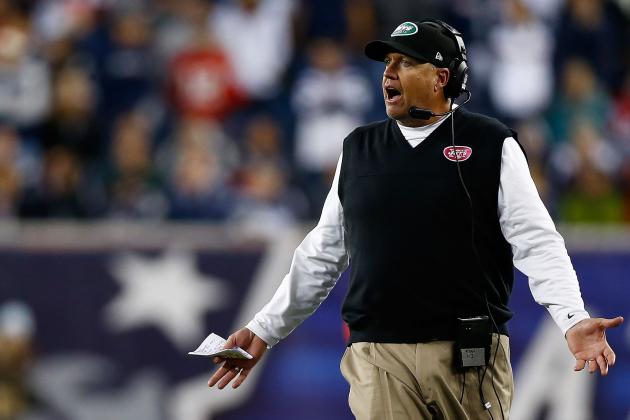 Jared Wickerham/Getty Images

Rex Ryan took a lot of heat last week in the midst of yet another "anonymous sources" story, but on the field, he is getting the most he can out of an undermanned group.
His defense has performed well since Darrelle Revis went down in Week 3. The run defense is steadily improving, despite mounting injuries to the defensive tackle position.
Yes, some of the off-field issues that the Jets have faced stem from Ryan's policies and attitude, but he has handled every issue well and has not let his team quit on him, despite being 3-6 at one point.
Ryan is beloved by owner Woody Johnson, who has grown on Ryan's outspoken approach. Even if the Jets went 3-13 this season, Ryan's job would have been safe.
Ryan has yet to have a losing season as a head coach, and after Sunday's convincing win, it looks like he will at least have a chance to keep the streak going.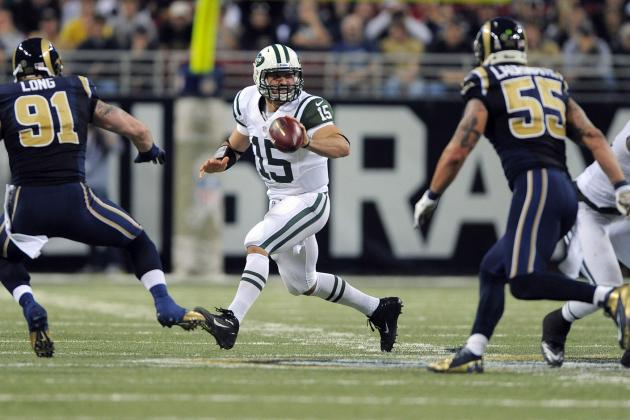 Jeff Curry-US PRESSWIRE

Tim Tebow is the single-most overhyped player of the 2012 season, and it is not in the least bit his fault.
The Jets thought he would re-invent the Wildcat offense because of his unique skill set, but the Tebow package, to this point, has been a complete dud.
Plus, Mark Sanchez recently had his best game since Week 1, and perhaps, it was no coincidence that Tebow only played three snaps on offense.
Off the field, his mere presence has caused a distraction. Jets players and officials have gone out of their way to defend Sanchez at Tebow's expense, all of which was undeserved, as Tebow is a fine teammate.
Whether or not Tebow can be a starter somewhere else is irrelevant; the Jets would ultimately be better off just getting Tebowmania off their campus, so the team can focus on playing football and not have to worry about fight off Tebowmaniacs in the process.
The Star-Ledger-US PRESSWIRE

Before you bring out your pitchforks, hear me out on this one.
Under Mr. T's watch (he took over as GM in 2006), the Jets are 54-51, not including the postseason. During that time, the Jets have made the playoffs twice (both in 2009 and 2010 with AFC championship appearances).
Not exactly dynasty numbers but slightly above average. He did it all without having consistent play at the quarterback position, which is ultimately his fault, but he did it the hard way.
Yes, this 2012 team has talent issues on offense, but there have been a lot of injuries that have made the situation much worse than it already was. Tannenbaum tried to give Mark Sanchez a younger team to work with, and there are obvious growing pains to go through.
There still is a solid amount of talent on the team. Muhammad Wilkerson is becoming nothing short of dominant, and Quinton Coples is showing promise every time he steps onto the field.
The Jets had poor drafts in 2009 and 2010, and they are feeling those effects now. Tannenbaum is certainly on a short leash from now on, but he deserves at least one more chance to turn things around before getting kicked out of his own party.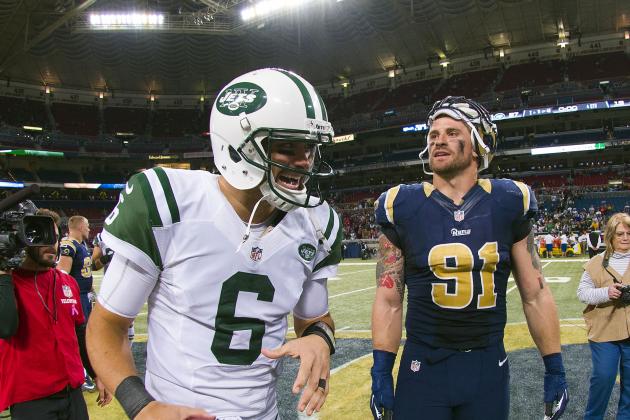 Scott Rovak-US PRESSWIRE

Yes, Mark Sanchez had a very nice game against the Rams last week, but his sheer inconsistencies is enough to drive fans through the wall.
Sanchez still makes rookie mistakes every week that are simply inexcusable at this point of his career. How he plays down the stretch is almost irrelevant, as he has already reached his peak as an NFL pro, and will only improve so much.
Sanchez can win games, but he needs the perfect environment to do so. Sanchez played well against the Rams because he was given solid protection, had a lead, and leaned on a strong running game. When one of those things is missing, Sanchez's game takes a hit.
For a team that wants to be in the Super Bowl every year, doing it with a quarterback like Sanchez is doing it the hard way.
Sanchez will probably stay around for at least another season, as he is still due a lot of guaranteed money (and the upcoming quarterback draft is less than inspiring), but it remains to be seen if he has earned the right to be the Jets quarterback beyond that.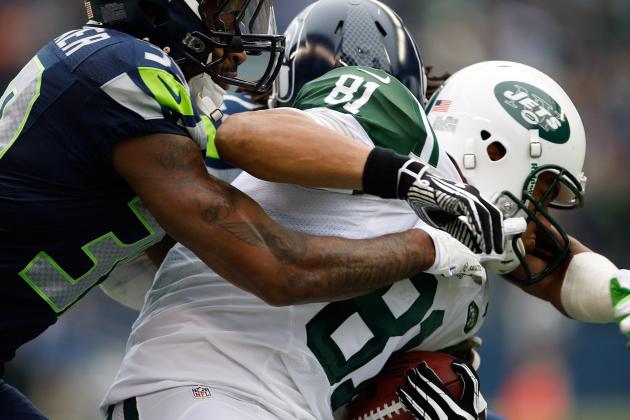 Kevin Casey/Getty Images

The Jets top free agent of 2013, the Jets simply must find a way to keep Dustin Keller if they plan on having Mark Sanchez be their quarterback for at least one more season.
Keller led the team in receptions in 2011, which stems from his irreplaceable chemistry with Sanchez. While the Jets receiving corps has been a revolving door since Sanchez's debut in 2009, Keller has been the only mainstay.
When Sanchez throws to Keller, he does so with a kind of timing and rhythm that he simply does not have with anyone else.
Keller is going to see plenty of attention from other teams if he does reach free agency, so the Jets would be wise to lock him up before free agency opens in March.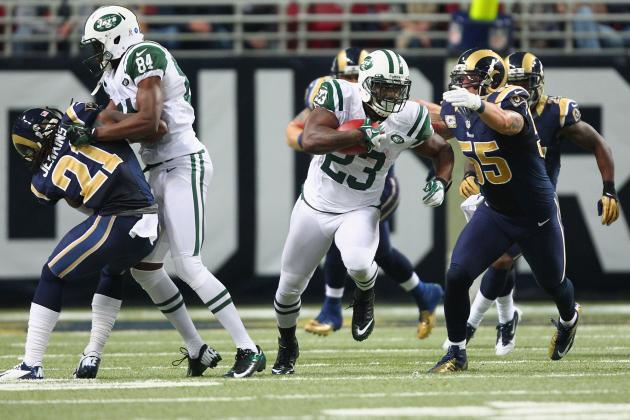 Dilip Vishwanat/Getty Images

Another impending free agent, Shonn Greene has only flashed ability as a foundation runner.
The coaching staff loves Greene's physical running style, but he has almost no lateral agility and offers nothing as a receiver. Greene can be a very effective runner in the fourth quarter when defenses are worn out, but you have to endure a stretch of two-yard runs to get to that point.
If the Jets want to continue to be a run-first team moving forward, they need to find a more talented runner who can be the foundation of an offense. Greene can carry the ball 25 times per game, but he cannot be the centerpiece of an offense because of his limited skill set.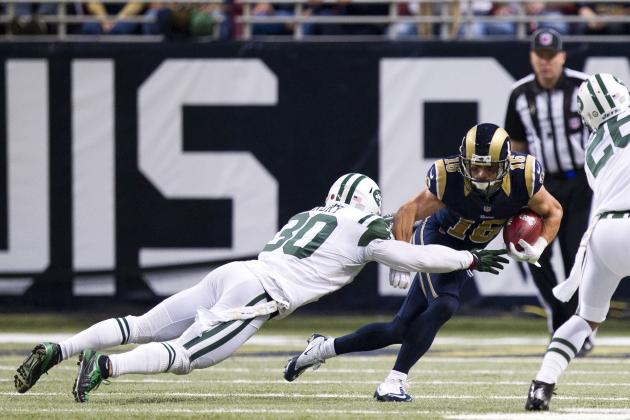 David Welker/Getty Images

Despite losing Darrelle Revis, the Jets have been able to maintain a solid pass defense, which is in large part due to the improved play at the safety position from a year ago.
Landry is prone to biting on play-action, but the Jets have done a much better job covering tight ends from a year ago. He also brings a physical presence from the position that few teams can replicate, and he has caused several turnovers with big hits this season.
Most importantly, Landry has been able to stay healthy all season, which has been the key to his success. If he maintains his health, the Jets should rush to re-sign him after the season.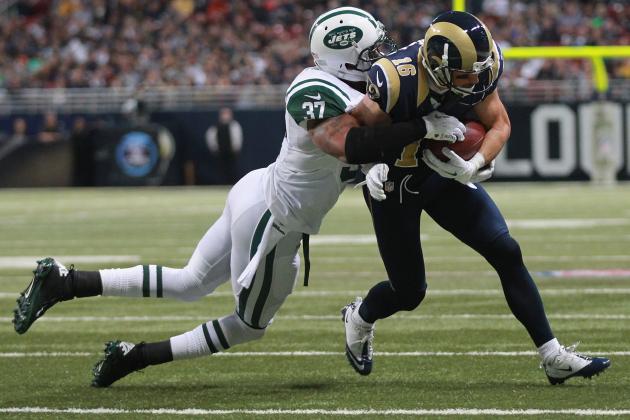 Dilip Vishwanat/Getty Images

Don't get me wrong: Yeremiah Bell has played well for the Jets. But at age 34, the Jets would be better off saving their money and getting younger at the position.
The Jets have Josh Bush waiting in the wings to play free safety. With Bush at free safety, the Jets can move Landry (if they re-sign him) to the strong side, where he is much more comfortable and effective. They could always move Bell into a third safety role, but they already are paying Eric Smith to do that.
If the Jets do decide to keep Bell, it would not be a terrible move, but it is usually better to let a player go a year early than a year late.
Steven Bisig-US PRESSWIRE

Despite being one of the best run defenders on the Jets over the last three years, DeVito is a player who rarely gets his due. He is also improving as a pass-rusher, evidenced by his strip sack in Week 10's game against the Seahawks that prevented the Jets from going scoreless.
Yes, the Jets did add Quinton Coples in the first round of this year's draft, but Ryan loves to move his defensive linemen around according to the situation in the game. A rotation of DeVito, Wilkerson and Coples gives the Jets one of, if not, the best group of 3-4 defensive ends in the league.
However, the Jets cannot break the bank for a player like DeVito, as he is not an incredibly dynamic player. With most of his family from the New York area, he may be willing to take a slight hometown discount to stay with the Jets.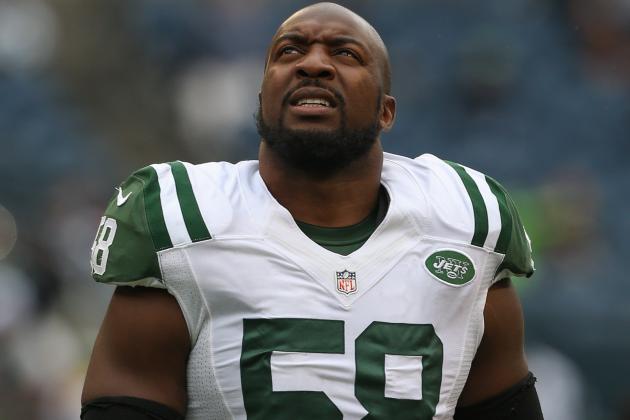 Otto Greule Jr/Getty Images

The fact that the Jets brought Thomas back for one more season was enough of a surprise. Thomas is a good run defender and is a reliable veteran, but he brings almost nothing as a pass-rusher.
The Jets must get younger and faster at the linebacker position, and replacing Thomas with a draft pick or younger free agent is the first step in that process.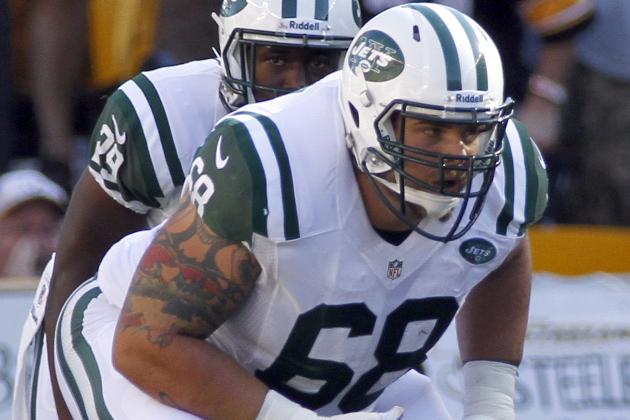 Justin K. Aller/Getty Images

The decision whether or not to keep Matt Slauson will be tough; he is not exactly a liability at left guard, but he has been gradually losing more and more playing time to Vladimir Ducasse.
The Jets must decide if they trust Ducasse to be a full-time starter or not. If they are unsure, it makes sense to bring back Slauson. For a team that is so reliant on its offensive line to help their inconsistent quarterback and have a strong running game, depth on the offensive line is hardly a bad thing.
Slauson won't command a lot of attention on the free-agent market, so the Jets should be able to retain him without breaking the bank.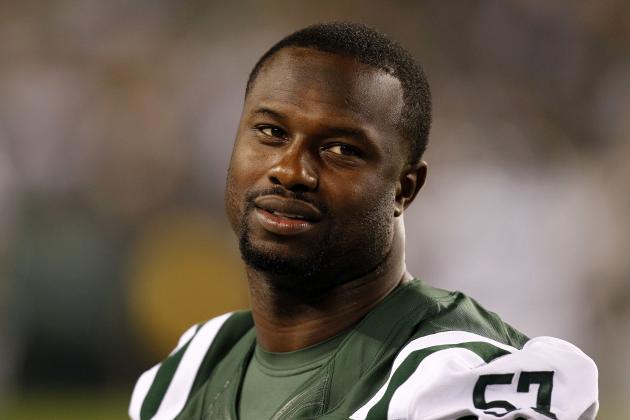 Jeff Zelevansky/Getty Images

Bart Scott gets a bad rap for his on-field production, but he has quietly had a strong bounce-back year, despite playing through a slew of injuries.
However, Scott's production simply does not match his salary at this point of his career. Demario Davis' play in his absence has all but sealed his fate as a Jet.
If this is his last year in New York, the Jets should have no regrets about bringing him in; he has been a quality inside 'backer and a terrific, if sometimes controversial, personality in the locker room.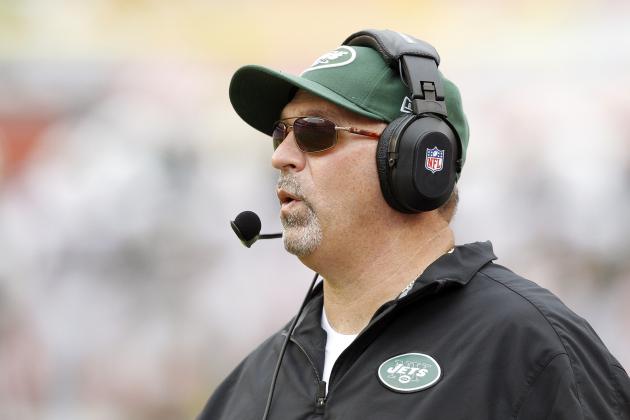 Joel Auerbach/Getty Images

The Jets offense has been anything but a juggernaut this season, but it is obvious that this team's offensive woes go far beyond the coordinator.
Sparano's unit has turned in some awful performances, but it is almost laughable in regards to the amount of talent he has to work with. He has a tough time creating mismatches, and his quarterback is beyond erratic.
At the same time, the Jets are considerably better at generating "chunk" plays from a year ago, as Sparano has been rather efficient with his use of play-action.
Plus, Sparano and Rex Ryan are very much aligned from a philosophical standpoint, which is what will ultimately keep him around for another season.