WWE Survivor Series 2012: Best and Worst Dressed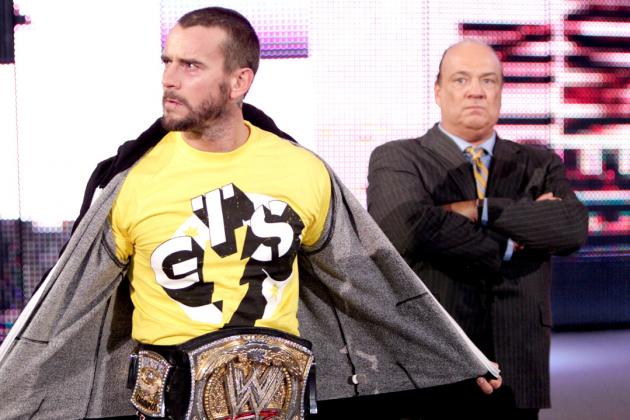 WWE Champion CM Punk arrived at Survivor Series with Paul Heyman and a new set of ring gear. Photo Courtesy of WWE.com
WWE pay-per-views are all about pushing the envelope and creating a spectacle. Championships are fought over, storylines are advanced and the stakes are higher than ever.
With everything increased ten-fold, WWE Superstars and Divas frequently wear special ring attire.
Because Survivor Series 2012 showed off a large portion of the WWE roster, the WWE Universe was treated to a whole bunch of new looks.
Here are the three best and worst dressed competitors from Survivor Series.
Begin Slideshow

»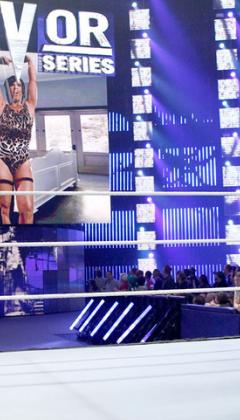 AJ appeared to confront Vickie Guerrero on Sunday wearing a short, striped shirt with even shorter shorts. Photo Courtesy of WWE.com
Before viewing the top three best dressed Superstars, please keep in mind that this is purely opinion. All people have their own preferences in color, style and other factors.
There were a ton of new outfits at Survivor Series, and a lot of them were solid.
Before we get to the top three, here are some of the honorable mentions from Sunday night:
Kaitlyn, Rosa Mendes and AJ Lee
These three should probably be on here for one reason or another.
Kaitlyn's attire from Survivor Series gets an honorable mention because it's a huge upgrade from her usual gear. Hers bears resemblance to Lita's old ring gear with a normal black top and cargo pants, with the addition of butt-kickin' combat boots. Kaitlyn's new gear made her character appear a lot more serious and intimidating.
Rosa and AJ are different stories. They filled the WWE's obligatory "hot" Divas portion of the pay-per-view. AJ's jean shorts and shirt again got shorter (which the male crowd seemed to enjoy), while Rosa's blue dress was a crowd-pleaser as well.
Antonio Cesaro
Cesaro traded his red trunks for a black pair at Survivor Series, which looked pretty sharp. He kept his red, black and white color scheme, but changed it up enough to stand out as he beat R-Truth to retain the U.S. Championship on Sunday.
Now, to the top three...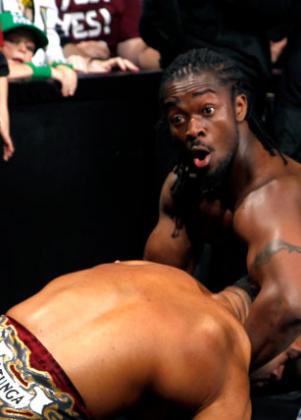 Kingston showed up at Survivor Series looking snazzy. Photo Courtesy of WWE.com
"The Wildcat" Kofi Kingston high-flies into the No. 3 spot on the best dressed list.
Kofi showed up at Survivor Series with a new set of trunks and kickpads. The high-flyer entered the traditional Survivor Series match with silver and yellow trunks with silver and yellow kickpads and boots.
Kofi's recent push has been a huge boost to his career after a stagnant tag team run with R-Truth. Kofi's new, exciting attire matches his in-ring style and helps make him look like a new Superstar altogether.
Kofi's new look was awesome. Unfortunately for Kofi and Team Foley, good-looking attire couldn't secure a victory against Team Ziggler.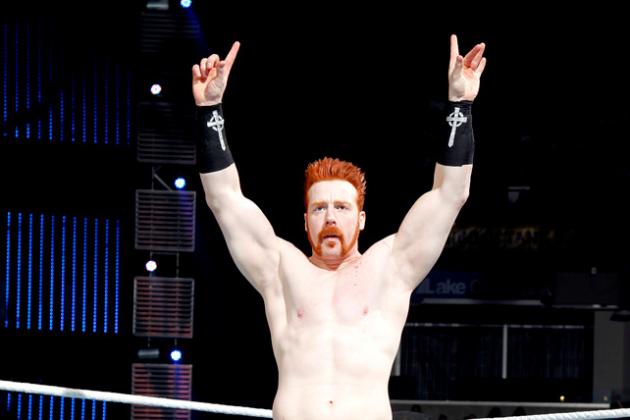 The Celtic Warrior showed that simple works at Survivor Series with a pair of black, silver and white trunks. Photo Courtesy of WWE.com
Sheamus is a simple guy. He's all about pure power and having a good time. The hard-hitting former World Heavyweight champion wasn't able to take the title back from Big Show on Sunday after Show was disqualified, but at least Sheamus can leave Indianapolis looking good.
Sheamus walked to the ring wearing plain and simple black, white and silver trunks with matching kneepads and boots. Sheamus' gear looked smooth and complemented his character. Simple character, simple outfit.
Punk's new attire looked sharp as the WWE Champ retained on Sunday. Photo Courtesy of WWE.com
The WWE champion not only left Indy as the WWE champion, but also as the best dressed Superstar of the night.
CM Punk's heel turn has been a wild one and on Sunday, he had the perfect gear to complement his character.
Punk's red and black trunks and kickpads gave him an added edge. The classic red/black combo just screams evil and really looked good on Sunday.
His new yellow GTS shirt isn't too bad either.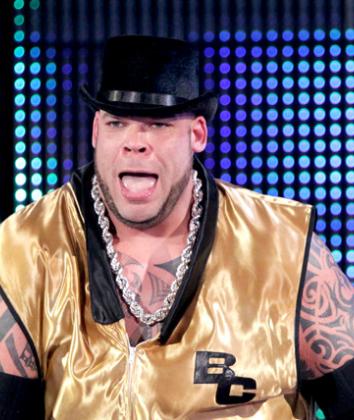 The Funkasaurus looked...interesting at Survivor Series. Photo Courtesy of WWE.com
The WWE Universe was treated to a lot of new attire on Sunday. With a few good looks, there were just as many bad ones.
Before we get to the three worst dressed Superstars and Divas from Survivor Series, here are a couple who barely missed the list and are honorable mentions.
Brodus Clay
As the picture above shows, Brodus had some ugly attire on Sunday. First, Clay strutted down the ramp with his top hat and a shiny gold vest (complete with tuxedo tails).
Clay's awful attire didn't end there, however. Clay took off his rough vest to reveal a singlet that was even worse. Clay donned a black, white and blue singlet with inverse flames.
It was awful.
John Cena
Like many other members of the WWE roster, Cena also sported some new gear. He had a new T-shirt commemorating his 10-year anniversary as a WWE Superstar.
His outfit wasn't as impressive as his career.
The navy blue shirt and hat weren't too bad, it was mostly Cena's lower body.
Cena took on Ryback and WWE champion CM Punk wearing a tan pair of khaki shorts and a pair of low-top New Balance shoes. There isn't anything wrong with what he wore...unless you're competing for the WWE title.
Cena looked more prepared for a game of tetherball at the family reunion than a shot at the WWE Championship.
On to the top three worst dressed...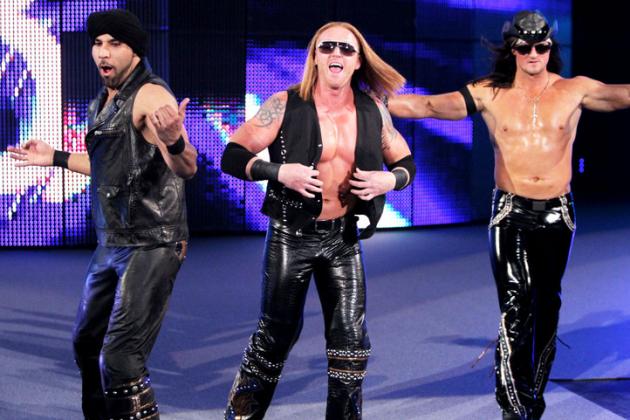 3MB strutted into the Survivor Series pre-show against Team Cobro donning full leather outfits. Photo Courtesy of WWE.com
Heath Slater's new group 3MB with Jinder Mahal and Drew McIntyre got a big win against Team CoBro in the Survivor Series pre-show on Sunday.
While Mahal and Slater secured a victory in the ring, they certainly didn't win best dressed.
The leather-clad threesome played their air instruments in full leather garb.
It makes sense to wear leather for their rock star gimmick, but ALL leather? Does it really have to all be leather?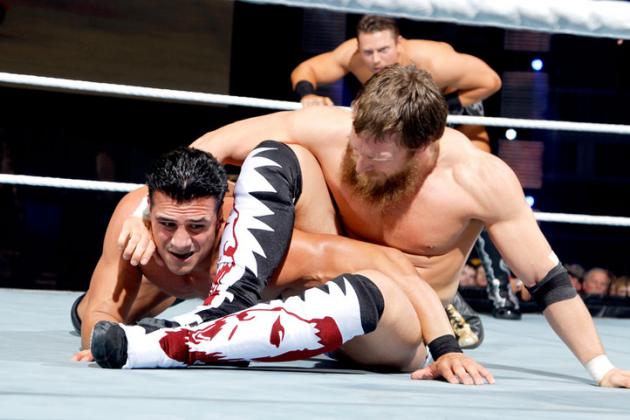 Daniel Bryan has kickpads and trunks with his goatface emblazoned on them. Photo Courtesy of WWE.com
The jealous member of Team Hell No showed up at Survivor Series with one of the most out-there outfits that the WWE Universe has seen in a while.
Bryan entered with the usual red and white coat with "NO!" written all over it. The coat also had a giant image of Bryan's goatface on the back. Bryan's screaming face was also on his trunks and his kick pads.
While it's an interesting design, Bryan's outlandish attire was pretty distracting. Maybe it was supposed to make us forget that Bryan was only involved for a few minutes in the match.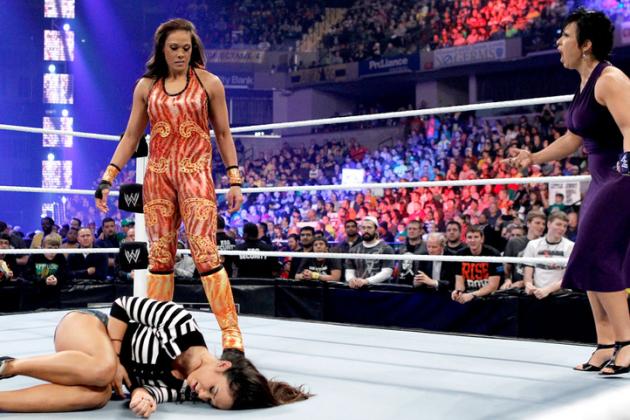 Tamina's new role with Vickie Guerrero may be unclear, but the awfulness of her outfit is pretty obvious. Photo Courtesy of WWE.com
There was no other way to go with this one. Tamina Snuka appeared just long enough to ruin AJ's night on Sunday, but her outfit will be remembered.
Tamina's connection to Vickie Guerrero may be a mystery, but the awfulness of her uniform is an open-and-shut case.
Tamina surprised the crowd as she beat down AJ donning a crazy jumpsuit thing. Whatever it was, it looked like someone took a peach-colored piece of fabric, added tiger stripes and sprayed it down with ketchup and mustard.
Tamina's outfit was a confusing eyesore and really took away from her intimidating presence.
Tamina's fashion faux pas earns her the No. 1 spot as the worst dressed member of the WWE roster at Survivor Series.