Chris Duhon Is Not the Answer to the Knicks Offense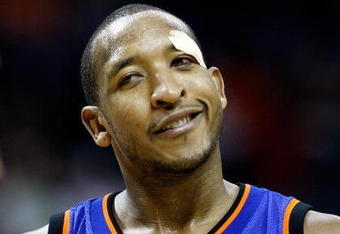 I want to begin this article by telling everyone that I would rather have Dick Vitale playing point guard for the Knicks then Stephon Marbury.
However, I am starting to think that I might want Dicky V. playing point guard for the Knicks instead of Chris Duhon, but for completely different reasons.
At the beginning of the year, Duhon had me fooled. He ran a flawless pick and roll with David Lee. He was consistent on the offensive end, played good defense and was among the league leaders in minutes played.
Furthermore, he wasn't an ass, a refreshing change from the last N.Y. point guard.
Over the course of the season, Duhon has begun to tire, and truthfully, I can't blame him. In his first full year as a starter, he has been the Knick's workhorse.
With his declining minutes have also come nagging injuries, hampering his abilities. Once again, I can't blame him for those.
However, there is one glaring part of Duhon's game that has become increasingly apparent and other teams have realized it:
CHRIS DUHON IS AFRAID TO SHOOT THE BALL ANYWHERE INSIDE THE FREE THROW LINE EXTENDED.
I'm not saying he has a bad shot, and I'm not saying he can't score inside.
I am just saying he is scared, similar to an eight year old kid playing with a bunch of 12-year-olds. The eight year old is fine taking open threes and maybe even a runner, but he is to intimidated to make a strong move to the hoop.
Recently, Duhon's reluctance to shoot inside the paint has completely thrown off the pick and roll with Lee. Instead of being caught between stepping up on Duhon coming off the pick or dropping off to cover Lee, opposing team's big men can now drift back covering Lee while daring Duhon to hit an uncontested (on NBA standards) 10 foot runner.
And Duhon never takes it.
NEVER.
This doesn't just throw off the play between Duhon and Lee, it also restricts the second, third and fourth options on the kick outs for open threes. This happens because teams no longer need more than two players helping in order to cover the pick and roll.
Mike D'antoni's half court sets are based around a very heavy mix of pick and rolls and flex cuts.
Without the pick and roll being the Knicks bread and butter in the half court set (which even in D'antoni's up tempo system is still very prevalent), the ball movement is restricted and one on one play is further encouraged. When you have the lack of one on one scoring ability the Knicks have, that is not a recipe for success.
Don't get me wrong, I am a fan of Chris Duhon the person, and a fan of Chris Duhon the back up point guard, but he is ill equipped to lead the Knicks system into any kind of consistent success.
In order to be a contender pre-summer of LeBron (which would be a challenge even with CP3 running point...OK, maybe not CP3), then the Knicks need a point guard who is a dual threat.
Someone dare I say, who is a perfect mix between Stephon "I am the worst individual in sports" Marbury and Chris Duhon.
That player is manifested in this upcoming draft by a man (or boy) named Ricky "Pistol Rick" Rubio. Cross those fingers Knicks fans, and hope for some luck from the basketball gods.
This article is
What is the duplicate article?
Why is this article offensive?
Where is this article plagiarized from?
Why is this article poorly edited?

New York Knicks: Like this team?