Power Ranking 10 Best College Football Showdowns for Week 13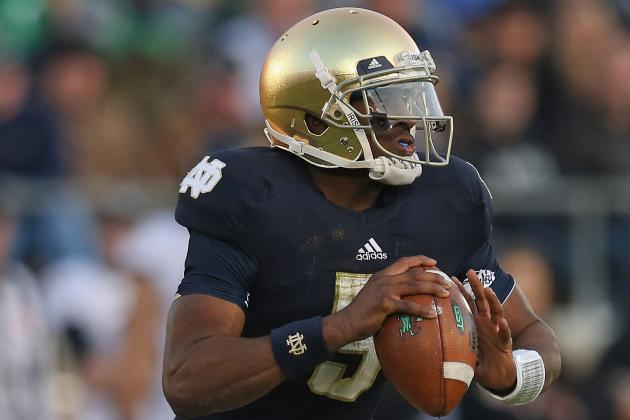 Jonathan Daniel/Getty Images

Given the craziness of the last few weeks, next Saturday has more than a few college football showdowns with major implications.
There are conference titles that have yet to be decided.
Teams in the Top 5 may as well be on a roller-coaster without a seatbelt. Can they hang on until the end?
While some teams like Kansas State and Oregon are dealing with painful losses, others, like Alabama and Georgia, are suddenly seeing the light at the end of the tunnel.
Here are the 10 best college football showdowns in Week 13.
Begin Slideshow

»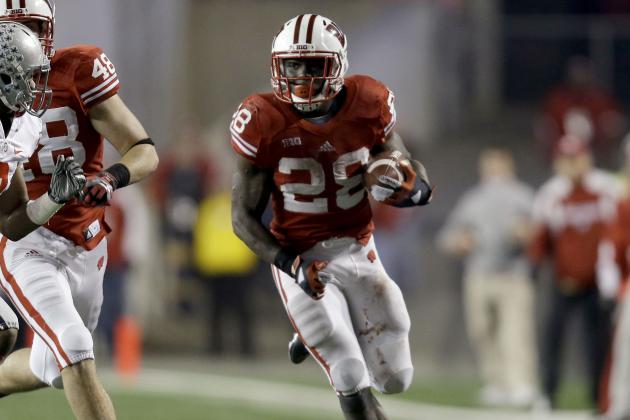 Mike McGinnis/Getty Images

This game doesn't have any national implications, and Wisconsin has already punched its ticket to the Big Ten championship game despite losing to Ohio State on Saturday.
But the storylines are endless.
Can Montee Ball break the major college football record for touchdowns, which he tied against the Buckeyes?
Will Wisconsin be able to win on the road and gain momentum heading into the Big Ten title game?
How will Penn State end its surprising season that began with two losses?
The Big Ten conference has been about as unpredictable as the ACC this season, so this should be a good one.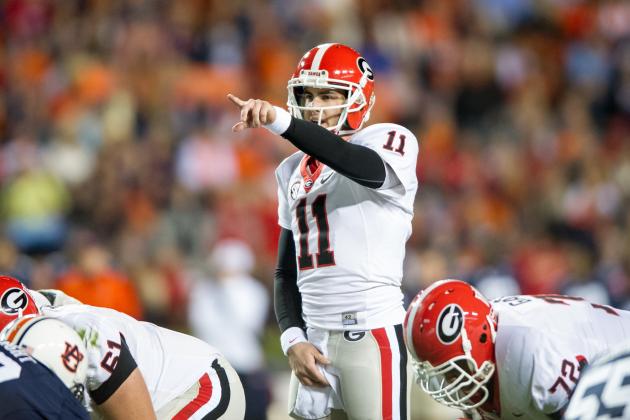 Michael Chang/Getty Images

Georgia Tech may not have much to play for, but you can imagine how much it'd love to end its rivals' dreams of a national championship season.
With both Kansas State and Oregon losing, Georgia has suddenly found itself right in the thick of the BCS race. Of course, the SEC championship game against Alabama looms large.
But Georgia Tech can end the Bulldogs' title hopes next Saturday. In Georgia's lone loss of the season, it gave up 230 rushing yards to South Carolina. The Yellow Jackets average over 300 yards per game on the ground.
If they can get things going on offense and turn this into a shootout, things could get interesting. And if Georgia starts looking ahead to the Crimson Tide, it may regret it.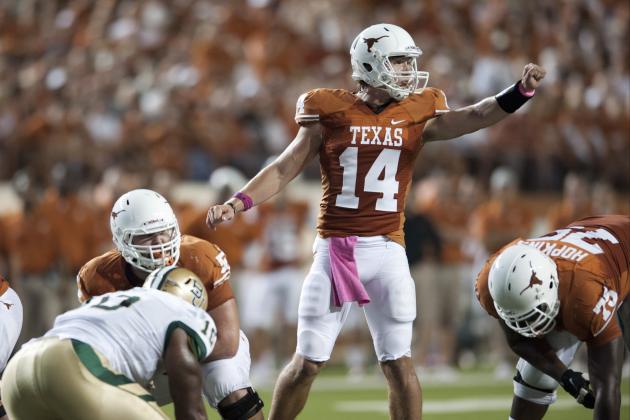 Cooper Neill/Getty Images

After losing back-to-back games against West Virginia and Oklahoma, the Texas Longhorns have reeled off four straight victories in the Big 12.
They still have an outside shot at the conference title, but they can certainly secure a decent bowl spot with wins in the final two weeks. The challenge will be focusing on TCU rather than looking ahead to their game against Kansas State.
TCU is sixth in the Big 12 conference, but it played Kansas State pretty close and are coming off a bye week.
Given that this is the only college game on Thanksgiving, all eyes will be on Texas this Thursday.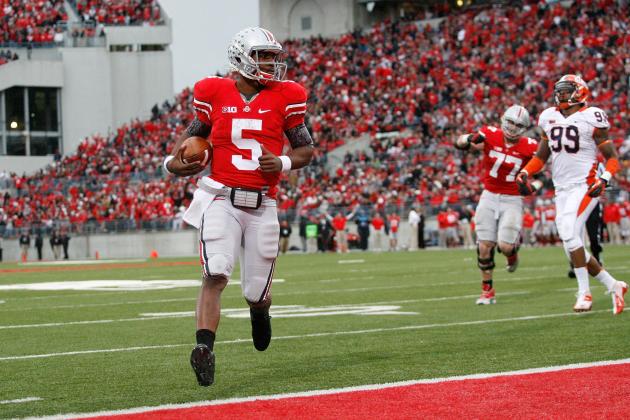 Kirk Irwin/Getty Images

The Buckeyes couldn't have written up a better script for this season, one that will end without a bowl appearance due to NCAA sanctions.
But they can still finish undefeated with a win over the Wolverines, and a possible AP national title is at stake.
For Michigan, it can ruin its rivals' perfect season and position itself to win the Legends Division of the Big Ten should Nebraska stumble.
And after looking at all the different scenarios that could result from Michigan or Ohio State winning, you're left with one thing.
It's The Game. Michigan vs. Ohio State. Sometimes, that's all that matters.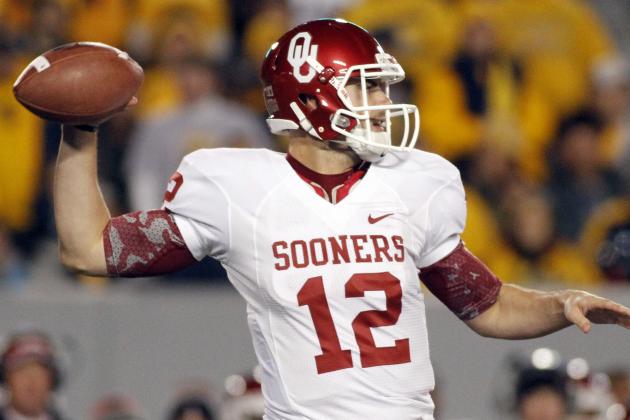 Justin K. Aller/Getty Images

Since losing to Notre Dame, the Oklahoma Sooners have won three straight games to keep their conference title hopes alive.
They'll need Kansas State to lose, but that won't matter if they can't get by the Oklahoma State Cowboys next weekend.
Oklahoma State isn't quite out of it either, and it is on a roll after dominating West Virginia and Texas Tech the past two weeks.
It's a rivalry game, which is often enough to draw interest. But given the implications it has on the conference, this showdown becomes magnified.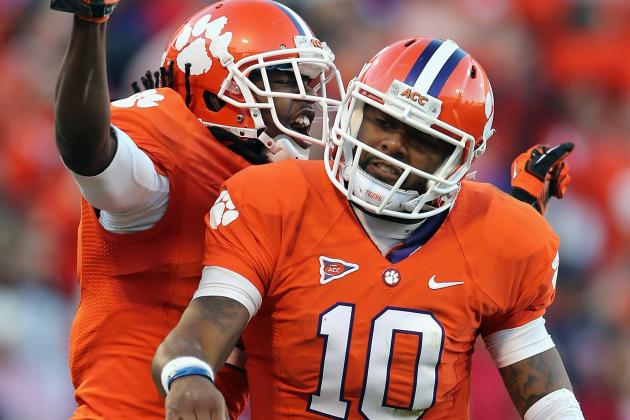 Streeter Lecka/Getty Images

Neither of these teams will be playing for a conference championship, but BCS bowl hopes are still alive for both.
South Carolina began the season on fire, but fell back in the standings after consecutive losses to LSU and Florida. It's since won three straight games.
Meanwhile, Clemson, a team with just one loss on the season, can boost its hopes of getting a ticket to an at-large bowl. It can also finish the season with just one loss, an accomplishment in itself.
But beyond the implications is the fact that, like many other showdowns, it's a rivalry, and beating your rival can be more important than anything else.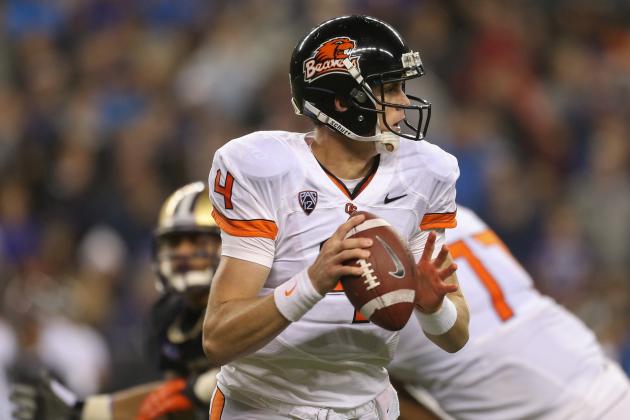 Otto Greule Jr/Getty Images

It's Civil War week in the state of Oregon, and unlike the past few years, both teams have a lot to play for.
The Ducks can jump back into the thick of the BCS title picture with a victory, and the Beavers can improve their slim chance of getting an at-large bid to a BCS bowl.
But the Ducks are coming off a deflating loss to Stanford, while the Beavers are currently scoring another touchdown against Cal.
The Ducks ended the Beavers' Rose Bowl hopes in 2008 and 2009. It could be the Beavers' turn to end the Ducks' BCS hopes and turn this rivalry around.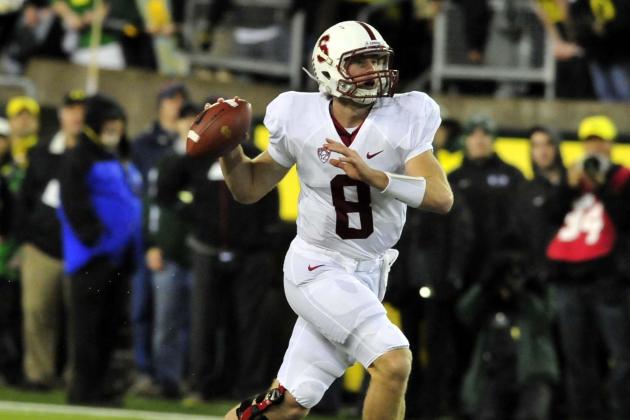 Steve Dykes/Getty Images

The Stanford-UCLA matchup suddenly becomes the game of the year in the Pac-12, and we could see a rematch the following Friday in the Pac-12 championship game.
For the Bruins, things are rather simple. Yesterday's victory over USC game them the South Division title, so they'll be playing for a spot in the Rose Bowl either way.
But Stanford needs this victory to secure its spot, or the door opens back up for the Ducks. And if the Ducks beat Oregon State and the Cardinal lose, it'll give Oregon an extra game on the schedule and another chance to vault up into the Top 2.
Stanford has done just about everything right this season, but it'll need one more road win to give itself a shot at the conference title.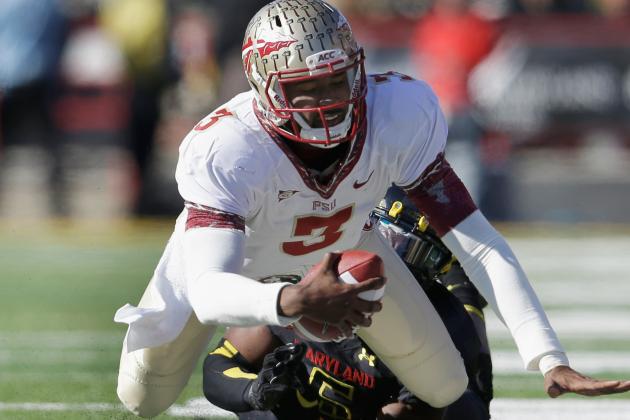 Rob Carr/Getty Images

Ever since losing to NC State, the Florida State Seminoles have been looking for a chance to be relevant again. They'll get that chance when Florida comes to town.
Florida State will play for the ACC title and Florida is already out of the SEC East race, but both teams have slim chances of a BCS title.
Given the chaos of recent weeks, a Notre Dame loss or an Oregon loss would shake things up and potentially allow for one of these teams to jump into the mix.
Florida has struggled recently against middling teams. Can the same team that beat LSU show up against Florida State next Saturday?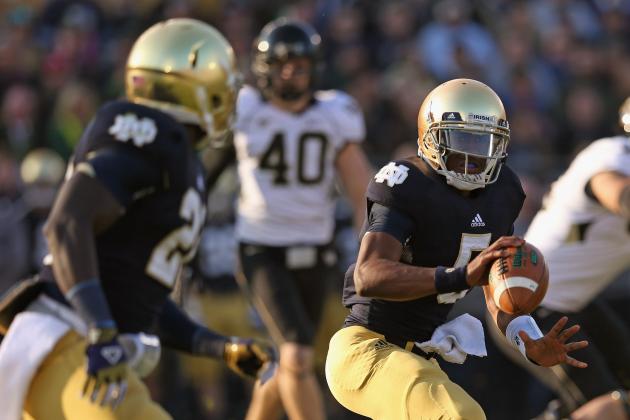 Jonathan Daniel/Getty Images

This game doesn't take the top spot for being the best matchup. It takes the top spot because of the implications it will have on a number of teams.
USC has obviously underperformed this season, and it has nothing left to play for other than a chance to ruin Notre Dame's perfect run.
But the Irish have much more at stake. A win, and they're into the BCS title game. A loss, and chaos ensues, as everyone in the Top 6 or 7 would suddenly find themselves with a chance to play for the crystal ball.
Notre Dame has been irrelevant for quite some time now. But if it beast USC, it'll solidify itself as the best team in the country with an undefeated record on the season.