Predicting NY Knicks' Rotation Once Amar'e Stoudemire and Iman Shumpert Return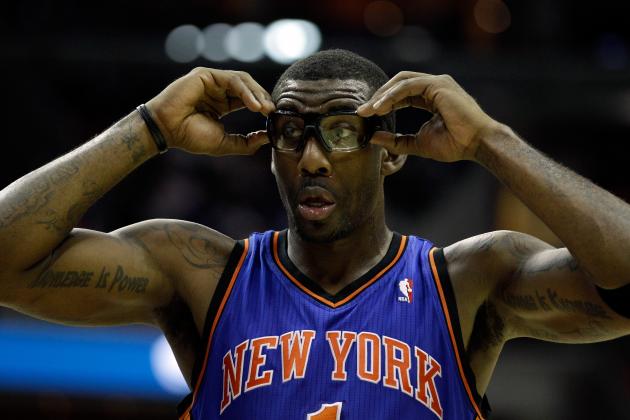 Rob Carr/Getty Images

Carmelo Anthony and the New York Knicks are dominating the NBA through the first eight games of the season. Despite what their 7-1 record would lead you to believe, Mike Woodson's team still isn't at full strength.
Forward Amar'e Stoudemire is sidelined while rehabbing from knee surgery. His prognosis of 6-8 weeks has his return date targeted for around the new year.
Second-year guard Iman Shumpert will likely be decked out in the finest suits and located at the end of the Knicks' bench until January. He suffered a knee injury in Game 1 of the playoff series against the Miami Heat after a very impressive rookie season.
Much is being made of the fallen ballers' looming return, and rightly so. STAT is one of the most offensively dominant big men in basketball, and Shump is just 22 with All-Star potential on both sides of the ball.
Woodson will be forced to alter his rotation upon Shumpert and Stoudemire's return. Here's how the minutes should be divvied up by mid-season.
All stats used in this article are accurate as of games played through Nov. 17 unless otherwise noted.
Begin Slideshow

»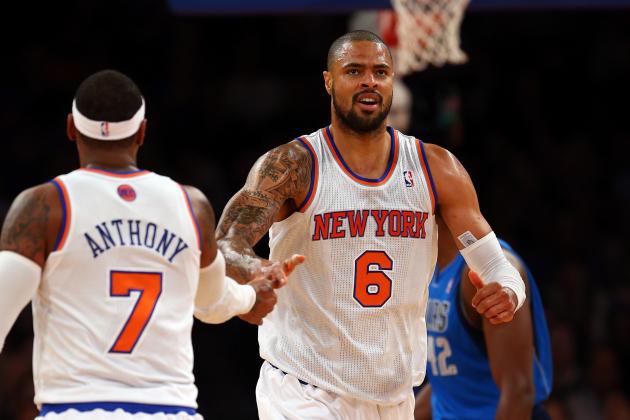 Elsa/Getty Images
Anthony and Chandler will remain mainstays in the starting five.
The most logical change to Mike Woodson's starting lineup may not be the one you were thinking of. Even after he returns, Amar'e Stoudemire is best suited for a bench role. Iman Shumpert, however, should slide seamlessly into the starting five.
Carmelo Anthony is playing his best basketball as a New York Knick, and it's coming out of the 4-spot. He's thriving against opposing power forwards, and to remove him from that role mid-season would be silly.
Amar'e's style of play is perfectly suited for a role on the second team, but we'll get more into that later.
Shumpert could easily replace Jason Kidd in the starting lineup. This would benefit Kidd as much as Shumpert, as the 39-year-old would be able to preserve his legs for when it matters most.
Shumpert's aggressive, lock-down defense fits in perfectly with Woodson's brand of basketball. He would match up significantly better with opposing 2-guards, as compared to Kidd.
The remaining four-fifths of the lineup should remain the same. Raymond Felton, Ronnie Brewer, Anthony and Tyson Chandler have performed excellently, and will retain their current roles.
PG: Raymond Felton (28-33 minutes)
SG: Iman Shumpert (22-27 minutes)
SF: Ronnie Brewer (18-23 minutes)
PF: Carmelo Anthony (34-39 minutes)
C: Tyson Chandler (27-32 minutes)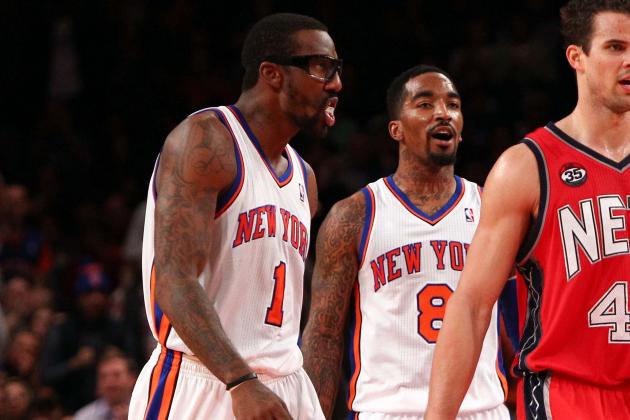 US PRESSWIRE
STAT should join J.R. Smith has the primary bench option.
Knicks guard J.R. Smith has played well enough to be the early front-runner for Sixth Man of the Year. His 16.7 points per game are over four points higher than his career average. More importantly, however, is his 48 percent field goal percentage. Smith has shot over 45 percent just once in his nine-year career.
He's playing at a much higher efficiency than ever before, as well. His 20.82 PER is almost five points higher than any season for Smith besides 2007-08.
According to Smith, he's cut down on his night-life activities, and the newfound focus has done wonders for his game.
Now, onto the Knicks' other bench option: Amar'e Stoudemire.
Tossing STAT right into the mix with the first team wouldn't be wise, considering how much they've accomplished this season without him. All hope is not lost, however, for the former All-Star. Stoudemire is fit to lead the team's second unit formerly known as Mobb Deep.
When playing with Carmelo Anthony for the majority of his minutes, Stoudemire is often the odd man out on offense. Anthony is one of the premier scorers in the NBA, but his scoring methods often require much of the halfcourt—leaving no place for Stoudemire.
On the second team, Amar'e can revert back to his ways that led him to the height of MVP talks in January of 2011. He can have the whole painted area at his disposal, and even play the center position—like he did in 2010-11—if need be.
He would be playing with pick-and-roll experts Jason Kidd and Pablo Prigioni, which is Stoudemire's primary method of sinking buckets.
When defenses look to focus their attention on Stoudemire, he'll have Smith to turn to, along with Kidd for stability.
On the defensive side—where Amar'e is insufferably weak—Mike Woodson could throw Rasheed Wallace or Marcus Camby down low as an insurance policy for Stoudemire, who is privy to the occasional blow-by.
"Sixth Men"
PF: Amar'e Stoudemire (26-31 minutes)
SG: J.R. Smith (27-32 minutes)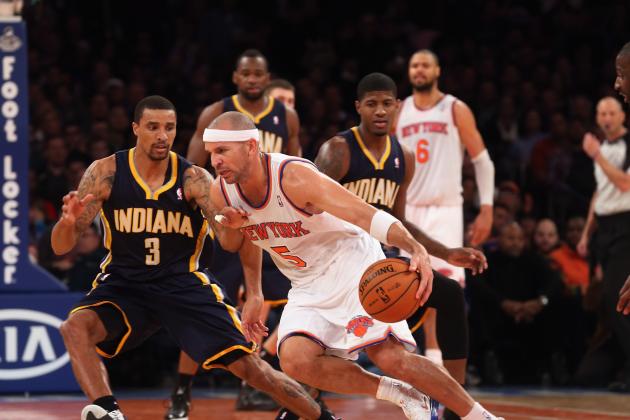 Bruce Bennett/Getty Images
Kidd has made a major impact this year, and will provide major minutes as a reserve.
In the absence of Iman Shumpert, Jason Kidd has been a key factor in the Knicks' 7-1 start. Once the 22-year-old returns, however, the vet will most likely adjust to a a reserve role for the first time in his 19-year-career—he's entered a game off the bench just 13 times since 1994. The move should be exceptionally beneficial to Kidd's stamina as the season moves forward.
Also for the first time, Kidd is solely handling the duties at shooting guard, while Mike Woodson is letting Raymond Felton and Pablo Prigioni handle the point. Off the ball, Kidd is shooting 59 percent from the field, and 57 percent from three. He hasn't missed a free throw this season in nine trips to the stripe.
Another pleasant surprise through the season's first seven games is the play of Rasheed Wallace. 'Sheed's signing was initially perceived as insignificant and unwise. Wallace has proven his critics wrong this season in just two weeks' time.
In the Knicks' first two games, Wallace was merely the team's victory cigar. He appeared only after the score was past settled and chants from Garden fans rang down, demanding to see their adopted technical-foul-embracing soldier.
As Wallace proved himself, Coach Woodson began to permit 'Sheed to see regular minutes—and he hasn't disappointed.
He is currently seeing minor but vital burn for New York this season. In 13 minutes per game, he's averaging seven points and three rebounds, and has provided sturdy defense and impeccable post offense. Due to the minimal minutes, Wallace's PER is at an impressive 20.88—good for 34th among all players.
The final player who will see his minutes jump as the season trudges along will be Marcus Camby. The 38-year-old was at a disadvantage as the season tipped off, as he was recovering from a leg injury. It took him a few games to return to playing shape—Camby essentially missed training camp with the injury—but it appears he's finally a member of the rotation for good.
Camby's defense—much like Wallace's, but more so—perfectly fits what the Knicks need out of their second team. If Amar'e Stoudemire will be the second unit's prime scoring weapon, having an elite defender beside him in the frontcourt is a must.
In just 13 minutes against the Indiana Pacers on Sunday, Camby grabbed four boards and blocked a shot. As the season progresses, he'll become perfect material for the Knickstape's second team (which I've personally dubbed the Eight-Track, though I hate when writers think they're comedians).
Role Players:
PG: Jason Kidd (20-25 minutes)
PF/C: Rasheed Wallace (13-18 minutes)
C: Marcus Camby (13-18 minutes)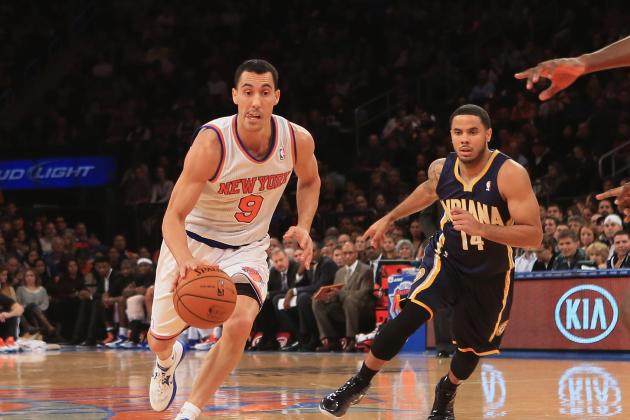 Bruce Bennett/Getty Images
With Shumpert joining the backcourt, Prigioni's role may diminish greatly.
As the Knicks see talent return to the Garden hardwood, they'll inevitably witness some players be relegated to much lesser duties.
The most notable of these players is Steve Novak. Novakaine's performance has been tailing off in recent days. This could partly be due to a shooter's slump, but much of it has to do with the way he's been used in Mike Woodson's offense.
Woodson has seemingly drifted away from off-ball screens that helped free up Novak to unload open threes early this year. The shooter's field goal percentage has suffered, but due in large part to the fact that many looks have come in traffic.
Having the league's best shooter from long-distance is an incredible asset, but only if he's used in ways that benefit him—especially when the player doesn't bring any other basketball skill to the floor. It'll be interesting to see if Woodson can find a place for Novak in his rotation.
The demise of the Discount Triple Check may be in progress. In the season's first three games, Novak averaged 24 minutes, but has seen just 19.6 on average since.
The next odd man out could be the team's third point guard. With Iman Shumpert inserted into the rotation, Jason Kidd will return to his usual point guard duties, directing traffic for the second team. This leaves Pablo Prigioni largely out of the equation in the Knicks backcourt.
The 35-year-old Argentinian rookie has seen limited minutes and performed well, but has been vastly outplayed by Kidd. In 13 minutes per game, he's averaged three points and three dimes, although his true shooting percentage is an impressive 58 percent. His efficiency rating is at a pedestrian 14, however, while Kidd's is an outstanding 22.
Prigioni will be destined for the bench, not so much due to his play, but due to the talent of those around him.
Forward Kurt Thomas has essentially been axed from the rotation after the emergence of Rasheed Wallace as the team's 38-and-over-big-man-not-named-Marcus Camby. Apparently there can only be one of those.
It's safe to say that Thomas is the team's 13th man, ahead of James White and Chris Copeland, who round out the end of Mike Woodson's bench (Sorry, James and Chris).
End of the Bench:
PG: Pablo Prigioni (9-14 minutes)
SG: James White (0-5 minutes)
SF: Steve Novak (10-15 minutes)
PF: Chris Copeland (0-5 minutes)
C: Kurt Thomas (0-5 minutes)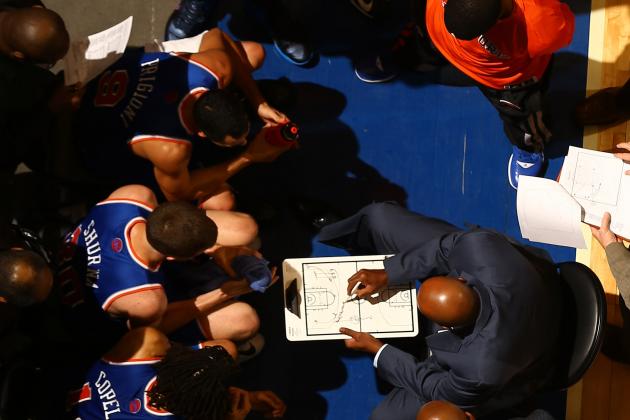 Al Bello/Getty Images
Mike Woodson has more rotation-caliber players at his disposal than any NBA coach.
Of course, there will be some mixing and matching done by Mike Woodson based on matchups and streaks, but the two units should essentially shake out like this:
(Note that the second team has the talent level of some starting squads around the league.)
Knickstape:
PG: Raymond Felton (28-33 minutes)
SG: Iman Shumpert (22-27 minutes)
SF: Ronnie Brewer (18-23 minutes)
PF: Carmelo Anthony (34-39 minutes)
C: Tyson Chandler (27-32 minutes)
Eight-Track:
PG: Jason Kidd (20-25 minutes)
SG: J.R. Smith (27-32 minutes)
SF: Steve Novak (10-15 minutes)
PF: Amar'e Stoudemire (26-31 minutes)
C: Rasheed Wallace-or-Marcus Camby (13-18 minutes)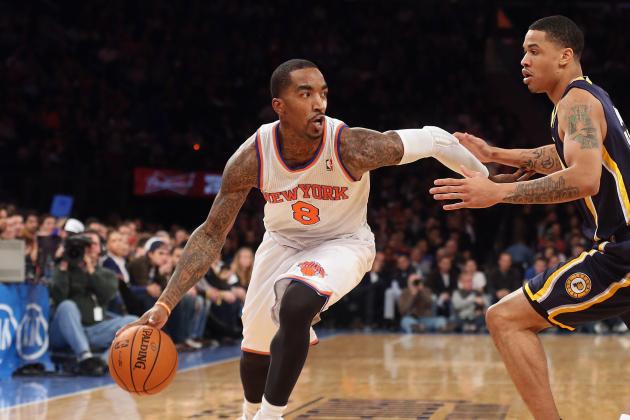 Bruce Bennett/Getty Images
The Knicks have an unstoppable offense with J.R. Smith and 'Melo on the floor.
There will be certain situations where Mike Woodson will need to rely on his team's offensive weapons to carry the Knicks to victory. In those instances, expect a lineup that looks something like the following.
It's a smaller lineup, similar to the starting five the Knicks trot out nowadays. The offensive potency that these five are capable of could be monstrous.
PG: Raymond Felton
SG: Jason Kidd
SF: J.R. Smith
PF: Carmelo Anthony
C: Amar'e Stoudemire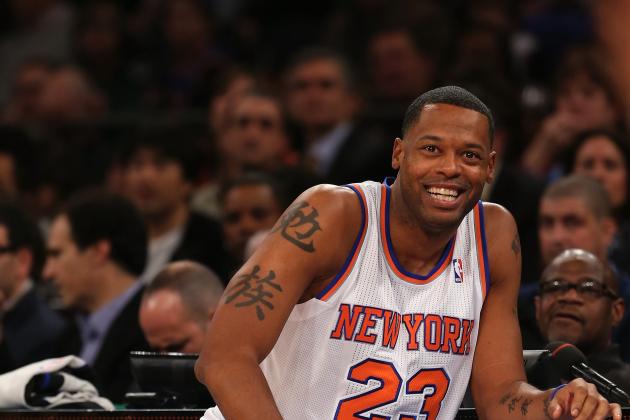 Elsa/Getty Images
Camby's minutes will increase in key defensive situations.
There will also be instances where Mike Woodson will need to call upon his defensive workhorses for Ws. In those cases, expect a group that resembles the one below.
This lineup has Iman Shumpert running the point, which isn't his ideal position, but one he has experience at. He started at the 1 early last season under Mike D'Antoni, and averaged 10 points and three assists in those games.
Defensively, Shumpert was able to hang in with the best guards in the league. The rookie made a name for himself not just as a top young defender, but a top defender—period—in today's NBA.
Some could question the presence of Carmelo Anthony in this lineup, and in years past, those questions would be warranted.
This season, however, Woodson has Anthony contributing maximum effort on both sides of the ball. He is becoming as skilled on the defensive end as he is with the ball in his hands. This is mainly anecdotal, as no metric can truly defend the point, but it's been apparent in his play through the first seven games.
PG: Iman Shumpert
SG: Ronnie Brewer
SF: Carmelo Anthony
PF: Marcus Camby
C: Tyson Chandler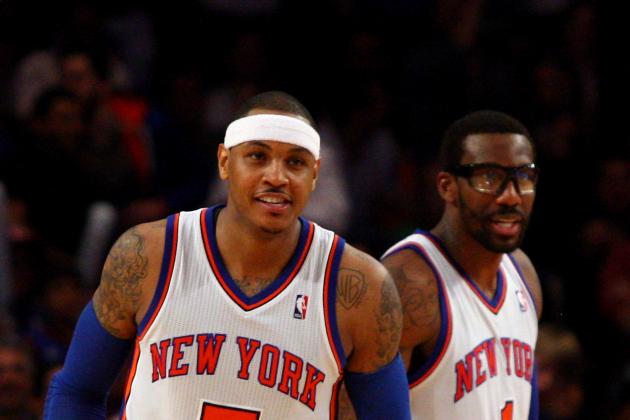 Chris Chambers/Getty Images
Crunch time is when Stoudemire and Anthony will reunite on the court.
There will undoubtedly be games this year that the Knicks will need to close out in the final minutes. The team expects to be in tight competition with the Miami Heat and Boston Celtics all season long, and should be using a combination like the following to pull out tight victories.
It will require Carmelo Anthony and Amar'e Stoudemire to coexist on offense, which has been sporadic over the last season and a half. However, in one game together this preseason, Mike Woodson was running sets that could presumably get the job done in crunch time.
A notable missing piece from this particular lineup is Jason Kidd. Kidd has done more than enough to earn the most important minutes of games. Ray Felton's ability to slash to the hoop is simply too valuable to disregard in the final minutes, however.
Defensively, Iman Shumpert can handle about any guard in the league. As of January, expect Kidd to play the majority of minutes over Shumpert. But as the 22-year-old re-earns his stripes in his sophomore year, and he returns to the form he was in last April, Shumpert will be the go-to shooting guard in key spots.
This combination of elite offense and defense should propel the Knicks past most teams they'll be competing with in the East.
PG: Raymond Felton
SG: Iman Shumpert
SF: Carmelo Anthony
PF: Amar'e Stoudemire
C: Tyson Chandler
Follow me on Twitter at @JSDorn6 for more (than likely wrong) Knicks predictions and such.