Assessing Each New York Knicks Player's Actual Performance vs. Expectations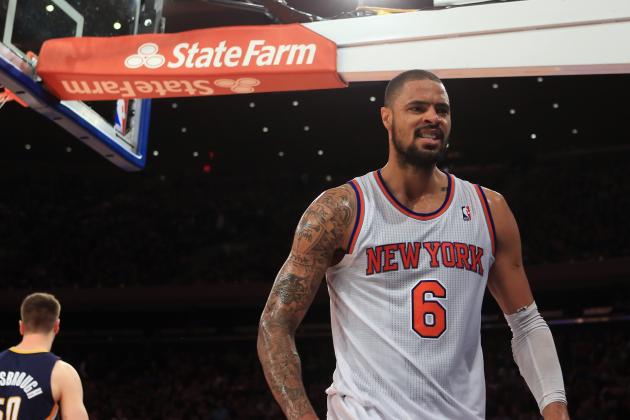 Bruce Bennett/Getty Images

Heading into the 2012-13 season, questions came about as to if the New York Knicks would rise to occasion and surpass those predictions critics had put together.
Up to this point in the early season, New York has not only lived up to the expectations, but it's also exceeded those assumptions.
The Knicks are playing the best basketball that I've seen them play in over a decade...maybe two.
However, can the players keep the progress up and continue to silence the critics?
Only time will tell.
Begin Slideshow

»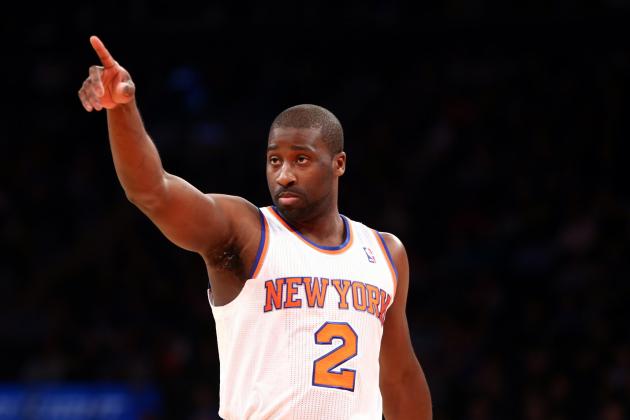 Debby Wong-US PRESSWIRE

When New York elected to trade for Raymond Felton and let Jeremy Lin walk, the team was heavily criticized.
As a result, Felton was burdened with high expectations—and no one thought he'd rise above.
Many believed that a weight problem would pull Raymond down; he admitted that he was out of shape last season, and some thought he could never return to true Knick form, especially under an offense coached by Mike Woodson.
Little did they know, Felton was fueled by the critics. He came to camp in shape (looking his best) and worked hard to become acquainted with Woodson's offense.
Up to this point, Ray Velvet has looked spectacular.
He's come up big for the Knicks—particularly when
Carmelo Anthony
and J.R. Smith struggled in a game against the
San Antonio Spurs
—and he's propelled New York to the top of the Atlantic Division.
As of November 21, Felton was averaging 15.4 points per game with 6.4 assists per game.
I think it's safe to say that Ray has risen to the occasion!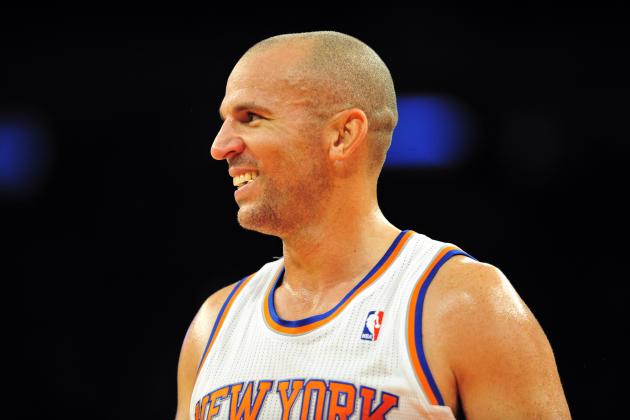 Joe Camporeale-US PRESSWIRE

Yes, Jason Kidd is one of the oldest guys on this Knicks team, but what the critics failed to properly analyze was the wisdom that this crafty point guard has built over his 18 years in the NBA.
Everyone was questioning the Knicks' moves when they acquired Jason Kidd via free agency—was he going to be a mentor to Jeremy Lin, or was he a backup point guard?
Well, right now, he's neither.
Jeremy Lin walked, and Kidd is the starting 2-guard due to the injury Iman Shumpert suffered.
Now, Kidd was bombarded with high expectations.
Up to this point, management has played their cards right.
Kidd is succeeding in the role Mike Woodson has put him in.
The two-point guard system has worked wonders for the Knicks this early in the season.
Woodson has faith in both Felton and Kidd, so having floor generals on the court at the same time benefits scorers like Carmelo Anthony and allows guys like Ronnie Brewer to succeed as well.
Jason Kidd is averaging 7.3 points per game and 3.1 assists per game as of November 21.
The old man still has some left in his tank—that's clearly evident from his play!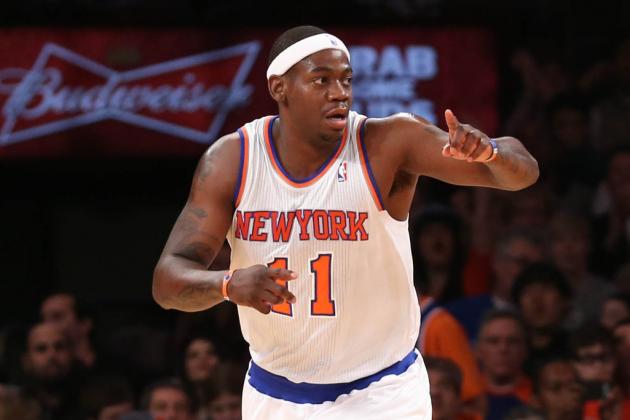 Anthony Gruppuso-US PRESSWIRE

Everyone knew what Ronnie Brewer could do defensively, but no one—and I mean, no one—predicted the kind of offensive jolt he's given the Knicks.
Brewer was brought in to New York to be a big 2-guard that can guard any opposing position—guys like LeBron James and other big men.
That's not all he can do, though!
Everyone is playing selfless basketball; the team is making three or more passes on just about every possession, and it's creating opportunities for Ronnie Brewer to showcase his offensive talents.
Ronnie is shooting an amazing 42 percent from behind the three-point line—his career average is 26 percent.
He's excelling in the role he's in right now, and he's displaying why he could be a starter on most NBA teams.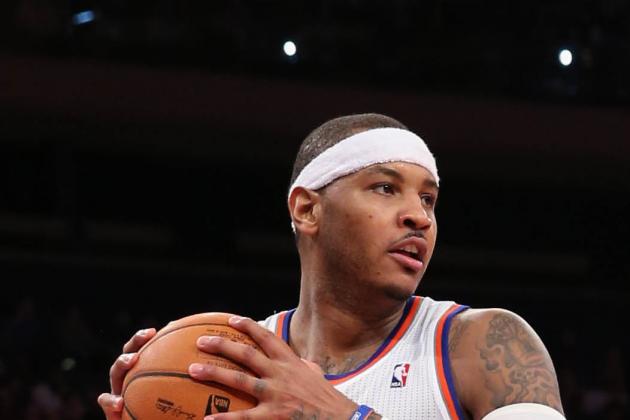 Anthony Gruppuso-US PRESSWIRE

Carmelo Anthony's—well, he's Carmelo Anthony.
The critics are always harder on the guys that fail to meet the high expectations that are placed upon them.
The biggest criticism for Carmelo was his lack of defense.
However, under Coach Woodson, he's silenced the critics.
He's playing hard defense. He's not afraid to foul his opponents. He's staying on his feet and blocking shots.
Overall, Carmelo has transformed into something we've never seen—an overall, well-rounded athlete.
Offensively, Melo is still there as well, averaging 24.2 points per game as of November 21.
Because of this new Melo that we're seeing, it's no wonder he's an early favorite for MVP candidacy.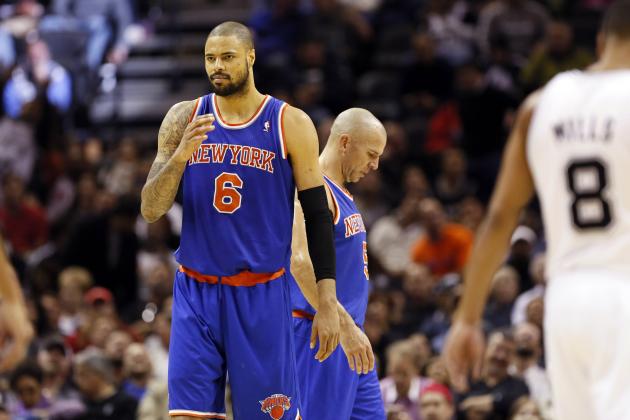 Soobum Im-US PRESSWIRE

Tyson Chandler's defense hasn't really been broadcasted as much this year as it was last year because the whole team is playing great defense this season.
He's expected to defend his Defensive Player of the Year title, and he's quietly doing so.
Tyson is tall and lanky, and he uses this to his advantage to bully opponents coming into the paint.
He's extremely intimidating down low, so it's easy to see what he brings to this New York team defensively.
Has he met the expectations—certainly.
Will he continue to show why he's the reigning DPOY?
Without a doubt.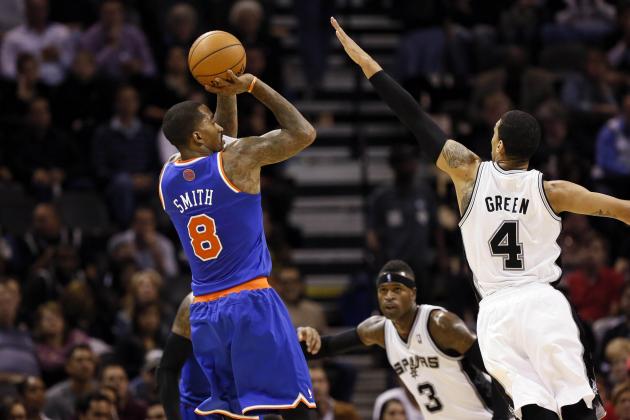 Soobum Im-US PRESSWIRE

J.R. Smith has most certainly exceeded the expectations that everyone had for him.
He's been given the titles of "chuck" and "black hole," but this season, he's matured into a better player for his teammates.
Don't get me wrong, he won't pass up that wide-open shot, but he's quick to check the court if there's a better option available.
Surprisingly, J.R. is averaging 16.1 points per game, 5.3 rebounds per game and 2.7 assists per game.
While those stats are impressive for a bench player, what's more of a shocker is the defense that Smith is playing.
Coach Woodson is fully behind his sixth man, and it shows in the shooter's confidence on the court.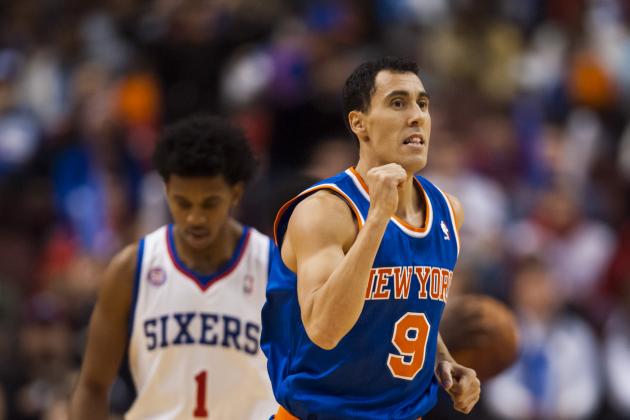 Howard Smith-US PRESSWIRE

Pablo Prigioni is another guy that was tagged by the media as "old."
However, the 35-year-old is getting the job done when he's on the court.
Nobody expecting Prigioni to come over and have eye-popping stats, but he's managed a subtle 2.4 points per game and 2.7 assists per game.
The number that jumps out to me is the 1.2 turnovers per game.
Coach Woodson doesn't have to hold his breath when Pablo is on the court, and as a coach, that's what you need.
He's realistically a third-string point guard on this team, so you can't really ask more from the guy that's performing above what is expected—especially when the expectations were basic.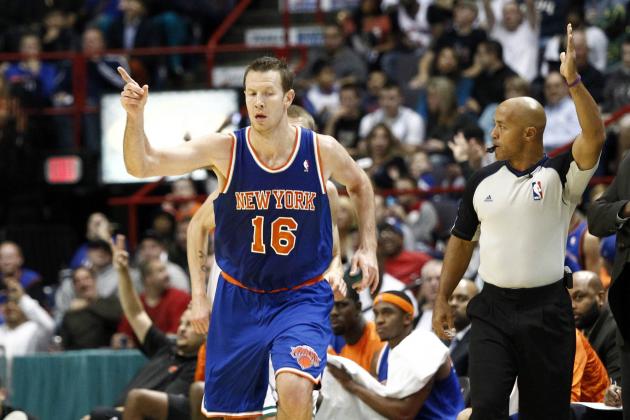 Mark L. Baer-US PRESSWIRE

Steve Novak is normally a guarantee from beyond the arc, but this year, he's struggling a tad bit.
The forward is failing the expectations placed upon him.
Last season, Novak was 47 percent from three-point land—the league-best.
However, this season, Novakane has only connected on 16 of his 47 shot from behind the arc, or 34 percent.
While it's not the worst, it's certainly not a great stat for the almighty Steve Novak.
If Steve wants to get back in the good graces of New York—and send them in a discount double check frenzy—he's got to start connecting on more shots.
It's certainly possible, especially with Raymond Felton and Jason Kidd creating the opportunities for him, but he just hasn't ridden the rust from a long offseason.
I'd grade Novak's performance up to this point a failure, but there's still time to showcase brilliance.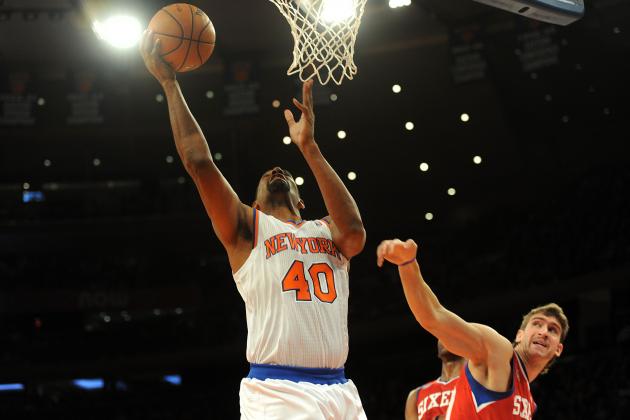 Joe Camporeale-US PRESSWIRE

In minimal minutes, Kurt Thomas has showed me that's still good to provide six fouls and make the occasional jump shot.
I didn't expect him to come into Knicks camp and be a game-changer, but I did think he'd play his heart out when given the opportunity, and he hasn't disappointed me.
In 12.5 minutes per game, Thomas is averaging two points and 3.5 rebounds.
I think in the long run Kurt will help this team, simply because he's a veteran and a proven leader, and that experience cannot be purchased or traded for.
For the time being, he's satisfied me and the expectations (they weren't much).
Elsa/Getty Images

We haven't seen much of Marcus Camby, and he hasn't filled the shoes as I thought he would.
The 6'11" center was injured in the preseason and just debuted in the regular season a week ago.
Marcus was traded for to be the prime backup to Tyson Chandler. He was viewed as another intimidator that can be present down low and deter opponents from driving.
He's been the exact opposite up to this point in the early season.
Because of his injury, Camby has only appeared in four games and is averaging 8.8 minutes in those games.
How can he contribute and meet expectations when he's not even the true backup center to Chandler?
It's a shame because Camby has enormous potential—even at the age of 38.
He's a backup. He won't be going against elite big men, and that's why he should succeed, but for the time being, I view his performances as disappointing.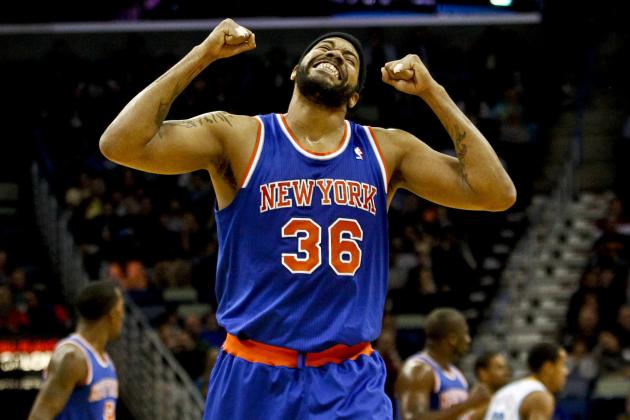 Derick E. Hingle-US PRESSWIRE

"The ball don't lie!"
OK, but seriously. Rasheed Wallace has been a pleasant surprise for Knicks fans.
He's been the primary backup to Tyson Chandler, and slowly but surely, he's returning to glory.
Many believed this was a terrible move, considering Sheed hadn't played in an NBA game in two years.
Boy, were the critics wrong.
Wallace rose to the occasion, averaging 7.1 points per game and 4.1 rebounds in 14.1 minutes.
I see Rasheed contributing big to this New York team, and he'll succeed, especially with the guys he's surrounded by.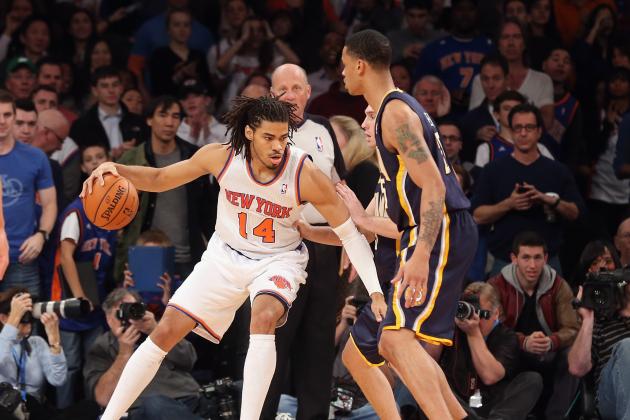 Bruce Bennett/Getty Images

Not much has been seen of Chris Copeland since the preseason, and that's why I'm saying that the expectations have yet to be fulfilled.
During preseason basketball, Copeland wowed just about everyone—especially when he concluded the preseason with 52 percent shooting percentage.
With the potential to succeed, Chris Copeland just hasn't had the opportunity yet.
If the opportunity comes knocking on his door, he might be able to have a positive experience here in the NBA, but it all depends if he reaches his peak.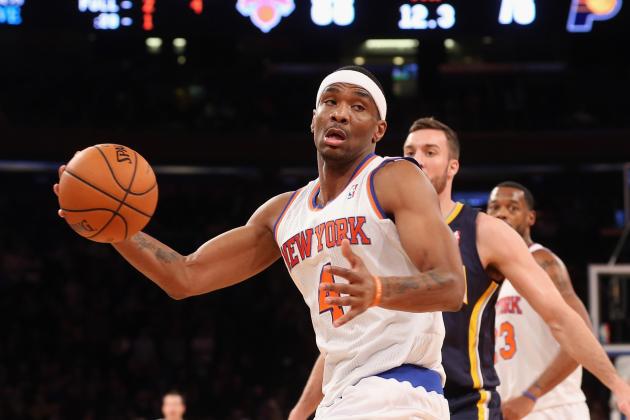 Bruce Bennett/Getty Images

The same thing that applies for Copeland—in terms of seeing floor-time—applies to James White.
The sample size is just too small to compare, but unlike Copeland, I don't think White will meet the expectations of "high flyer" nor will he succeed with this team.
Plain and simple, he's not good, and he's just a filler on the roster with a guaranteed contract.
He sees about 4.5 minutes per game, and that's surely not enough to have an impact on a team—let alone get you any exposure, even if you're in the big city with bright lights.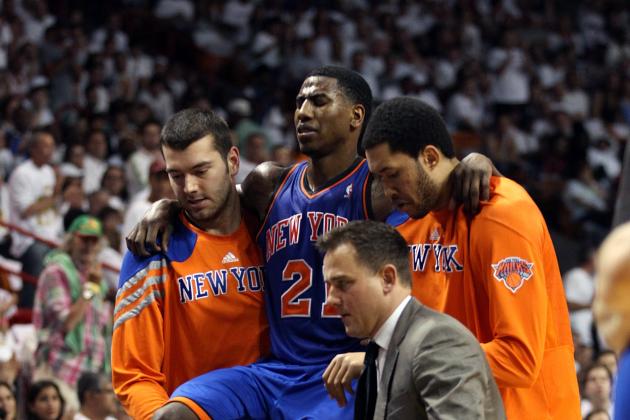 Marc Serota/Getty Images

Iman Shumpert, injured and all, is an exciting player to watch.
I know when I watch the games, I try to pick out Iman on the bench—he's got that Walt Frazier style with a little bit of Kid 'n Play swag.
The bar is high for Shumpert given last year's performances.
I'm sure he'll at least meet the expectations critics have on him with regards to his defense returning to form, which will be hard coming back from an ACL tear.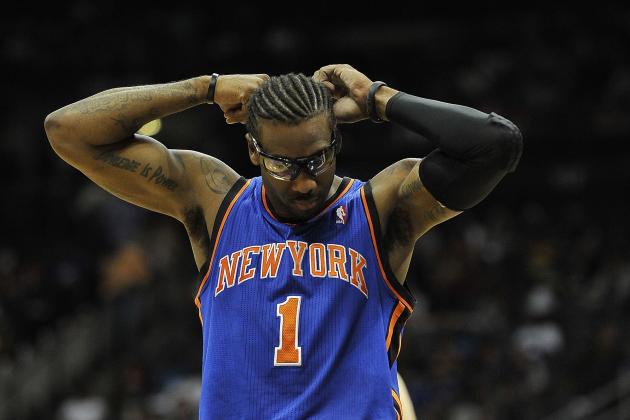 Paul Abell-US PRESSWIRE

Amar'e Stoudemire is probably burdened with the most expectations coming into this season.
During the offseason, he added to his game by working with Hakeem Olajuwon.
Preseason came along, and he needed surgery.
Amar'e is an excellent basketball player, but everything will fall on his shoulders if he doesn't perform to the best of his ability.
With all that being said, I think Amar'e will succeed and exceed the expectations.
The question is, where will he fit better—starting rotation or bench?
I have no definite answer for that, but if he comes off the bench, he'll bolster an already deep bench and give the Knicks an explosive player unlike opponents' benches.