Jaguars vs. Texans: Houston's Biggest Winners and Losers from Week 11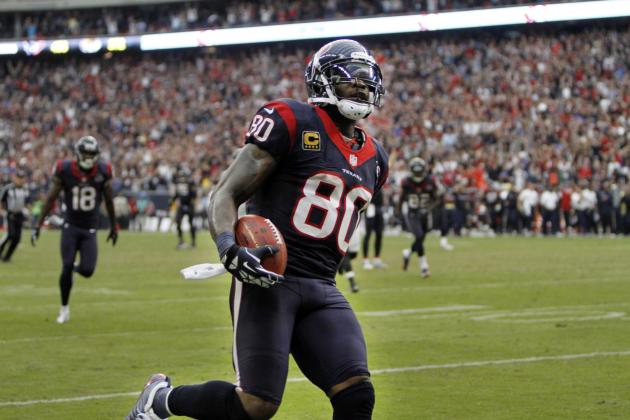 Brett Davis-US PRESSWIRE

The Houston Texans survived a scare from the Jacksonville Jaguars in Week 11, as one of the NFL's worst teams nearly knocked off one of the NFL's best at home in overtime.
Houston's defense knocked Blaine Gabbert out of the game just five plays into Jacksonville's first drive. Chad Henne came off the bench to give Jacksonville's offense a spark it hadn't felt all season.
The Texans were caught off guard by Henne's aggressiveness and willingness to push the ball down the field. Rookie Justin Blackmon had a breakout game and brought big plays to a Jaguars offense that desperately needed it.
Matt Schaub and Houston's offense found itself playing from behind for most of the game, which is unfamiliar territory for a unit that's become accustomed to playing with leads. The Texans were down as much as 34-20 in the second half.
Schaub was far from perfect, but kept the Texans in the game when they had to make a play. Despite nearly throwing the game away with an interception in overtime, Schaub rallied to make the game-winning throw.
Andre Johnson had a career high 273 yards and the game-winning 48-yard touchdown reception in overtime to seal the game for the Texans.
Here's a look at the biggest winners and losers for the Houston Texans from Week 11's drama-filled win over Jacksonville.
Begin Slideshow

»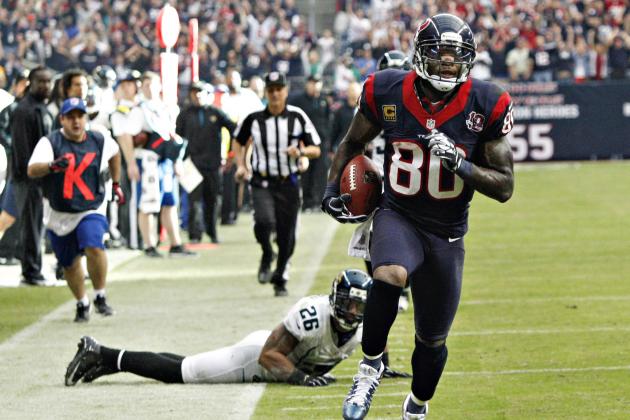 Bob Levey/Getty Images

Andre Johnson should be one of the happiest players in the NFL when he wakes up Monday morning. Not only did he register a career high in yards Sunday against Jacksonville, but he also caught the game-winning touchdown in overtime.
Walk-off wins always seem more special, and Andre's game-winner was a huge sigh of relief after the Texans offense had been inconsistent all day.
Matt Schaub had a monster day largely because of his No. 1 receiver. Schaub targeted the future Hall of Fame wideout 19 times. Jacksonville's coverage was soft and showed no signs of being able to contain the Pro Bowler all game.
Andre even had a highlight-reel block in the run game on Jacksonville safety Chris Prosinski.
There's been chatter about Andre not being the player he once was, but critics might want to re-think that notion after an effort like this.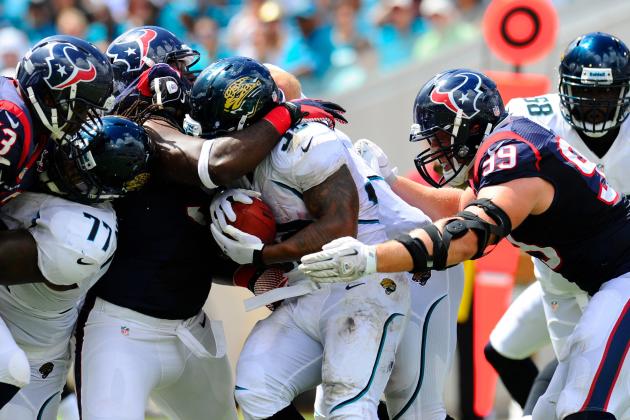 Dale Zanine-US PRESSWIRE

Houston Texans nose tackle Earl Mitchell has seen better days in the NFL than he did Sunday against the Jacksonville Jaguars.
Mitchell is filling in for starter Shaun Cody, whose been out with various injuries. The third-year defensive lineman was blown off the line of scrimmage routinely by double teams on Sunday.
Mitchell was frequently swallowed up by Jacksonville's man-blocking scheme. Jacksonville's center, Brad Meester, and left guard Mike Brewster had their way when lined up against Mitchell.
Newly-signed defensive lineman Terrell McClain also saw snaps at nose tackle. McClain was needed to spell Mitchell, but was painfully less effective and was thrown to the ground in one embarrassing instance.
The Texans need stouter play from their nose tackle position going forward. Shaun Cody's presence has been missed more than fans expected.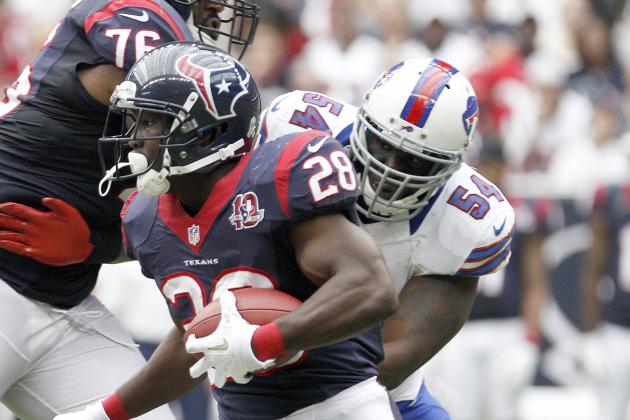 Thomas B. Shea/Getty Images

Sunday's win over the Jacksonville Jaguars was Justin Forsett's best game as a Houston Texan.
The speedy back gave the Texans much-needed chunks in the run game spelling Arian Foster. He carried the ball seven times for 59 yards and gave the running game a spark.
Defensive coordinators scheme to stop Foster, and it allows Forsett to come off the bench and catch defenses off-guard. Forsett is regarded as a receiving back, so defenses likely think pass when he's on the field. However, he has proven to be more than just a receiving back, gaining hard yards running the ball as well.
Forsett capitalized on his opportunities Sunday and continues to give fans reason to forget about the injured Ben Tate, who missed his third straight game Sunday.
Tate's absence from the offense was expected to be significant, but Forsett has emerged as a quality complement to Foster since Tate went down.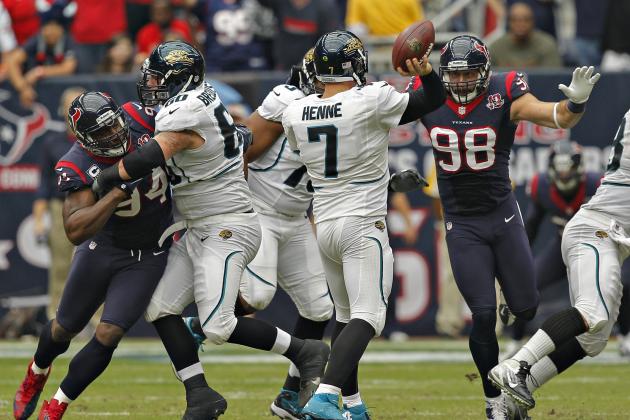 Bob Levey/Getty Images

The Houston Texans pass rush as a whole has been absent for weeks now, and it finally caught up to the team against Chad Henne and the Jacksonville Jaguars.
Houston's lack of edge rush gave Henne a comfortable pocket to survey the field from all Sunday. Texans outside linebackers Connor Barwin and Brooks Reed haven't consistently delivered the edge rush the team had expected from them coming into the season.
Barwin and Reed went a second straight week without registering a sack, and the duo has combined for only 4.5 sacks this season. Sacks aren't everything, but no one expected production that low from this combo of rushers.
Rookie Whitney Mercilus hasn't been getting the increased snaps most expected, which is becoming frustrating for fans given the lack of production from the starters.
The Texans won't beat any of the elite teams in the NFL in the playoffs with the edge rush they get week in and week out. Defensive coordinator Wade Phillips can't continue to over-blitz to make up for the lack of edge rush.
The Texans need their edge rushers to make more of an impact going forward if they want to avoid near-disasters like the Jaguars delivered Sunday.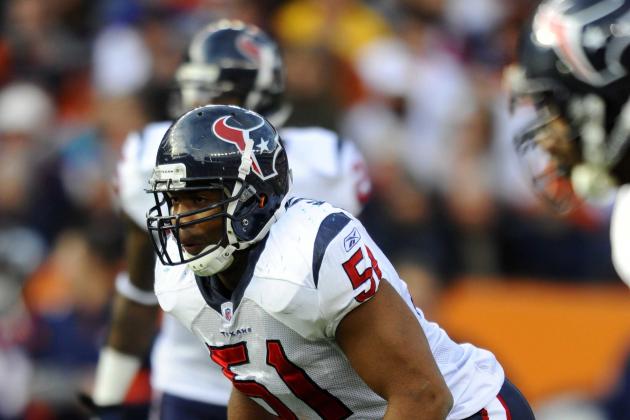 Ron Chenoy-US PRESSWIRE

Darryl Sharpton's return to the football field was a sight for sore eyes Sunday. The linebacker opened the season on the PUP list, and hadn't played a down of football since Week 7 of last year.
Sharpton showed the pop and acceleration he possessed pre-injury, though he did it in limited snaps. Sharpton should be eased back into the lineup slowly, likely seeing more snaps as the season goes.
With the loss of Brian Cushing for the season, the Texans will take all the help they can get at inside linebacker. Sharpton now joins a rotation of inside linebackers that have done a serviceable job filling in for Cushing to this point.
Sharpton has the most upside of any of the Texans' inside linebackers. A few weeks ago there were some concerns over the Texans' inside linebacker group. Sharpton's return to the lineup will ease some of those concerns.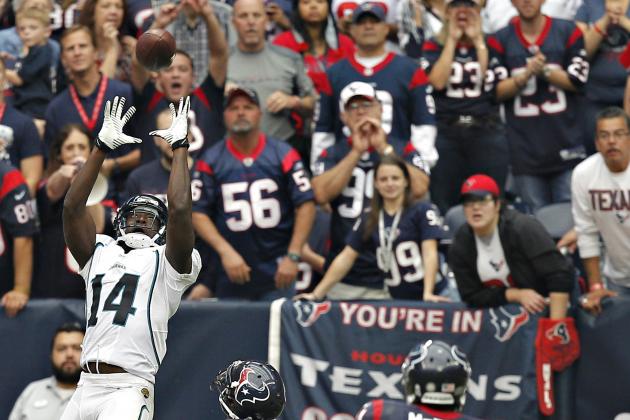 Bob Levey/Getty Images

Kareem Jackson had been playing well through the first nine games of the season, so his drop-off in performance in Week 11 came as a surprise.
Jacksonville's first-round pick, Justin Blackmon, turned in a career day, posting 236 yards on seven catches. Unfortunately for Jackson, he was on the business end of many of those yards.
Fans likely saw shades of Kareem's rookie year when the cornerback tripped after giving up a catch at one point in the first half. The trip led to the receiver gaining another big chunk of yards and momentum for Jacksonville.
The third-year cornerback rounded off his sub-par day by dropping a poorly underthrown ball by Chad Henne. If the interception had been made, the Texans would've had the ball deep in Jacksonville's territory.
This was likely just a bad game for Kareem. In a season where the young corner has vastly improved, he had a blooper.
Kareem hadn't been toasted by a receiver to this extent this season, and fans shouldn't expect performances from him like this going forward.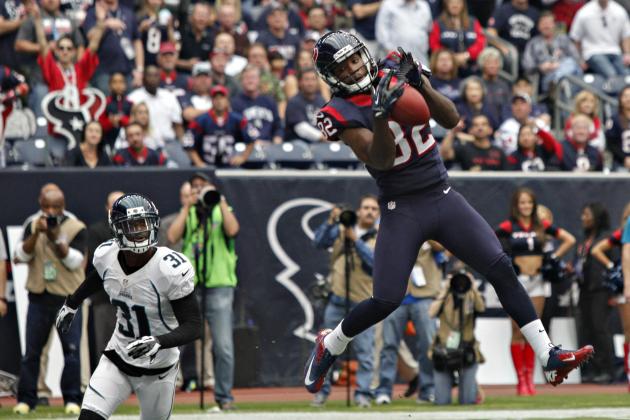 Bob Levey/Getty Images

The Houston Texans would not have squeaked by the Jacksonville Jaguars in Week 11 without Keshawn Martin's production.
The rookie wide receiver was a weapon for the Texans as a receiver, kick returner and punt returner. Martin caught a touchdown pass on the opening drive of the game after beating man-coverage and winning inside-leverage against the defensive back.
The fourth-round pick had five kickoff returns for 162 yards, which included a 54-yarder. His 71-yard punt return changed the momentum for the Texans in the second half.
Martin likely played his way into head coach Gary Kubiak's good graces with a huge day Sunday. His ability to bring a spark to a special teams unit that had struggled mightily all season was a major boost for the team.
Martin was the unsung hero of the win over the Jaguars.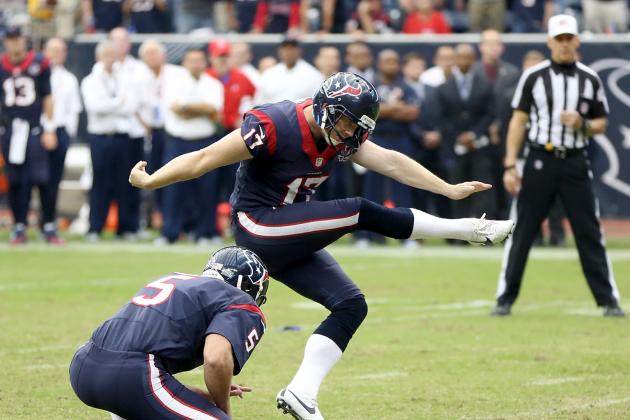 Thomas B. Shea/Getty Images

Kickers are easy targets for blame, but Shayne Graham left six crucial points on the field when he missed two field goals in Sunday's win over the Jaguars.
Graham had only missed two field goals all season leading up to this week, so fans shouldn't exactly be calling for his head. It was a bad game for the veteran, however, and his struggles could've been magnified had the team lost (or tied).
Graham's missed 47-yard field goal at the end of regulation was particularly back-breaking. It sent the game into overtime, something the team couldn't afford due to its upcoming short week.
Graham didn't kickoff well either. One particular kickoff in overtime gave the Jaguars great field position, which could've been costly.
Fans hope Graham isn't the streaky type and shakes this rough game off before Thursday's Thanksgiving game against the Detroit Lions.