Oklahoma State Football: Grading All 22 Starters from the Texas Tech Game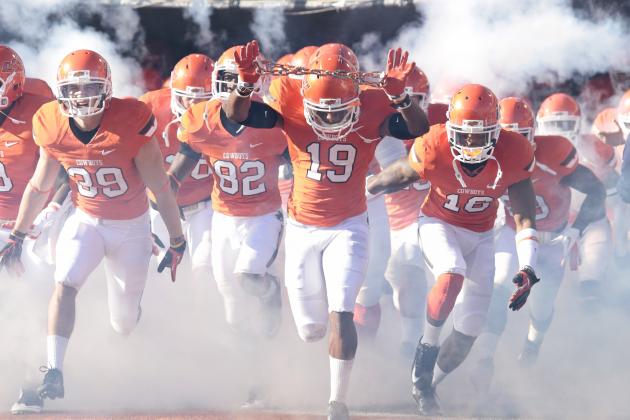 Brett Deering/Getty Images

The Oklahoma State Cowboys brought the points in what has historically been a shootout between the Pokes and the Texas Tech Red Raiders.
However, it would seem that Tommy Tuberville's Raiders didn't get that same memo.
Oklahoma State beat Tech up and down the field, dominating virtually every aspect of the game.
But which players really left their mark? Read on to find out who produced the best grade for Oklahoma State.
All stats via ESPN or okstate.com.
Begin Slideshow

»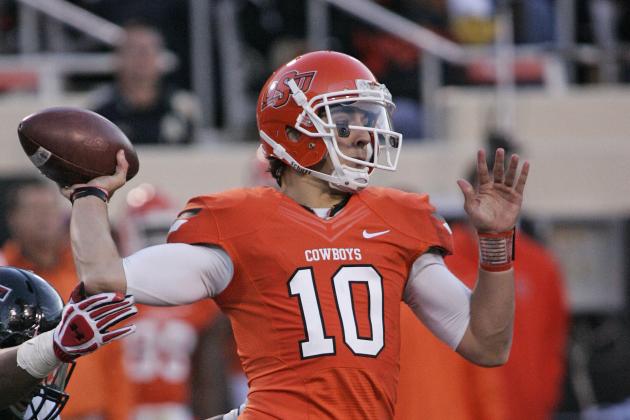 Brett Deering/Getty Images

Final Grade: A-
Chelf only threw the ball 21 times with just 11 completions; however, it's what he did with those completions that counts.
Chelf bombed the pigskin out to Isaiah Anderson multiple times and ended the game with 229 yards and three scores.
Keep in mind that he could've had a few more TDs, but J.W. Walsh pilfered a few goal-line touches that turned into two scores.
All in all, Chelf played a solid game and got the Cowboys a much-needed win.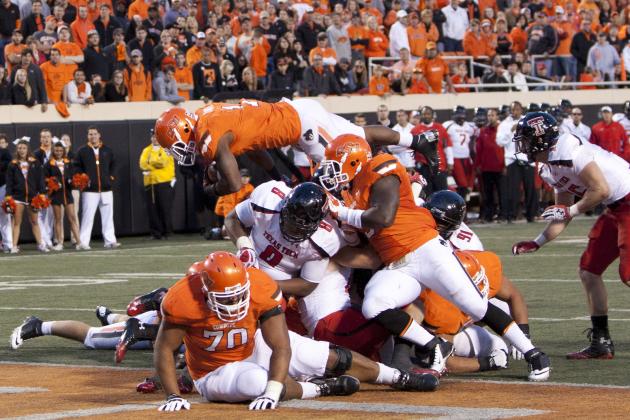 Richard Rowe-US PRESSWIRE

Final Grade: B
Randle didn't take over this game, like we've seen him do so many times, but with 91 yards on 17 carries and a score, he had a good day at the office.
You can't really downgrade him too much for what his performance, so a "B" seems fair given his solid, if unspectacular, game.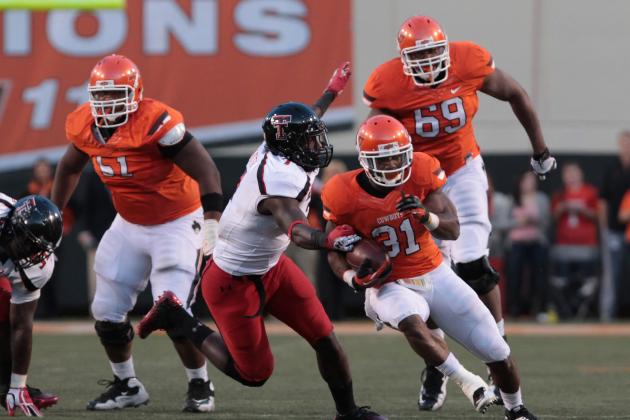 Richard Rowe-US PRESSWIRE

Final Grade: B+
Smith didn't get a start this week, but I wanted to mention the running back because of what he did with his touches.
With only five rushes, Smith was able to produce 49 yards and a score.
That's good for almost 10 yards per carry, which makes Smith look like quite the game-breaker.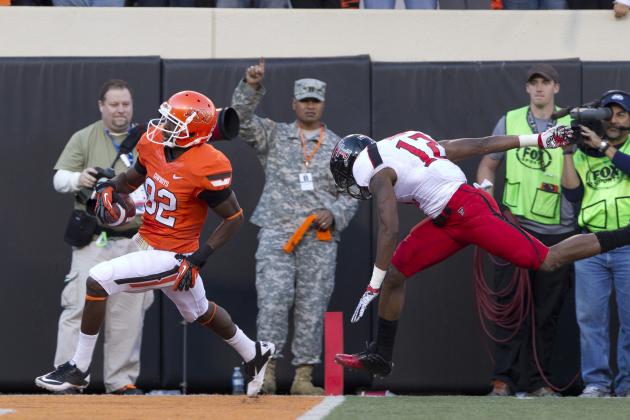 Richard Rowe-US PRESSWIRE

Final Grade: A+++
Where has this Isaiah Anderson been for the last three years?
Anderson was completely dominate as a deep threat this year and made Texas Tech's much-talked-about defense look terrible in the secondary.
I'd hesitate to get my hopes too high for the remainder of the season, but who knows? Maybe Anderson can prove me wrong and continue to dominate for the Pokes.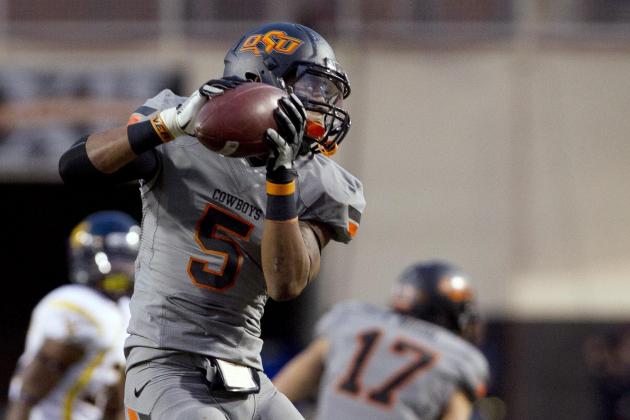 Richard Rowe-US PRESSWIRE

Final Grade: C
Stewart has been a beast over the last few weeks, and you could tell that the Red Raiders were giving him a lot of attention throughout the game.
That said, Stewart still got open quite a few times and made some key catches to keep drives alive.
He just wasn't his usual self this week, as seen in his pedestrian numbers.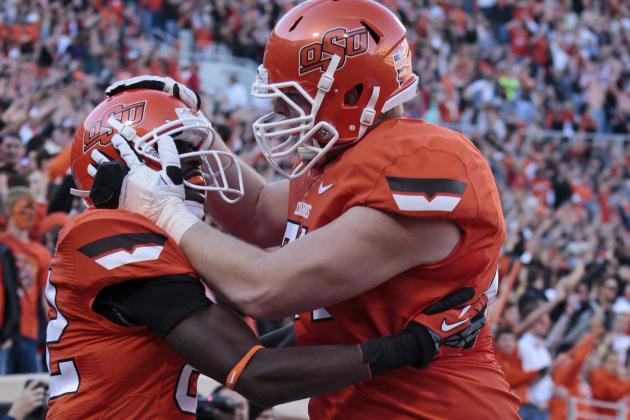 Brett Deering/Getty Images

Final Grade: A-
It's hard to find much to dislike about the line's performance.
Sure, you'd like to see them open bigger holes for the running backs; however, when your team's up by so much, the defense knows you're running the ball.
That makes it difficult for anyone to open holes.
The only real blemishes are a few penalties on the line and a single sack on Clint Chelf.
Not perfect, but about as good as you can ask for against a tough Texas Tech team.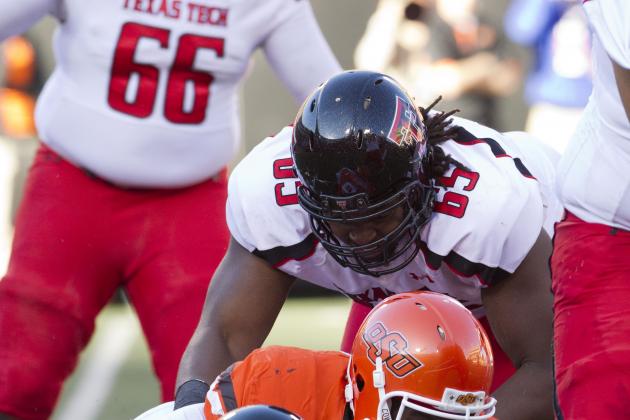 Richard Rowe-US PRESSWIRE

Final Grade: A
Nicholas, much like the majority of the defensive line, is getting a high grade because of the level of pressure he put on Texas Tech signal-caller Seth Doege
The defensive end only came away with one sack, but if you watched the game, you know he was in the backfield on virtually every play.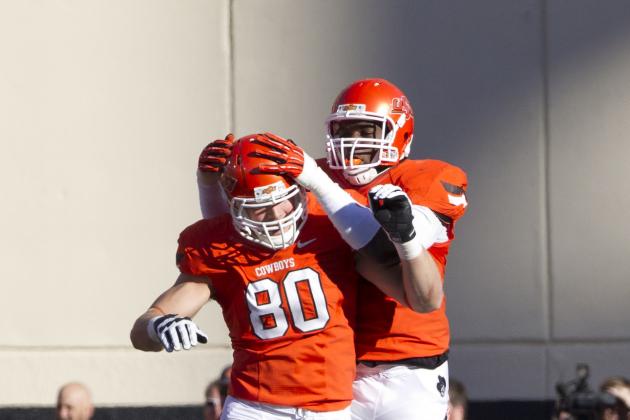 Richard Rowe-US PRESSWIRE

Final Grade: B-
Bassett receives the lowest grade amongst defensive linemen because he wasn't able to get pressure as often as his teammates.
It's not that Bassett had a bad game, he just wasn't as dominant as other guys.
For that, he's downgraded slightly.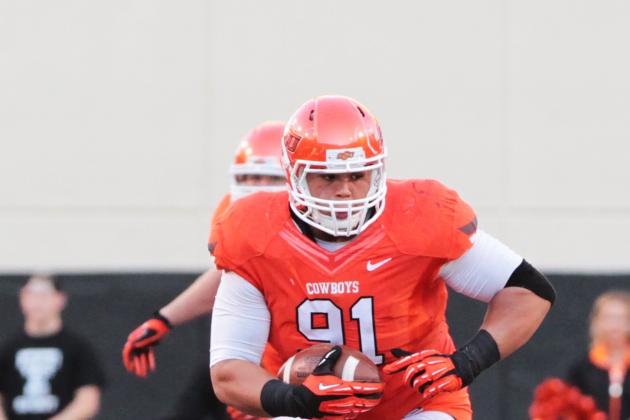 Richard Rowe-US PRESSWIRE

Final Grade: A
Listen, anytime a fat man picks off the quarterback, he's going to get an "A" in my book.
That said, Castleman played a pretty good game all-around. He clogged the middle well and even had a tackle for loss.
The interception is what you'll be talking about at your water cooler on Monday, but his total game wasn't bad either.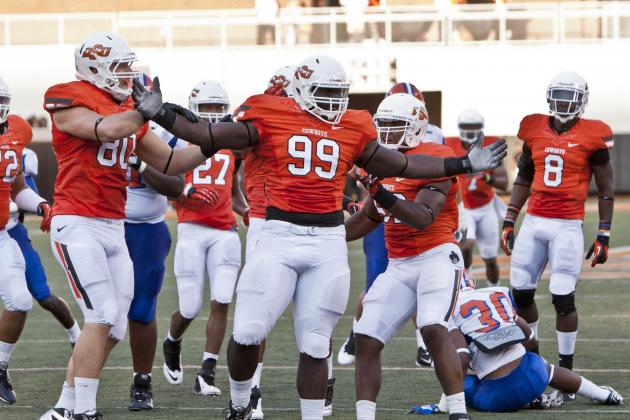 Richard Rowe-US PRESSWIRE

Final Grade: B+
Much like Nigel Nicholas, Barnett really impacted the game with his pressure.
He equaled Nicholas' sack total, but he just didn't generate as much heat as his fellow linemate.
For that, he barely misses out on an "A" grade. His game was a good one, but it wasn't on par with Nicholas'.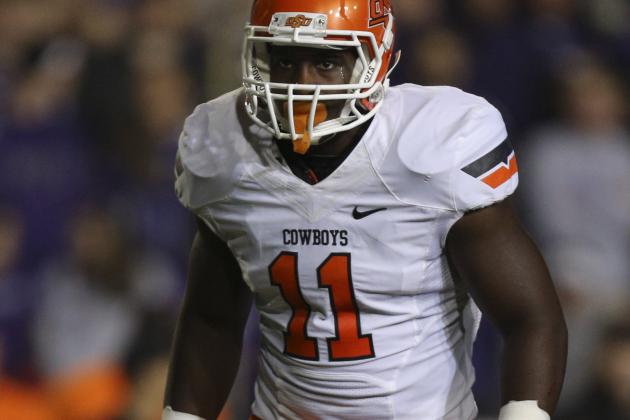 Ed Zurga/Getty Images

Final Grade: C+
Lewis has seen a noticeable decline in game-changing plays in the last few weeks.
Over the first half of the season, he was pretty much good for at least one big-time play a week.
However, we haven't seen any of that of late. Now, he has looked good in zone coverage, but you'd like to see him step up and force some turnovers or get to the quarterback.
Hopefully, he gets back to his old ways next weekend and shrugs off this two-tackle performance.
Richard Rowe-US PRESSWIRE

Final Grade: B-
Elkins isn't a player who really jumps off the television screen, but he's always in the right spot, making sound plays.
I'd like to see him tighten up his coverage when he drops back; however, he generated pressure when asked to blitz and looked good against Texas Tech.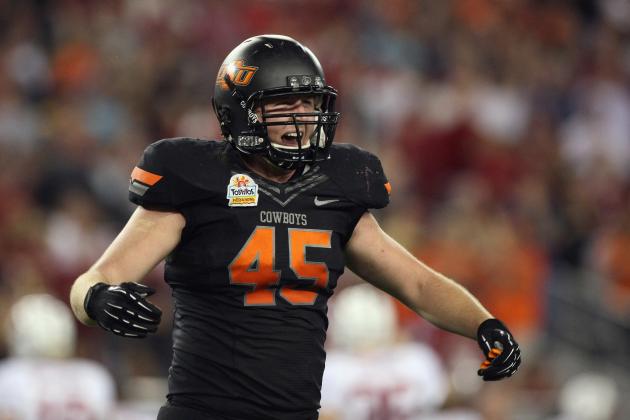 Donald Miralle/Getty Images

Final Grade: C-
Lavey was mostly invisible against Tech.
He made a few good tackles and got to the quarterback once or twice, but it wasn't anything to write home about.
Obviously, it's not that big of a deal, considering the performance the Cowboys had; however, you'd like to see Lavey step up and make more plays in the running game.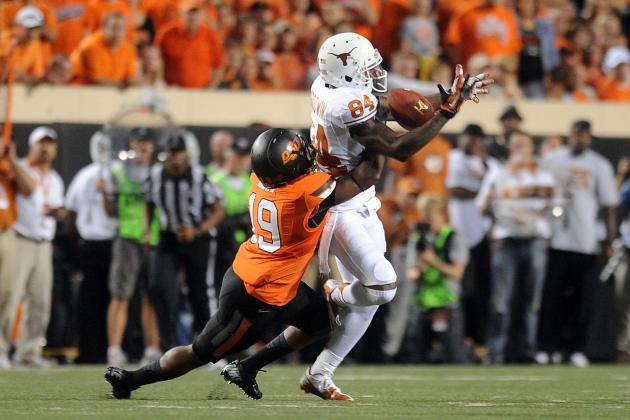 Mark D. Smith-US PRESSWIRE

Final Grade: B
I hesitate to give Brown too much credit, but it's difficult to not give him a high grade when you consider that he covered a receiver that has eight inches on him for the majority of the game.
Brown's man, Darrin Moore, got loose for a big 57-yard catch; which looks bad until you watch the tape and notice that it was against second-string cornerback Kevin Peterson.
Other than that, Moore wasn't overly explosive. He got his yards, but Brown was able to keep him breaking any other big plays.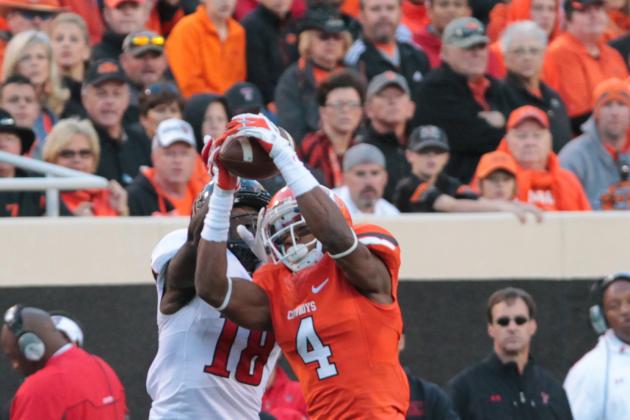 Richard Rowe-US PRESSWIRE

Final Grade: B
This grade could've been much better if Gilbert had been able to hold onto the two interceptions that basically fell into his lap.
Those two drops hurt his score some (especially the one that would've turned into a pick six); however, he played a good game regardless.
Two pass breakups and four total tackles to stop Tech screens make for a workman-like game and "B" grade.
Richard Rowe-US PRESSWIRE

Final Grade: B+
I've said it once, and I'll say it again: Nobody makes more plays (good or bad) than Shamiel Gary for the Cowboys defense.
Gary gave up two or three big plays and was beat in the end zone for a short TD pass.
That said, he also picked off Seth Doege and had six total tackles, cleaning up teammates' mistakes.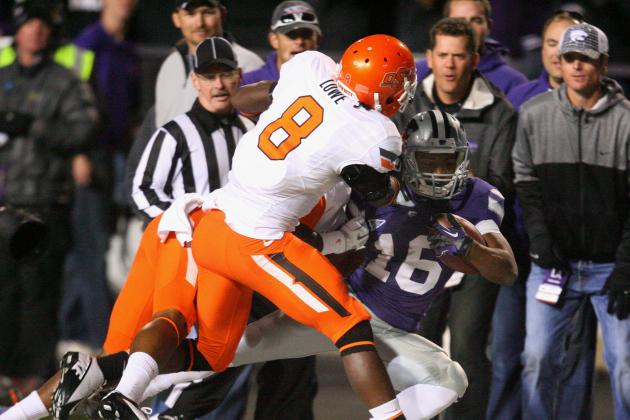 Scott Sewell-US PRESSWIRE

Final Grade B-
Shamiel Gary is able to take risks and be such a feast-and-famine type player because of the steady play of Daytawion Lowe.
You almost never see Lowe out of position, and Saturday's game was no different.
He didn't put up great stats, but he was that steady presence the Cowboys need in the secondary and let his teammates make big plays.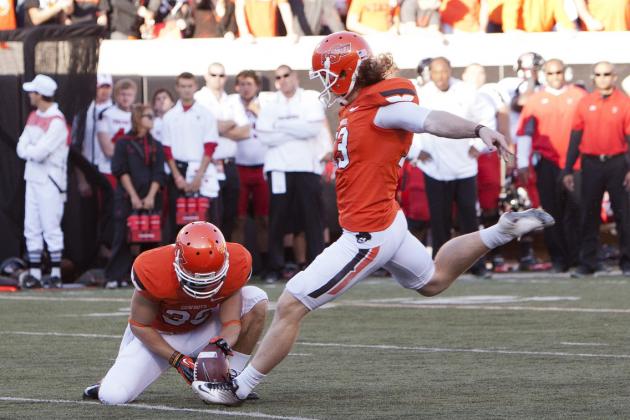 Richard Rowe-US PRESSWIRE

Final Grade: A
8-for-8 on extra points.
A 51-yard field goal.
2-for-2 downing punts inside the opponent's 20.
Does it get any better than Quinn Sharp?
Sure, he missed a 42-yarder after the game was decided, but does that really matter? This is the best special teams player in the nation, and there's not even a debate.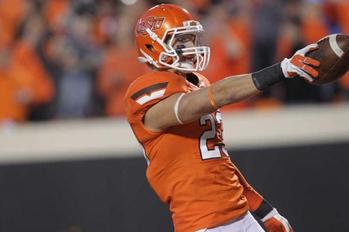 Final Grade: A+++++++++++
Wow. Just wow. You hardly ever see a guy block one punt during a game, let alone two.
Zack Craig did just that and returned one of them for a touchdown.
He's the hero of this game, and I had to put him on this slideshow. The kid deserves all the credit he gets with his amazing play against Texas Tech.