Broncos vs. Chargers: Live Game Grades and Analysis for Denver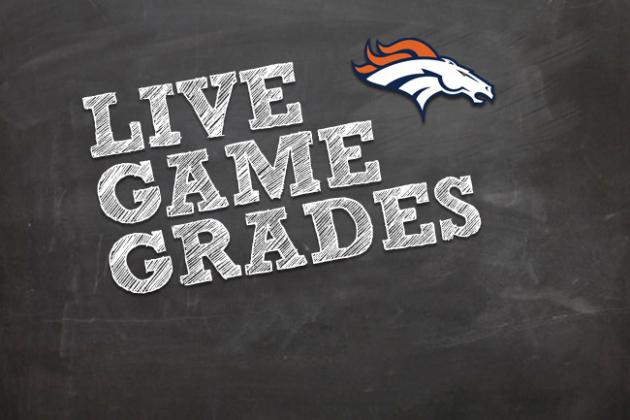 The Denver Broncos dealt the San Diego Chargers a severe blow on Sunday with a 30-23 win at Sports Authority Field in Denver.
The Broncos sweep the season series against the Chargers for the first time since 2005 when Jake Plummer and Drew Brees were the starting quarterbacks and they have won three straight over their division rivals.
Denver improves to 7-3 on the year, having won every game since their first win over the Chargers, while San Diego drops to 4-6 and in danger of missing the playoffs for the second consecutive year.
For game grades and analysis, click forward.
Begin Slideshow

»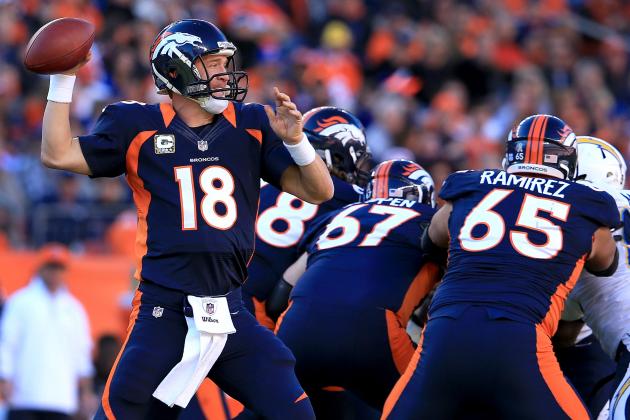 Doug Pensinger/Getty Images

Overall Grade: B+
Fourth Quarter: B
It wasn't Peyton Manning's best game this year, but with the defense playing the way it has, it didn't have to be.
Manning finished the day 25-of-42 or 270 yards with three touchdowns and one interception. However, he did surpass Dan Marino's career passing touchdown mark of 420 and tied John Elway's 148 career wins, good for second on both of those lists.
Third Quarter: B+
Manning only attempted eight passes in the third quarter, completing four of them for 46 yards. One of those, however, was a 20-yard touchdown pass to Eric Decker, giving Denver a 24-9 lead.
Second Quarter: A-
The second quarter was markedly better for Manning. He went 10-of-14 for 106 yards in the quarter with two touchdowns. Manning is starting to get in the flow after an ugly first quarter.
First Quarter: D
Manning is off to a very slow start in this game, completing just 5-of-11 passes for 40 yards. He had a ball tipped that Chargers safety Eric Weddle snatched out of the air before running back 23 yards to put San Diego up 7-0.
Manning also missed Demaryius Thomas on what should have been a touchdown and a wide open Jacob Tamme on a 3rd-and-4.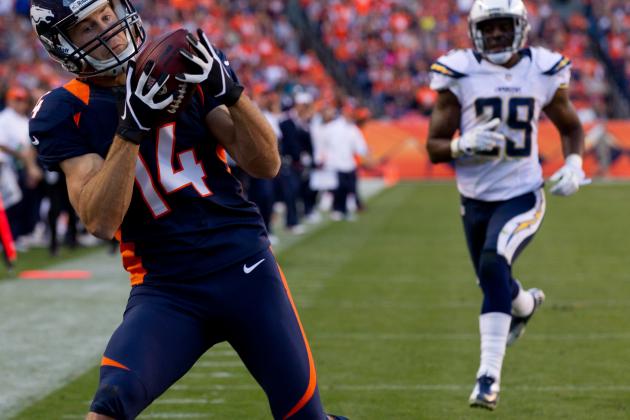 Justin Edmonds/Getty Images

Overall Grade: B+
Fourth Quarter: C
Denver managed just 14 yards of offense in the fourth quarter but still scored six points on two field goals. The game wasn't as close as the score would indicate.
Denver finished with 386 total yards of offense, 133 of those coming from their running game.
Third Quarter: B
It was revealed that WillisMcGahee won't return in this game and if he misses an extended period of time, that could be a very costly injury for Denver. Still, the Broncos have over 100 yards rushing as a team. Just before the end of the third quarter, Ronnie Hillman came up lame after a very nice 19-yard run. It looks like it may be Lance Ball from here on out.
The touchdown catch for Eric Decker was the 17th of his career. That is the most any Broncos receiver has ever had in the first three years of his career.
Virgil Green was beaten badly by Shaun Phillips, who sacked Manning in the end zone for a safety.
Second Quarter: A
The Broncos are beating up on the Chargers on both sides of the ball and had 236 yards of total offense in the first half.
Thomas and Brandon Stokley each caught touchdown passes in the second quarter as Denver has opened a 17-7 halftime lead, and it should really be more.
The running game has been good, with 83 yards on the ground and Hillman and Ball have both been called on to fill in when McGahee was getting attention from the trainers on the sidelines. Ball did lose a fumble, but San Diego was unable to do anything with it.
First Quarter: C
The Broncos did have some success on the ground in the first quarter as McGahee ran the ball well. Hillman even popped off a 21-yard run.
The rest of the offense is off to a slow start as the Broncos haven't been able to sustain drives. The scoreless first quarter was the Broncos' first since Week 6.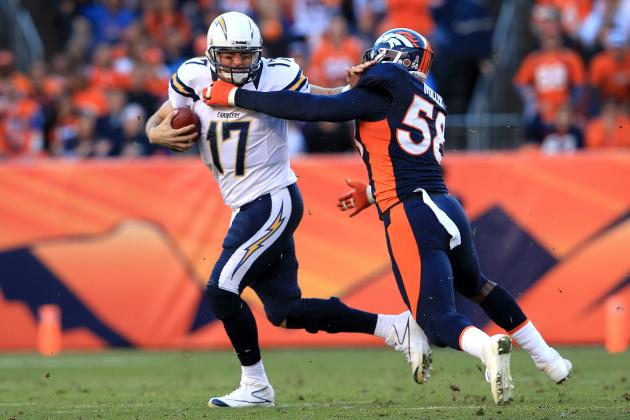 Doug Pensinger/Getty Images

Overall Grade: A-
Fourth Quarter: B
Coming into the game, the Denver defense ranked 6th in the league. They did nothing but possibly improve on that number today.
San Diego finished with 277 yards of offense but Denver had four sacks, seven tackles for loss and held them to 3-of-16 on third down.
Tony Carter, who has been a gem this season, was victimized multiple times by Danario Alexander, who finished the day with seven receptions for 96 yards and two touchdowns, both of those coming against Carter.
With the score 30-23, San Diego got the ball with 24 seconds remaining, needing to go 87 yards for the game-tying touchdown. But on second down, Elvis Dumervil came in very quickly and sacked Philip Rivers, slapping the ball out of his hands.
Third Quarter: B-
Von Miller is putting together and incredible year. In the third quarter, he sacked Rivers twice more, causing a fumble both times. San Diego was able to pounce on the first one but Wesley Woodyard scooped up the second, taking it 12 yards to the Chargers 25-yard line, setting up the Decker touchdown.
But right before the end of the third quarter, Denver allowed the Chargers to go on a 12-play, 80 yard scoring drive, which ended with an 8-yard touchdown pass from Rivers to Alexander. The Chargers converted three third downs on the drive.
Second Quarter: A
It's hard to say whether the Broncos' defense has been good or if San Diego is just that bad. The Chargers have seven points that were gifted to them and only had 54 yards of total offense in the first half.
Rivers looks very poor and the defense is getting after him. Does anyone out there still believe D.J. Williams should be playing over Woodyard? Woodyard intercepted a pass from Rivers and took it back 25 yards to the San Diego 8-yard line. Woodyard is having a great season.
First Quarter: A
The Broncos did a good job on the defensive side of the ball early in the game and they seem to be getting to Rivers already, forcing him into some bad throws.
The Chargers only had 30 total yards of offense in the first quarter and were 0-for-4 on third down.
Woodyard made a nice play, stopping Chargers running back Jackie Battle in the backfield for a loss of a yard on 3rd-and-1, forcing a punt.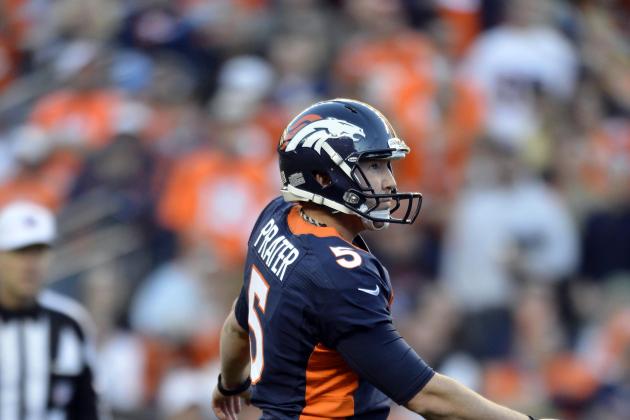 Ron Chenoy-US PRESSWIRE

Fourth Quarter: A-
Matt Prater tacked on field goals of 30 and 32 yards in the fourth quarter to keep the Chargers out of reach. Prater was 3-of-4 on field goals and made all three of his extra points, scoring 12 of the Broncos' 30 points.
Having to punt to San Diego with just 30 seconds remaining, Britton Colquitt came up with a very nice 42 yard punt, forcing Antoine Cason to call for a fair catch at their own 13-yard line.
Third Quarter: B
There wasn't anything noteworthy from special teams in the third quarter but they continue to do their job. Colquitt is still averaging over 50 yards a punt and Prater is banging every kickoff out of the end zone, ensuring the Chargers start each drive at their own 20-yard line.
Second Quarter: A
Prater was able to convert the Woodyard interception into a 19-yard field goal. Later in the quarter, Nate Irving came through and blocked a Mike Scifres' punt, setting Denver up with 1st-and-10 from the Chargers' 31-yard line. On the very next play, Manning hit Stokley for a 31-yard touchdown.
San Diego has a total of one yard in both punt and kick returns.
First Quarter: C-
Punter Colquitt averaged 56.5 yards on his two first quarter punts and former Bronco Eddie Royal was able to field just one of those, getting one lonely yard on the return.
Trindon Holliday was kept at bay on his only return in the first quarter, a punt that he brought back six yards.
Prater has shown he has one of the strongest legs in the NFL, so the Broncos called on him for a 55-yard field goal to put them on the board. Prater missed when the attempt clanged off an upright.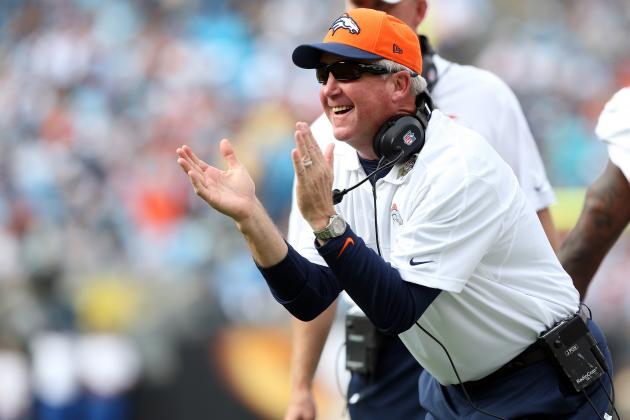 Streeter Lecka/Getty Images

Overall Grade: B+
Fourth Quarter: B
It felt like the Broncos controlled this game for close to the entire 60 minutes and the coaching staff didn't make any mistakes.
It will be interesting to see how they handle the running back situation if Willis McGahee is to miss an extended period of time. It might mean not making Knowshon Moreno inactive every week.
Third Quarter: B+
John Fox has something special with this team, and it's becoming more and more obvious each week. They go into the fourth quarter with an eight point lead.
It was also good to see them stick with the run, despite McGahee being out of the game. They've called 17 runs as opposed to 38 pass plays, but if they get a chance to close this game out, that number will go up.
Second Quarter: A
The coaching staff is calling a great game and the defense is turning in another staggering performance.
Fox made a great challenge early in the second quarter on the touchdown pass to Thomas, which the officiating crew originally ruled incomplete. Replays showed that he got two feet down with possession of the ball and the call was reversed.
First Quarter: B
It looks as if defensive coordinator Jack Del Rio will dial up the pressure on Rivers, trying to force some mistakes. This is a good move as the Chargers signal caller has been prone to them.
On offense, Mike McCoy should call some patterns where Manning can find receivers on short underneath routes, just to get some momentum going. Something definitely seemed off in that first quarter.