Green Bay Packers vs. Detroit Lions: Live Score, Highlights and Analysis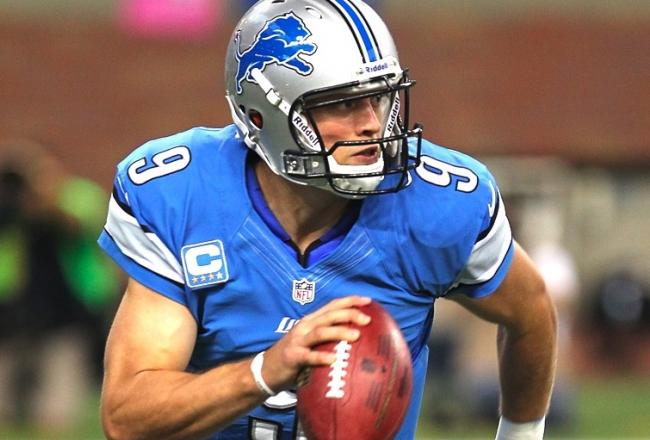 It has taken more than 10 weeks for these bitter division rivals to meet, and the stakes are incredibly high for both the Detroit Lions and the Green Bay Packers in this game.
The Packers (6-3), currently in the driver's seat in the wild-card race, are looking to make up ground on the division-leading Chicago Bears. This is only the second game the Packers have played within the NFC North, but they won their first, against Chicago back in mid-September.
The Lions (4-5), meanwhile, are playing for their playoff lives. They're 0-3 in the NFC North, with a loss at Chicago and a season sweep at the hands of the Minnesota Vikings. A loss here will all but mathematically bury their already slim hopes of being relevant in December.
Both of these teams have been somewhat disappointing to this point in the season, but both have played better of late.
The difference is, the Lions killed the momentum they'd built from winning three out of four by dropping a huge game to Minnesota last week. The Packers come into this game off of a bye week and riding a four-game winning streak.
That, along with many other signs, points to this seemingly being a walkover win for the Packers. But divisional games never turn out exactly like they're expected. The Packers aren't a perfect team, and the Lions have more talent than they've shown.
The question is whether any of that will matter. The Packers are vastly more consistent in their execution; but in spurts, the Lions are one of the few teams in the NFL that can match their firepower.
If the Lions can fire up their offense to play four quarters, they have a shot. Neither team's defense is especially frightening, and the Packers will be without Defensive Player of the Year candidate Clay Matthews.
On the other hand, Detroit's defense isn't exactly a shutdown unit, either, and the Packers are not an easy squad to stop.
Chances are, we're either looking at a blowout Packers victory, or a shootout that could go either way. Which one depends greatly on which Lions offense shows up today.
Either way, keep it here as I attempt to keep up with all the scoring, be it one- or two-sided.
Final Score: Packers 24, Lions 20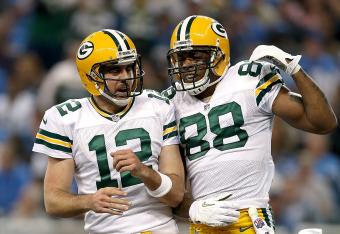 Final Score: Packers 24, Lions 20
After the Lions attempt a really ugly two-minute drill, the Packers tack on a late field goal, which helps Mason Crosby save some face, and the Packers hold on for the win.
The Lions led this one just about wire-to-wire, but when it came down to it, they just couldn't hold on.
The Packers offense didn't really fire up all game, but when they were down six points with only four minutes to go, they kicked into gear and did just enough to win.
Calvin Johnson had another great game, but Matthew Stafford was erratic with his ball placement once again, which resulted in drops, interceptions, and lots of missed opportunities down the field.
The Packers improve their win streak to six straight, and the Lions are just about ready to start looking to next season.
It was a close contest, not the Packer blowout it could have been, but the Lions simply couldn't close, which is pretty much a microcosm of their season. Last year, the Lions won these games. This year, they can't.
The Lions will play on Thanksgiving this week, and their season isn't over mathematically, but realistically, they needed to win this week or last to have any real chance at making noise.
The Packers, meanwhile, aren't likely to look back from this win, and should be playoff-bound once again. They could lead the division by the end of the week if the Bears lose on Monday night.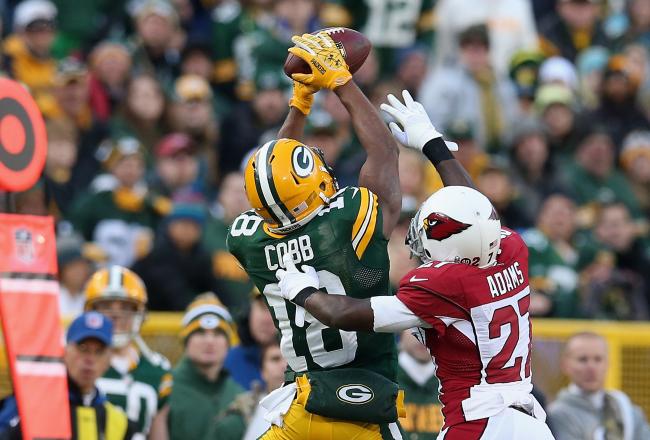 Touchdown Green Bay!
That didn't take too long. Aaron Rodgers marched the Packers down the field in about two minutes for the go-ahead score to Randall Cobb, and just like that, the Packers are back.
Now Matthew Stafford has about two minutes to do the same.
Current Score: Packers 21, Lions 20 (1:55 4Q)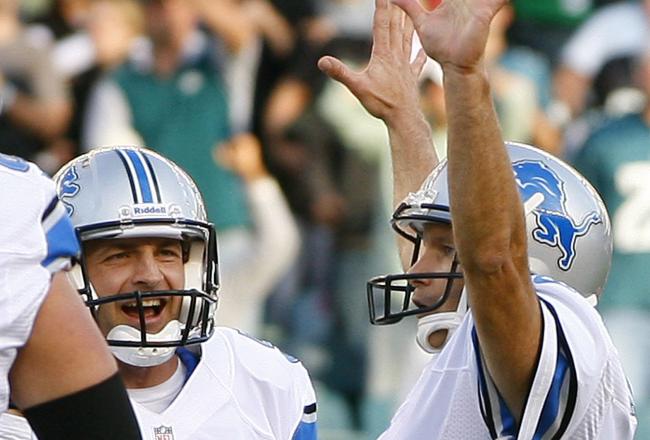 Field Goal Lions!
The Lions would have loved to put this game away with a touchdown, but the 27-yard Jason Hanson field goal makes it so that the Packers need a touchdown.
Though given Mason Crosby's day, they might have gone for that, anyway.
Current Score: Packers 14, Lions 20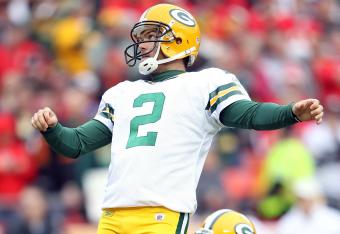 Mason Crosby might be finding his own way back to Green Bay. It was one thing when he missed a couple of 50-yard field goals before halftime.
But Crosby just pulled a 38-yard field goal wide, leaving the Lions in the lead. He's now 0-for-2, and it's worse than the stats show. Crosby missed the 50-yarder twice because of the icing timeout, and the Packers went for it on fourth down (and failed) early in the game because of Crosby's struggles.
If the Packers end up losing this game, you can bet Crosby is going to be in the headline.
Current Score: Packers 14, Lions 17 (4:30 4Q)
The Packers defense comes up huge with a pair of sacks on Matthew Stafford, bringing their sack total to five on the day.
After the punt, the Packers will take over in Lions territory with lots of time and only three points to make up.
Current Score: Packers 14, Lions 17 (10:30 4Q)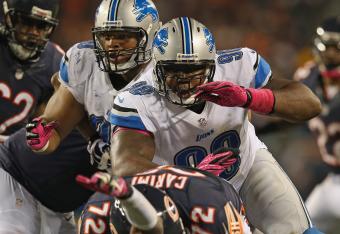 It's worth noting that Nick Fairley has been absolutely massive in this game.
I'm not talking about his size, I'm talking about his impact. He's had sacks, forced fumbles, and has basically lived in the backfield throughout this game.
Part of the reason the Packer offense has been ineffective in this game is that the Lions are finally starting to impose their will with the front four.
The Lions continue to lead, and they're finally in the fourth quarter, where they are consistently at their most effective offensively.
Current Score: Packers 14, Lions 17 (12:20 4Q)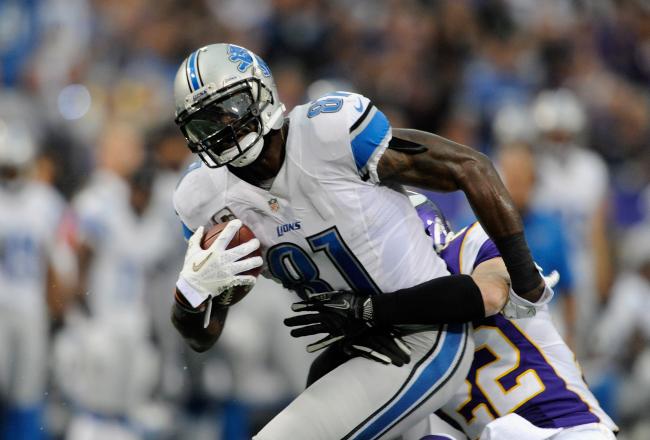 Touchdown Lions!
The Lions offense has absolutely found its groove in this game, and it culminates in a Stafford-Johnson hookup for a touchdown, which puts the Lions back on top.
The Packers offense has not been terribly effective in this game, with only seven points to their name in the third quarter, but they're surely not done. Stay tuned.
Current Score: Packers 14, Lions 17 (:51 3Q)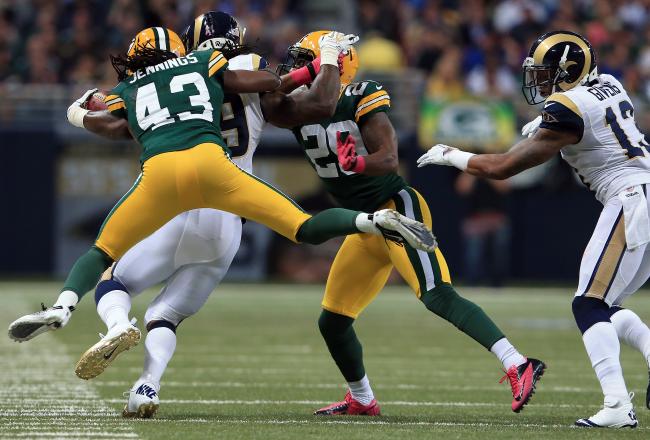 Touchdown Packers!
It looked like the Lions were going to be poised to extend their lead. Instead, Matthew Stafford throws a pass behind Tony Scheffler, it's picked off by M.D. Jennings and returned 72 yards for a touchdown.
That pretty much swings the momentum (and the lead) into the Packers' favor. The Lions haven't had much trouble moving the ball down the field, but they have struggled to turn yards into points. They need to start taking care of the football if they're going to get back in this.
Current Score: Packers 14, Lions 10 (7:42 3Q)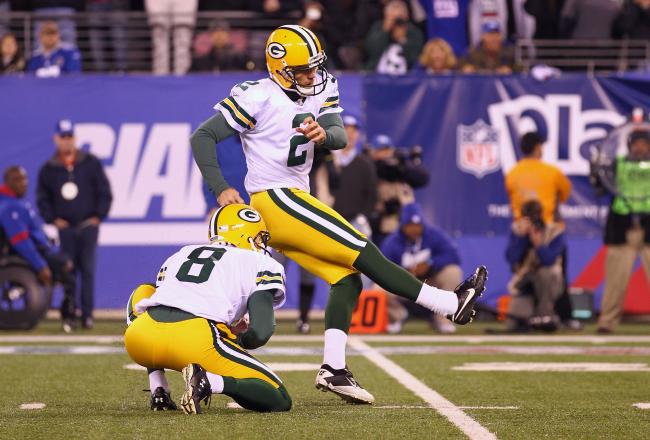 With three total turnovers in the final three minutes of the first half, it seemed like somebody was going to score.
But even though both teams spent most of those three minutes in scoring position, nobody scored.
Let me try to recap that recent madness.
Matthew Stafford threw an interception, then Aaron Rodgers threw an interception, then Stafford fumbled, then Mason Crosby missed a 50-yard field goal wide right that was negated by a Jim Schwartz "icing" timeout, then Crosby missed the same field goal wide left after the timeout.
Those misses sort of vindicate Mike McCarthy's decision to go for it on 4th-and-4 in the first quarter.
So after all that, we have the Lions still leading in the game 10-7, with the Packers receiving in the second half.
Current Score: Packers 7, Lions 10 (Halftime)
The Lions were driving with time to spare in the second quarter, but just as they moved into field goal range, Matthew Stafford threw an ugly interception into the waiting arms of Casey Heyward.
Now it's Packers ball at about midfield with two minutes to moving into a tie or lead at halftime. Not what the Lions wanted, considering the Packers will receive the kickoff in the second half.
That said, let's take a moment to appreciate Heyward, who just pulled down his fifth interception of the season.
And no sooner do I say that than Jacob Lacey picks Aaron Rodgers off to equalize the turnover margin. Lions take over, once again trying to score before halftime.
Current Score: Packers 7, Lions 10 (1:09 2Q)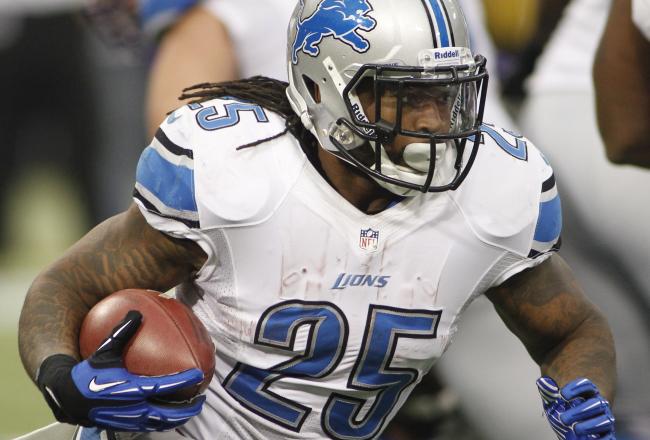 Touchdown Lions!
Matthew Stafford and Calvin Johnon move the Lions down the field again, and this time, they're able to finish on the legs of Mikel Leshoure.
Leshoure took a 10-yard carry to the one-yard line, then punched it in on the next play with a great second effort after it appeared he was going to be stacked up at the line.
It looks like that Lions are willing to make a game of this. They scored a rare first-half touchdown to reclaim the lead, and now the scoring appears to be moving back in line with our expectation.
Current Score: Packers 7, Lions 10 (2Q)
Touchdown Packers!
At the end of the first quarter, the Packers were moving down the field thanks to a couple of great third-down conversions by Aaron Rodgers.
Rodgers has done a good job of avoiding pressure so far in this game. The Lions have gotten guys into the backfield, but Rodgers has been able to either sidestep the pressure or roll away from it.
Once the Packers got those first couple conversions out of the way, it started looking like the Packers offense, and they cap things off with long passes to Jordy Nelson and the finisher to Jermichael Finley.
Current Score: Packers 7, Lions 3 (2Q)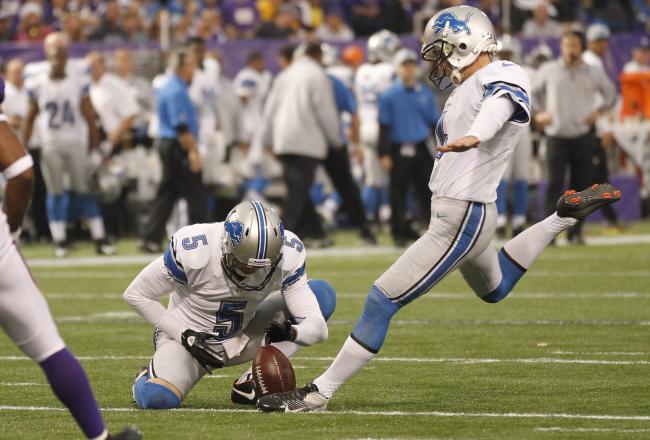 Field Goal Lions!
After Calvin Johnson pulls in a bomb down the field setting the Lions up in the red zone, the Lions settle for a 30-yard Jason Hanson field goal.
Still, the Lions made the Packers pay for their decision to go for it on fourth down instead of sending out Mason Crosby.
The Lions lead this one early, in what is already not nearly as high-scoring a game as we might have expected. Still, it's early.
Current Score: Packers 0, Lions 3 (1Q)
The Lions start a drive at their own two-yard line and finish it at the four-yard line after another drop and another overthrow. The offense is predictably slow to start, as always.
The Packers start their next drive in Lions territory, and they should be in, good position to score, but they are currently running in place because of penalties.
The Packers finish the drive by going for it on 4th-and-4 within field goal range, and an incomplete pass down the middle kills it. The defense not only held strong, but they greatly improved the Lions' field position.
Injury Update: It looks like Drayton Florence was just shaken up on the play, as he was back out on that sequence.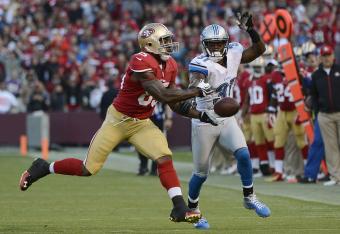 The Packers kick off to start this one, and the Lions respond with a quick three-and-out after a couple of drops.
Business as usual for the Lions in the first quarter, and the Packers respond with an ineffective drive of their own. This game is already lower-scoring than most expected.
Injury Alert:
Lions CB Drayton Florence, who was just activated off the new limited-term injured reserve, left the game on the first play after taking a shot to the side of the head from Randall Cobb during a tackle.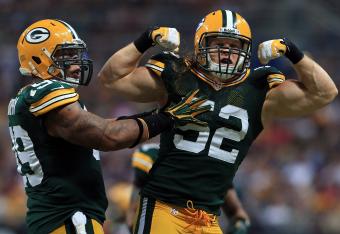 Inactive/Injured list
Green Bay Packers
| | | |
| --- | --- | --- |
| Jarrett Boykin | WR | Inactive |
| Donald Driver | WR | Active |
| Alex Green | RB | Active |
| Greg Jennings | WR | Inactive |
| John Kuhn | FB | Active |
| T.J. Lang | G | Active |
| Terrell Manning | LB | Inactive |
| Clay Matthews | OLB | Inactive |
| Mike Neal | DT | Active |
| Jordy Nelson | WR | Active |
| Andrew Quarless | TE | Inactive |
| Sam Shields | CB | Inactive |
| Ryan Taylor | TE | Active |
| Johnny White | RB | Active |
| D.J. Williams | TE | Active |
| Charles Woodson | SS | Inactive |
| Jerel Worthy | DE | Active |
Detroit Lions
| | | |
| --- | --- | --- |
| Cliff Avril | DE | Active |
| Erik Coleman | SS | Active |
| Louis Delmas | FS | Inactive |
| Jason Fox | T | Inactive |
| Jason Hanson | K | Active |
| Corey Hilliard | T | Inactive |
| Chris Houston | CB | Active |
| Calvin Johnson | WR | Active |
| Ronnell Lewis | DE | Inactive |
| Kellen Moore | QB | Inactive |
| Ashlee Palmer | OLB | Active |
| Brian Robiskie | WR | Inactive |
| Corey Williams | DT | Inactive |
| Titus Young | WR | Active |
This article is
What is the duplicate article?
Why is this article offensive?
Where is this article plagiarized from?
Why is this article poorly edited?