UFC 154: What's Next for the Losers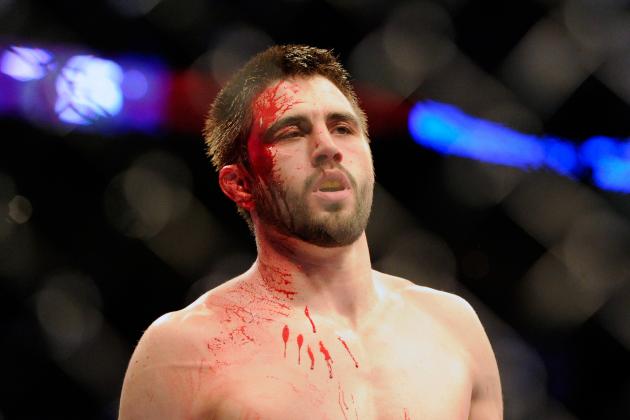 Eric Bolte-US PRESSWIRE

UFC 154 could be described as a "stud and dud" type of event. The main event bouts featured more than enough excitement, but there were moments sprinkled throughout the card that left fans wishing they had picked something else to do on a Saturday night.
As with all competitions, there must be a winner and a loser. For the winners, the future is clear as they're on their way up. For the losers, however, the road ahead just became a bit murky.
There's always a number of questions as to where a loser of a fight will go next: Will they face a big name opponent? Take a "gimme fight" to get back on the right track? Or are they destined to continue their downward spiral?
UFC 154 features a litany of losers who will have some tough choices ahead of them in the coming months.
Begin Slideshow

»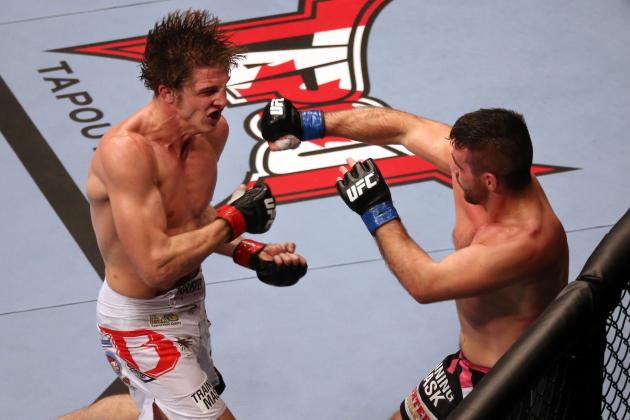 Tom Szczerbowski-US PRESSWIRE

Here's what could be on tap for the guys who came out on the losing end on Facebook and YouTube:
Steven Siler—Sam Sicilia. Both are coming off losses that ended impressive winning streaks. This could be a fight to see who is ready to take a forward step in their UFC career.
Azamat Gashimov—Drawing Ivan Menjivar for your UFC debut is a tough break. Luckily, the UFC bantamweight division has no depth, which means ample opportunities to rebound. Look for him to face fellow newcomer Motonobu Tezuka (who also lost his UFC debut) or possibly a struggling Jeff Hougland if the UFC plans to keep him .
John Maguire—Maguire has a good gig going with the "Gypsy jitsu," but after two straight losses, his UFC career is in trouble. Paulo Thiago is another guy who is in a rut, and a fight with him could provide some interesting grappling scrambles.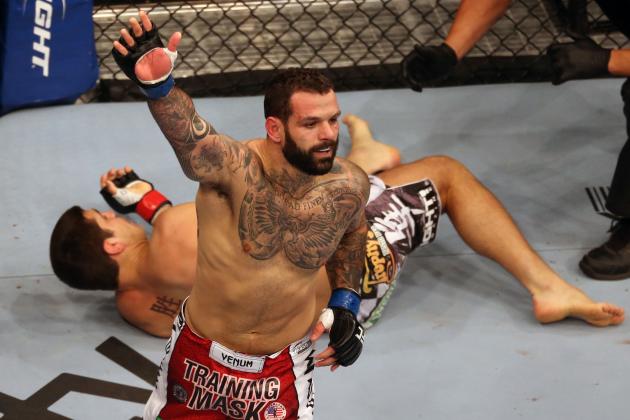 Tom Szczerbowski-US PRESSWIRE

The FX prelims featured a pair of decisions but also two very strange occurrences. The first was Cyrille Diabate, a one-dimensional striker submitting Chad Griggs. The other was Alessio Sakara being disqualified for illegal punches to the back of the head.
Rodrigo Damm—He's 1-4 in his last five fights and very easily could be cut from the promotion. If he doesn't get cut, Damm and Joey Gambino should square off to decide who keeps their job.
Sam Stout—He's one of the longest-tenured competitors in the UFC right now, but can never seem to get over the proverbial hump. Stout vs. Takanori Gomi could be a very fun fight to watch.
Chad Griggs—Something outside the UFC. Getting tapped out by a straight-up striker like Diabate means the walking papers will be coming very soon.
Alessio Sakara—Patrick Cote. There's no reason for this fight not to happen again as virtually everyone involved is upset about how this went down.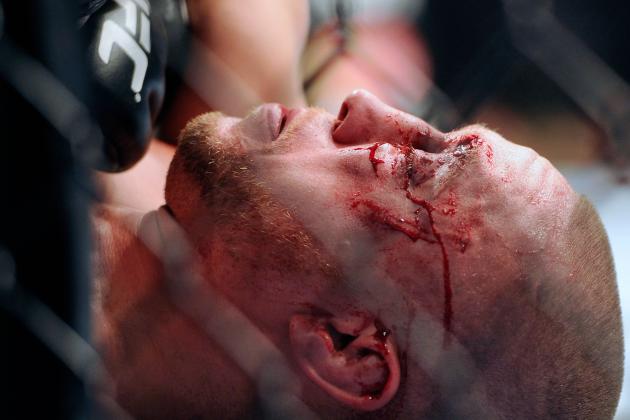 Eric Bolte-US PRESSWIRE

I know Mark Hominick had some success early on, but after watching him get dominated by Pablo Garza, I couldn't help but turn away. It's sad to see how Hominick went from being a consensus top-five featherweight in the world to where he is now.
The loss of Shawn Tompkins obviously hit hard not only on a personal level but a professional level, as there's no way to replace what he brought to Hominick. I hope Hominick doesn't plan on fighting again until he gets his head cleared.
Hominick is better than he's looked recently, but it's clear there's just something not right here. He needs to circle the wagons and regroup before fighting in the cage again.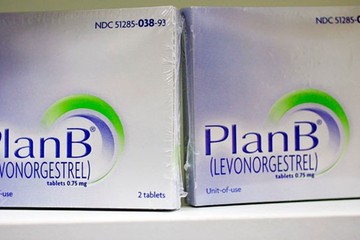 Photo by ABC News
No, Mark Bocek isn't worried about a "morning after" pill, but should be concerned with finding a plan B for his next trip to the Octagon. It's clear his highly touted takedowns weren't working last night against Rafael dos Anjos, but that didn't stop Bocek from trying.
It's great that Bocek knows where his strengths are, but if it's not working (like at UFC 154), he needs to have some other options to go to.
As for future opponents, maybe Bocek would be interested in avenging the submission loss to Mac Danzig earlier in his career? If not, I believe a fight between Bocek and Paul Sass could be an entertaining affair that may provide a "flash submission" victory for either man.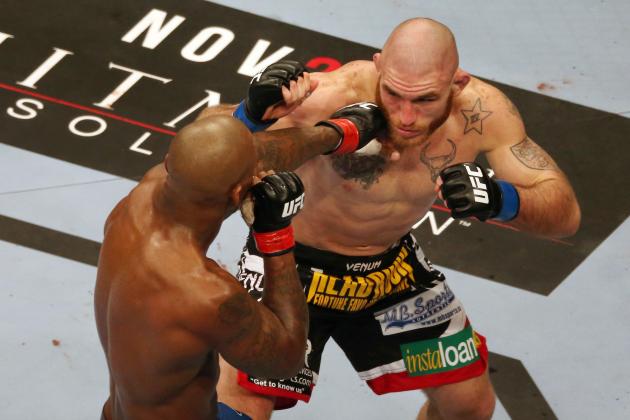 Tom Szczerbowski-US PRESSWIRE

Tom Lawlor is one of the funnest guys in the UFC. His entrances are always worth checking out, and he's entertaining to say the least.
However, fun and entertaining are not words I'd use to describe Lawlor's fight with Francis Carmont. It was an utter snooze fest that became the bathroom break of the night for many fans. Lawlor could've easily been awarded the decision, but let's face it, there's no winner in this fight.
It's been a mixed bag of results for Lawlor, as he's gone 2-2 in the UFC recently. Tom DeBlass is coming off a loss recently and has only one fight in the middleweight division.
Tom "Kong" Watson would also be a good opponent for Lawlor and could lead to some fun pre-fight costume contests.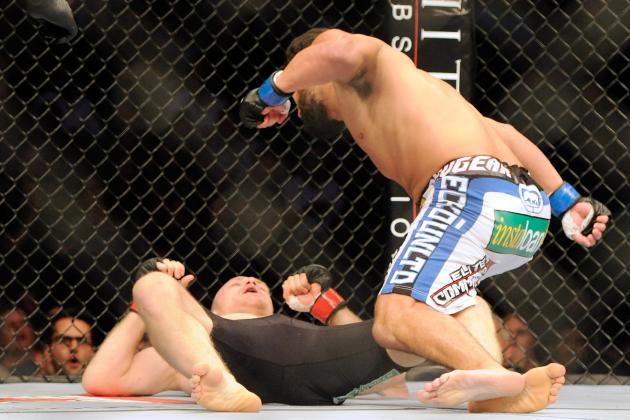 Eric Bolte-US PRESSWIRE

Martin Kampmann is going to be one pissed off dude when he finally comes to his senses. Not only was he dropped like a bad habit by Johny Hendricks, he saw years worth of hard work go down the drain as he falls down the welterweight ladder.
The division is becoming more and more stacked with each event, and Kampmann may never get this close to an UFC title shot again.
Nick Diaz clearly wants to fight Georges St-Pierre, but I believe a fight with Kampmann makes the most sense in terms of rankings: It gives both guys a high profile fight to bounce back in and would be a barn burner that would be a shoo-in for Fight of the Night.
I also like Kampmann vs. Erik Silva. Both guys had tough losses that ruined all the momentum they had just gained and will be hungry to get back into the top of the welterweight rankings.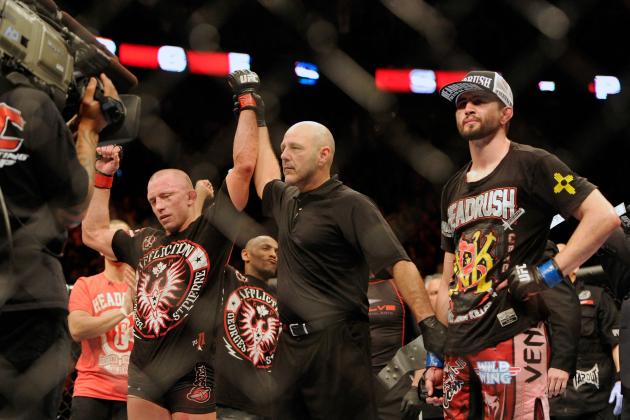 Eric Bolte-US PRESSWIRE

Carlos Condit shouldn't be ashamed of his performance at UFC 154. He put up one hell of a fight and brought it to Georges St-Pierre like very few have. He came within moments of winning after dropping GSP with a head kick in the third round, but ultimately couldn't close the deal.
But still, Condit lost. He lost the interim title and his place at the top of the welterweight rankings. And with a growing number of contenders emerging, Condit will have to claw his way back into title contention.
I bet Nick Diaz would love to avenge that loss to Condit at UFC 143, but I'm sure Dana White doesn't want a repeat of Condit's performance in their first meeting. If Condit wants to remain in title contention, he may want to keep his eye on the Rory MacDonald-BJ Penn fight in December.
Penn isn't anywhere near the welterweight title picture, but is a big name that could launch Condit into title contention if he impresses the fans and UFC brass. It could be very interesting to see how a rematch with MacDonald plays out given how their first encounter went.
I'm sure MacDonald would love to prove that he's the better fighter, as he was seconds away from finishing Condit at UFC 115. It goes against the usual matchmaking process of pairing winners with winners, but it would be a high profile fight that could decide the future title challenger in the welterweight division.