Fantasy Football Live Blog for NFL Week 11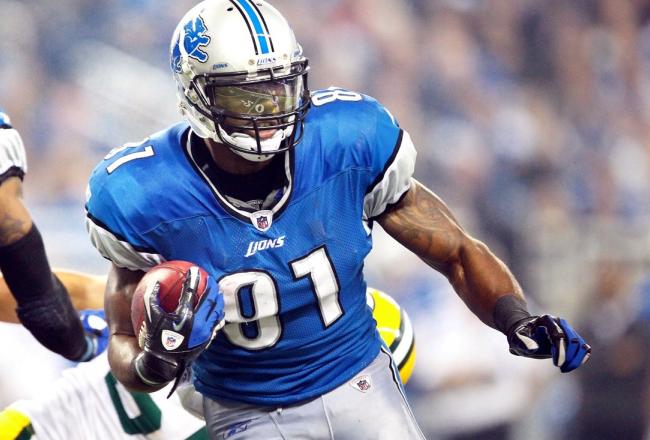 It's Week 11 of the 2012 NFL season, and as we enter the last of the bye weeks, fantasy football teams far and wide are getting ready to make one last push for the postseason.
We'll be taking a look at all the major happenings in Week 11 as they, well, happen—from reports on significant injuries to huge statistical showings and faceplants right when fantasy owners can afford them the least.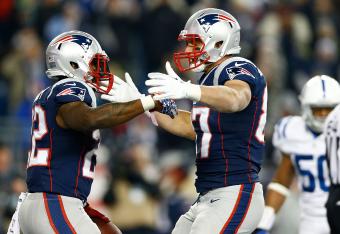 HUGE injury news from Beantown.
Ian Rapoport of NFL.com reports that New England Patriots tight end Rob Gronkowski suffered a broken forearm against the Colts and will miss the next 4-6 weeks.
That's a season-killer for fantasy teams this late in the year.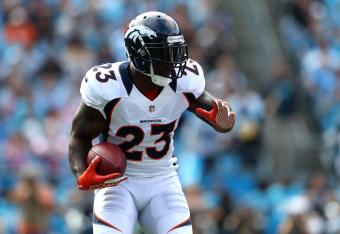 Injury update on Willis McGahee.
In that there really isn't one.
McGahee exited Denver's win over San Diego after gaining 55 yards on seven carries, and any time you hear "knee injury" and Willis McGahee in the same sentence it's cause for worry.
MRI coming tomorrow I'm sure, and Ronnie Hillman will be another very popular WW pickup this week.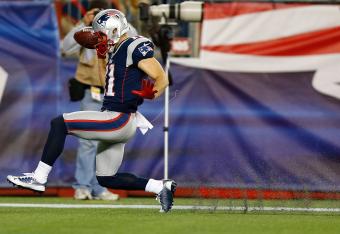 New England Patriots wide receiver Julian Edelman will be a popular player on many fantasy waiver wires, especially in return yardage leagues.
Edelman racked up 105 total yards, a receiving touchdown, and a punt return for a score in the Pats' dismemberment of the Indianapolis Colts.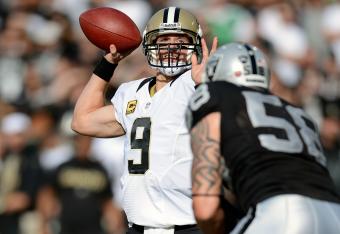 The late games are getting out of hand.
Drew Brees and Lance Moore of the Saints and Tom Brady and Rob Gronkowski of the New England Patriots have both connected on touchdown passes for the second time today.
Saints lead the Oakland Raiders 35-10, while the Patriots are taking it to the Indianapolis Colts 38-17.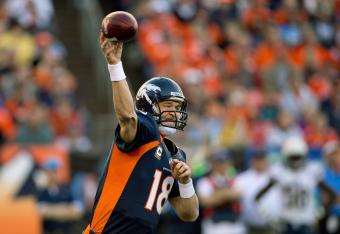 It's a story of two quarterbacks in Denver, where the Norv Turner death watch continues and the Broncos lead the San Diego Chargers 17-7.
Peyton Manning has thrown for 163 yards and a pair of touchdowns for the Broncos, while Philip Rivers has managed only 60 yards through the air with a pick for the Bolts.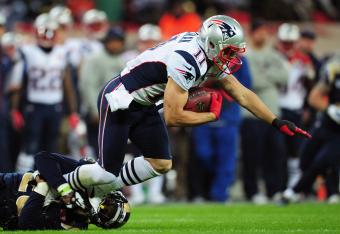 It was billed as a battle of dueling quarterbacks in Foxboro, but the story of the first half between the Indianapolis Colts and New England Patriots has been defense and special teams.
Both Andrew Luck of the Colts and Tom Brady of the Patriots are on pace to top 300 yards through the air, but an Aqib Talib interception return and Julian Edelman punt return has been the difference for the Patriots, who lead 24-17 at the break.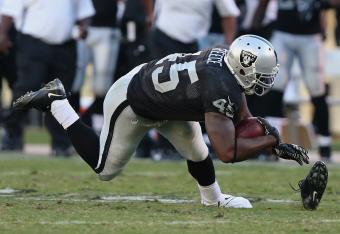 The New Orleans Saints continue to play inspired football, as two Drew Brees touchdown passes and a Malcolm Jenkins interception return have the team staked to a 21-7 halftime lead in Oakland against the Raiders.
Fantasy owners forced to start Oakland fullback Marcel Reece are reaping the benefits for the second straight week, as Reece has already racked up an eye-popping 150 total yards in the game's first 30 minutes.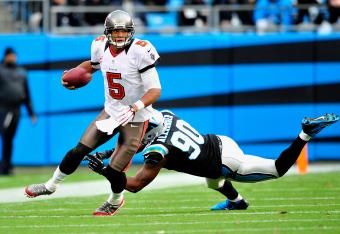 It took them a while to get going, but quarterback Josh Freeman and running back Doug Martin got on track in the second half of their 27-21 overtime win over the Carolina Panthers.
Freeman passed for 248 yards and three touchdowns, while Martin chipped in 161 total yards in the victory.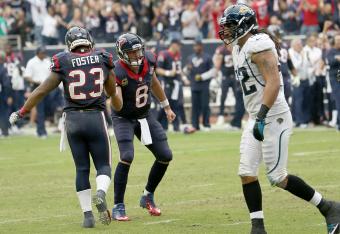 So, Matt Schaub had an OK day for the Houston Texans in their game with the Jacksonville Jaguars.
That is, if you call 527 passing yards and five touchdowns good.
Texans win a wild one, 43-37 in OT.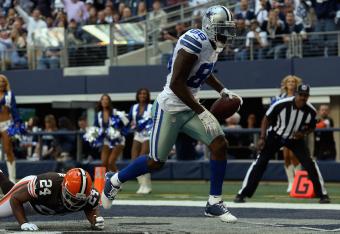 Sorry for the delay folks, I was having an apoplectic fit after the Browns choked, falling to the Dallas Cowboys 23-20 in overtime.
Big day for Dez Bryant in the win...12 catches for 145 yards and a score.
You can stay out until 12:30 tonight Dez, but NO STRIPPERS!!!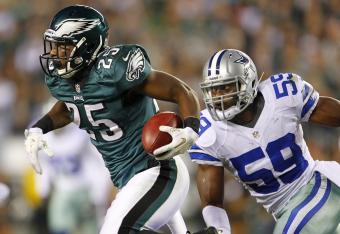 As if things could get any worse for the Philadelphia Eagles, star running back LeSean McCoy was carted off the field in the fourth quarter with an apparent concussion.
More info as it becomes available, but a potentially crippling injury for fantasy teams.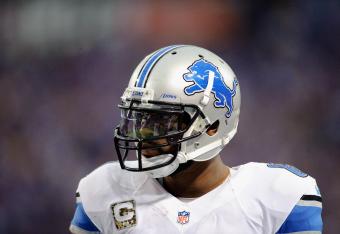 A 22-yard touchdown pass and Detroit turnovers spelled the difference Sunday in a 24-20 win for the Green Bay Packers.
The loss just about kills Detroit's playoff hopes given their brutal schedule the rest of the way and spoils a big game from wideout Calvin Johnson, who reeled in five passes for 139 yards and a touchdown.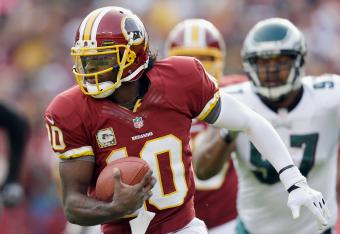 HUGE game for Washington Redskins quarterback Robert Griffin in their blowout win over the Philadelphia Eagles.
Griffin threw for 200 yards and four touchdowns while leading the team in rushing with 85 yards on the ground.
Well, Andy Reid. It's been nice knowin' ya'.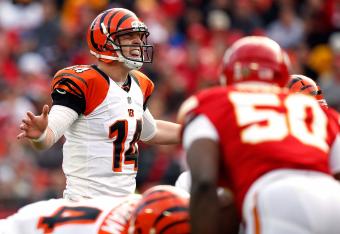 Big day for Cincinnati Bengals quarterback Andy Dalton in the team's 28-6 win over the Kansas City Chiefs.
Dalton threw for 230 yards and two touchdowns while rushing for a third score in the win.
If you're looking for a bright spot for the Chiefs (get a microscope) running back Jamaal Charles tallied 118 total yards in the loss.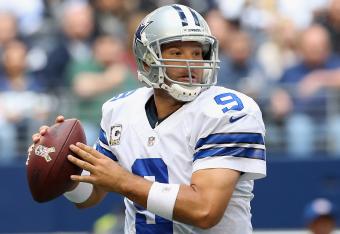 It's coming down to the wire in Cleveland, where Tony Romo found wide receiver Dez Bryant from 28 yards out to give the Dallas Cowboys a 17-13 lead over the Browns.
Bryant's had a big day, with 10 catches for 124 yards and a touchdown, but the Browns have the ball inside the 10-yard line as we hit the two minute warning.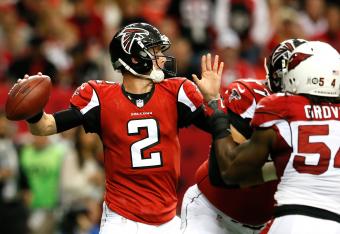 Atlanta Falcons quarterback Matt Ryan picked a lovely time to have his worst game of the season.
Ryan has now thrown his fourth interception of the game against the Arizona Cardinals, and given that the fifth-year pro has zero touchdown passes his Week 11 point total isn't going to propel many teams to victory.
19-16 Arizona early in the fourth quarter.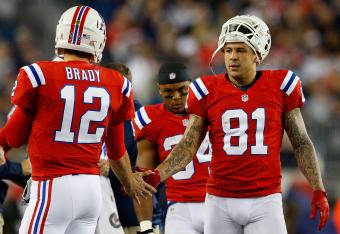 A couple late game inactives to report.
It looks like Jay Glazer was right, as running back Darren Sproles of the New Orleans Saints will not play against the Raiders due to his broken hand.
Ditto for tight end Aaron Hernandez of the New England Patriots, who will miss yet another game as a result of his high ankle sprain.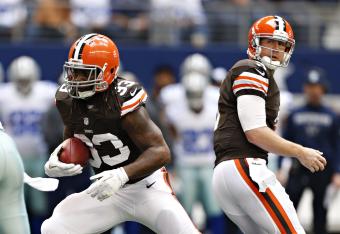 In a game that no doubt has given Jerry Jones heartburn the Cleveland Browns have led throughout and are ahead of the Dallas Cowboys 13-3 as the end of the third quarter nears.
The biggest fantasy story from the shores of Lake Erie is rookie tailback Trent Richardson of the Browns, who has racked up 121 total yards to this point.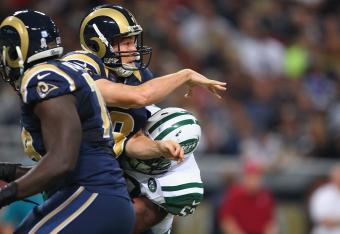 It's been a quick three quarters in St. Louis, where the New York Jets lead the Rams 13-7.
Luckily, from a fantasy standpoint you didn't miss anything.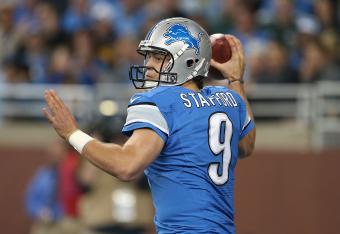 In a game the Lions desperately need to win Detroit Lions quarterback Matthew Stafford just committed a huge mistake, as his second interception of the game was returned 72 yards by a touchdown by safety M.D. Jennings.
The Green Bay Packers lead the Lions 14-10 in the third quarter.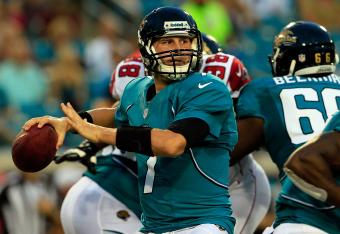 It's Mayan Apocalypse time in Houston, where the Jacksonville Jaguars lead the Houston Texans 20-17 in the third quarter and are knocking on the door again.
Chad Henne has thrown for 227 yards and two scores in relief of the injured Blaine Gabbert, including 4 passes for 128 yards in the direction of rookie wideout Justin Blackmon, who is having by far the best game of his brief NFL career.
A red-hot Tampa Bay Buccaneers offense has cooled off considerably in Carolina on Sunday, where the Bucs trail the Panthers 14-10 at intermission.
Quarterback Josh Freeman has only 87 passing yards with a touchdown and an interception, while rookie phenom has been held to 39 first half rushing yards.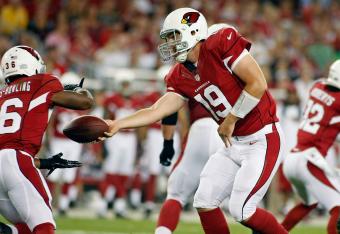 In a day with some surprising first half scores there may be none more surprising than in Atlanta, where the Falcons and Arizona Cardinals are knotted at 16 after a late field goal by Atlanta's Matt Bryant.
Running back LaRod Stephens-Howling has topped 100 yards and scored for the Cardinals, while Falcons quarterback Matt Ryan has struggled mightily, tossing three first-half interceptions.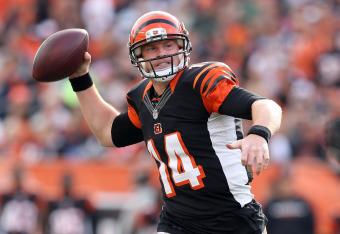 All Cincinnati in their game with the Chiefs, as the Bengals lead Kansas City 21-6 at the break.
Bengals running back BenJarvus Green-Ellis has 62 yards on the ground and a score, and Cincinnati quarterback Andy Dalton has connected with star wideout A.J. Green on a touchdown pass.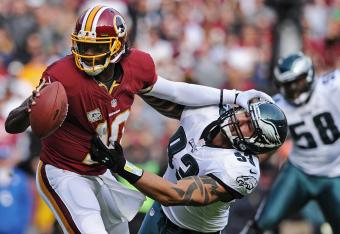 it's halftime in the nation's capital, where the Washington Redskins lead the reeling Philadelphia Eagles 17-3.
Washington quarterback Robert Griffin has a pair of touchdown passes, but things haven't gone so well for rookie Nick Foles, who has thrown a pair of early interceptions in his first NFL start.
This article is
What is the duplicate article?
Why is this article offensive?
Where is this article plagiarized from?
Why is this article poorly edited?