New Orleans Saints vs. Oakland Raiders: Live Score, Highlights and Analysis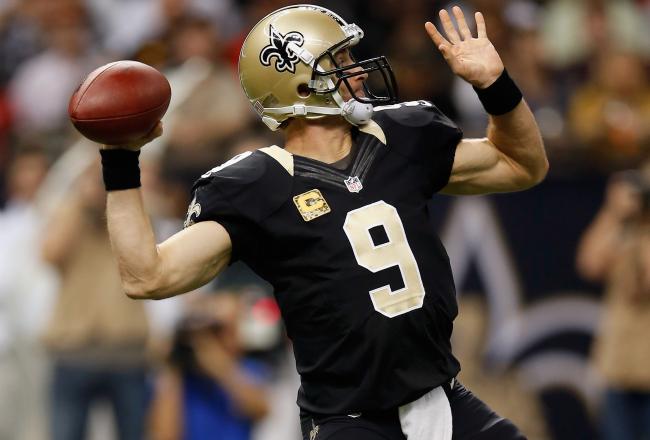 Chris Graythen/Getty Images
The New Orleans Saints needed this game, and they played like it. Drew Brees recorded three scoring passes and the defense forced enough turnovers to keep themselves busy.
The Oakland Raiders continued their rebuilding "effort." For the second straight week, it wasn't pretty. However, Marcel Reece proved he's a keeper.
Saints 38, Raiders 17. Final.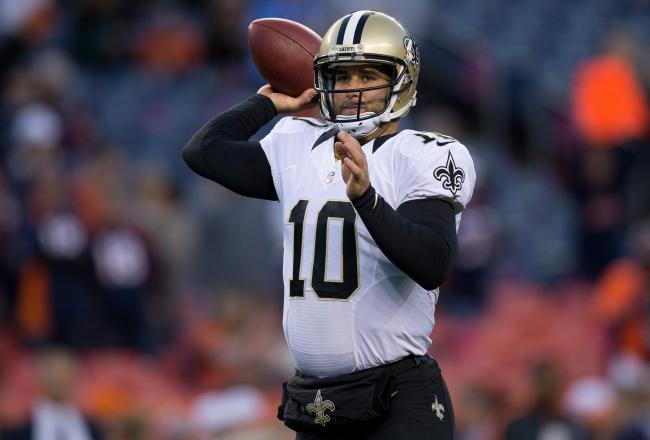 That'll do it folks.
Final Score: Saints 38, Raiders 17.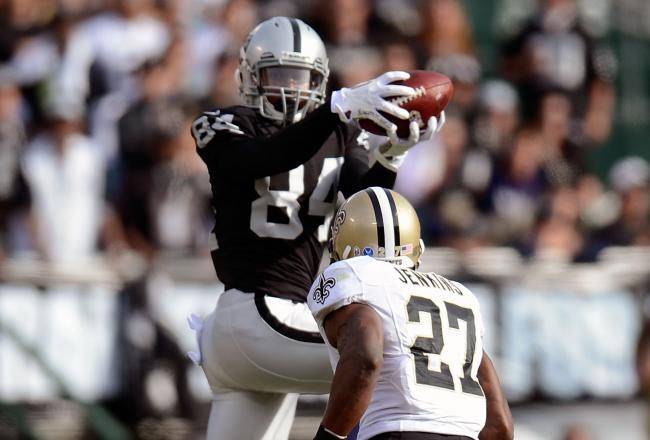 Something happened!
Carson Palmer threw a three-yard fade-like touchdown pass to Juron Criner.
The Saints were so shaken from the score, they decided it was time to get serious and replaced Brees with Chase Daniel.
Oakland attempted an onside kick that New Orleans recovered.
Saints 38, Raiders 17.
3:57 left in the game.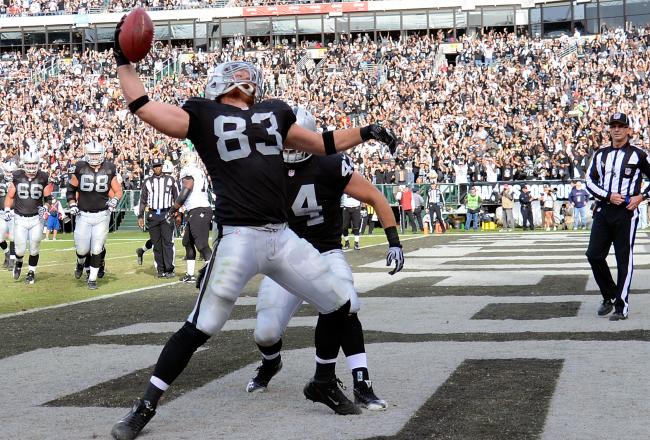 Nothing much has happened. A couple punts, but the Raiders are deep into Saints territory now.
Just wanted to point out that Brandon Myers has rebounded well from his part in an end-zone interception. With a few minutes left, he has six catches for 55 yards and a touchdown.
I'm not a Raiders fan. But if I were, I'd propose that Carson Palmer not be allowed to loft passes to Marcel Reece.
Ever.
The big man got cut in half when Palmer lofted him a screen pass.
In actual game action, the Raiders just turned the ball over on downs.
Interesting.
<blockquote class="twitter-tweet">
Look at the #saints about to win their 5th game in the last 6. Home OT Loss to #chiefs looms large over playoff hopes. SF@atl @nyg up next
— Sigmund Bloom (@SigmundBloom) November 18, 2012
Saints rushed for enough yards for Garrett Hartley to knock in a 47-yard field goal. Ho hum.
Saints 38, Raiders 10.
10:27 left in the third quarter.
You know it's bad when the announcers are praising the team for playing with effort.
Not much changed over the third quarter.
The Saints drove down the field and scored a touchdown.
The Raiders proved they lack talent, with the exception of Marcel Reece.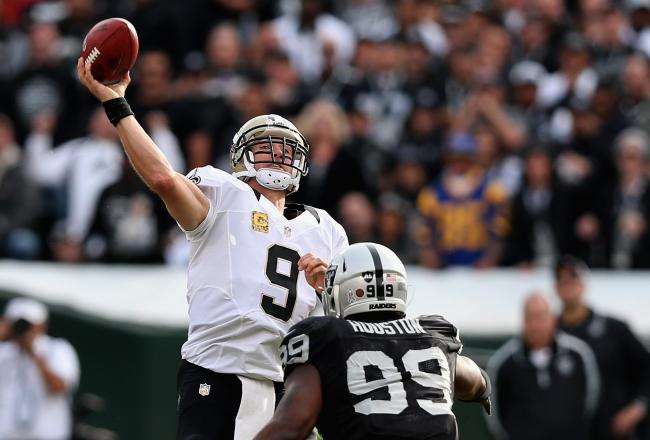 Brees to Moore. Again.
That is all.
Saints 35, Raiders 10.
3:26 left in the third quarter.
Chris Ivory sliced through the Raiders' front seven, and the doldrums this game had entered, for 25 yards. The Saints are back in the red zone. So much for any momentum shift after the Raiders field goal.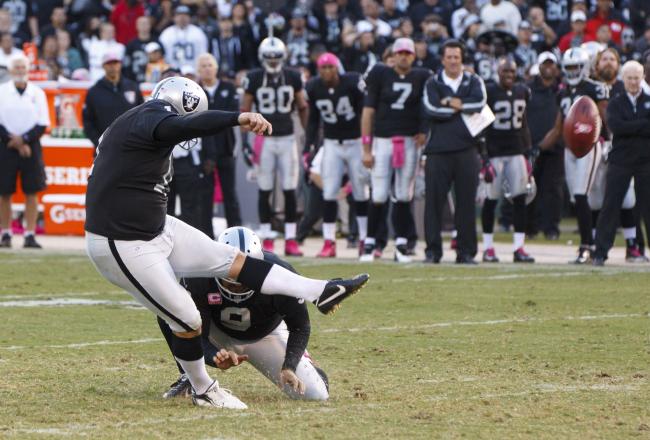 Typed too quick. The fumble was overturned.
Oakland failed to advance the ball and Sebastion Janikowski clanged in a 40-yard field goal.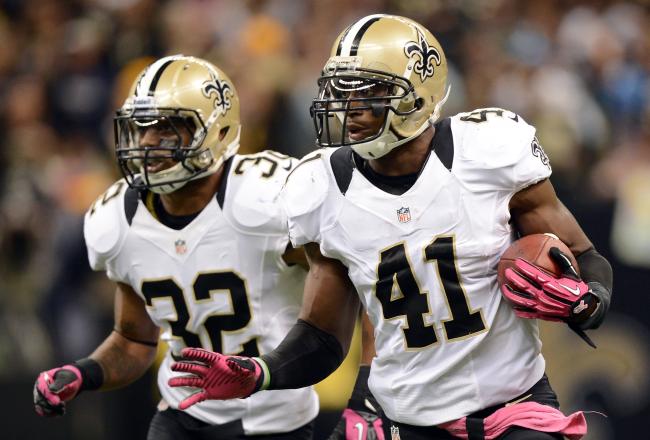 Something that I've noticed, the Saints have been doing a lot of dancing. I wonder if it's tied to their recent change in play.
Did they decide they were going to have more fun and enjoy themselves? Thus, making them loose and ready to perform?
Just a thought.
Oh, and the Raiders were driving and reached the red zone. However, Rod Streater fumbled at the 13 and Roman Harper returned it to the Oakland 32. He was, of course, tackled by Reece.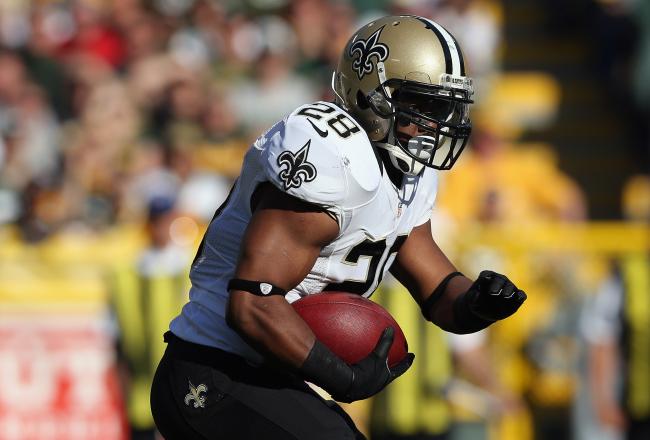 It took the Saints 17 seconds to score another touchdown.
Travaris Cadet burst down the sidelines for a 75-yard kickoff return and Mark Ingram finished it off on the next play.
This one is getting ugly.
Saints 28, Raiders 7.
14:43 left in the third quarter.
Losing to the New Orleans Saints is not shameful. They're a good team.
However, the way the Raiders have played thus far, save for Reece, is pitiful. Reece has 149 of Oakland's 203 yards, which is only two less than the Saints.
The Saints offense has done well, but there has been resistance from the Raiders at times. Regardless, turnovers and blown coverages won't get it done against Drew Brees, who has 150 yards and two touchdowns (Jimmy Graham and Lance Moore on the receptions).
Palmer has two interceptions and a touchdown to Brandon Myers.
On to the second half.
You almost got it done, Raiders.
On third and long, Brees unfurled a 38-yard strike to a wide-open Lance Moore, who promptly busted out a little gangnum style.
That is so October, Lance.
Saints 21, Raiders 7.
41 seconds left in the half.
There are certain situations in the NFL where it doesn't matter what you do, you are not stopping the offense.
The third down right after the two-minute warning was one of those situations.
Drew Brees stood in the pocket and delivered it high to Marques Colston, who went up and got it despite the blanket coverage.
Saints are on the move.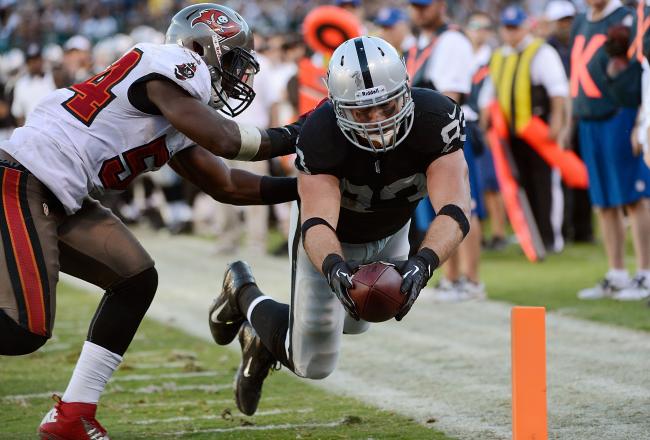 We have a ball game folks.
Palmer ran right for seemingly ever, extended the play, and then threw a dart to Myers between three people. Impressive.
The Saints need to get their offense back on track.
Saints 14, Raiders 7.
4:10 left in the second quarter.
Quick post about Marcel Reece.
I've seen him quite a bit lately and he's extremely underrated. He has 15 catches in the last two weeks.
It'll be interesting to see if his load continues to increase this game and over the course of the season.
As soon as I went to click publish, Reece ripped off a 60-yard reception. He's good.
So that was about the worst possible outcome for the Raiders.
A Palmer pass ricocheted off Brandon Myers' hands and into the awaiting arms of a Saints defensive back. That pass has to be hauled in.
As for the Saints, they should probably set a reminder to send a thank you note tomorrow.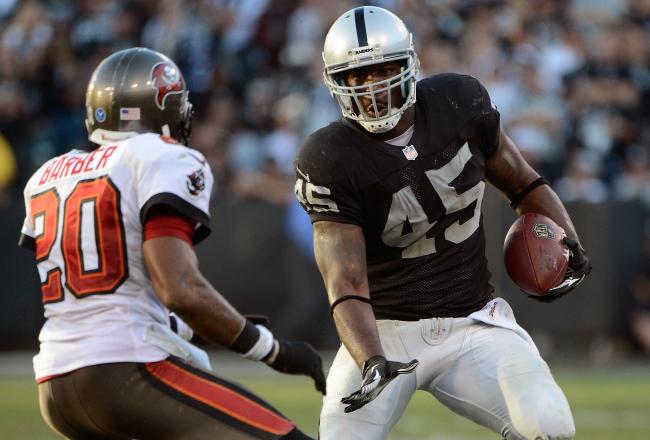 It looked like the Saints were going to leave tire tracks on the Raiders' backs, but Oakland isn't packing it in. Palmer has thrown a couple decent passes to mix in with Marcel Reece's rushes and the Raiders are sitting just outside the red zone.
A touchdown makes it a game. A field goal just prolongs the misery.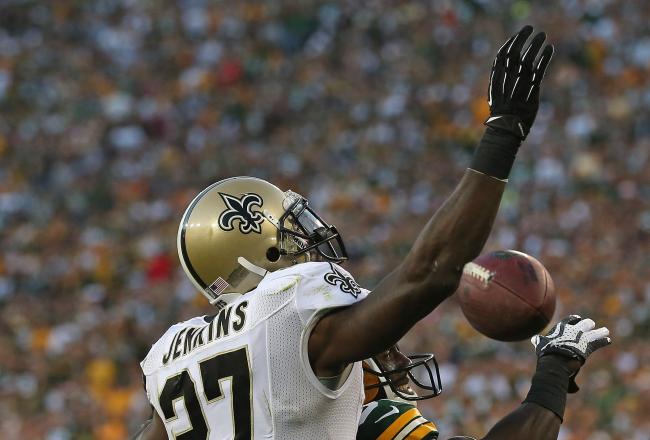 That Carson Palmer trade looks better all the time. Malcolm Jenkins is surely a big fan. He just picked off Palmer and scampered 55 yards to pay dirt.
Great start for New Orleans.
Saints 14, Raiders 0.
4:06 left in the first quarter.
There are signs of life from the Raiders! They bottled up the running game and got pressure on third down to force an errant Brees throw.
We might have a ball game.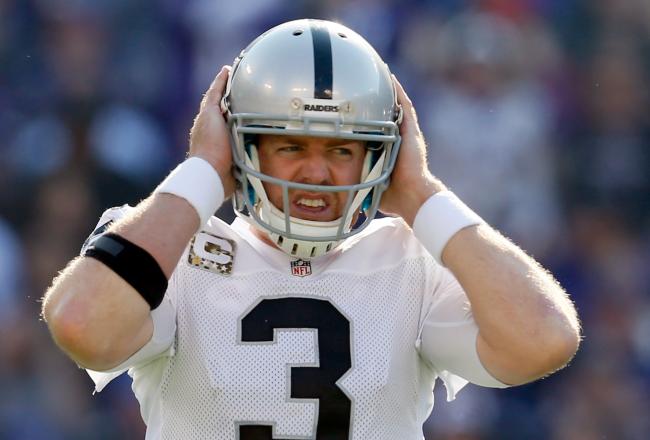 Another Raiders possession, another punt.
The Raiders must wake up. They don't have the firepower to hang with the Saints, and they certainly don't have enough to mount a large comeback.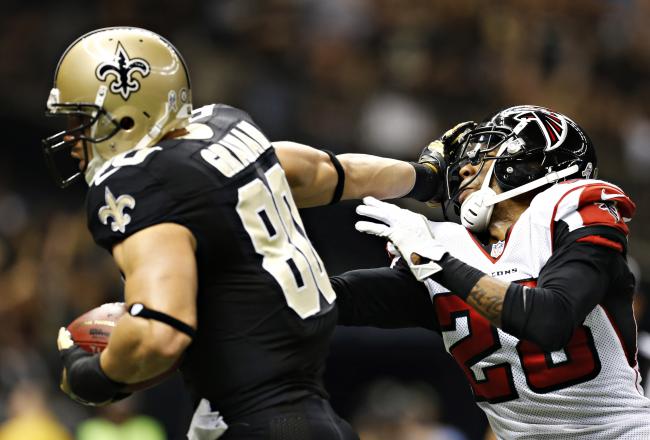 You had to know this post was coming: Drew Brees threw a touchdown pass to Jimmy Graham.
New Orleans looks sharp. Oakland doesn't seem to understand that the game started.
Saints 7, Raiders 0.
7:53 left in the first quarter.
The Raiders defense is offering little resistance. Long runs up the middle. Bubble screens for 15 yards. The Saints are doing whatever they want.
This article is
What is the duplicate article?
Why is this article offensive?
Where is this article plagiarized from?
Why is this article poorly edited?