Here we go again.
Conference realignment has recently surfaced in college sports as the landscape continues to change.
The most recent news comes from the Big Ten and two possible additions. Those schools are Rutgers and Maryland, according to Chip Patterson of CBSSports.com.
Here are three reasons why Maryland and Rutgers to the Big Ten would be a perfect fit.
Both Schools Have History
It's not like Rutgers and Maryland are two scrub Division 1 programs.
Rutgers and Maryland each have their own history to bring to the table. While most of it isn't lately, maybe this potential change is exactly what they need to get back on track.
Maryland is generally a constant in college basketball and it is on the rise with Mark Turgeon, but its football team isn't where it needs to be.
Women's college basketball is dominant at Rutgers, but they have made some movement with the football program over the past several years.
Rutgers and Maryland are two programs with solid traditions so it's not like the Big Ten is going after two schools from the MAC.
Improving Football Programs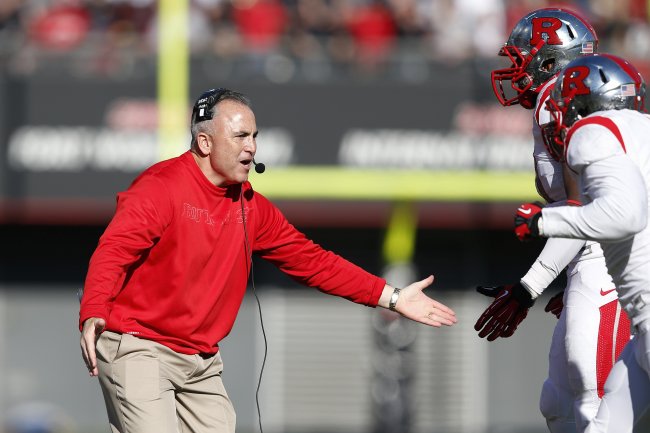 Joe Robbins/Getty Images
Both Maryland and Rutgers are known for their basketball programs (one more than the other). However, in college sports it's all about football.
Rutgers has done much better in football recently, but its program would only grow in the Big Ten compared to the Big East.
Maryland, however, has struggled to find success on the football field. Going from the ACC to the Big Ten would only improve its ability to recruit, sell tickets, generate income and make more improvements to make its program successful.
Should the Big Ten add Rutgers and Maryland?
In the end, college football reigns supreme. We have already seen what these two schools can do in other sports, but the potential for each to be great football programs is there. Right now we are seeing glimpses of it at Rutgers.
Geographically Makes Sense
The Big Ten wants to expand its horizon more towards the East Coast. With the Big East losing school after school, Rutgers and its coastal presence would be a great team to go after.
Maryland provides the same thing, in a different sense. And while it would be sad to see Maryland out of the ACC in basketball, it has never fit in the ACC for football for one reason or another.
In the end, this is all about college football, sadly. Joining the Big Ten for football would be the best decision for Maryland and Rutgers to make.