GSP vs. Frank Shamrock in Their Primes: A UFC Retrospective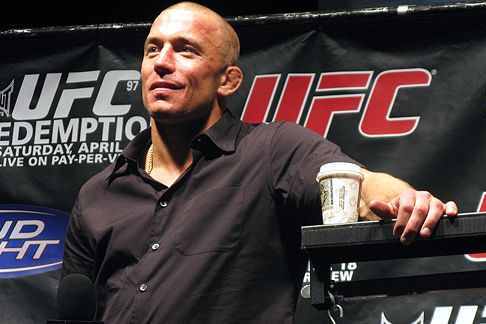 espn.go.com
Everyone loves good fiction.
If you like historical fiction, then Dan Brown might be right up your alley. If you like horror, you don't have to look any further than Stephen King.
For fight fans, they usually need only look as far as the next fight fan.
When it comes to fight fiction, it normally begins with a question: "Who would win if…?"
You see, more often than not, we can't let go of the great fighters of the past, especially while enjoying their present-day counterparts.
It's the question that drives us.
When considering that question, I often begin to ponder the possibilities of a match between one of today's best, GSP, and a legend of yesterday, Frank Shamrock.
Who would win if these two fighters could have met in their primes?
Sadly, any discussion like this tends to oversimplify intangibles that really cannot be measured without a real contest, so your opinion is just as good as mine.
But it's still a thrilling thought, especially when you consider just how similar GSP is to yesterday's Frank Shamrock.
Of course, while similar is good, it is usually the differences between two fighters that make for a great fight.
So, if you care to come with me, let's take a seat and ponder the "If's" that come to mind in the fictional bout between Georges St-Pierre and Frank Shamrock.
It's a pleasant fiction, to be sure.
Begin Slideshow

»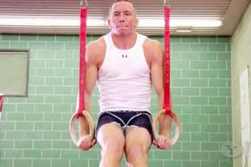 worldwidemma101.com
When it comes to sheer horsepower, GSP holds an advantage over nearly anyone. Even against the larger Shamrock, that remains true, although it is probably close.
Easily one of the strongest fighters in the division, GSP is able to bully opponents against the cage or toss them to the mat almost at will.
His training regimen focuses not only on raw functional strength, but on explosive strength as well.
That is not to say Shamrock isn't strong; he just never really seems to enter into contests of strength when he fights. A prime example of this is his fight against the much larger and stronger Tito Ortiz.
Shamrock is more a fighter who goes with the flow; he conserves energy by either avoiding a situation that is power vs. power, or simply rolling with it, intent on making the most of any situation in the scramble.
Were these two greats to meet in the cage, GSP would probably win most, if not all, battles of brawn.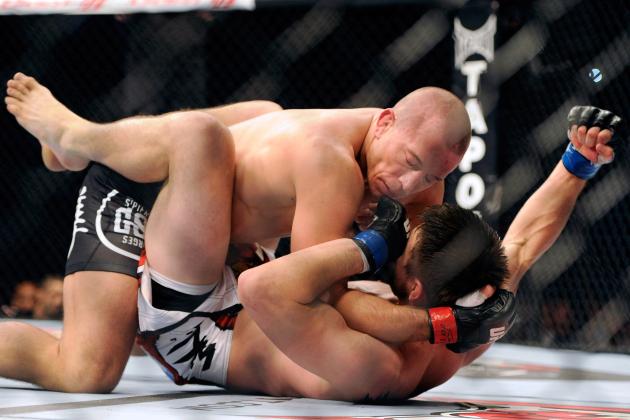 Eric Bolte-US PRESSWIRE

In the realm of MMA wrestling, there is almost no one who does it better than the welterweight champ.
GSP is an exception to the norm: a fighter who is the best wrestler in a division full of excellent wrestlers, and he does it without the benefit of any real collegiate wrestling experience of note.
His takedowns are very good, his takedown defense is even better and overall he is the one who decides matters when it comes to a wrestling-based clash.
Shamrock, while versed in MMA wrestling, seemed to be a more submission-based grappler, looking for holes in the game of his opponent while they scramble. A clear indication of this is just how often Shamrock wound up on his back against wrestlers, and how utterly comfortable he looked there.
That's because he expected it and has built a style of fighting around it.
In any kind of wrestling exchange, the advantage clearly goes to GSP, because of his technique and Shamrock's acquiescence.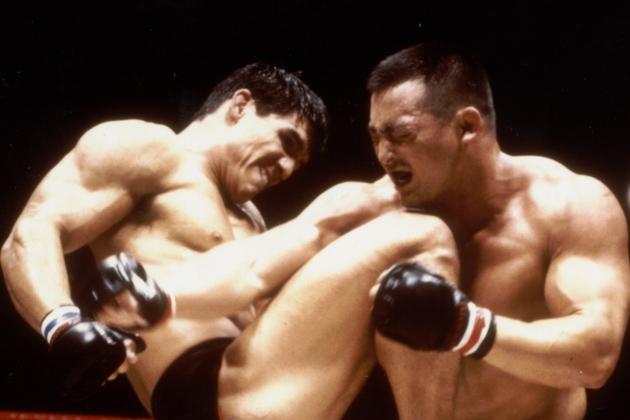 fightmedicine.wordpress.com
While much has been made of the partnership between GSP and boxing legend Freddie Roach, Frank Shamrock was still the better striker.
While the main offensive stand up weapon of the champ is a very good jab, Shamrock had more weapons, be they up close or at range.
And above all else, Shamrock has the eyes and mind for it.
Sometimes watching GSP engage in a striking contest is like watching a man who is fleet of foot trying to jump into an Arthur Murray pattern three bars into the song. He knows the mechanics, but at times ends up trying to force them into the situation.
Shamrock, on the other hand, seemed to slip easily into striking exchanges. He was able to employ head movement, kicks and punches while utilizing angles and maintaining a distance that favored him.
Against expert striker Cung Le, Shamrock surprised people by how good he did in what ended up to be a losing affair. He was able to land much more than most thought possible of him, including many punches to Le's face.
Shamrock's training with kickboxing legend Maurice Smith was consistent for a number of years, and taught him a great deal.
Should GSP honestly embrace training with a great like Freddie Roach, and make it a daily constant in his training camps, this might be a different story a few years from now.
But he hasn't (yet), it isn't (yet), and the advantage in striking goes to Shamrock.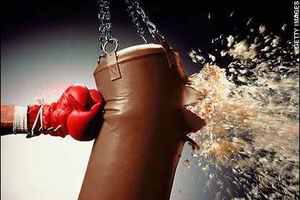 4umf.com
The ability to knock an opponent loopy with a single blow is one of the most sought-after qualities in a fighter.
While neither man is a true knockout artist, they both have proven themselves capable of seriously stunning an opponent with one shot.
GSP put Jay Hieron in all kinds of trouble with a single punch, and Shamrock ended Enson Inoue's night with a beautiful knee strike that saw him fall like a curtain.
Both men have battered tough opponents bloody with strikes of all kinds. That's why they're even when it comes to swinging heavy lumber.
fitzness.com
When looking at the history of both fighters, one thing becomes clear: Frank Shamrock has had his chin checked more often by bigger, stronger opponents.
Shamrock's ability to take a punch served him well throughout his career, especially in the early stages when he was fighting men larger than him.
No one is saying GSP has got lettuce in his chin just because of his loss to Matt Serra at UFC 69. He got hit several times that night, a result of his equilibrium being totally thrown off by the first significant punch.
But it seems clear that he doesn't like getting hit. Can he take a beating and keep on coming? Yes, he can, proven in his first fight against BJ Penn.
But Shamrock never let a hard knock alter the way he fought. He expected to get tagged, and was more than fine with that.
He took hard-to-brutal shots from fighters like Cung Le, Bas Rutten, Nick Diaz, Phil Baroni and others, and still kept on coming.
Granted, both men have suffered losses on their records in the dreaded KO/TKO column, but overall, Shamrock has proven to have a better chin than his baby-faced counterpart.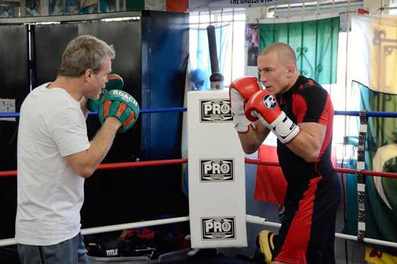 sherdog.net
As both men have been multiple-time defending UFC champions, it's clear they both know the value of having a very big gas tank come fight night.
Both men work hard to make sure they never get tired in a big fight; a virtue born of the phrase "fatigue makes cowards of us all."
Who is in better shape? That's almost impossible to tell.
We've never really seen either man tired since they hit the championship level. GSP is the current era, competing against today's third generation fighters, so he has to have incredible cardio just to keep up in his division.
Shamrock, on the other hand, although he fought yesteryear had a commitment to conditioning that was just as developed, as he was no stranger to fighting men much larger than him.
If the bout became a battle of attrition, both men would have enough wind in their sails to fight to the bitter end.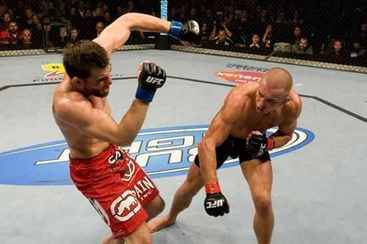 fanpop.com
This is one part of the equation that is harder to measure than most.
Unless one fighter possesses blistering speed of some kind—which is normally self-evident to even the most oblivious spectators—deciding who is faster is a hair-splitting labor.
Both men are quicker than the average man, but in watching both grapple and strike, GSP seems to be faster by a very narrow margin.
His strikes seem to get from point A to point B faster, his footwork seems quicker and his feints seem to be so tight and quick they could stop on a dime, while Shamrock's would require a quarter.
Shamrock does seem faster in scrambles and when going in for the kill when an opponent is stunned. At those times, Shamrock seemed like a speed demon.
But overall, GSP seems to have the advantage in speed.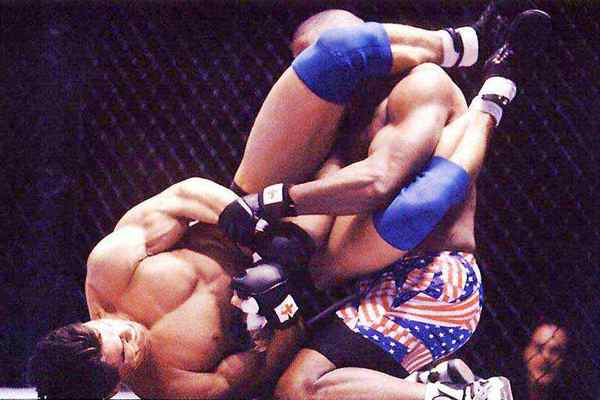 duende.uoregon.edu
Sometimes the difference between two fighters is just as clear as their difference in styles.
GSP is a wrestler and a ground-and-pound fighter. Shamrock was a striker and an unconventional submission artist.
This is not a matter of dispute, either. Shamrock always went for submissions, and was willing to pay near any price in their pursuit. GSP is not an advocate of this style of fighting.
If the fight hit the mat, GSP would be foolish to try and match wits with a man who seemed to always be able to pull a submission victory out from amid a tangle of limbs and moments of necks exposed.
In the area of submissions, Shamrock has a pronounced advantage.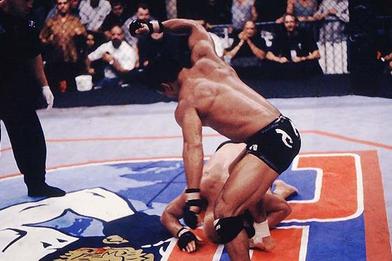 isambitionenough.com
While some will scream that this is a field that clearly favors Shamrock, it should be noted he had long periods of inactivity in the last half of his career.
Both men have fought top-tier competition in their careers, and both have defended their belts impressively.
GSP has defeated greats such as Matt Hughes, BJ Penn, Josh Koscheck and Jake Shields, where Shamrock has bested Tito Ortiz, Bas Rutten, Kevin Jackson and Jeremy Horn. Both men have seen tough competition and found a way to win, with some victories being more decisive than others and some wins being more impressive than others.
Some will say that GSP should have the advantage given how advanced today's MMA fighters are, and maybe that's so. But when comparing eras like this, championship-level competition is championship-level competition.
And they are close enough in this area to call it even.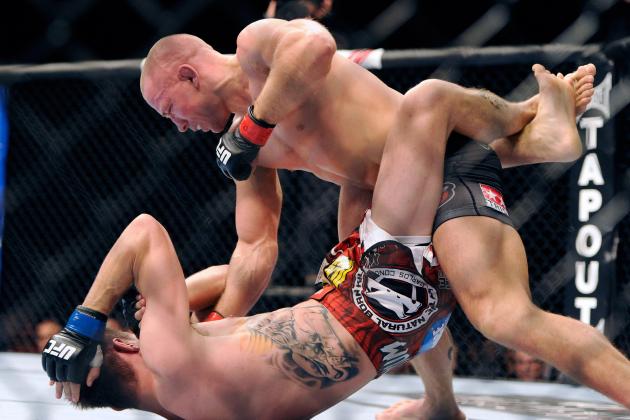 Eric Bolte-US PRESSWIRE

There are few fighters in the world of MMA who can time their attacks as well as GSP.
While Shamrock was more of a "go with the flow" kind of fighter, GSP employs surprisingly sharp timing in his attacks, partly based on his ability to read body language. This affords him a great deal of success with his jab, leg kicks and takedowns.
Were this fantasy fight to happen, the timing of GSP could give Shamrock fits all night long.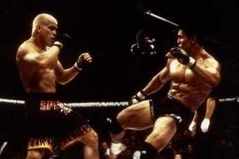 allfreefightvideos.com
While both men are about the same size in terms of height and reach, Shamrock fought many men who were far larger and longer than he was, none more so than Tito Ortiz.
When Shamrock was fighting in the early days, the concerns of weight divisions weren't as pronounced as they are today. In modern MMA contests, the playing field is much more fair, which is as it should be.
But back then it wasn't, so Shamrock had to learn how to gauge distance, especially when it came time to slip in and out of striking exchanges.
GSP has never really had to fight an opponent who had a significant edge in length or height, and that is why the advantage goes to Shamrock.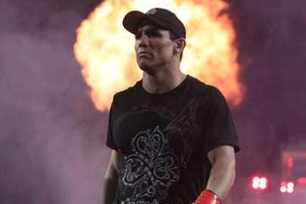 fightinginsider.com
While it may seem like an oversimplification, Frank Shamrock would seem to have the psychological edge over GSP for two reasons.
One: If Shamrock's ever been really worried or concerned or nervous for a fight, he's never shown it or talked about it, mainly because he got hit so often early in his career that he developed into a legend in spite of that.
Two: GSP has been nervous, worried and scared, and we know this because he has talked about it.
That being said, I don't think it would matter much for either fighter. The edge goes to Shamrock, but he never really focused on any kind of pre-fight mind games to the level that would be needed to rattle GSP.
Besides, GSP has proven that he knows how to take his fear and use it as fuel in training, and that's all that matters.
sportsnet.ca
This is a toss-up for all the right reasons. It would be an incredible fight not only because of the clash of styles, but because of who they are as men, with all their strengths and their flaws.
I honestly cannot say who would win such a match-up. My head says GSP wins via decision, while my heart says Shamrock wins via submission.
But enough from me: what say you?