GSP vs Condit: Power Ranking St-Pierre's UFC Title Defenses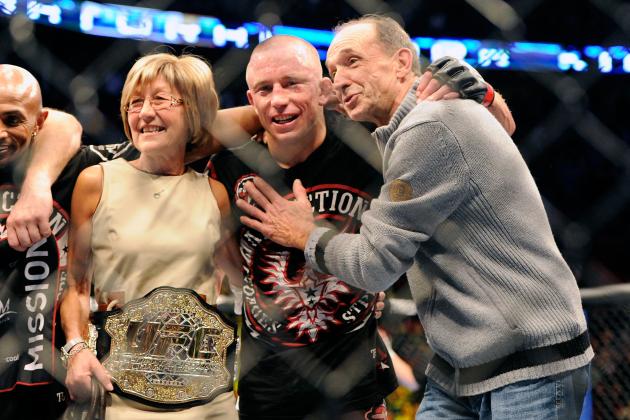 Eric Bolte-US PRESSWIRE

GSP successfully defended his UFC Welterweight Championship for the seventh time at UFC 154 against Carlos Condit.
The champion unified the titles in 2008 with Matt Serra and started his streak.
The defense tied him with Matt Hughes for most defenses of the welterweight crown, and it removed all doubt that GSP is the greatest welterweight in MMA history.
His injury seemed fully healed at UFC 154 with another dominant performance. Now, talks shift to a potential superfight with Anderson Silva. However, another challenger to his crown emerged last night. Before we get ahead of ourselves, let's look back at his successful title defenses.
Here is how his defenses stack up against one another.
Begin Slideshow

»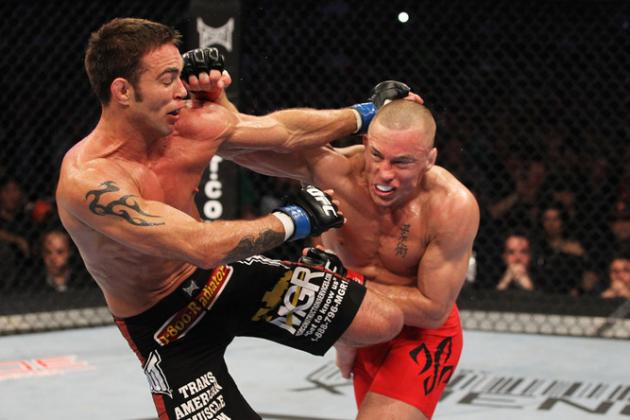 Photo Credit: Zuffa LLC via Getty Images
Prior to UFC 154, his last title defense came at UFC 129 in the UFC's first ever stadium show in Toronto.
It was another dominant performance by the champion as he neutralized Jake Shields over the course of 25 minutes. Establishing the jab was the difference.
Shields could not find an answer to the jab and could not find a way to get the fight to the ground, where he had the best chance to win.
50-45, 48-47, 48-47 were the scorecards, but it was much more lopsided than the two latter scorecards. GSP did not excite the crowd all that much in this fight, but he did what he needed to keep the gold around his waist.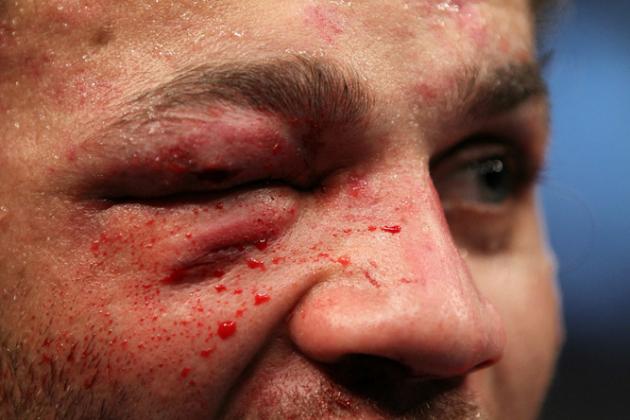 Photo Credit: Zuffa LLC via Getty Images
GSP's jab is a dangerous weapon. Ask Josh Koscheck.
The welterweight champion broke Koscheck's orbital bone with it.
The fight was a clean sweep on the judge's scorecards. GSP was never in trouble in the fight. He makes a simple technique, a jab, in to one of the most dangerous weapons in all of MMA. It sets everything up and does damage all on its own.
Koscheck was not even able to fly home because of the injury. While it was repetitive, it was effective. GSP continued to showcase his technical superiority against the welterweight competition.
Photo Credit: Zuffa LLC via Getty Images
UFC 100 was the UFC's biggest PPV with two big championship fights. GSP was first up. He would take on what many felt to be his toughest opponent to date in Thiago Alves.
Twenty-five minutes of action later, and the judge's scorecards read 50-45, 50-44, 50-45. Dominance.
He roughed up Alves on the feet, changed levels for explosive takedowns and did damage on the ground as well. While he could not finish Alves, it was a workmanlike performance by the champion.
Alves, like most others, had no answer for GSP's ability to mix up his game to perfection. He was outclassed in every aspect of the game.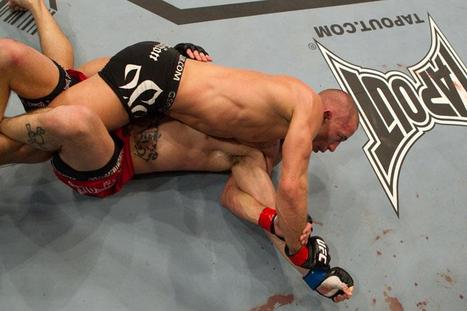 Photo Credit: Zuffa LLC via Getty Images
How dominant was the champion in this fight? The scorecards read 50-43, 50-44, 50-45.
GSP had his way with Dan Hardy.
It appeared that GSP was close to finishing Hardy with a Kimura, but Hardy was able to defend and withstand the pain to continue receiving his beating from GSP. He showed his toughness and grit. However, those two qualities do not win a championship.
The UFC Welterweight Championship remained around the waist of GSP. It was the fourth successful defense for the French-Canadian, and another fight he made look easy.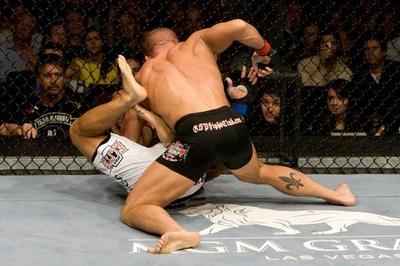 Photo Credit: Zuffa LLC via Getty Images
UFC 94 featured the rematch between BJ Penn and GSP. Penn had dropped to lightweight and won that championship, while GSP was coming off his first successful title defense. The fight was champion vs. champion, and Penn was looking to become the UFC's first simultaneous two-division champion.
GSP would have none of that.
His gameplan was efficient and effective. He wore down the smaller fighter and pummeled him until he could no longer continue.
Penn's corner halted the bout between the fourth and fifth rounds, as an exhausted Penn could not go on any further. To date, this is the only stoppage GSP has earned when defending his welterweight title.
He made Penn carry all of his weight while doling out punishment. For all of Penn's talents, he was no match for the bigger, stronger champion.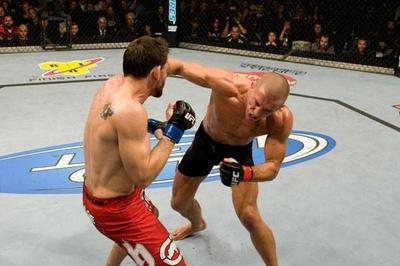 Photo Credit: Zuffa LLC via Getty Images
Jon Fitch had finally earned his UFC title shot, and he entered the cage as GSP's toughest fight ever. GSP did not make it seem that way.
He won every round, and earned at least one 10-8 round on all three judge's cards. The final scorecard read 50-44, 50-43, 50-44.
Fitch was a grinder. He would wrestle you to the mat and wear you down. This time around, it was GSP who would be doing the grinding. The highlight from the fight was an overhand right that dropped Fitch.
The champion looked fantastic in his victory over Fitch. The victory made his case for being the pound-for-pound best even stronger. To decimate the No. 2 fighter in the weight class in that fashion was very impressive.
It was GSP's first title defense, and it was spectacular.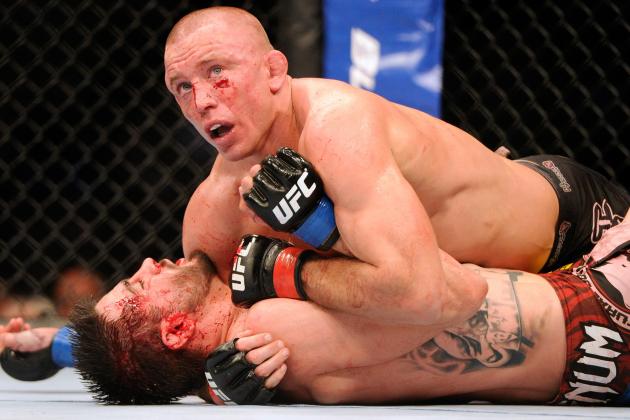 Eric Bolte-US PRESSWIRE

After more than a year and a half away from the cage, GSP returned at UFC 154 to meet the UFC Interim Welterweight Champion, Carlos Condit.
He came out more aggressive than before and put together a vintage GSP performance. He was accurate with his strikes and then changing levels for the takedown. On the ground, he was controlling and roughed up Condit.
In the third frame, GSP would have to overcome adversity, as Condit dropped him with a head kick. He showed why he is the champion by surviving and then coming back to finish the round strong.
The championship rounds were all GSP. 49-46, 50-45, 50-45 were the scores on the cards. While he was unable to get the finish, he showed why he is the best in the world at 170 pounds.
It was by far his greatest performance as champion.