Georges St-Pierre: An in-Depth Analysis of GSP's UFC 154 Performance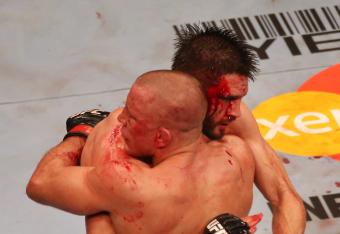 Tom Szczerbowski-US PRESSWIRE
Moments after Georges St-Pierre defeated Carlos Condit to retain the welterweight title at UFC 154 in Montreal on Saturday night, Nick Diaz tweeted that he was not impressed with the French-Canadian's performance.
It was GSP's first fight in more than 18 months and probably one of the toughest he's had in his career. But a battered and bruised St-Pierre was nevertheless victorious as he dug deep over five rounds to shake off the ring rust and emerge victorious.
Round 1
The first round went all GSP's way. Immediately after the bell, St-Pierre pressed the action, backing Condit up against the cage, switching his stance, feeling out his opponent and scoring a single-leg takedown with ease.
The remaining three minutes of the round were fought with GSP doggedly holding onto the top position, working Condit with his elbow and opening a deep cut.
Condit did the best he could off his back, preventing his opponent from posturing up for much of the round and, save for the one elbow which opened up the cut, the damage was minimal.
First round to St-Pierre.
Round 2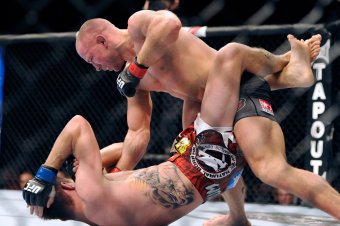 Eric Bolte-US PRESSWIRE
The second round started like the first, with St-Pierre quickly taking the centre of the Octagon in his southpaw stance, trying to measure and time his strikes. Nothing significant landed from either opponent as both seemed tentative in looking for an opening.
A flurry eventually came from Condit two minutes in, but as soon as he began to open up, he was taken down with a powerful double-leg. The rest of the round was a repeat of the first, but this time the blood gushing from Condit's forehead covered both fighters as they slipped and slid against each other for the final two minutes.
St-Pierre held him down like he did before and secured the round. At this point, it looked to everyone watching that this match would head in familiar GSP territory—a ground-out, five-round decision win in the champion's favour. That turned dramatically in the third round.
Round 3
As both men met in the centre of the cage for the third round, Condit knew that he had to do something to earn GSP's respect. That something came in the way of a vicious, perfectly timed combo that ended in a shin to St-Pierre's head and the champion flat on his butt.
Condit swarmed on top of St-Pierre. However, St-Pierre was tenacious, covered up on the ground and fought his heart out to get back to his feet.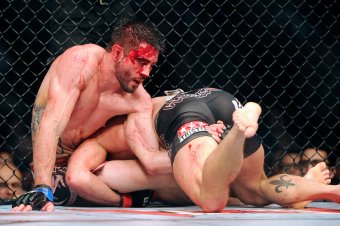 Eric Bolte-US PRESSWIRE
Condit's wrestling is not as good as GSPs and he was unable to keep the fighter down. No sooner had St-Pierre gotten back up to his feet, the champion had Condit backing up against the cage once more before picking him up and slamming him down with force on the mat.
Condit was on his back again, but this time made the champion work hard. Throwing elbows from the bottom, Condit began working on St-Pierre's face which was now looking as worn as his own.
With the blood pouring, it became difficult for St-Pierre to keep control of Condit, who eventually worked his way back to his feet with 90 seconds to go. But again, St-Pierre kept his opponent pushed against the cage and took him back down to the mat where he began working for position.
Condit had done the most damage in that round, but St-Pierre was more dominant, earning a draw in round three.
Round 4
By Round 4, we knew we were in for a war. St-Pierre was determined to press the action, but every time he did so, he ate a shot from Condit.
But a minute in, GSP was back on top in Condit's half guard, where he worked his opponent with punches and elbows.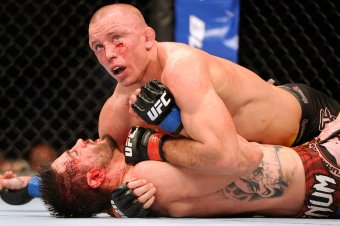 Eric Bolte-US PRESSWIRE
Condit gave as good as he took, throwing strikes and working for a sweep. St-Pierre had to work hard to keep Condit down and struggled to land anything significant. The champion was getting worn down by this encounter and you wondered whether he could come up with anything inventive enough to finish it.
But he had nothing more to give, with Condit at one point working his way back to his feet against the cage and finding himself on top of GSP for the second time.
GSP must have felt exasperated, but he dug deep and turned it around, with Condit finishing the match on his back, pressed against the cage.
Round 5
The back and forth over the previous rounds had left both fighters battered and bruised, but they must have known that St-Pierre was gradually pulling up to victory. Condit needed to do something special in the last five minutes.
GSP looked again to press the action, but Condit was still sharp, throwing dangerous reaching strikes which eventually allowed St-Pierre to grab a leg and attempt to take his opponent down. But Condit got back up and peppered his opponent with shots.
It was clear that GSP was looking to take him down again and eventually worked Condit back up against the cage and down onto the mat. Now all he had to do was stay on top and ride the last two minutes to victory. And that's exactly what he did in a highly entertaining, but somewhat predictable encounter.
This article is
What is the duplicate article?
Why is this article offensive?
Where is this article plagiarized from?
Why is this article poorly edited?