Week 11 NFL Picks: Last-Minute Predictions for Every Game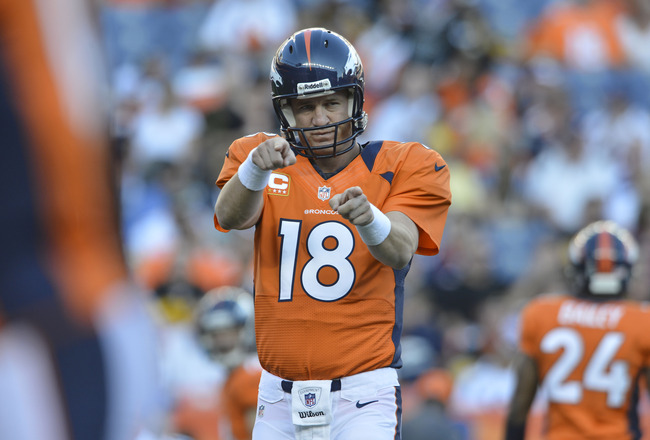 Ron Chenoy-US PRESSWIRE
With the NFL postseason race heating up, the intensity of each week is filled with drama and a galore of exhilaration.
As a result, a team such as Peyton Manning and the Denver Broncos can't afford to lose a key divisional game.
Hosting the San Diego Chargers, the Bolts desperately need victory to remain in the playoff mix. So despite the Broncos' impressive comeback win earlier in Southern California, total domination will be tough vs. a hungry Chargers team.
Ahead, we get this winner as well as all winners from Week 11. And be sure to check back as final scores will be added upon the conclusion of each matchup.
Cleveland Browns at Dallas Cowboys
Matthew Emmons-US PRESSWIRE
The Cleveland Browns need added explosiveness to keep pace with the Dallas Cowboys.
Tony Romo and the Cowboys rank No. 6 in passing offense, whereas Cleveland ranks No. 22 in pass defense. Even with the Browns getting some quarterback pressure, Dallas presents enough balance to move consistently.
Cleveland's best odds are to run with Trent Richardson, but being one-dimensional against Big D will prove costly. The Cowboys are just too well-versed in coverage to let the Browns maintain balance.
Cowboys 27, Browns 14
Final Score: Cowboys 23, Browns 20 (OT)
Arizona Cardinals at Atlanta Falcons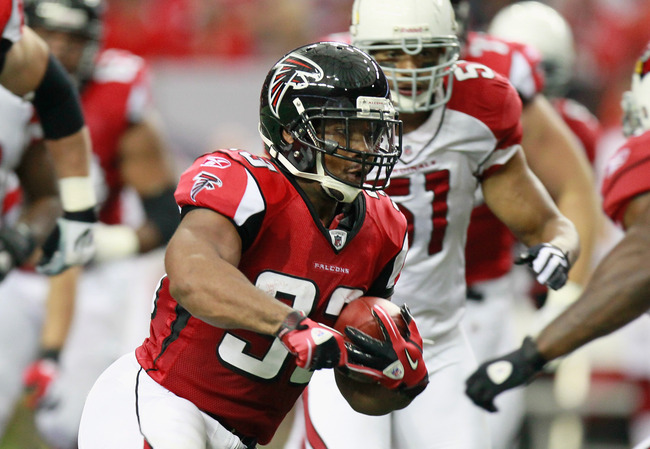 Kevin C. Cox/Getty Images
Any time the Arizona Cardinals play, it comes down to pass protection.
Having inconsistent quarterback protection each week is a significant disadvantage, so expect the Atlanta Falcons to expose it.
The Dirty Birds only have 21 sacks on the year, but Arizona has allowed 41. On the contrary, Matt Ryan has only been sacked 19 times.
Atlanta possesses far too much offensive firepower, because the Cardinals' defense cannot win games by itself.
Falcons 28, Cardinals 10
Final Score: Falcons 23, Cardinals 19
Green Bay Packers at Detroit Lions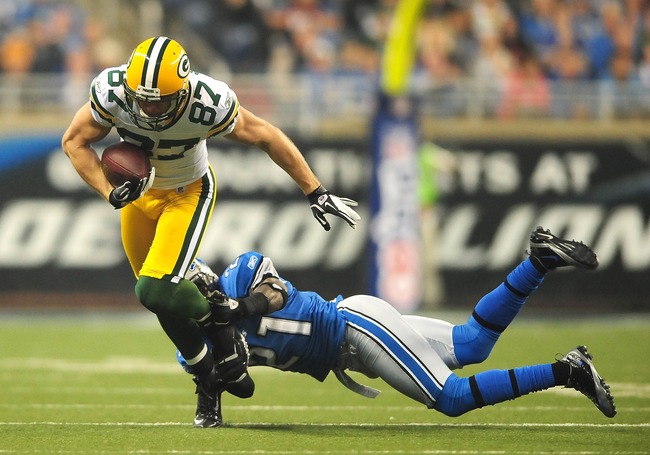 Andrew Weber-US PRESSWIRE
According to Wes Hodkiewicz of the Green Bay Press-Gazette:
LB Clay Matthews (hamstring) is out for Sunday's game against Detroit #Packers

— Wes Hodkiewicz (@WesHod) November 14, 2012
This certainly makes life easier for Matthew Stafford and the Detroit Lions. As a result, the Lions can attack more downfield and get Green Bay on its heels.
The downside for Detroit is its inconsistent defense that has only five interceptions. Aaron Rodgers and the Packers make few mistakes offensively, so a rather high-scoring affair is to be expected.
Green Bay, however, fields the more opportunistic pass defense to make plays and provide its offense with additional possessions.
Packers 31, Lions 27
Final Score: Packers 24, Lions 20
Cincinnati Bengals at Kansas City Chiefs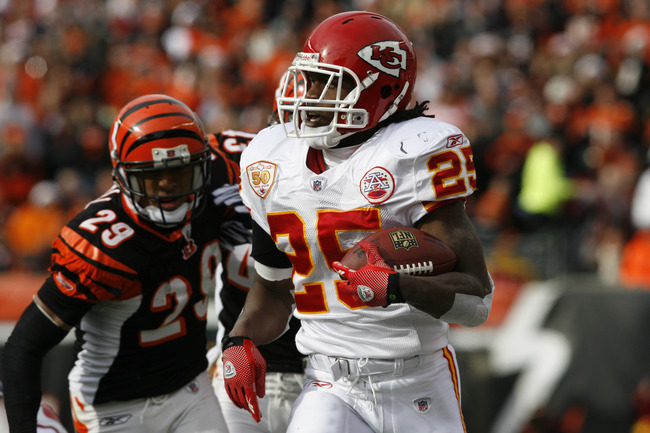 John Sommers II/Getty Images
For the Kansas City Chiefs to have any chance, slamming on the ground with Jamaal Charles must happen.
We saw that against the Steelers, and the Cincinnati Bengals are even more vulnerable up front.
The concern of K.C., though, remains with turnovers. Although the Bengals don't create an extensive amount of turnovers, their pass rush and the Chiefs being prone to turnovers will be a factor.
That said, Kansas City presents a better pass defense than advertised to isolate A.J. Green. So, provided Charles is fed early and often, the Chiefs control this game throughout.
Chiefs 17, Bengals 14
Final Score: Bengals 28, Chiefs 6
Philadelphia Eagles at Washington Redskins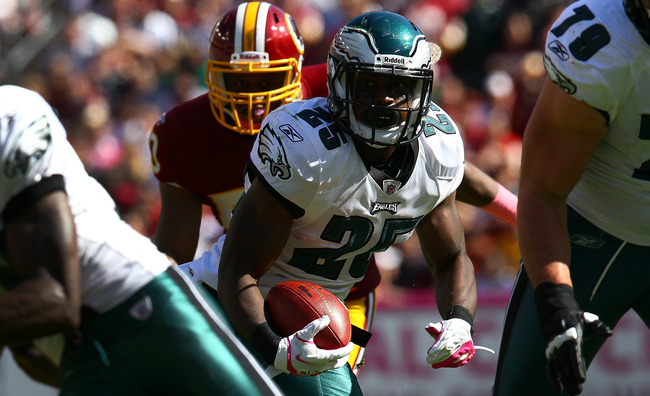 Win McNamee/Getty Images
The Philadelphia Eagles and Washington Redskins present suspect defenses to one another.
Washington gives up tons of passing yards and points, while the Eagles are underachieving at tackling and consistently forcing turnovers.
Offensively, the Redskins can move the rock quite well courtesy of Robert Griffin III. Philadelphia, unfortunately, remains turnover-prone, and that has proven costly from week to week.
Because of this being such an odd matchup, something must give.
Well, if there's one distinct advantage here, it's LeSean McCoy for Philadelphia. RG3 may have the Redskins at No. 2 in rushing offense, but McCoy is capable of controlling the tempo to keep Washington's offense off the field.
Eagles 23, Redskins 20
Final Score: Redskins 31, Eagles 6
Tampa Bay Buccaneers at Carolina Panthers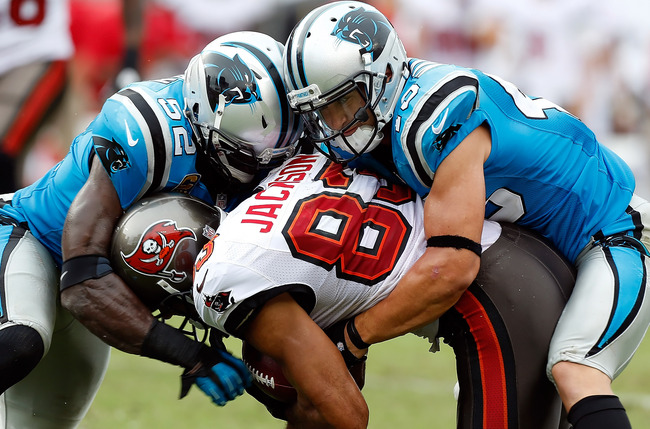 J. Meric/Getty Images
The Carolina Panthers present the offensive skill set to oust the Tampa Bay Buccaneers.
After all, the Bucs rank dead last versus the pass, which ties into them being No. 1 against the run. What goes unnoticed, though, are Tampa Bay's ability to create turnovers.
Ronde Barber and Co. have recorded 15 interceptions this season, and Cam Newton remains in his sophomoric funk. Factor in a Tampa Bay defensive front that allows only 3.5 yards per rush, and success for Carolina will be scarce.
Not to mention the Bucs field an impressively balanced offense with Josh Freeman and Doug Martin.
Buccaneers 24, Panthers 9
Final Score: Buccaneers 27, Panthers 21 (OT)
Jacksonville Jaguars at Houston Texans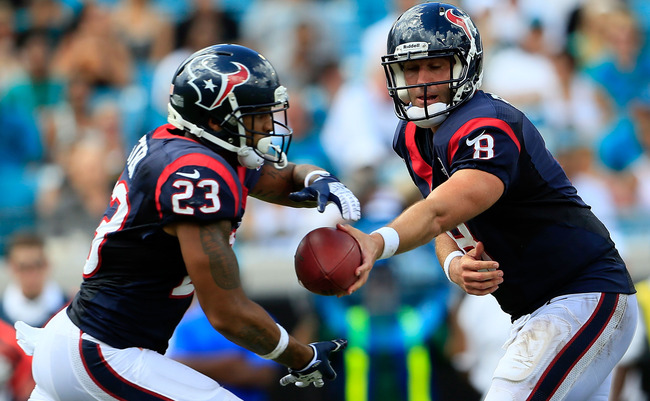 Sam Greenwood/Getty Images
On paper this contest is the biggest mismatch of the 2012 NFL season.
The Jacksonville Jaguars are 1-8 and playing at the 8-1 Houston Texans.
Yikes.
Jacksonville's defense can't slow anyone down against the run or pass, and the Texans can virtually move the ball at will offensively. Flip to Houston's defense, and the Jaguars' offense doesn't have a chance with a non-existent passing game to help the run.
Gary Kubiak's offense simply runs the clock and keeps the pace methodically moving, and Wade Phillips' defense just shuts down and forces punts. Houston wins the field position battle and suffocates to another win.
Texans 26, Jaguars 0
Final Score: Texans 43, Jaguars 37 (OT)
New York Jets at St. Louis Rams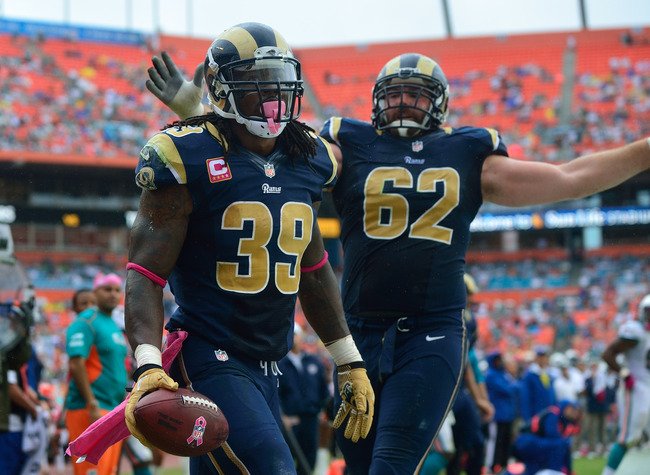 Steve Mitchell-US PRESSWIRE
The New York Jets have scored a measly 16 points in their past two games.
Also, Gang Green has allowed 58 points in the same span. Therefore, unless the Jets magically turn everything around, don't expect a road victory over the St. Louis Rams.
St. Louis offers more offensive balance than at first glance, plus New York ranks No. 30 in allowing 145 rushing yards per game. With Steven Jackson pounding the trenches, Rex Ryan's defense will get worn down in the first half.
And when Mark Sanchez is under center, the Rams' defense will get pressure and force numerous ill-advised throws. Jeff Fisher's defense is for real, although it just gets overlooked because of playing in the same division as Seattle and San Francisco.
Rams 30, Jets 10
Final Score: Jets 27, Rams 13
New Orleans Saints at Oakland Raiders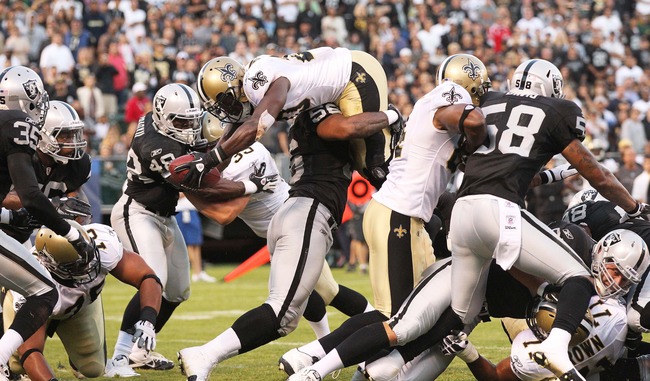 Cary Emondson-US PRESSWIRE
The Oakland Raiders are one potential upset to watch for in Week 11.
Carson Palmer has this offense building consistent explosiveness, and the New Orleans Saints' defense still allows tons of yards. Therefore, the Raiders will move the ball up and down the field.
The question, however, is can Oakland find the end zone and limit turnovers?
New Orleans is sneaky good at getting quarterback pressure, accumulating turnovers and tightening up when inside its own red zone. Offensively we know Drew Brees and Co. will rack up yards and points, because that's just what they do.
Oakland is also rather suspect defensively, and it won't generate turnovers or keep Brees in check.
Saints 38, Raiders 21
Final Score: Saints 38, Raiders 17
Indianapolis Colts at New England Patriots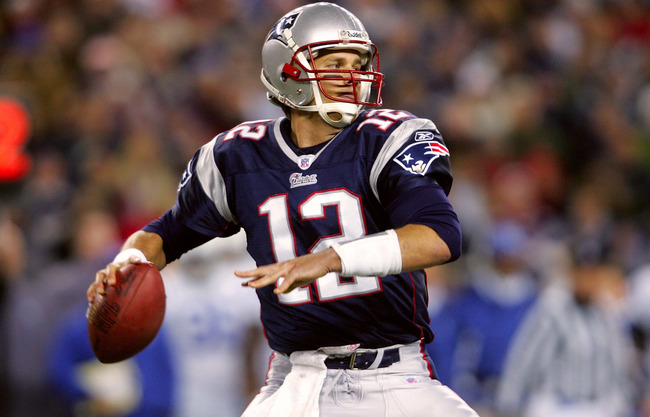 Nick Laham/Getty Images
The Indianapolis Colts and New England Patriots will feature the obvious quarterback matchup of Andrew Luck versus Tom Brady.
Both are provided with an array of receiving weapons, a sound rushing attack and pocket protection.
Therefore, this colossal AFC showdown will be decided by defense.
New England is weaker versus the pass than Indy, but the Pats are much better against the run by comparison. The end result then becomes a product of turnovers.
Bill Belichick's secondary may allow more yards; however, it is better at creating turnovers. We also have to remember that Luck is still a rookie, and those minute mistakes will happen in key games.
Patriots 28, Colts 24
Final Score: Patriots 59, Colts 24
San Diego Chargers at Denver Broncos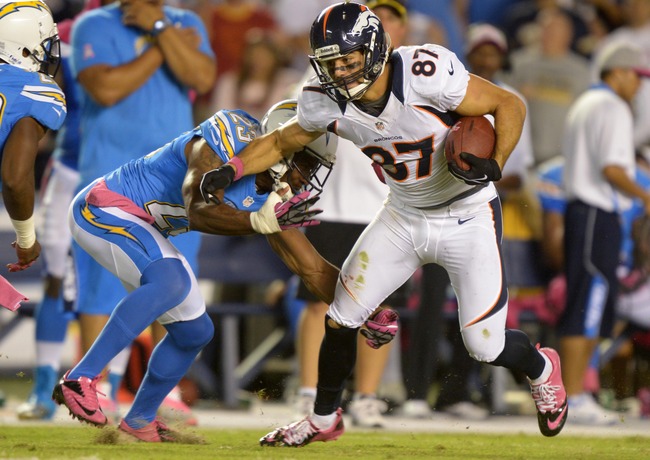 Kirby Lee-US PRESSWIRE
Defensively, the San Diego Chargers have recorded just eight picks and 14 sacks this season.
The Denver Broncos, though, are almost their polar opposite with 10 interceptions and 31 sacks.
As the 2012 season has progressed, the Broncos aren't as turnover-prone compared to early on. Three of Peyton Manning's interceptions came versus the Falcons, and the legend has only six on the season.
Philip Rivers, unfortunately, has not been as consistent, although San Diego's running game is showing signs of improvement with Ryan Mathews. And defending the run is a concern for Denver, because it gave up 90 rushing yards to the Bolts in the first meeting.
The problem for San Diego is creating turnovers of Manning and playing a full 60 minutes, whereas the Broncos have proven to get better as each game unfolds.
Broncos 34, Chargers 20
Final Score: Broncos 30, Chargers 23
Baltimore Ravens at Pittsburgh Steelers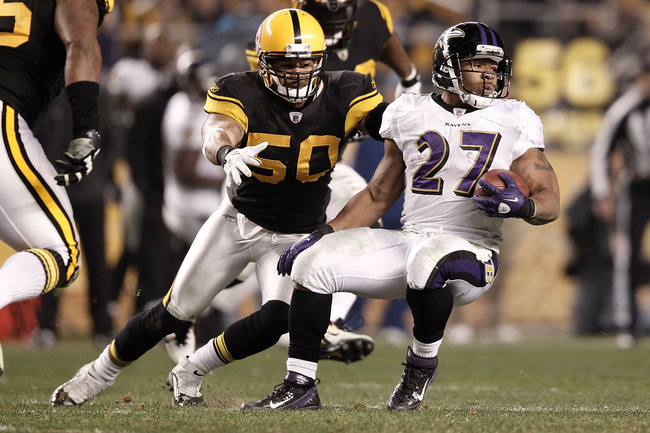 Jared Wickerham/Getty Images
The hill to climb for the Pittsburgh Steelers in Week 11 got a bit steeper.
Per Gerry Dulac of the Pittsburgh Post-Gazette:
Rashard Mendenhall, who has missed the past four games with an Achilles tendon injury, is expected to return and start against the Ravens.

However, wide receiver Antonio Brown did not practice all week and will miss his second game in a row with a high-ankle sprain. He will join quarterback Ben Roethlisberger on the sidelines.
As a result, expect the Baltimore Ravens to load the box and force the Steelers to throw. Then again, that's also to the Ravens' advantage with Ed Reed's playmaking skills residing in the secondary.
Both teams are uncharacteristically vulnerable versus the run, but Baltimore's passing game is gaining consistency through each week and sets up nicely after Ray Rice. With more balance to complement explosiveness, Baltimore takes a crucial victory in Pittsburgh.
Ravens 20, Steelers 13
Final Score: Ravens 13, Steelers 10
Chicago Bears at San Francisco 49ers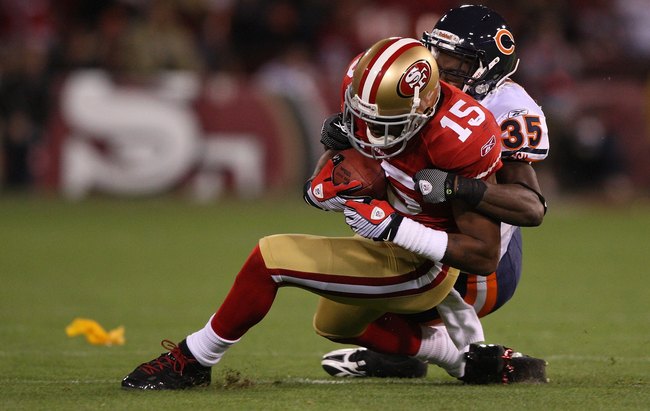 Jed Jacobsohn/Getty Images
Here is the quarterback situation between the Chicago Bears and San Francisco 49ers.
Per the Bears' official Twitter feed:
LM: #Bears have announced that QB Jason Campbell will start Monday night's game at San Francisco.

— Chicago Bears (@ChicagoBears) November 16, 2012
And according to Chris Mortensen of ESPN.com:
Alex Smith will not play tonight for 49ers, unable to get clearance from neurologist after suffering concussion last week, per sources.

— Chris Mortensen (@mortreport) November 19, 2012
Still, regardless of the starting quarterbacks, this Monday night matchup will be determined by defense.
Each offense presents a strong rushing attack, so the front seven that shuts down the line of scrimmage first will win. We saw both defenses get exposed to the run in Week 10, and Week 11 has potential to be an echo.
San Francisco doesn't force as many turnovers; however, the Bears allow more yards as well. A low-scoring affair is expected, and the difference is that the 49ers get 5.6 yards per rush, whereas Chicago gives up 4.2 per carry.
49ers 12, Bears 7
Final Score: 49ers 32, Bears 7
Follow John Rozum on Twitter.

Keep Reading