UFC 154: Five Fights for Martin Kampmann to Take Next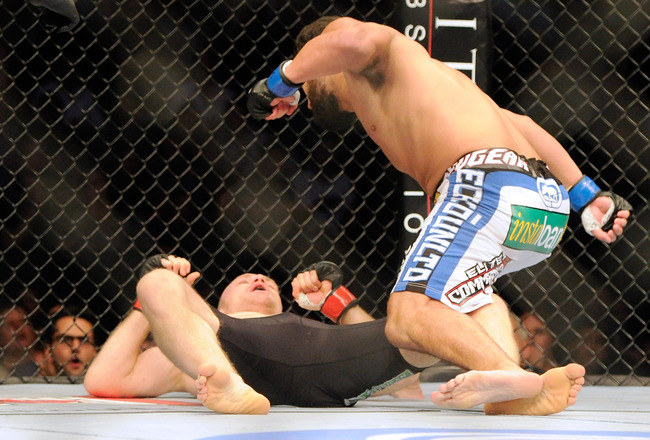 Eric Bolte-US PRESSWIRE
The one-punch knockout that ended Martin Kampmann's night at UFC 154 on Saturday must still be reverberating in his head as he ponders what's next for him in his UFC career.
It's been a long journey for the Danish welterweight to have come so close to a title contention, and it's probably going to be a long way back.
Like many fighters who've suffered a loss at the hands of Johny Hendricks, the future isn't clear. But for Kampmann, there are some fights that make more sense than others. Here's a lists of five of them.
Nick Diaz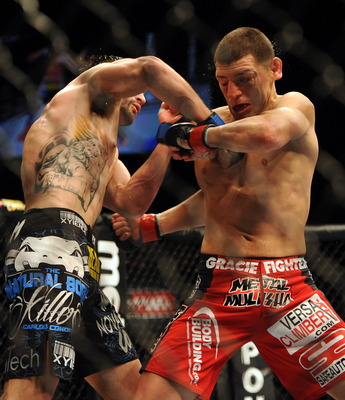 Kelvin Kuo-US PRESSWIRE
We still don't know when Nick Diaz will return to action or whether he'll be able to get his suspension for testing positive for marijuana lifted before it's due to expire in February.
Diaz was on the verge of a title shot before a loss to Carlos Condit ended that idea.
He needs at least one fight before he can be considered in the running again and there are many men who could make that happen—Kampmann is one of them.
Josh Koscheck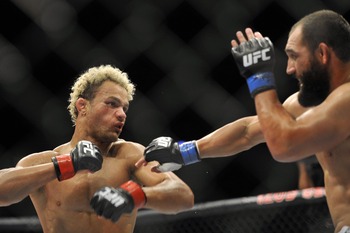 Joe Camporeale-US PRESSWIRE
Like Kampmann, Josh Koscheck tasted defeat at the hands of Johny Hendricks earlier this year and is still looking for an opponent for his return.
Kos was meant to take on Jake Ellenberger in September—a man Kampmann already defeated—but had to pull out due to an injury.
That could be perfect timing for Kampmann if he wants to get back to action as quickly as possible.
Dong Hyun Kim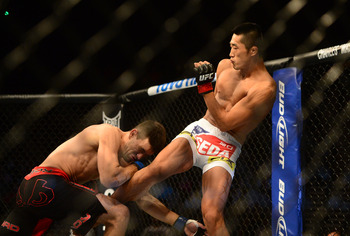 Mark J. Rebilas-US PRESSWIRE
Korean fighter Dong Hyun Kim has been a rugged brawler in his four-year UFC career, suffering his first loss to Carlos Condit a year and a half ago.
But, save for a bizarre muscle spasm in his fight against Demian Maia, he is now back to winning ways.
He beat Paulo Thiago earlier this month and has earned a bigger opponent such as Kampmann.
Siyar Bahadurzada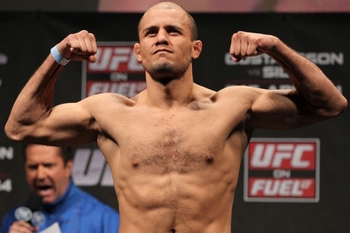 Source: http://mmacarnivale.com
We haven't seen Dutch-Afghan fighter Siyar Bahadurzada in the cage since his first round, 42-second knockout of Paulo Thiago in his UFC debut in April.
Injury has kept him on the sidelines and he is still without an opponent for his next fight.
Bahadurzada, though he's only fought once in the UFC, is a dangerous fighter coming off a win and could prove an important test for Kampmann.
Both are accomplished strikers, and a fight between the two is likely to be full of fireworks.
Carlos Condit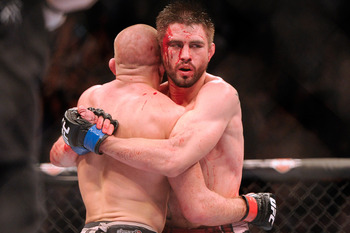 Eric Bolte-US PRESSWIRE
This fight probably makes most sense of them all, for both fighters. Kampmann beat Condit by split decision in the pair's first fight in 2009, and that loss can't sit easy with Condit.
For Condit, a win against Kampmann would help him right an inglorious moment in his career. For Kampmann it would be a chance to reassert his status against one of the toughest welterweights around.
Keep Reading