MONTREAL – When UFC welterweight champion Georges St-Pierre entered the UFC 154 post-fight press conference, he sported the natty attire that we have come to associate with the all-business fighter.
However, it wasn't the normally smiling, clean-cut GSP that sat down at the dais, this was a badly bruised and swollen St-Pierre. The look clearly indicated that St-Pierre didn't walk away unscathed from his 25-minute battle with Carlos Condit on Saturday night in Montreal.
With a banged-up face like that, one could forgive St-Pierre if he had no interest in discussing who or what was next for his career, but St-Pierre's reluctance to think about his future didn't stop the media from trying to pry into his mind regarding a superfight with Anderson Silva.
For his part, St-Pierre skirted the issue, saying he needed time off before he could think about the future.
UFC president Dana White agreed with St-Pierre, telling the media that he wouldn't bother St-Pierre about the future, giving him at least 10 days to decompress and not think about anything fight related, but when that time limit expires and St-Pierre sees White's name on the caller ID, he can rest assured he'll know what the call is about.
After St-Pierre left the presser, White told the media that the date for the potential fight between St-Pierre and Silva was still sometime in May and that three sites were being considered: Toronto, Dallas and Brazil, while acknowledging that Dallas seemed to make the most sense, "because it's neutral."
That would put the fight inside Cowboys Stadium a site that can hold 100,000 fans. And that number, according to White, is exactly why the UFC wants the fight there, "That's why we're going there, I hope I sell a 100(thousand tickets). "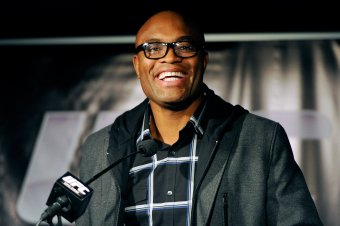 Eric Bolte-US PRESSWIRE
As far as getting there, well, White played that off as nothing more than a normal business day at the UFC offices, "The thing is that all of the stuff that needs to be done behind the scenes is what we do, it's what we do, this is the business that we're in. We'll get all that done, it's just the matter of sitting down and seeing what's right for everybody.
I want Anderson Silva to love this fight and want it. I want Georges to love this fight and want it, cuz they're both gonna make a sh**load of money, that's a no-brainer. I want them to want it for the right reasons. This is more of a legacy fight. This is the pound-for-pound fight."
The question now is, just how much is it going to cost the UFC to make Anderson Silva and Georges St-Pierre fall in love with a fight at Cowboys Stadium? I guess we'll find out soon, but not in the next 10 days.
**all quotes obtained first hand by BRMMA