Alistair Overeem Not Licensed Despite Fight with Silva Being Promoted for Feb. 2
Use your ← → (arrow) keys to browse more stories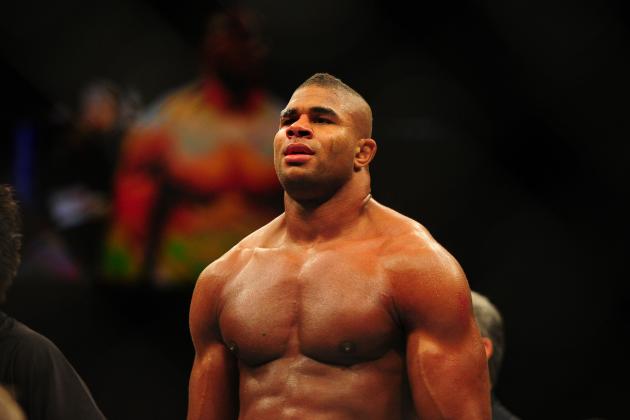 Mark J. Rebilas-US PRESSWIRE

MONTREAL - If you think that the recent announcement that Alistair Overeem would be fighting Antonio "Big Foot" Silva at UFC 156 means that Overeem has been given an all clear on the suspension he is currently serving, you would be wrong. At least that's the message that UFC president Dana White sent on Saturday night following the UFC 154 press conference.
White spoke to the media and made it clear that while the Nevada Athletic Commission gave the UFC the green light to begin promoting the Overeem and Silva bout, Overeem was still subject to a hearing in front of the commission in relation to his March 27 suspension.
"We got the permission from the commissioner to set up a fight with him or whatever," White said. "But he still has to go in front of the commission and that still doesn't mean that the outcome could be good, but I think that Alistair's been doing the right thing as far as the commission's concerned."
The suspension that Overeem is serving was handed down after a urine sample he provided on March 27 came back with a 14-to-1 ratio of epitestosterone to testosterone, far above the 6-to-1 level allowed by the Nevada Commission. That suspension will run its course on Dec. 27. At that date, Overeem will be eligible to stand in front of the commission and apply for a license to fight in Nevada.
White sounded confident that Overeem would be granted that license to face Silva on the Feb. 2 fight card from the Mandalay Bay Events Center in Las Vegas, Nev. "He's doing all the things he needs to do to get back in their good graces," White said. "It's looking positive because he's been doing what he's supposed to do."
If Overeem is granted his license, his fight vs. Silva will land on the pay-per-view portion of the card that will be headlined by a title bout between featherweight champion Jose Aldo and former lightweight champion Frankie Edgar.
**all quotes obtained first hand by BRMMA