Saints vs. Raiders: Final Report Card, Player Grades for Oakland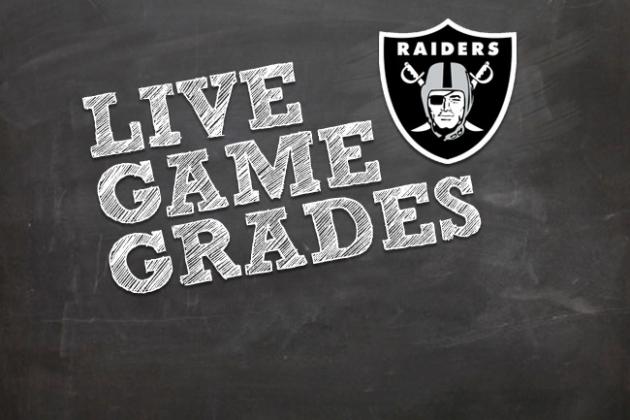 The Week 11 matchup between the New Orleans Saints and Oakland Raiders ended in relative disaster for the home team. Oakland lost 38-17 in dominating fashion at the hands of Drew Brees and a surging Saints club.
Follow along as we dole out grades for the overall performance of each key player rocking the Silver and Black.
Begin Slideshow

»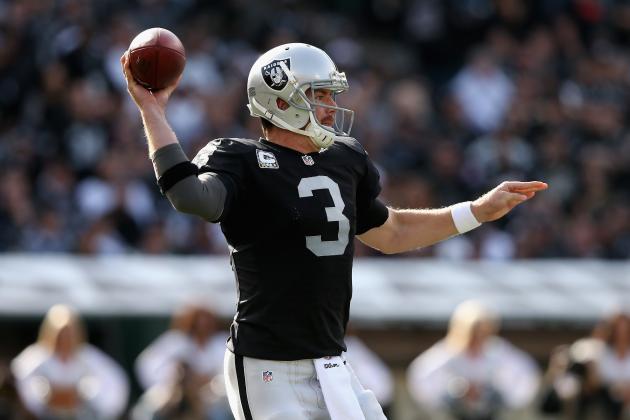 Ezra Shaw/Getty Images
Palmer did not lead the Raiders to victory on Sunday.
Carson Palmer — C+
Carson Palmer was by no means spectacular on Sunday, as the grade indicates.
He was responsible for seven of the Saints' points, but was free from blame on his second interception. He misfired on a few passes downfield, but put forth a decent performance overall, including a well-executed fade to Juron Criner for a touchdown.
Palmer moved smoothly outside the pocket both by design and when pass protection failed as well. He appears fully capable in this West Coast system.
At the end of the day, however, Palmer's second touchdown came in garbage time and his 312 yards passing proved inconsequential towards a winning outcome for the Oakland Raiders.
He didn't lose the game, but he sure didn't win it either.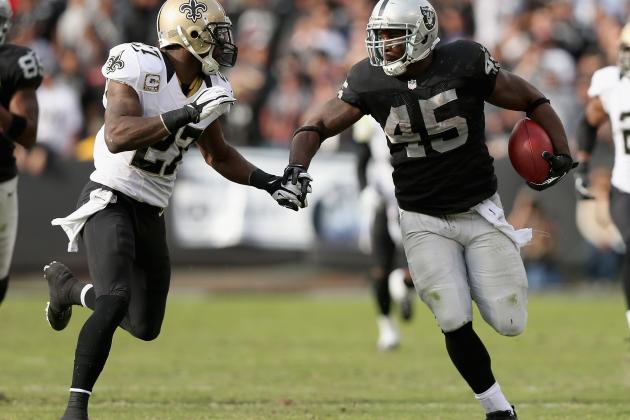 Ezra Shaw/Getty Images
Check out the entire Raiders' offense all wrapped up in one player.
Marcel Reece — A
For the second consecutive week, Reece operated as a veritable one-man wrecking-crew. He was the entire Raiders' offense, racking up 193 total yards. Equally notable were his 5.4 yards per carry on the ground and 22.5 in the passing attack.
He served as the essential foundation of the Raiders' game plan against the Saints. One might say he executed to near perfection.
Taiwan Jones — C
Jones accumulated 13 rushing yards on three carries. He utilized some impressive agility for a first-down run, but did not contribute as a receiver out of the backfield. He was seldom used on Sunday.
Jeremy Stewart — C
Stewart carried the ball just two times, but added a 23-yard catch-and-run on his only target. He also participated on special teams with two returns for 25 yards.
Ezra Shaw/Getty Images
This was emblematic of the wide receivers' failures for Oakland.
Darrius Heyward-Bey — D+
Palmer targeted Heyward-Bey all of two times in the first half. The Raiders' alleged No. 1 wideout could not generate consistent separation from the Saints' defensive backs that had previously been burned for the first 10 weeks of the season.
He amassed all of his 69 receiving yards when the Raiders were sufficiently relegated to their losing status.
Denarius Moore — D-
The second-year man out of Tennessee had perhaps his least productive day as a pro.
He produced just one catch for nine yards, despite being targeted six other times. Palmer overthrew him on one occasion, but Moore failed to make a play the majority of the afternoon. He even ran an incorrect route and was the intended target on Malcolm Jenkins' interception return for a touchdown.
As the Raiders' most lethal weapon in the passing game, Moore really let his team down with his performance (or lack thereof) on Sunday.
Rod Streater — F
The undrafted receiver's success story took a hit in Week 11.
Streater was responsible for the worst of Oakland's four penalties. He took the Raiders away from a goal-line scenario with a pass interference infraction during the second quarter. An attainable touchdown transformed into a turnover in the end zone two plays later.
Streater was also extremely fortunate when a fumble and interception were overturned on plays where he was at the center of the action. He nearly labeled himself as Public Enemy No. 1 with his mistakes this week.
Juron Criner — B+
Criner had a fine day at the office. He hauled in a first-down pass on 3rd-and-7 that brought the Raiders into Saints' territory during the opening frame. He later retained some pride for the Silver and Black with a touchdown catch in the fourth quarter.
Derek Hagan — D
Hagan was largely invisible with just one reception for 17 yards. When he did come into focus, Hagan stifled a Raiders' drive with an illegal block above the waist and failure to catch a first-down throw.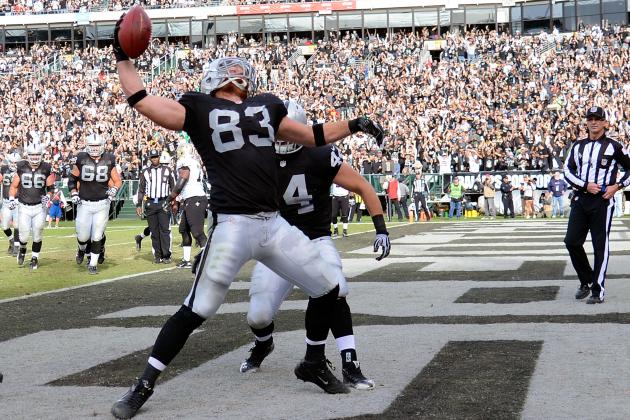 Thearon W. Henderson/Getty Images
Myers' touchdown catch gave the Raiders brief hope early on.
Brandon Myers — B
Grading out Myers proved considerably more trying.
On the one hand, he helped bring the Raiders back into contention at 14-7 with a fantastic touchdown grab. Yet, he also committed an egregious error when he allowed a perfect would-be TD-pass bounce off his hands and into the arms of Roman Harper.
When viewed from a comprehensive perspective, he was Palmer's most reliable option outside of those named Marcel Reece. He simply did more good than bad—both as a pass-catcher and blocker.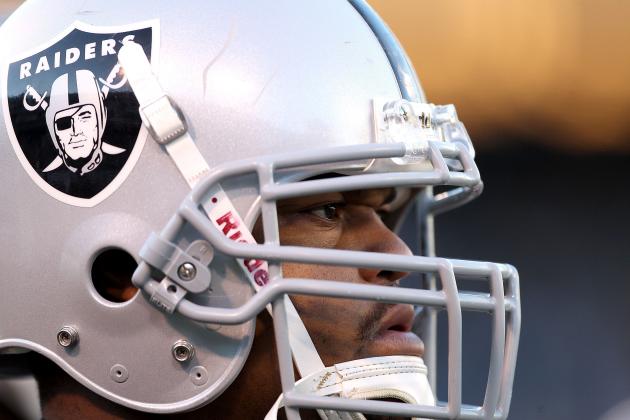 Ezra Shaw/Getty Images
Khalif Barnes was the best Raiders' O-lineman.
LT Jared Veldheer — C
Reece and Stewart had moderate success on the few running plays to the left side of the line. Veldheer also provided a clean pocket for Palmer, but was partly responsible for a sack of the Raiders' QB and loss of eight yards on the play.
LG Cooper Carlisle — C-
Carlisle helped spring Reece for a seven-yard gain. He failed once in pass protection when he allowed the first sack of the game. He wasn't a liability otherwise.
C Stefen Wisniewski — C+
The Raiders' center handled himself adequately for the most part. He provided an opening for Reece on a 13-yard run, but failed to do the same on a 4th-and-1. Wisniewski did not give up a sack.
RG Mike Brisiel — B
Mr. Brisiel recovered from a horrendous performance a week earlier against the Ravens. He assisted on Jones' first-down carry and helped lead a successful blocking corps on the right side of the line.
RT Khalif Barnes — A-
Barnes proved that a week off can do wonders for one's performance level.
He reclaimed his starting role at right tackle and paved the way for Reece all game long. Oakland ran the majority of their rushing plays to the right with Barnes as the lead man. The sack that occurred because of him came when the game had long since been decided.
G Tony Bergstrom — B-
The Raiders used Bergstrom as an extra blocker in rushing situations. He comprised part of the blocking contingent that pushed Reece for big gains from start to finish. A holding infraction dropped his grade down to a B-.
Ezra Shaw/Getty Images
Houston managed to get to Brees on one occassion, albeit a mere QB hit.
DE Lamarr Houston — B
Across the board, the Raiders did not succeed at disrupting Drew Brees' timing via the pass-rushing department. Houston provided one of the rare instances where the Saints' QB actually felt the heat of a defensive lineman bearing down on him with intentions of physical destruction.
New Orleans rarely implemented rushing schemes to Houston's side of the field. He did not register a tackle and finished with one QB hit in the box score.
DT Tommy Kelly — D
The Saints positively gashed the Raiders' D when running off right guard. And Kelly performed the worst against this ground attack. He allowed runs of nine, 14, 16 and 25 yards to the Saints' three-headed monster of Chris Ivory, Pierre Thomas and Mark Ingram. He recorded just one tackle and did not generate an effective pass rush.
DT Desmond Bryant — B-
Bryant was only moderately liable against the run when compared to his fellow interior D-lineman. Better yet, he made up for any failures by stopping Ingram dead in his tracks on a 3rd-and-1. He also bested Kelly by amassing five tackles, a massive hit on Brees and nearly an interception.
Who would have thought Bryant would finish as the team's best performer in coverage?
DE Matt Shaughnessy — C-
Shaughnessy did not maintain his usual lofty standards in run defense.
His stuffs on Ingram and Ivory were thoroughly negated by the former's 27-yard touchdown carry. The Raiders' defensive end didn't even get a hand on Ingram before the RB raced untouched to the end zone. Proficiency in rushing the passer wasn't in his Sunday's repertoire either.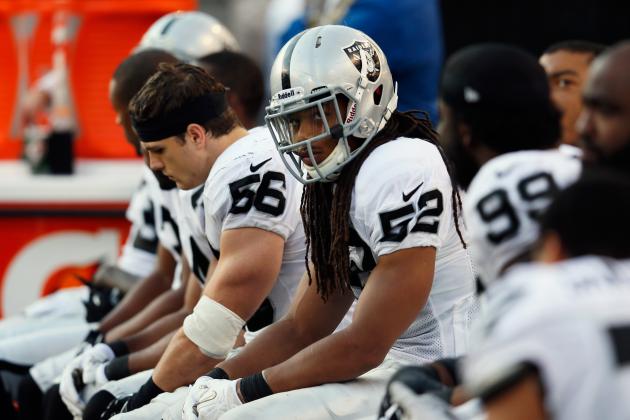 Rob Carr/Getty Images
Burris (No. 56) and Wheeler (No. 52) vastly improved from a week earlier.
Note: The entire Raiders organization deserves blame for their "zero-coverage" scheme of Jimmy Graham on his one-yard touchdown.
OLB Miles Burris — C
Oakland's outside linebacker was quietly solid against the Saints. He totaled eight tackles (five solo), played well versus the run and surrendered only a couple substantial gains to Thomas in the passing game. He handled his coverage duties against Saints' running backs for the most part otherwise.
MLB Rolando McClain — B-
The leader of the Raiders' defense ranked second on the team with 10 tackles (three solo), including one for loss. He filled the gaps in the interior rushing defense after some initial shortcomings in the first quarter. Fullback Jed Collins took McClain for a 10-yard completion. It was an impressive bounce-back performance following last week's fiasco.
OLB Philip Wheeler — B
Wheeler was the one player who provided any semblance of a consistent pass rush. He delivered a phenomenal hit on Brees to go along with his six tackles (three solo). He experienced some issues in coverage against RB Travaris Cadet, but played astronomically better in that capacity when compared to last week.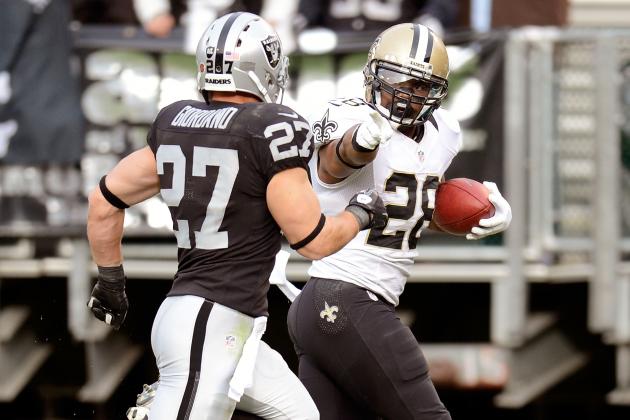 Thearon W. Henderson/Getty Images
This photo provides all you need to know regarding the Raiders' secondary.
CB Michael Huff — D
Excuse me if you feel this is much too high a grade. I happen to consider it appropriate considering the unmitigated disaster that was the Ravens' matchup.
Huff beautifully disrupted a would-be big-time completion to Marques Colston on one particular third down play. The pass breakup ended the Saints' first series with roughly seven minutes remaining in the opening half.
But despite that deflected pass and an additional tackle for loss, Huff did it again: he surrendered the big play to an opponent's speedy wide receiver. Lance Moore torched him for a 38-yard score just before halftime.
The safety-turned-cornerback was once again a huge liability in coverage.
CB Ron Bartell — D
Another cornerback, another failing grade—enter Ron Bartell.
Bartell's commendable tackle of Pierre Thomas at the goal line was completely wiped out by his deficiencies as a cover corner. The Brees-to-Moore connection produced the Saints' third touchdown and 35-10 lead by way of Bartell's inabilities. Moore made him look plain silly on the TD route.
Colston had the upper hand on the Raiders' corner numerous other times as well.
Bartell will not be sleeping soundly tonight.
CB Joselio Hanson — B
Hanson was the best of any Raiders' defensive back on Sunday. He forced a fumble by the mighty Jimmy Graham, tallied three tackles (all solo) and recorded a QB hit.
And perhaps his most praiseworthy moment came on a touchdown-saving tackle of Cadet during his 75-yard punt return. Hanson really played as a quality DB—something his brethren in the secondary might want to replicate.
SS Mike Mitchell — D+
Mike Mitchell shed his identity as a backup in favor of a starting role for the injured Tyvon Branch. He led the team in tackles with 11 (seven solo) in his new temporary gig.
Unfortunately, both he and Huff were the recipients of Brees' surgical work in their deplorable efforts at covering Moore for the Saints' third touchdown.
Mitchell was nowhere to be found on essentially all deep plays over top.
FS Matt Giordano — F
It's safe to say Giordano would have given his right leg and just about every other appendage to have been back on the New Orleans' sideline. The former Saint in 2010 was sufficiently brutal against his previous employer.
Ingram first plowed through Giordano as if he wasn't even there on the opening offensive series. The free safety then failed to establish outside contain on Ingram's unabated 27-yard TD and was repeatedly taken to school by Colston in coverage.
This man has some serious soul-searching to do.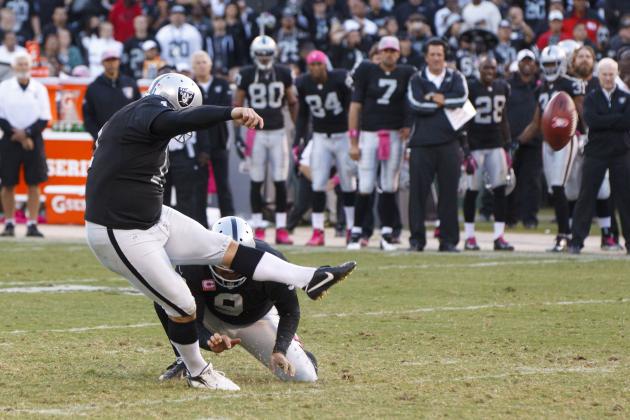 Jason O. Watson/Getty Images
Janikowski did not have a significant effect on the outcome of this game.
K Sebastian Janikowski — B
Janikowski converted his sole field goal attempt and both extra points. Cadet returned his first two kicks 28 and 75 yards, respectively, with the second leading to the Saints' fourth touchdown. Complicity falls on the coverage unit, but Janikowski still had a hand in the special teams' gaffes.
Either way, it might be wise of the Raiders to provide the ole "Seabass" with actual opportunities to help his team put points on the board. He certainly could have rendered the final score a little less devastating.
P Shane Lechler — C+
Lechler was not beyond reproach for perhaps the first time in his career.
His first punt went through the end zone for a touchback, while his second traveled a mere 46 yards to the New Orleans' 26. The third boot was the worst of the three. It went out of bounds at the NO 42, affording the Saints prime field position for yet another touchdown drive.
Lechler can at least take pride in not out-kicking his coverage team and the Saints not recording a single punt return.
KR Coye Francies — B
The former San Jose State Spartan continued his solid work on kickoffs. Francies averaged 23.5 yards per return and took one 30 yards to begin the game. No game-changing 109-yard touchdowns to be sure, but Francies seems like a fit for this position on special teams.
PR Phillip Adams — N/A
Adams signaled for two fair catches on the afternoon. Giving him a grade for these "returns" seems rather silly.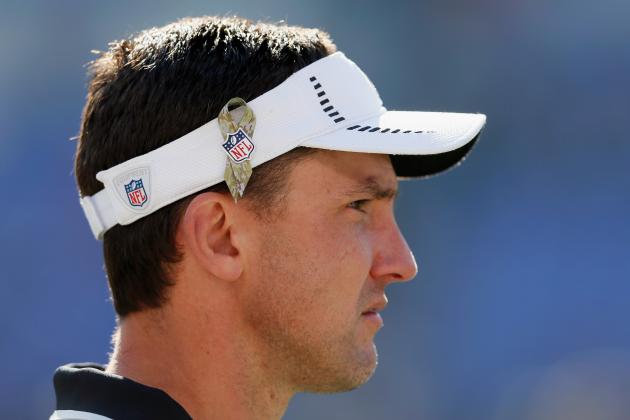 Rob Carr/Getty Images
Allen did not fare well against his former employer on Sunday.
Coaching — C
This Week 11 battle simply came down to a mismatch between personnel groupings.
The Raiders' one significant advantage resided in their receiving corps. When it decided against factoring in any positive way towards the final result, the team was dead in the water against a revitalized New Orleans Saints.
Put another way, head coach Dennis Allen and those underneath him could not possibly have coached the Raiders to victory.
Whether he and Jason Tarver called for blitzes or base-package operations, Brees and Co had their way all game long. On offense, Greg Knapp rightly put the ball in the hands of Reece as a means to both utilize their most dynamic weapon and to keep Brees off the field.
It just wasn't enough.
Despite keeping its and the team's emotions in check, Allen's staff remains part of the problem—and not solution—until the Raiders put forth a more respectable product on the field.
Follow me on Twitter @jlevitt16