BCS Shakeup: Kansas State, Oregon Losses Make BCS Controversy Inevitable
Use your ← → (arrow) keys to browse more stories
Ronald Martinez/Getty Images
After a 52-24 victory over top-ranked Kansas State, Baylor helped ensure that the BCS will become a BC"mess".
In a span of less than 25 minutes, the BCS race was turned on its head.
First, Kansas State suffered a loss to Baylor that was inevitable from about the start of the fourth quarter. The 28-point defeat was a crushing blow to a school that had never spent time atop the BCS rankings before this week.
But then things really started to get crazy after the debacle in Waco.
In Eugene, Chip Kelly's squad found itself in a tight battle against Stanford, which was considered by many to be too slow to keep up with the Ducks' up-tempo offense.
After four quarters of hard-nosed football and a missed field goal in the first overtime period by Oregon kicker Alejandro Maldonado, the Cardinal were in position to prove the doubters wrong.
Enter Jordan Williamson, Stanford's sophomore kicker. In last season's Fiesta Bowl, Williamson had the chance to take down Oklahoma State not once, but twice. He missed both kicks.
What a year a difference can make. From 37 yards out on the left hash mark, Williamson squeaked the ball just inside the uprights.
Stanford 17, Oregon 14. Let the chaos begin.
For the first time since 2007 when Missouri and West Virginia were ranked first and second, respectively, the top two teams in the BCS standings have gone down in the same week.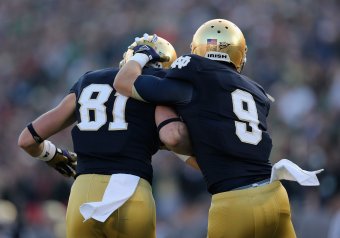 Jonathan Daniel/Getty Images
Now, college football is left with only one undefeated team eligible to play in a postseason bowl.
Notre Dame, with its perfect 11-0 record and current No. 3 ranking in the BCS standings, is the obvious choice to be ranked No. 1 when the new rankings are released this evening. What is going on behind the Fighting Irish is what creates the controversy.
Three SEC teams are lined up ready to pounce if Notre Dame slips up next weekend against Southern California. Alabama, Georgia and Florida all improved to 10-1 on Saturday.
The SEC title game will take care of either Alabama or Georgia, assuming that Alabama takes care of Auburn next Saturday. The Bulldogs have already secured a trip to Atlanta representing the SEC East division.
The team that might have a reason to argue, provided craziness continues to ensue, is the Florida Gators. Without a chance to play for the SEC title game, Will Muschamp's team would have to rely on a Notre Dame loss for a chance to play for the national title.
The Gators lost to Georgia earlier this season, but will not face Alabama.
Thanks to the losses by Kansas State and Oregon, it appears that the SEC is in prime position to snag at least one of the national title game slots. While this is to the dismay of some fans, many others will be happy that the perceived toughest conference in the nation will likely be represented in college football's biggest game.
One thing is for sure: The Notre Dame-USC game next weekend and the SEC title game on December 1 have become much more interesting as a result of Saturday night.
What a difference 25 minutes can make.