Oklahoma Football: 10 Things We Learned from the Sooners' Win vs. West Virginia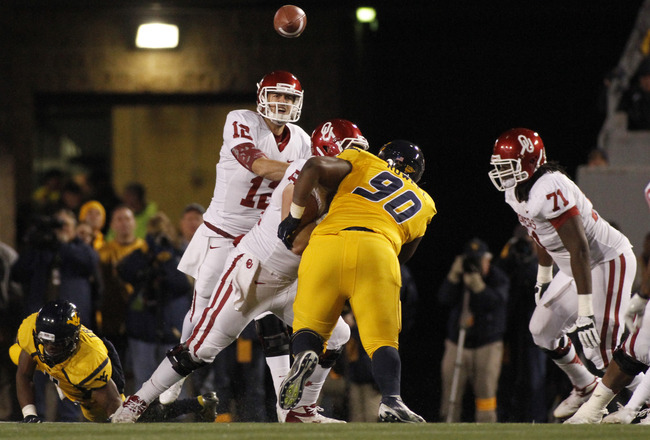 Oklahoma quarterback Landry Jones carved up the West Virginia secondary during a wild shootout in Morgantown.
Justin K. Aller/Getty Images
Oklahoma survived a classic Big 12 shootout in Morgantown, 50-49 over West Virginia. Several records were obliterated along the way in a game that featured video game numbers on offense.
Landry Jones completed 38 of 51 passes for a school record 554 yards and six touchdowns on his way to becoming the third player in FBS history with four years of 3,000 yards or more passing. Tavon Austin set a Big 12 record with 572 all-purpose yards, including 21 carries for 344 rushing yards and two touchdowns.
Here are 10 things college football fans learned during that wild ride of a game.
1. Landry Jones Is an Elite QB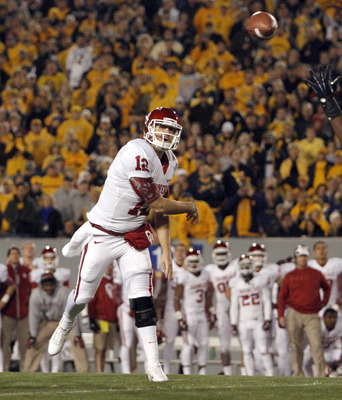 Justin K. Aller/Getty Images
The numbers are mind-boggling and eye-popping, but even a ridiculous line like the one Landry Jones posted in Morgantown doesn't tell the whole story.
Many college quarterbacks have put up video game numbers, yet gone on to fail in the NFL. It's not just what Jones did against West Virginia that qualifies as elite, it's how and when he did it.
Opening the game with a crowd-killing touchdown drive on the road is as clutch as you can get in the first quarter. Same goes for answering a game-tying score with one of your own just 25 seconds later in the second quarter.
Speaking of clutch, tossing two more touchdowns in the fourth to win the game pretty much epitomizes the word—especially on the road after the home team rallies to steal all the momentum, and especially after nearly throwing the game away with a should-have-been picked pass to the endzone.
And these throws didn't just come in the clutch, they came on ropes into tight coverage.
No, West Virginia's defense doesn't come close to qualifying as tough, but they still forced Jones to make tough throws. A better opponent would have made the performance much more impressive, but how much more can you be impressed by six touchdowns and 554 yards?
2. Landry Jones Struggles Under Pressure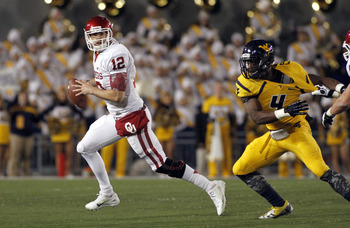 Justin K. Aller/Getty Images
Clearly by "pressure" I mean an intense pass rush, not an intense moment. The previous slide covers the latter.
For all of Landry Jones' heroics against the Mountaineers, he did have one moment of weakness. His only interception came when West Virginia forced him to throw on the run. Most of his rare incompletions also came avoiding a rush.
To be fair, most quarterbacks lose some degree of accuracy when forced to move. Throwing inside a clean pocket is obviously easier.
But the difference between Jones' accuracy in a clean pocket and Jones' accuracy under pressure seems far more inflated than the norm. Although the problem has come up many times before, still seeing it during a game in which he is performing at his best is concerning.
If there is a reason to worry about Jones performing at the next level, this is it. NFL defenses won't allow him nearly as much time to throw as he has in college.
3. Tavon Austin Deserves to Be in the Heisman Conversation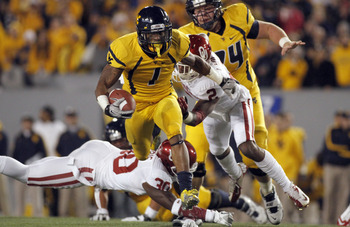 Justin K. Aller/Getty Images
The only reason to keep Tavon Austin out of the Heisman conversation is his team's record. It's hard to imagine any player winning the award on a team that isn't even bowl eligible.
But let's remember how the Heisman Award is defined. It's supposed to go to the "most outstanding" player in college football. Anyone watching the Saturday's game in Morgantown know that Austin clearly qualifies as "outstanding."
Once again, the crazy stat line still can't do the performance justice. Austin didn't just run his way to a Big 12 record 572 all-purpose yards (344 rushing, 82 receiving and 146 returning). He dipped, dove, ducked and dodged his way there.
Austin turned several sure losses into touchdowns or drive-saving gains. Nearly every touch in the second half seemed to go for a big gain. He always left a trail of confounded and embarrassed Sooner defenders lying on the turf in his wake.
Simply put, Austin is one of the most fun college football players to watch. He is also one of the least fun players to defend. He can score from anywhere on the field while lining up anywhere in the formation.
Simply put, Austin is outstanding.
4. Stedman Bailey Should Not Be Forgotten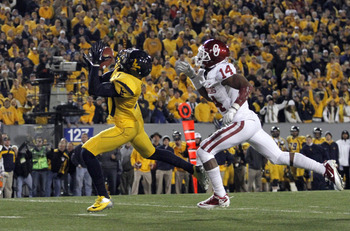 Justin K. Aller/Getty Images
Stedman Bailey, not Tavon Austin, began the game against Oklahoma leading the nation with 16 touchdown catches in nine games. He hauled in four more to give him an average of two per game. His final line included 13 catches for 205 yards.
Austin is absolutely electric, but Bailey is just as dangerous. His presence makes West Virginia even more challenging to defend. It's nearly impossible to stop No. 1. Doing so without letting No. 3 burn you probably is.
5. Nor Should Kenny Stills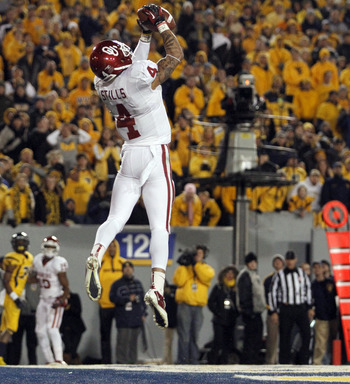 Justin K. Aller/Getty Images
How does Oklahoma's go-to receiver get so wide open in the back of the end zone? That should never happen, especially not from seven yards out late in the fourth quarter with a 43-38 lead during a shootout.
Yet that is exactly what happened. Stills nearly doubled his TD total for the season with four against West Virginia. His catch and yards totals weren't quite as eye popping as Stedman Bailey's, but he still came up with all the big catches OU needed to win.
6. Oklahoma Can Still Win the Big 12
Ronald Martinez/Getty Images
Oklahoma's visit to West Virginia was supposed to play a big role in determining the Big 12 champion.
And then it wasn't.
And then it did.
But only because another game allowed it to. Baylor's upset of undefeated Kansas State opened the door for Oklahoma to win the conference. The Sooners still need KSU to lose again in two weeks against Texas, but the title is indeed still up for grabs.
7. Oklahoma Must Improve Against the Run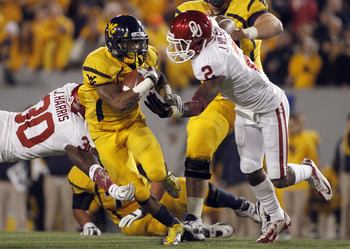 Justin K. Aller/Getty Images
This was the first time since 1993 that the Sooners surrendered at least 250 rushing yards in back-to-back games. OU gave up 252 to Baylor and 458 to West Virginia. The 778 yards totaled by WVU was by far the most given up in school history.
Oklahoma's defense fell into the perfect storm in Morgantown as its poor open-field tacklers faced the challenge of corralling some of the shiftiest players in college football. It showed.
The Sooners can only survive these shootouts for so long. They will need to buckle down on D in order to win a BCS Bowl—or even get there with a win against Oklahoma State in the Bedlam rivalry.
8. The Sooner Secondary Can Be Exposed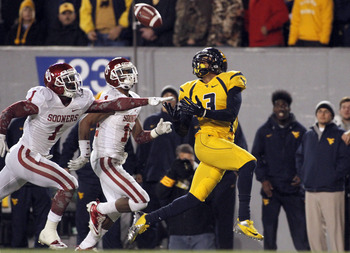 Justin K. Aller/Getty Images
Oklahoma arrived in West Virginia with the No. 8-ranked pass defense. It held the top two passing offenses in the Big 12 (Texas Tech and Baylor) to 271 and 172 yards. Matching up with the Mountaineers' dynamic attack produced mixed results.
WVU quarterback Geno Smith (320 yards, four TDs) became the first to throw for more than 300 yards against OU. Two of his passes went for more than 40 yards.
But Oklahoma also produced two interceptions and broke up several other key pass attempts.
It took a group of ultra-talented play makers to light up this tough secondary, but even they couldn't always have their way.
9. Don't Go For 2 Unless You Have To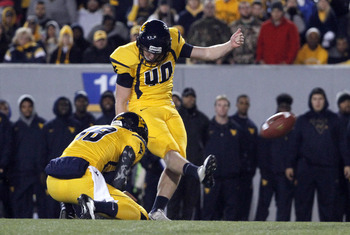 Justin K. Aller/Getty Images
A missed PAT by West Virginia triggered a series of premature two-point conversion attempts by both teams.
Lost points always seem to come back to haunt the game's final score. Points are precious, even in a shootout that produces 99 of them.
Extra points are much less of a sure thing in college than they are in the NFL, but college teams should still take whenever they can. Trying to force a two-point conversion too early often ends in regret as it did here. It should only be done when it is likely that little to no more scoring will take place.
Clearly that was never the case at any point in this game.
And here's a bonus item on this list of things we learned: If you are going for two (or 4th-and-short), get it into your best player's hands. Too often Tavon Austin was left empty-handed on key short-yardage plays. He was deadly on long gains but never given the chance to get the few yards that would have won the game. Why run it up the middle into the teeth of the defense when you have the speed and shiftiness to reach the edge?
That being said, I loved West Virginia's aggressiveness on fourth down throughout most of the game. Both teams played conservatively early on, but that didn't last long once the shootout fired up to full speed.
10. It's Not Over Until It's Over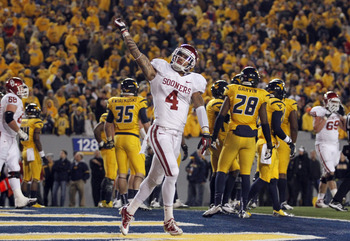 Justin K. Aller/Getty Images
A shootout like this is filled with momentum swings and seemingly game-altering plays. Both teams reminded us not to rush to judgement.
Remember the two blown calls by the refs in the first half (a pass interference call on a pass that could only be caught if you were sitting in the stands and a fumble ruled incomplete) that let WVU hang around?
Remember the three OU touchdowns in the second quarter, all of which seemed back backbreaking for West Virginia?
What about when WVU scored four of the first five TDs in the second half? Or when WVU failed to convert on fourth down? Or when Landry Jones nearly threw a second interception when the Sooners desperately needed a score?
All of these key moments faded away as the game progressed. Both teams saw the momentum swing sharply for and against them. Both teams pressed on into a position to win the game.
Keep Reading

Oklahoma Sooners Football: Like this team?