Cincinnati Bengals vs. Kansas City Chiefs: Postgame Recap and Analysis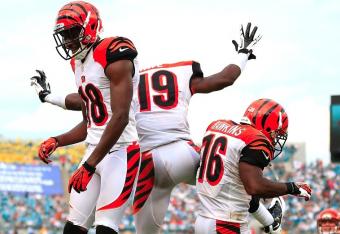 Final: Bengals 28, Chiefs 6
The Bengals offense surgically dissected the Chiefs coverage, slowly suffocating the home team's last ray of hope on Sunday afternoon.
Rutgers rookie Mohamed Nanu authored the ending of today's tale with a 14-yard touchdown reception.
The upbeat Cincinnati Bengals (5-5) travel home to host the Oakland Raiders (3-6) next Sunday afternoon. The Kansas City Chiefs (1-9) will attempt to summon the Arrowhead nostalgia of years past and surprise Peyton Manning's division-leading Denver Broncos (6-3).
Season statistics provided by NFL.com. Box Score provided by ESPN.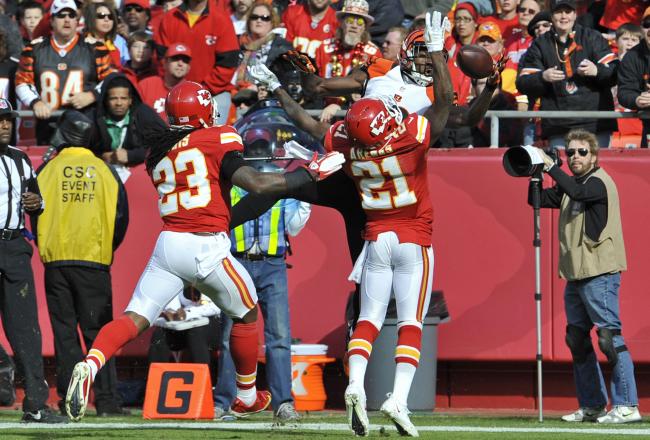 Final Thoughts
Andy Dalton's (18-29, 230 YDS, 2 TD) task force outgained Kansas City's offense by 125 total yards.
The presence of a casually clothed Andrew Hawkins was never missed. The tandem of A.J. Green (6 REC, 91 YDS, TD) and Jermaine Gresham (6 REC, 69 YDS) repeatedly puzzled Chiefs defenders, gradually beating their will(s) into submission with every predictable reception.
A.J. Green has caught a touchdown in 8 straight games, tied for the 2nd-longest streak in Bengals history. Bengals-Chiefs, 1 ET.

— ESPN Stats & Info (@ESPNStatsInfo) November 18, 2012
Cincinnati's offensive line then swapped its helmets for hard hats and unfolded a construction sign in the heart of Kansas City's defense, clearing open lanes for BenJarvus Green-Ellis (25 ATT, 101 YDS, TD) and Cedric Peerman (8 ATT, 75 YDS).
The Chiefs' bare-boned depth chart became a determining factor following halftime. The holes that Jamaal Charles (17 ATT, 87 YDS) darted through in the first quarter were hopelessly plugged, and would-be pockets collapsed like earthquake-jolted Jenga towers.
Another week, another loss.
Kansas Citians personified the term "blackout," adding a more literal twist by protesting with black clothing.
However, it looked more like a funeral, which is fitting because the renowned, raucous Arrowhead crowd has regressed into a lifeless shell of itself.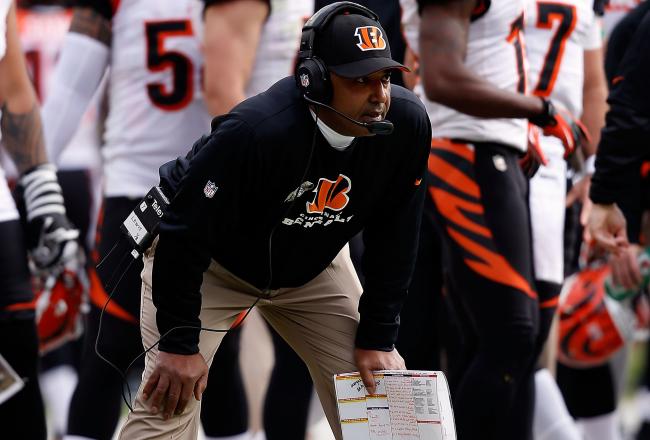 1:08, fourth quarter:
Cincinnati's playoff aspirations may have decayed over the team's recent four-game skid, but nothing's etched in stone in the NFL (proof: Tyson Jackson was responsible for a sack today—his third in four seasons).
The Bengals are playing catch-up with two teams—Baltimore and Pittsburgh—that square off against each other tonight. Following Sunday's prime-time battle, the two nemeses will brawl again in two weeks.
Cincinnati will also get one last crack at both AFC North juggernauts before season's end.
Marvin Lewis' club needed this game and executed a meticulously crafted game plan to perfection.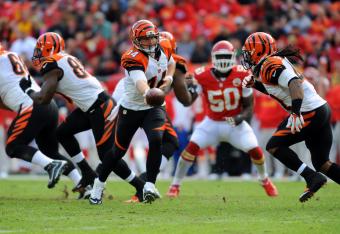 4:34, fourth quarter:
Coaching and blocking are—and always will be—overlooked by fanbases. Each facet carries as much sex appeal as Richard Simmons Jazzercising (okay, a little more).
But this season has shined a spotlight on the value of both.
The Chiefs' cornerstones were removed last season, yet Todd Haley's team was still fighting for a playoff spot at this point in 2011.
Also, due to Sean Payton's suspension, the New Orleans Saints' 2012 campaign nearly derailed quicker than Kansas City's.
Coaching isn't a cookie-cutter profession. In fact, it's the complete opposite.
2012 has regularly highlighted the importance of blocking, too.
Today, the Chiefs' brittle offensive line looked like a chain-length fence of fodder, and Kansas City's barricade was effortlessly plowed through in the second half. The struggles haven't been exclusive to Arrowhead, though.
Before his latest clash with concussions, Michael Vick—considered an MVP frontrunner midway through the 2011 season—was competing with Nick Foles for his starting position. Vick's wall of protection consistently crumbled, likely shortening his stay in Philadelphia.
Cincinnati's foundation—coaching and blocking included—is vastly more concrete than Kansas City's. The final score will be indicative of that.
6:00, fourth quarter:
Good news, everyone! #Chiefs now have more TDs + FGs (32) than turnovers (31)! #Progress

— Sam Mellinger (@mellinger) November 18, 2012
Baby steps...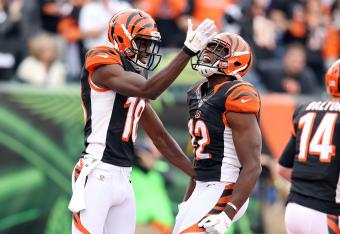 8:57, fourth quarter:
Mohamed Sanu isn't the most polished rookie wideout.
But with a few notches of experience under his belt, he will improve and become a dependable, well-rounded option for Cincinnati in years to come.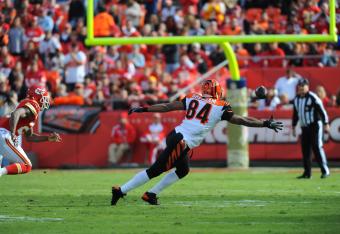 13:33, fourth quarter:
Antonio Gates is a perennial terror for the Chiefs. Last season, Crennel double- and triple-covered him with relative success.
For unknown reasons, Kansas City's head coach remains hesitant to pull that same trigger in 2012.
Gresham's stat line suggests that wisdom doesn't always come with age.
2:44, third quarter:
The Bengals will try to drain the clock via rushing.
Judging from similar scenarios in the past, the Chiefs defense will take the field well aware of that but still manage to get gashed.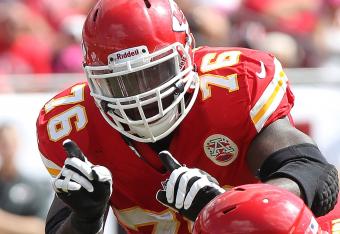 7:12, third quarter:
If Branden Albert's injury sidelines him for a significant length of time, the Chiefs' offensive comedy act will evolve into a horror show.
This season, a smattering of bright spots have flashed through Kansas City's shroud of disappointment—Branden Albert remains one of them.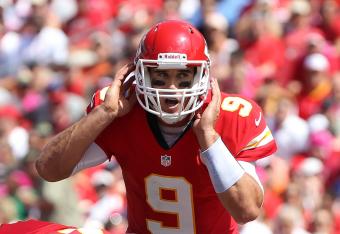 10:03, third quarter:
The disparity of arm strength between Brady Quinn and Matt Cassel is stunning.
Quinn's not the answer to Kansas City's longstanding quarterback riddle, and he's prone to commit head-scratching reads. But he opens up the playbook and adds a lick of diversity to the offense.
At this point, Quinn and Cassel are auditioning for the 2013 backup slot.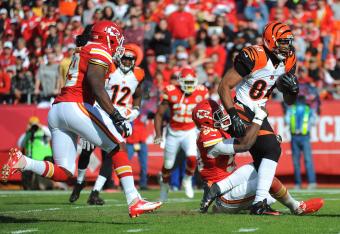 14:00, third quarter:
Gresham's name is on its way to becoming a staple in the households of NFL fans.
He's beginning to realize the wealth of potential that he embodied coming out of Okalahoma.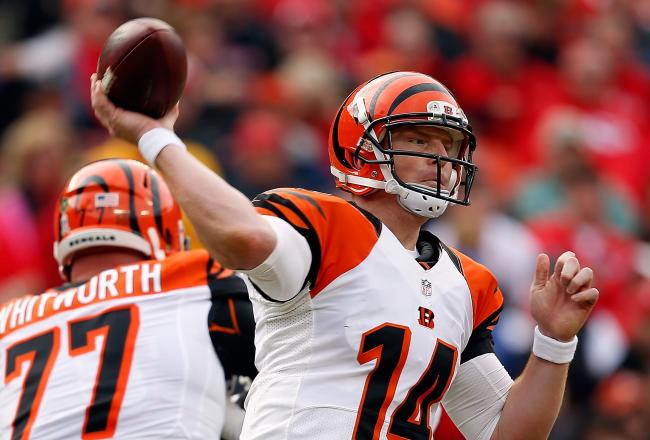 Halftime
Andy Dalton has carved his signature into the Kansas City secondary. His favorite target, A.J. Green, has posted 41 yards receiving and a touchdown.
Kansas City's offense has failed to convert any of its five third downs. Jamaal Charles dashed for 50 yards in the first half, but 46 were gained in the first quarter.
Expect Brady Quinn to make an appearance before the final second ticks away.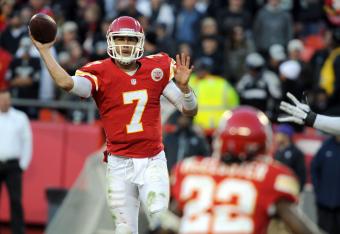 :25, second quarter:
Tony Moeaki and Dexter McCluster sprinkle a few drops of oil to an otherwise stagnant offensive machine.
Their numbers need to be promoted on Cassel's list of priorities.
2:00, second quarter:
Any sane Bengals fan should be demanding heavier dosages of Cedric Peerman.
This season, Green-Ellis has roughly churned out fives times as many yards as Peerman, but he has also cradled over 12 times the amount of carries.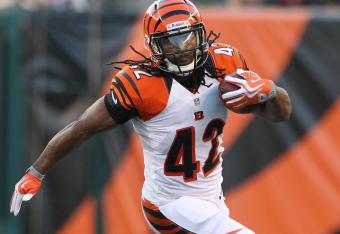 7:11, second quarter:
If Andy Dalton or A.J. Green miss an extended amount of time, for whatever reason(s), Gruden will be forced to become infinitely creative.
A ground game headlined by BenJarvus Green-Ellis is less threatening than a Ned Flanders Christmas card.
When the tailback does explode, the lanes are wide enough to dock small yachts.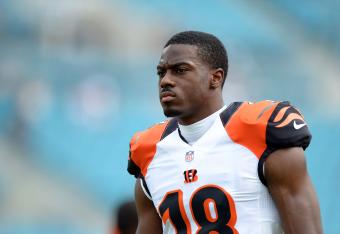 10:01, second quarter:
Year after year, Brandon Flowers is annually underrated as a man-to-man corner.
But Cincinnati's breathtaking playmaker, A.J. Green, is toying with defenders, no matter who crouches across from him.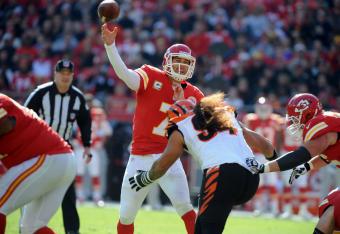 13:50, second quarter:
If you were oblivious to football and turned on the game, you would swear that Cassel and his line hold grudges against each other.
When Cassel drops back, one of two things happen: He gets trampled like a Walmart greeter in next week's Black Friday lines, or he hurls a pass that would make you believe he grips the ball with flippers.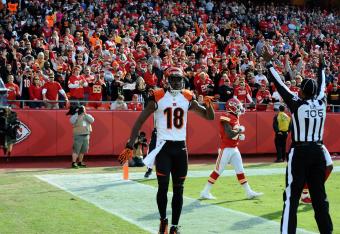 2:02, first quarter:
As expected, it didn't take long for Dalton to pounce on Javier Arenas' height disadvantage.
The fade route will be Gruden's best friend by the time fans begin filing into the parking lot.
There's little that Arenas can do to negate Green's towering edge in size.
4:29, first quarter:
With the way that Marvin Lewis and his staff are calling this game, you would think that Matt Cassel's former mentor, Tom Brady, was the one pacing the opposing sideline.
The Bengals rolled the dice on two fourth downs—including a fake punt—and the gamble paid dividends.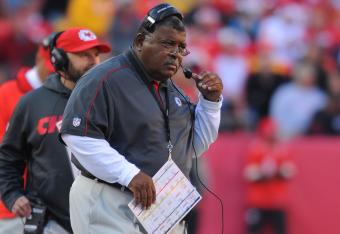 8:15, first quarter:
Romeo Crennel's decision to kick a field goal on 4th-and-1 is telling of his confidence in the offensive line.
Despite his running back currently averaging 6.8 yards per carry, Crennel wasn't about to put stock in his shoddy, concocted first wave of aggressors.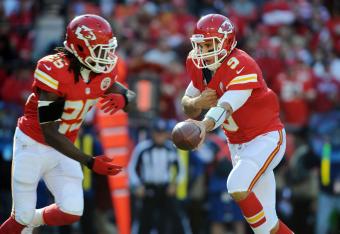 9:10, first quarter:
Thus far, in two drives, Jamaal Charles has already juked his way to 41 yards on six carries.
Coming into this afternoon, Cincinnati was home to the NFL's No. 18 rush defense.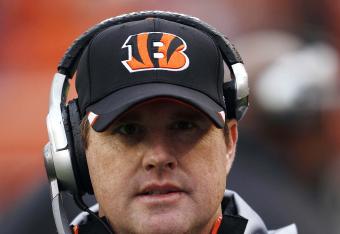 11:40, first quarter:
The size differential between Kansas City's cornerbacks and Cincinnati's receivers is noteworthy.
Jay Gruden's play-calling will be worth keeping an eye on, especially in the red zone.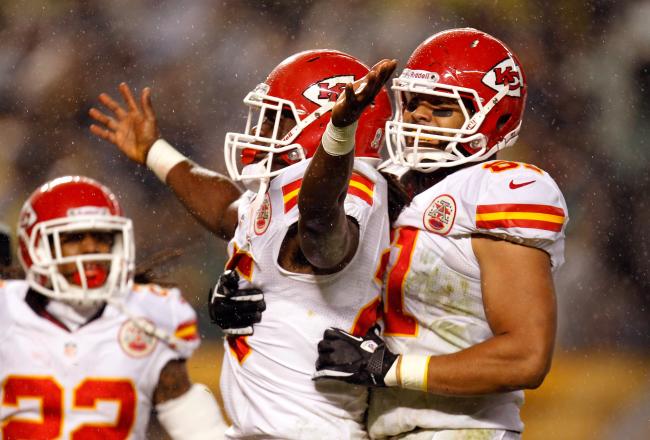 13:55, first quarter:
Cincinnati already exploited Kansas City's makeshift offensive line.
Last Monday's effective opening drive propelled the Chiefs to a competitive effort. Cincinnati seems determined not to commit the same mistake that Pittsburgh did.
Defining Stat: Kansas City Chiefs
Unsurprisingly, Kansas City's offense begins and ends with the shifty elusiveness of Jamaal Charles.
On two occasions, the Chiefs have concluded regulation knotted in a tie. The club also suffered another teeth-grinding loss by a margin of three points.
Nearly every other loss has been branded with the makings of a blowout.
The difference-maker is Charles, whose production dictates his squad's margin of victory/defeat: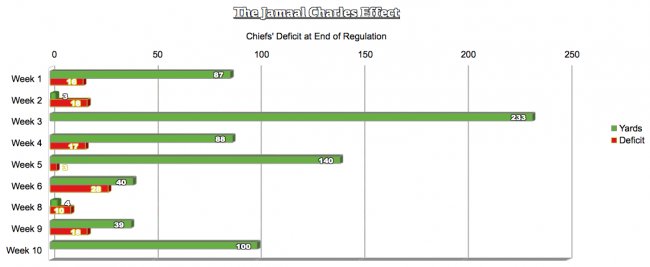 If the Arrowhead die-hards still emit signs of life in the fourth quarter, No. 25 will be approaching the century mark.
Defining Stat: Cincinnati Bengals
The Bengals' success rests on the right arm of Andy Dalton. But, to take it a step further, the team's key to victory lies in the form of ball security.
Dalton can't afford to sling passes recklessly—his 2012 track record proves why: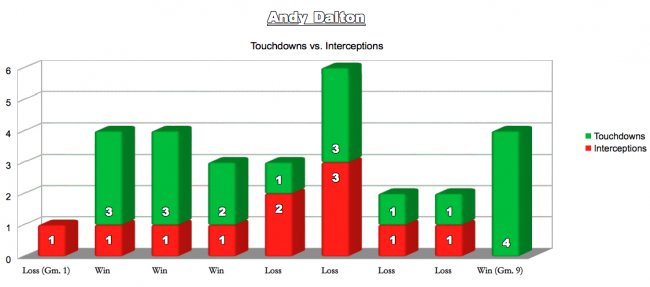 If his previous nine matchups are indicative of the future, the second-year quarterback needs to ensure that his turnover differential stays positive. In each of his four wins, Dalton's number of touchdowns have dwarfed his interception total.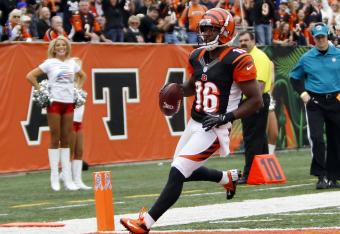 For Cincinnati, the knee injury to wideout Andrew Hawkins is notable.
Not only is the sophomore speedster the Bengals' third-leading receiver, but he has played a pivotal role in his team's four victories.
In the aforementioned contests, Hawkins posted three touchdowns and averaged double-digit yards per reception in three of the four games.
No. 16's absence limits Cincinnati's vertical threat and pours another layer of responsibility onto the shoulders of A.J. Green and Jermaine Gresham
This article is
What is the duplicate article?
Why is this article offensive?
Where is this article plagiarized from?
Why is this article poorly edited?

Kansas City Chiefs: Like this team?