Chicago Bulls vs. L.A. Clippers: Postgame Grades and Analysis for Both Teams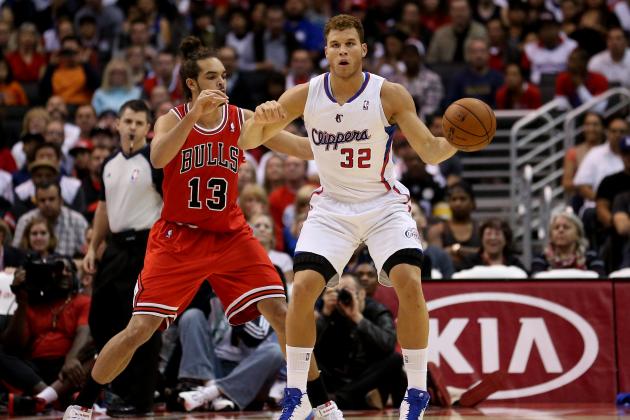 Stephen Dunn/Getty Images

The Los Angeles Clippers took down the Chicago Bulls in dominant fashion with a 101-80 win in Los Angeles.
Not only did the Clippers win by a lot, but in the process they opened quite a few eyes, showing the league why they should be taken seriously as they dismantled an Eastern Conference team that will likely make the playoffs.
Blake Griffin and DeAndre Jordan both contributed well, Chris Paul controlled the pace of the game and didn't need to do much more, while the Clippers bench showed why they are one of the best units in the NBA.
Hell, even Lamar Odom looked good in a little bit of garbage time during the fourth quarter, the only problem was that he was in for a lot of garbage time. I wonder how much it would cost to buy out his contract?
For the Bulls it more or less reiterated what we already knew about this team. Without Derrick Rose they're a decent team, but they don't have what it takes to threaten the best teams in the league. They're left without a dominant scoring threat and an emotional leader.
Once he comes back this game might play out differently, but without him they don't have much of a chance against a visibly more effective Clippers team.
Let's go a bit further and break this one down individually for each team.
Begin Slideshow

»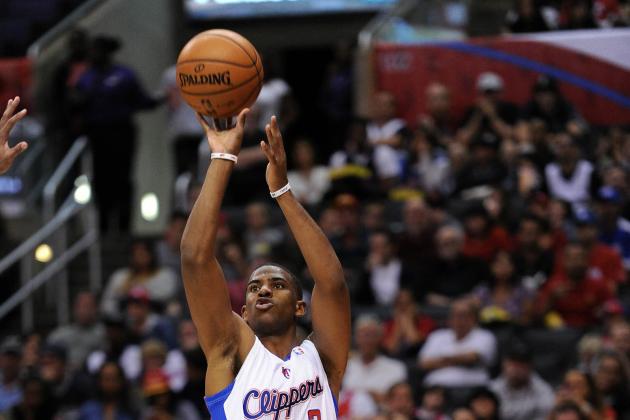 Jayne Kamin-Oncea-US PRESSWIRE

Chris Paul
Taking a look at the box score makes it seem as if Chris Paul didn't do much tonight, but the story is that the Clippers didn't really need him to do very much.
Paul controlled the pace of the game, kept Chicago from dragging this one out into a game in which teams are begging shots to fall, and the turnover-prone Bulls let the Clips get out and run early on in the game, and Paul played along.
He finished this one with just eight points on four of nine shooting, but he added in 10 assists, three rebounds and three steals. Not a bad all-around game for the little dude.
Final Grade: B+
Kirk Hinrich
So far this year Kirk Hinrich has played just about as I expected he would play. He hasn't been amazing, but he hasn't directly been the reason for any struggles the Bulls have had.
Hinrich scored all of one point after getting fouled, the only problem is that he also went and missed all five shots he took from the field. He was, however, able to add 10 assists, but evened it out with five turnovers.
Of course the Bulls would be a lot better off with Derrick Rose, but Hinrich as a stop-gap wasn't terrible tonight, although asking him to keep up with Paul and Eric Bledsoe is a bit rough.
Final Grade: C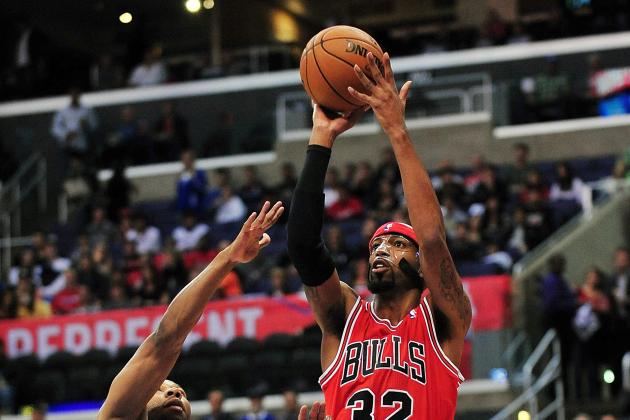 Gary A. Vasquez-US PRESSWIRE

Willie Green
More or less, the only thing the Clippers are looking for from Willie Green is good defense and a shot or two when he's got a wide-open look. Otherwise, all they need him to do is sit on the bench when Jamal Crawford's got a hot hand (which is quite often lately).
He played solid defense in his minutes tonight, and was able to fill in with four points on six shots, plus he grabbed a rebound.
There's not really much you can say about Green on any given night other than the fact that he was there.
Final Grade: C+
Rip Hamilton
He's been asked to help fill in the scoring hole without Derrick Rose, but it's usually a coin flip as to whether or not Rip Hamilton is able to have an efficient night from the floor.
Tonight, Hamilton was okay, scoring 14 points on six of 11 shooting, plus he was able to pull down four rebounds, dole out an assist and come away with two steals.
He's been impressive as a cohesive member of this team's defense, but on a night when the defense gave up well over 100 points it's hard to compliment them.
Final Grade: C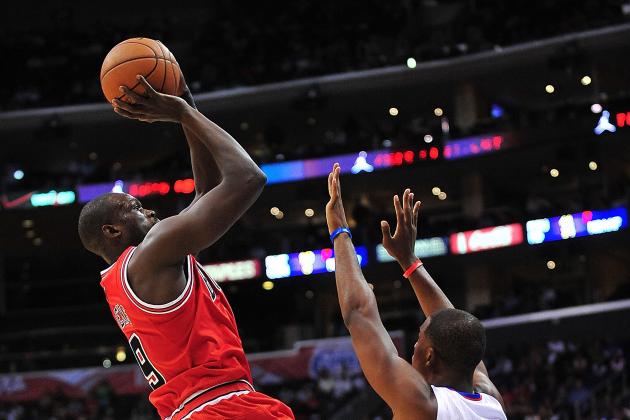 Gary A. Vasquez-US PRESSWIRE

Caron Butler
The Clippers starting lineup is interesting in that the team is able to ride the hot hand on any given night, meaning two or three members of their starting lineup could end up playing fewer than 20 minutes.
That was the deal with Butler tonight. He scored five points on five shots and added a rebound and an assist, so it wasn't a bad night, but he was never able to find a rhythm after getting benched in favor of the hot Matt Barnes.
Final Grade: C
Luol Deng
It was a rough night for Luol Deng, who has been more or less responsible for picking up the slack left after the Derrick Rose injury. His shots didn't fall, so the Bulls had a rough night collectively from the field.
He made just five of his 16 shots for 14 points in all to go along with eight rebounds.
On a night where the defense wasn't good enough, they were going to need the offense to pick up the slack, and thanks in part to Deng's rough night, that just didn't happen.
Final Grade: C-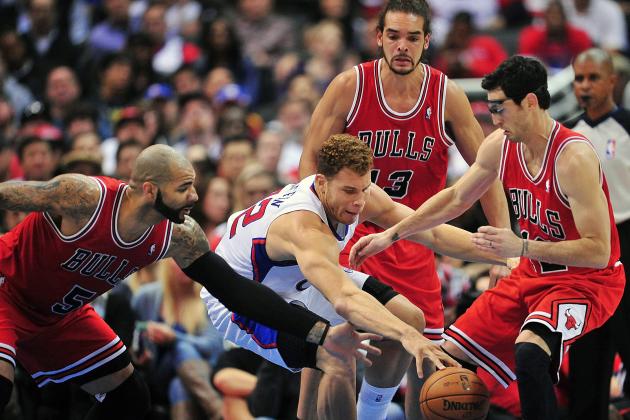 Gary A. Vasquez-US PRESSWIRE

Blake Griffin
Clippers power forward Blake Griffin reminded us all why the team was dubbed "Lob City" last year, as it seems like he connected on roughly 174 alley-oops in this one.
Griffin walked away with 26 points on 11 of 18 shooting, added 10 rebounds, two assists and two steals as the Clippers played the passing lanes brilliantly tonight.
He was quite effective on both ends of the floor, disrupting Carlos Boozer enough to keep him from getting too hot and scoring enough to lead the Clippers outright.
Final Grade: A-
Carlos Boozer
The big wrinkly-headed power forward had himself a decent night, even though it seemed like everything he did, both bad and good, was sloppy and accidental.
Boozer knocked down 10 of his 19 shots to add 22 points to the Bulls total, and he also pulled down 12 rebounds and added a steal.
It wasn't a bad game for Boozer on either end of the floor, but he wasn't particularly miraculous either, so I guess that makes it a good game for him.
Final Grade: B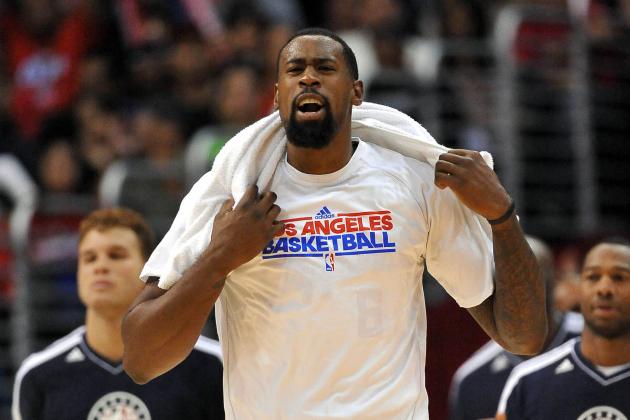 Jayne Kamin-Oncea-US PRESSWIRE

DeAndre Jordan
There are few words to accurately describe just how good DeAndre Jordan was tonight on both ends of the floor, despite the fact that he added just five points on the offensive end.
Defensively Jordan was miraculous, leading the way (obviously) with seven blocks and adding two steals to Los Angeles' 10 total robberies.
He was completely out of his mind, dishing this way and that, setting screens and just doing the right things all night long.
Final Grade: A
Joakim Noah
On a night when the defense isn't working too well, the Bulls really need jump shots to fall and they need Joakim Noah to get offensive rebounds and score in the post. Unfortunately, the only thing he was able to do was the offensive rebounds part.
He only scored four points, all on free throws, missed all six shots he took and added seven rebounds, four assists, a block and a steal.
Noah was moderately effective defensively, but when your opponent is running a fast break on every other play it's hard to stop them from scoring in the paint.
Final Grade: C-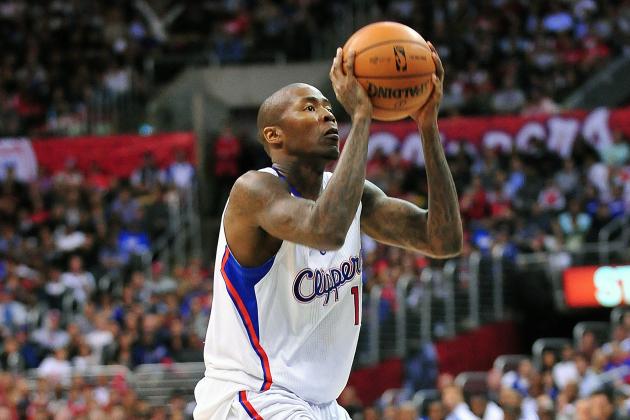 Gary A. Vasquez-US PRESSWIRE

Jamal Crawford
Is this guy serious right now? There's no way anyone out there would have guessed that Crawford would come in and have the season that he's having after completely falling apart last year in Portland.
He put up another solid night for the Clippers, dropping in 22 points on six of 10 shooting with two rebounds.
Twice Crawford dropped in ridiculous three-pointers. Once he scored from the top of the key on a one-footed runner as the shot clock expired, and another time he dropped in a fade-away corner three that banked in off the glass.
Final Grade: A+
Taj Gibson
It wasn't the best game from Taj Gibson tonight, but then again it wasn't the best game from anybody on the Bulls.
Gibson was able to come in and contribute the normal intense defense that he's capable of, but he didn't add much on the offensive end, save a few hockey assists.
He dropped in just two points on one of six shooting to go along with five rebounds and two blocked shots.
Final Grade: C-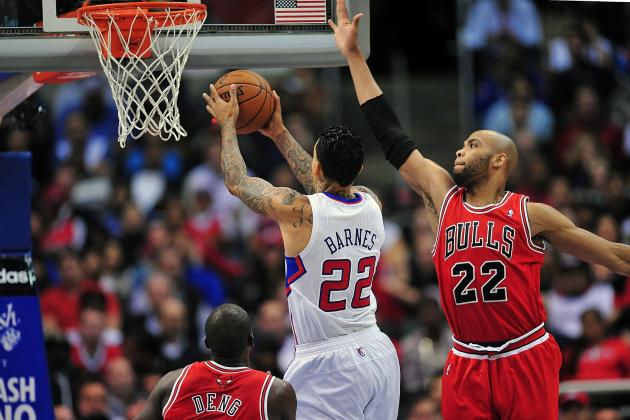 Gary A. Vasquez-US PRESSWIRE

Los Angeles Clippers
It's not every day we get to sing the praises of Matt Barnes, but it seems necessary to do so tonight. He scored 13 points on five of nine scoring, grabbed six rebounds, had two assists, a block and a steal.
Elsewhere, Eric Bledsoe continued to be fabulous for the Clippers. He scored 10 points on six shots, grabbed four rebounds, had four assists, two steals and played excellent defense every step of the way.
Other than those two and Crawford, Lamar Odom scored all of his three points on only six shot attempts.
Final Grade: A
Chicago Bulls
It was a rough night all around for the Bulls, and not even their bench could do much against the Clippers second unit, who played just as well as the first unit.
Chicago got double-digit scoring out of Nate Robinson, who piled on 11 points, but it took him 11 shots to do so.
Outside of Taj Gibson there was terrible defense and the team seemed complacent once they got down by more than 20, even though they did fight back a bit in the end. It was just uninspired by the Bulls bench.
Final Grade: D+