UFC 154 Results: Memorable Images and Quotes from GSP vs Condit Fight Card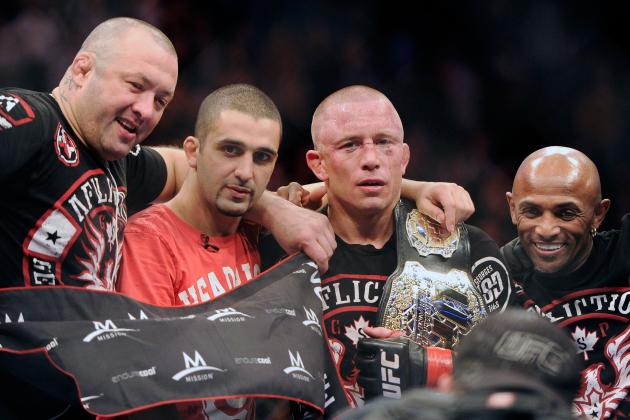 Eric Bolte-US PRESSWIRE

MONTREAL - Say what you will about the first ten fights on the UFC 154 fight card (and I'm sure you will), but if you don't think the main event and co-main event provided the bang for your buck, let me kindly inform you that you are crazy.
I won't argue that some of the early fights were lacking, but once you hit the final two, they delivered. Johny Hendricks announced that he is indeed a threat in the welterweight division. Georges St-Pierre came back and delivered a five-round performance that made it clear he is the man to beat in that division, even after being out of the cage for more than a year and a half.
What follows are some of the memorable images and quotes from UFC 154.
**quotes provided by the UFC and obtained first hand by BR MMA
Begin Slideshow

»
Eric Bolte-US PRESSWIRE

Darren Elkins controlled Steven Siler for the majority of their preliminary card bout, earning the unanimous decision. Siler made the fight memorable with his ability to avoid tapping out to the multiple choke attempts from Elkins.
The victory gave Elkins his fourth straight win in the featherweight division. After the fight Elkins said, "This was a big win for me tonight. Steven Siler was a tough opponent. I felt stronger, faster, more flexible and overall more athletic. This is a great accomplishment."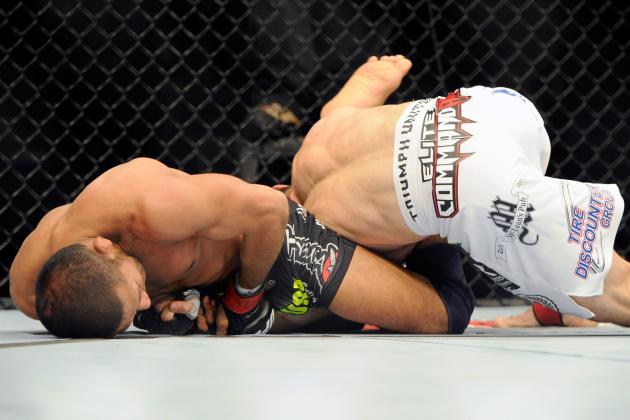 Eric Bolte-US PRESSWIRE

Ivan Menjivar welcomed Azamat Gashimov to the UFC by showing the UFC newcomer that you don't leave your arm hanging out there no matter how much damage you may think your strikes are doing.
As Menjivar said after the fight, "I did it like Royce Gracie. I let him punch me and then I submitted him. He had the takedown and landed a few punches. I saw his mistake and grabbed his arm."
The mistake was just letting that arm hang out for Menjivar to clamp on to.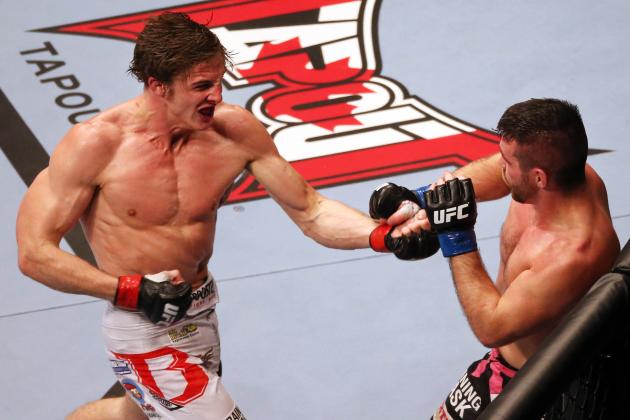 Tom Szczerbowski-US PRESSWIRE

Matt Riddle versus John Maguire started off slowly, gathering some steam as the fight progressed, but it never really felt like these two left the station. In the end, Riddle was more aggressive and did land more strikes and that fact earned him the victory.
Despite not delivering the fight he had hoped for Riddle was upbeat after taking the unanimous decision, "I feel amazing. I'm a little disappointed that I didn't do more for the crowd. He was a great opponent but I got him a few times with my patented mule kick. The jumping spin kick is usually my last resort against someone especially talented, and it works every time."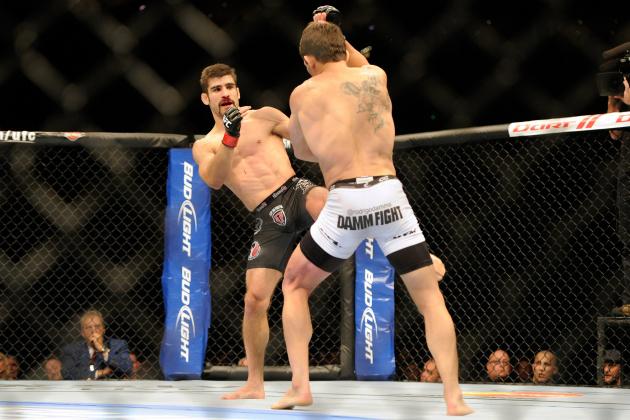 Eric Bolte-US PRESSWIRE

The fans at the Bell Centre in Montreal didn't seem to appreciate the scrap between Rodrigo Damm and Antonio Carvalho all that much, but from what I saw this fight didn't deserve any of the boos that the crowd reigned down during the three round scrap.
Sure the two fought at distance from the majority of the fight, but by the looks of Damm's left leg when the fight came to an end Carvalho's kicks had a great deal of force behind them. The leg was swollen and welted and just looked flat out nasty.
In the end those kicks were enough to earn Carvalho the split decision win over Damm.
After the fight a seemingly disappointed Carvalho said, "I didn't execute the stuff we worked on in the gym. It just didn't happen tonight. I got the win but I wasn't happy with my performance. I was being efficient with some things, like my leg kicks, but couldn't get my hands going. My footwork was off and I was very stiff. It is difficult to walk out of this with the win because I know I could have done more. It is nice though to have the win and I'm going to go back and really take a look at my performance and where I can improve."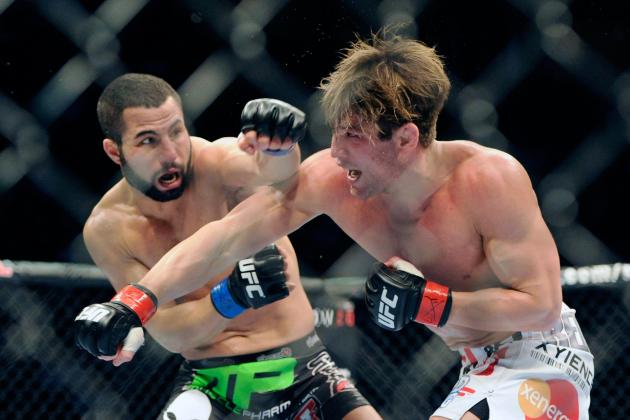 Eric Bolte-US PRESSWIRE

The keyword for the bout between John Makdessi and Sam Stout was counterstriking and Makdessi had plenty of it for the aggressive Stout.
The fight started out fast and it looked like a knockout was in the making, but things slowed down as the two went deeper into the fight. Makdessi's strong counters were just to much for Stout to overcome and at times the frustration showed on the face of Stout.
In the third Makdessi picked up the pace, but it was his counters during the early going that won this one for him.
Makdessi had the following to say after his victory, "I trained very hard for this fight. It's a roller coaster ride of emotion but I'm very happy to be here. I train and I fight, and I'm so thankful I can do that. I've been working on my wrestling and striking. Striking is second nature to me. My game plan was to counter and focus on my footwork. I saw him rushing and I knew he was getting desperate so I played it smart. I feel very fortunate right now."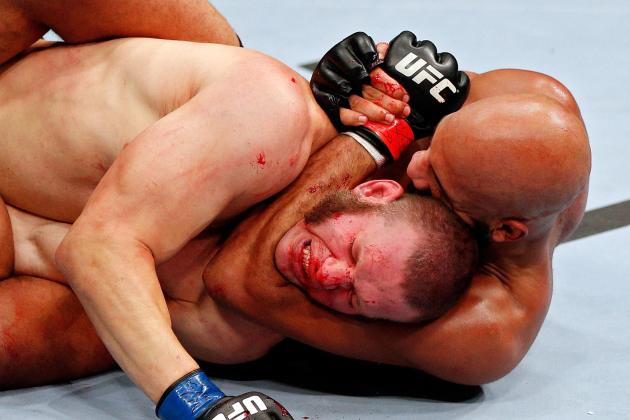 Josh Hedges/Zuffa LLC UFC via Getty Images
Aggressive is a word that could be used to describe Chad Griggs, or reckless if you prefer. Griggs is fighting the big boys now and his style may not be suited for a long career in the UFC, something Cyrille Diabate reminded him of when he dropped him early in the first round of their bout at UFC 154.
Griggs got to his feet and Diabate wasted no time laying into him with knee strikes against the cage. Griggs having enough of those knees went to grab the leg of Diabate who wasted no time slapping on a body lock and a rear naked choke and that was the end of the night for Griggs.
After the fight Diabate said, "I was looking for the knockout, but he gave me the opportunity to try and submit him, so I went for it."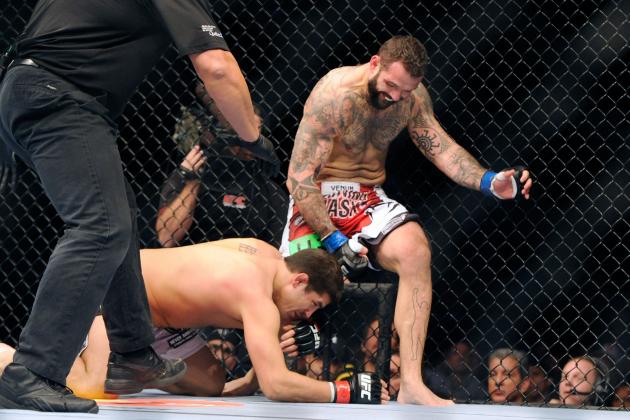 Eric Bolte-US PRESSWIRE

There was no doubt that the Montreal crowd was pro-Patrick Cote when this one started and when he and Alessio Sakara commenced to mixing it up early the roar inside the Bell Centre just got louder.
The tone of the crowd changed when Sakara turned the tables on Cote and started to get the best of him. The tone really changed when Sakara delivered multiple strikes to the back of Cote's head and when the referee waved the fight off it looked like things were going to get really ugly.
Every time the replay of the strikes was shown on the big screen the jeers got louder. After a prolonged break the announcement came that Cote was getting the win via DQ. Was it the right call? I'm not so sure. I'm not saying Sakara should have gotten the win, but there should have been a warning and point deduction and the opportunity for Cote to gather himself.
Sakara apologized after the fight, "I was caught up in the moment and the adrenaline of the fight. It was unintentional and I'm very sorry."
As for Cote he offered the following, "I was expecting a war with Alessio and that's exactly what he gave me but there are rules for a reason."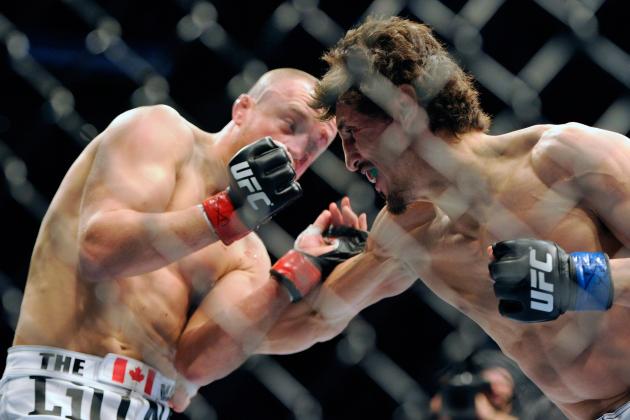 Eric Bolte-US PRESSWIRE

Pablo Garza used his length to his advantage early in this fight, landing strikes and keeping Mark Hominick at bay. However that didn't stop Hominick from wading in and walking the taller fighter down.
Late in the first Hominck put Garza down with a body shot and landed some solid ground and pound before they stood. Garza then came back strong, bloodying Hominick's eye.
The second and third round saw Garza get Hominick to the ground and once there Hominick had no answer, spending the majority of the second and third stanzas at the mercy of Garza's top game.
In the end, Garza took the unanimous decision win.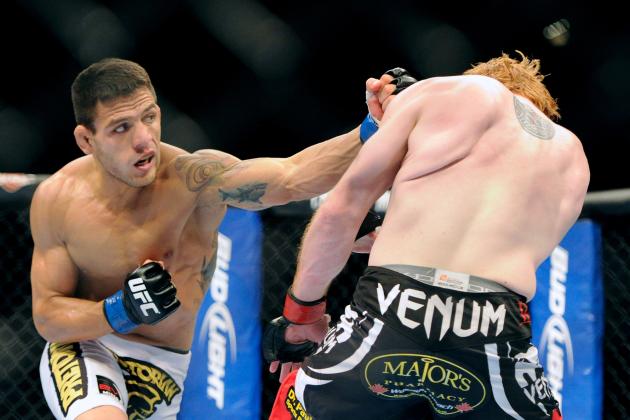 Eric Bolte-US PRESSWIRE

The fight between Rafael dos Anjos and Mark Bocek started out pretty evenly, but after a Bocek kick to the groin, Dos Anjos turned things up a notch, marking up Bocek with his striking and also getting the best of him against the cage and on the ground.
A dominating and smothering performance by Dos Anjos who looked like he could go another two or three rounds when this one wrapped up.
Following the fight Dos Anjos said, "I watched Mark's previous fights and he always comes with the same combination. I could tell he got frustrated but I was prepared for him. This has been a good year for me. I got three wins and I'm ready to keep going and improving."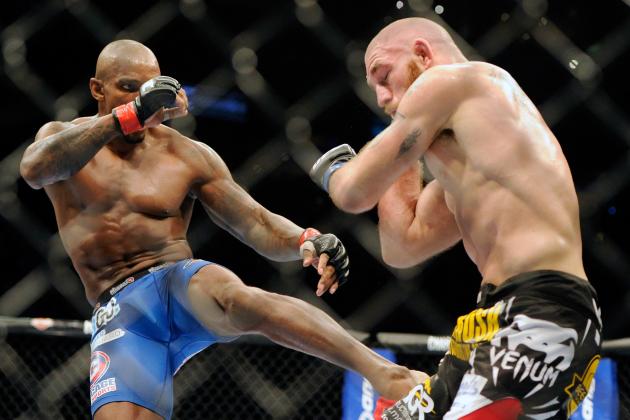 Eric Bolte-US PRESSWIRE

The bout between Tom Lawlor and Francis Carmont was a long 15 minutes. It was one of those fights that even the biggest fan of the sport had to be checking the clock and praying that it would read 0:00.
When the decision was read most thought it would read in Lawlor's favor, he negated any offense Carmont threatened and twice went for submissions, but alas the win went Carmont's way via split decision.
If you polled press row on this one you would have found most, if not all had it for Lawlor. Oh well.
After the fight Carmont offered, "Tom was a very good wrestler. It wasn't an easy fight. I'm happy with the win but I'll need to go back work on a few things."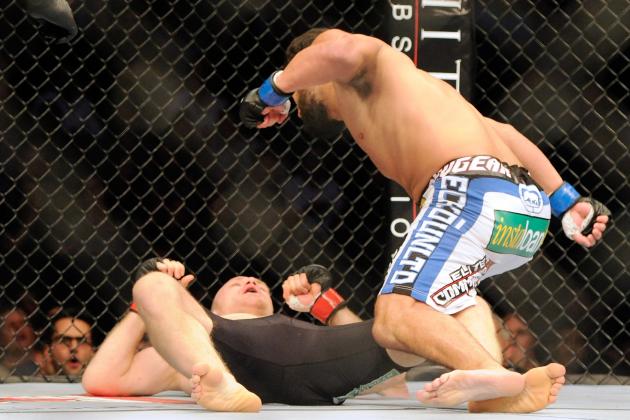 Eric Bolte-US PRESSWIRE

46 seconds, that's all it took for Johny Hendricks to serve notice that his left hand was indeed something to fear, you know, just in case his knockout of Jon Fitch was not enough to let you in on that fact.
After the fight, Hendricks offered, "It feels great to get this win. Martin Kampmann is a tough dude. I trained with him before and knew what he could do. I knew I had to go out there and beat him. I just started hitting that combo a few weeks ago. I want a shot at the title."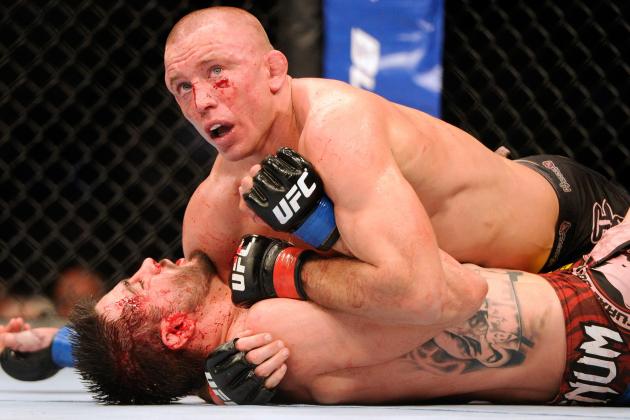 Eric Bolte-US PRESSWIRE

After a prolonged time off Georges St-Pierre entered the Octagon and took home the undisputed UFC welterweight title. Did he look like his gas tank was running low near the end of the five rounds? Sure it did, but he was pushed hard for 25 minutes by Carlos Condit, a fighter St-Pierre referred to as "the best guy in the world."
At the post-fight presser, St-Pierre offered the following when asked if this was his toughest fight, "It's hard to say. This fight and the Jon Fitch fight are two fights that I was really pushed to the edge. I think this fight was very special to me because it was in Montreal and the story behind it."