Tampa Bay vs. Carolina: Post Game Grades, Player Analysis for the Buccaneers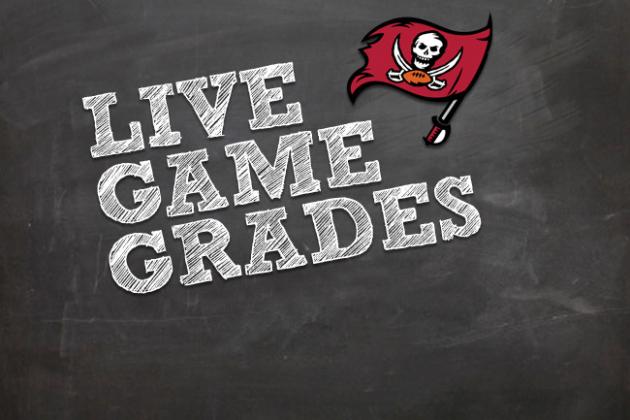 Bucs Win in Overtime!!!!!!!!!!! 28-21
The game was a thriller. Late in the fourth quarter, the Bucs were down by 11. With 12 seconds left on the clock, they tied the game. When they took the kickoff to open overtime, there was no doubt in the stadium that the away team was coming out with the win.
The last time the Tampa Bay Buccaneers played the Carolina Panthers, it was Week 1 of the regular season.
The Bucs won 16-10. Since then, the Panthers have gone a disappointing 2-7.
Don't count the home team out yet, though.
This slideshow will provide quarterly game grades and analysis for the Bucs' quarterback, offense, defense, special teams and coaches.
All you have to do is read.
Begin Slideshow

»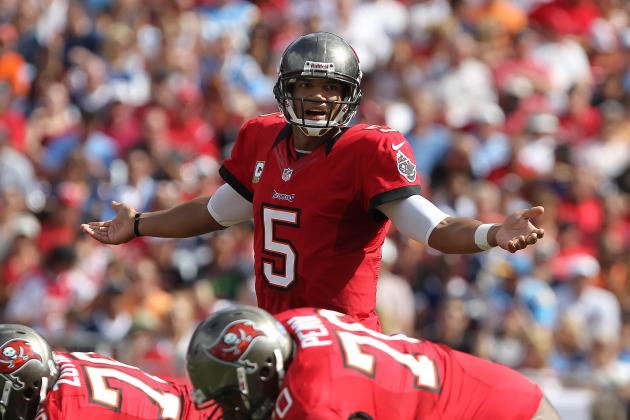 Kim Klement-US PRESSWIRE

Overall Grade: B
OT Grade: A
Josh Freeman did not miss a single pass in overtime. He threw the game winning touchdown.
Q4 Grade: A
Can Josh Freeman play down by 11 every week? He has been nothing but unstoppable in the fourth quarter.
The Bucs quarterback actually looked good on the drive that ended in the Martin fumble. He made some clutch throws to Dallas Clark.
He looked great on the field goal drive, poised and decisive.
Q3 Grade: D
Free's second interception was clearly a miscommunication between he and Vincent Jackson. The question is, who messed up?
He continues with his accuracy problems, but is not getting much help either, so when he breaks off a 13 yard scramble for a first down, it makes all the difference in the world.
Q2 Grade: D
Once again, Freeman has not been accurate at all with the football today. Usually, he can make some impressive throws deep, but the pass deep right to Mike Williams that landed out of bounds sums up his performance perfectly.
Q1 Grade: C-
Josh Freeman still has legs, apparently. This year he hasn't been scrambling that much, but his 10 yard red zone scramble was a beauty. And whatever he's doing on play action, well, he should keep doing it. Vincent Jackson's 19 yard catch could not have happened without a brilliantly-executed play fake.
It should be noted, though, that Josh Freeman has not had great accuracy so far today. I counted at least three passes that he either blew completely or that should have been picked off.
And as for the interception... Josh Freeman was already falling down by the time that ball got out there, so he might have been trying to throw it away, but at a certain point, you just have to give up and take the sack. First pick in five games.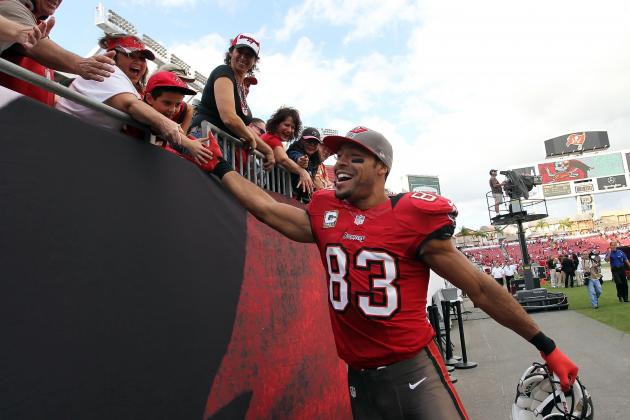 Kim Klement-US PRESSWIRE

Overall Grade: B
OT Grade: A
Doug Martin in overtime: 11 yard run, 27 yard run, one yard run, seven yard run, two yard run. Bell cow, much?
Dallas Clark caught the game winning touchdown. Not too shabby for an old dude.
Q4 Grade: B
Doug Martin had a HUGE 21 yard run. I use "huge" not to describe the length, but the impact the scamper had on the Bucs momentum. What a juggernaut. Still the Muscle Hamster, though.
Yet he fumbles on fourth down, into the end zone, giving Carolina a touchback. His first career fumble robs the Bucs of seven points.
Mike Williams did not have a good day. When the opportunity for him to make up for it arose, he dropped the ball on 3rd down. Ignore the fact he made a reception on the very next play.
That's a Tommy Point for Vincent Jackson. He makes a 3rd down grab to set the Bucs up in the redzone, makes the touchdown, and scores the two point conversion.
Vincent Jackson converts the 2pt play. No doubt that V-Jax has been the best signing of the high-end of last year's free agent class

— Jason La Canfora (@JasonLaCanfora) November 18, 2012
Q3 Grade: D-
Something is not clicking with this offense today.
Bucs have one first down and 29 total yards since the opening quarter here in Charlotte.

— Ira Kaufman (@IKaufmanTBO) November 18, 2012
We're seeing the O-line get more of a push on running plays, which is a good sign. But that doesn't make up for the Bucs first three drives of the second half; 3-and-out, interception, 3-and-out.
Q2 Grade: D+
The offensive line did not look sharp on the first drive of the second quarter, allowing major penetration and a 13 yard sack. Tampa seems have no answers for Carolina's blitzes.
Because of this, the skill position players have had no chance to shine.
Q1 Grade: B-
What's this nonsense with "the Dougernaut?" Yes, Doug Martin is a juggernaut, proven when he trucked Luke Kuechly, but the Muscle Hamster is a whole lot more fun to say.
In other news, tight end Nate Byham got his first career NFL touchdown off a J. Freeman pass.
DJ Ware always should get some critical acclaim for turning a third and six screen pass into a 13 yard gain.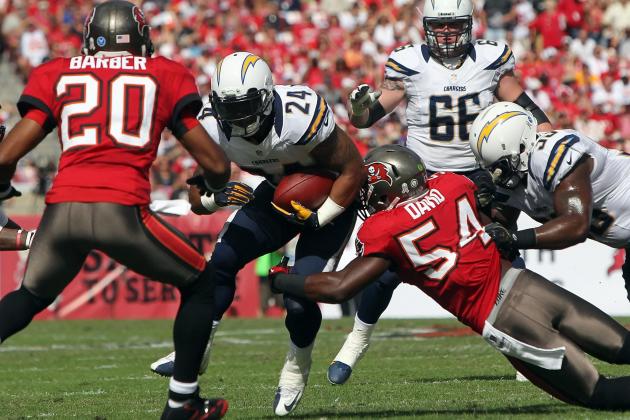 Kim Klement-US PRESSWIRE

Overall Grade: B+
Q4 Grade: C
The defense was a mess on the Panthers 4th quarter touchdown drive. The Bucs had no answer for Cam Newton's big time arm, and part of that is due to Mark Barron's poor coverage down the field.
Near the three-minute mark, Le'Quan Lewis let Louis Murphy make an excellent but avoidable 3rd down sideline catch, which extended the Panthers drive, taking another minute off the clock.
Q3 Grade: A
Tackle for loss by Gerald McCoy - that's 5 more TFLs for the Bucs' defense so far today.

— Tampa Bay Buccaneers (@TBBuccaneers) November 18, 2012
I see u Mikey B! Take em to Hawaii lol

— Adrian Clayborn (@AJaClay) November 18, 2012
Say what you want about the offense, but don't say that the defense isn't rolling. The D-line is playing so well it has made up for the injured Eric Wright, whose absence leaves the Bucs without a starting-caliber cornerback.
Q2 Grade: C+
The Panthers have discovered a pretty east way to beat the Bucs defense- throw it short. Tampa blitzes a lot, so just dumping it off can really create some problems for the über-aggressive Buccaneers.
Cam Newton is playing with the kind of confidence and bravado he displayed as a rookie in 2011. Lot of football left, but Bucs looking flat

— Ira Kaufman (@IKaufmanTBO) November 18, 2012
Or, they can just let Newton loose. He has 45 rushing yards on seven scrambles.
The Bucs have generated plenty of pressure, though, so there's that.
Q1 Grade: A
Gerald McCoy continues his dominance with a clutch third down pressure on Cam Newton. Already it looks like this could be a big day for the defensive tackle.
Tampa Bay's number-one ranked rush defense is as good as advertised today. Bucs MLB Mason Foster with a nice tackle for loss and a big hit.

— Pewter Report (@PewterReport) November 18, 2012
Plain and simple, Tampa Bay has dominated at the defensive line of scrimmage today. Case and point: Da'Quan Bowers's -10 yard sack on Newton.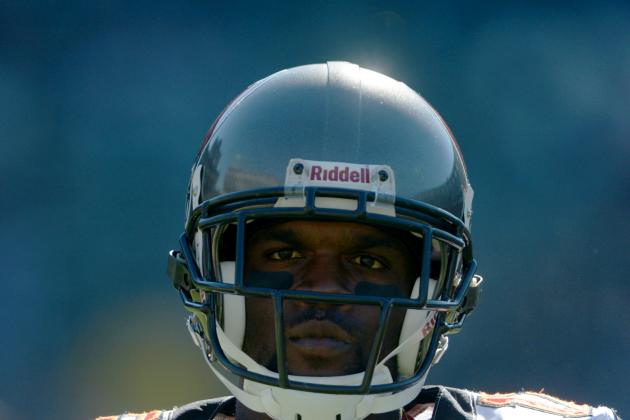 Kirby Lee-US PRESSWIRE

Overall Grade: A-
Q4 Grade: B+
Connor Barth gets a clutch award for his 42 yard field goal. It kept the Bucs in the game late, down by eight points.
Q3 Grade: A
Do the Bucs deserve credit for stuffing Carolina when they tried to runs fake punt on their own 37 yard line? Me thinks they do.
Q2 Grade: B
Not a lot to say about special teams. Haven't had a lot of excitement, for good and bad. Carolina's kicker misses a field goal, but the Bucs can't take credit for that.
Q1 Grade: A
On Michael Koenen's first punt of the day, Dekoda Watson comes up with the ball after a Captain Munnerlyn fumble. TB got a touchdown shortly after.
Connor Barth just nailed a 51 yard field goal.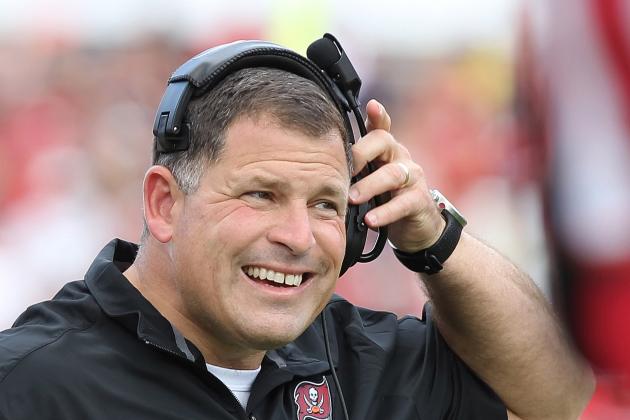 Kim Klement-US PRESSWIRE

Overall Grade: B+
OT Grade: A
The Bucs just rolled to a win in OT. Dominant play calling. Panthers had no chance.
Q4 Grade: A
I agree with Schiano's decision to go for the field goal, and his use of timeouts. And for his one minute drill play calling.
It is only too bad that he couldn't get the offense going during the second and third quarter.
Q3 Grade: B-
Props go to the defensive coaches.
Boos and jeers for the offense.
Q2 Grade: C+
You can't blame the coaches for weakness on the offensive line- you can only praise them for keeping it together. Nevertheless, the offense is still stagnated by this weakness up front, and I'm there are ways around this, like more quick passes for one, rather than chucking it deep, even though Freeman clearly does not get the time he needs to do that.
Q1 Grade: A
Has there ever been a time when the 2012 Bucs haven't called a screen pass on third down? Greg Schiano might lack imagination on third down, but his team's execution makes up for it.
Whoever is responsible for the Bucs D-line dominance deserves a pay raise.