Full NBA Playoff Projections, Predictions Based on What We've Seen so Far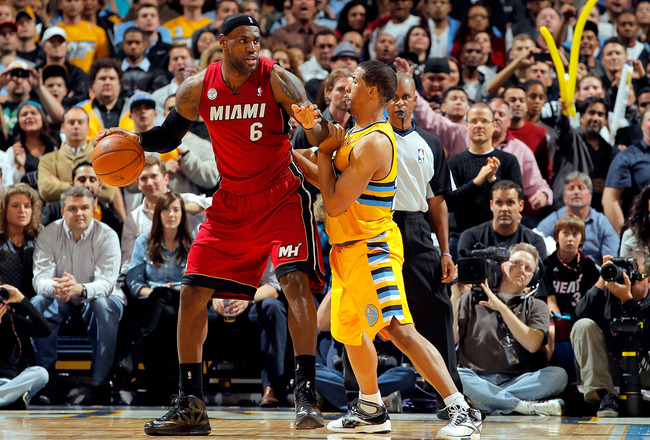 Doug Pensinger/Getty Images
It's only been a few weeks of NBA action, but we already know so much more than we did during the preseason. We finally have some concrete evidence to base wild predictions on, which means playoff speculation can finally begin.
However, for every question we've had answered, there have been two questions that popped up to replace them. About 68 percent of those new questions have to do with the Los Angeles Lakers and Mike D'Antoni.
Aside from the Lakers, we've seen the New York Knicks, Memphis Grizzlies, Los Angeles Clippers, San Antonio Spurs, Houston Rockets and Portland Trail Blazers, among others, give us a different view of their team than we got in the weeks leading up to the season. We're now starting to re-calibrate our view of the league.
What we've seen so far can change rather rapidly again, but we've got more to go on right now than we did a few weeks ago.
Because of that, it's good enough time to take a look at what the playoff race seems to shape up to be, and how the preconceived notion of the playoffs has changed in the first weeks of the season.
Eastern Conference Playoff Prediction
Nick Laham/Getty Images
1) Miami Heat
Miami looked like they were going to be a dominant team coming out of the gate after the addition of Ray Allen to their previously loose bench.
They haven't played well on the road, and their perimeter defense has been weak so far, but the Miami Heat will be the best team in the East, bar none.
Once the playoffs roll around this small-ball lineup of Miami's should be a lot more daunting and weathered than they were before.
2) New York Knicks
Initially, everybody was speculative about the overall age of New York bringing the team down, and they worried about how Carmelo Anthony and Amar'e Stoudemire would play together. The Knicks have impressed a bit so far, however.
Props to the New York Knicks for their fast start. Carmelo looks like a different player, but I can't see them winning the East or continuing to shoot an incredible three-point percentage and to turn the ball over at an all-time low rate.
Going forward, New York will still have age and the re-introduction of Amar'e to worry about, but they've always got Anthony to fall back on.
3) Boston Celtics
Most people were high on the Celtics coming into the season, claiming their bench was going to make them a lot stabler than last season.
It seems like the team is still trying to figure out which rotations make the most sense, and they're waiting for Avery Bradley's return to give them the boost they need.
Boston is struggling out of the gate, but they seem to play in streaks every season. They'll be on a hot streak soon enough.
4) Chicago Bulls
Initially, we had a lot of folks calling for the Bulls to more or less tank the season. Write it off, amnesty Carlos Boozer and see how things roll out with Taj Gibson as the starting power forward.
However, this Chicago Bulls team is a lot better than we though they were at the start of the season. They don't have Derrick Rose and they don't have the bench mob, but they can play some manly defense.
Moving forward, they'll have to continue to play tough defense if they want to stay in the top half of the East, but it seems quite possible.
5) Brooklyn Nets
The world was hot and cold on the Nets coming into the season. Some saw them as a better team than the Knicks, but others pointed to their lack of frontcourt defense and laughed out loud. We've seen both teams this season.
Brooklyn has both put a hurting on some teams (namely Orlando) and completely collapsed against others (Minnesota), so they'll need to even themselves out.
They haven't been pretty at times, but as this Brooklyn Nets team grows and comes together, they should have no problem making the playoffs—as long as they can play a bit of defense along the way.
6) Atlanta Hawks
The prevailing thought coming into the season wasn't that the Hawks were going to miss the playoffs, but that they had a team that would potentially be better without Joe Johnson.
The Hawks have had a season so far where they've won some big games and lost defensible games. An opening-night loss to Houston hit a hot team out of the gate, Miami and Los Angeles were legitimately better teams, and their loss to Golden State came in the middle of a West Coast trip.
Give them a few more weeks to smooth out the lumps, see what happens with regard to Josh Smith at the trade deadline, and we'll have a better idea about this Hawks team, but they don't look too bad right now.
7) Milwaukee Bucks
The Bucks were a popular "squeeze-in" playoff team along with the Cleveland Cavaliers and Washington Wizards. With Cleveland and Washington looking borderline terrible at times, that leaves the Bucks.
The combination of Monta Ellis and Brandon Jennings hasn't worked perfectly for the Milwaukee Bucks, but it's been impressive how they've played at times thus far, especially Jennings working as a truer point guard.
Milwaukee will continue to play up-and-down ball, but they should be able to jam their way into the playoffs.
8) Philadelphia 76ers
There was a lot of excitement surrounding the Philadelphia 76ers coming into the season, but that all hinged on Andrew Bynum, who has yet to play a game in a 76ers uniform.
Jrue Holiday has looked very good so far, and the team is afloat without Bynum, so there seems to be a path to the playoffs beaten out.
All they've got to do is stay on it.
Can the Philadelphia 76ers survive without Andrew? It looks possible so far, but it's going to take some work. I think they'll beat out Indiana, which doesn't seem to have anybody to step up and take games over with Danny Granger out.
Western Conference Playoff Prediction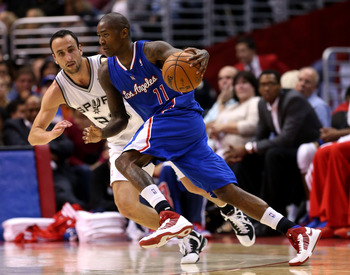 Stephen Dunn/Getty Images
1) Oklahoma City Thunder
The Thunder came into the season with championship aspirations, and then they traded James Harden. Harden's trade knocked them down below the Los Angeles Lakers as Western favorites, but they stayed near the top.
Oklahoma City has looked sloppy out of the gate, but they've won plenty of games, even with Russell Westbrook looking terrible at times to start the season.
When they find out how their new lineup fits together best and possibly make a move at the trade deadline, things should look brighter. They'll start to hum and never look back.
2) San Antonio Spurs
The usual preseason fanfare followed San Antonio around during the summer alongside shouts about age and ends of an era, and then the season started.
The Spurs came out and dominated every step of the way, losing only to the Clippers and Knicks so far this season.
San Antonio isn't going to fall off unless somebody gets hurt. If anything, they're only going to get better as the season progresses.
3) Los Angeles Clippers
There was some improvement from the Los Angeles Clippers expected going into the season, but a lot of folks seemed to think they had too many players to juggle on their roster.
Despite their "embarrassment of riches," the Clippers have been by far the most impressive team of the season so far. Not only are they incredibly fun to watch, but they're winning tough games, and Blake Griffin is hitting jumpers
It's easy to see this team continuing to progress as the season goes along. If they do, there could be some title chatter along the way.
4) Memphis Grizzlies
We wanted to write this Grizzlies team off before the season, citing the continued discrepancy between Zach Randolph and Rudy Gay, and then we had to deal with the reality that was this Grizzlies team.
This Memphis Grizzlies are on an incredibly hot streak early on because of the stellar post play from Marc Gasol and Randolph's hunger for rebounds.
They should be able to play well and win at least 50 games this season, probably ending as a top-four team in the Western Conference.
5) Los Angeles Lakers
Everybody was ready to crown the Lakers before the season started, but we all seemed to forget about that pesky middle part that comes between preseason hype and postseason adulation. You know them as basketball games.
Obviously, Los Angeles has struggled throughout the season, losing Steve Nash to a fractured bone in his leg and just not jelling on defense. That's not what this team is going to be, however.
The Los Angeles Lakers won't end up being a bad team. They're just in a bad spot early on in the season. Losses are losses, and they're not going to happen extremely often to the teams at the top of the league.
By the time Los Angeles completely clicks, it will likely be the end of December or even 2013.
6) Denver Nuggets
The term "dark horse" was thrown around with regard to the Nuggets before the season started because of their immense depth, but tagging them as such might have been a bit premature.
The Denver Nuggets have been the most up-and-down team so far this season, with only Andre Iguodala showing any consistency.
However, with Danilo Gallinari falling into a groove and JaVale McGee playing into more rotation time, they should be able to hang on long enough to hum into the playoffs.
7) Dallas Mavericks
The outlook was gloomy for the Dallas Mavericks coming into the season. It looked like an injury to Dirk Nowitzki and a retooling with inferior tools would put an end to their playoff streak.
However, the Mavericks continue to live large without Dirk Nowitzki, at least at times. O.J. Mayo is playing out of his mind and Darren Collison is relishing his job as the starting point guard.
Once the big fellow comes back to give them yet another scoring threat, they should be able to grab another playoff spot rather easily.
8) Minnesota Timberwolves
Things went from cautiously optimistic to prematurely pessimistic in the blink of an eye when news came out that Kevin Love had broken his hand doing push-ups.
The season started and stunned everybody as Minnesota, missing six of their eight best players, is looking terrific.
When Kevin Love comes back and the rest of the team trickles back in, they'll all have to buy Andrei Kirilenko a drink for his dominant defense so far this season. That should allow them to fight for a playoff spot.
Eastern Conference First Round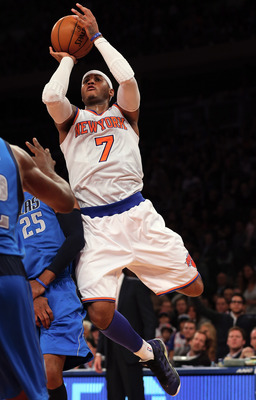 Elsa/Getty Images
Miami Heat vs. Philadelphia 76ers
Miami won't get to take on a pushover like they did last season in the first round (yea, that's a jab at the Knicks), especially if Andrew Bynum makes his way back and plays well in the lineup, but they still shouldn't have much of a problem.
Miami is struggling a bit to start the season on the road, but they're running their small playoff lineup so they can get more reps together during the season. They're not as dialed in for a few early season games as they would be in the playoffs, so we can't really judge them too much so far.
Miami over Philadelphia 4-1
New York Knicks vs. Milwaukee Bucks
The Milwaukee Bucks are going to be an up-and-down team all season long if they rely heavily on shooters, which it seems they will. They probably won't prove much of a challenge for the Knicks.
With Iman Shumpert back to help with the perimeter defense, New York should be able to shut Milwaukee down enough to walk into the second round.
The only question that remains is how Carmelo and Amar'e Stoudemire will jell together once Amar'e returns, but that's going to have to wait to be answered.
New York over Milwaukee 4-1
Boston Celtics vs. Atlanta Hawks
Depending on what happens with Josh Smith along the way, this could be a rough matchup for the Celtics. They've got a team that relies on a nice combination of interior-exterior play that can be downright deadly if their shooters are going.
It's going to depend a lot on how well Jeff Teague can play with Rajon Rondo, plus they'll have to deal with Lou Williams again after he had a few big games against them in the playoffs last year.
Still, the Celtics should work themselves together nicely. With Rondo running the point, they've just got too much firepower to lose to Atlanta.
Boston over Atlanta 4-2
Chicago Bulls vs. Brooklyn Nets
A lot of what goes on with the Bulls is going to revolve around the return of Derrick Rose, but if the Bulls continue to look good, then odds are he'll be able to return sometime following the all-star break. They've got no reason to leave him on the sidelines if the Bulls are looking good.
Brooklyn's offense is going to meet Chicago's defense, and I'm not so sure they'll be able to do much more than hope for a lot of perimeter shots to fall.
Chicago should walk away from this one and set up a second-round meeting with Miami.
Chicago over Brooklyn 4-2
Western Conference First Round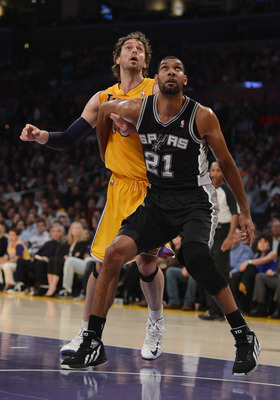 Harry How/Getty Images
Oklahoma City Thunder vs. Minnesota Timberwolves
Much like in 2010 when the Thunder took on the Lakers in the first round of the playoffs, this is a bit of a symbolic matchup of the present taking on the future. It seems like it's going to be all Thunder coming in, but don't be surprised if Minnesota can give them a run for their money.
The Timberwolves have a team with enough firepower (once everybody comes back) to win a few games, and they'll have an excited home court after being left out of the playoffs so often over the past decade.
Nonetheless, Oklahoma City should take this one.
Oklahoma City over Minnesota 4-2
San Antonio Spurs vs. Dallas Mavericks
It's a classic matchup of old power forwards as Tim Duncan takes on Dirk Nowitzki. The only problem is that Duncan has a lot more help to get him past this first-round old-school matchup than Nowitzki does.
The Mavericks would have to rely on shooters making shots and their post defense holding up against a seemingly rejuvenated Duncan. It seems like too much for Dallas to overcome.
San Antonio over Dallas 4-2
Los Angeles Clippers vs. Denver Nuggets
It seems like any good team's first-round matchup nightmare would be against the incredibly deep, dangerous Denver Nuggets. Of course, the Clippers counter with a rather deep team themselves.
With Los Angeles' impressive Jamal Crawford-Eric Bledsoe combination coming off the bench, they are going to be a hard team to take down in a series.
The Clippers would also have the advantage in the post with improvement from both DeAndre Jordan and Blake Griffin looking inevitable at this point.
Los Angeles over Denver 4-3
Memphis Grizzlies vs. Los Angeles Lakers
With the Lakers looking like they're going to have to face an uphill battle for the time being, the Memphis Grizzlies would seem like a death sentence at this point. That's probably not going to be the case.
I don't think the Lakers will make up enough ground to dominate throughout the rest of the regular season, but they'll fall in line and be able to get everything together for the playoffs.
In a D'Antoni offense, they should be able to outrun and outgun anything the Grizzlies would throw at them as Memphis tries to slow things down. The Lakers should win this one.
Los Angeles over Memphis 4-3
Eastern Conference Second Round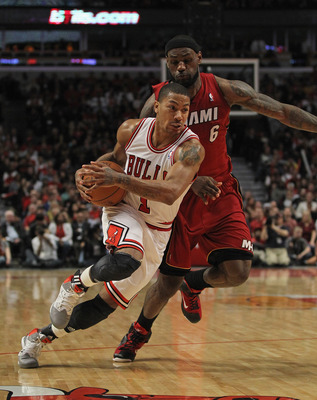 Jonathan Daniel/Getty Images
Miami Heat vs. Chicago Bulls
The Chicago Bulls remain an anomaly as they play without Derrick Rose, but one can only imagine they'll be a better, more effective basketball team once Rose returns to his full strength.
A lot of how a Heat vs. Bulls series plays out would depend on how well Rose is playing, but it seems too much to expect from them to dominate a series against the Heat. If anything, they'll win this series by keeping it slow and low-scoring.
Miami happens to have the best player on the floor. After he won a title, we can only assume that he'll be calmer and more effective in these playoffs, if that seems anywhere near possible. The Heat should break into the Eastern Conference Finals for the third time in three seasons.
Miami over Chicago 4-2
New York Knicks vs. Boston Celtics
It seems surprising to think about the Knicks looking this good this early on, but they've got a team that almost makes sense when all their parts are performing well. The only problem is that they're performing amazingly well so far.
In a slower-paced, dragged-out series against the Celtics, it's going to be hard for the Knicks to get into a nice rhythm. This Celtics should be able to send a good defensive squad at the Knicks offense.
Like the series against the 76ers, it's going to be a brawl.
I'm not sure how these Knicks are going to react to postseason play, but I know the Celtics will respond well. I'm going with the experience of the Celtics in this one.
Boston over New York 4-3
Western Conference Second Round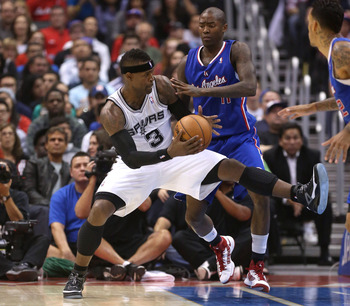 Stephen Dunn/Getty Images
Oklahoma City Thunder vs. Los Angeles Lakers
Is this not the matchup we were all hoping to see in the Western Conference before the season started? Although it would have been nice if James Harden were involved instead of Kevin Martin.
Even so, the Thunder should be capable of putting up a fight against the Lakers' juggernaut of a star-laden basketball team. It all depends on how Russell Westbrook plays in the series to predict the outcome of this one.
If he's hitting shots frequently, they should have a window. If not, then the Lakers' fast-paced offense will kill them.
I'm putting my faith in Kobe Bryant and the more dominant post game with the Lakers and thinking they make their way to the Western Conference Finals.
Los Angeles over Oklahoma City 4-2
San Antonio Spurs vs. Los Angeles Clippers
In this scenario, we get a rematch of the second-round matchup that was more or less a dud last season. The only difference is that the Clippers are a much improved team, which should lead to a much more interesting series.
The Spurs' age and experience take on the Clippers' youthful exuberance and increasingly impressive bench mob.
It's going to take a lot of impressive play from Jamal Crawford for the Clippers to pull off a win, but it's not impossible. That being said, it's hard to go against a Tim Duncan-led Spurs team in the playoffs.
San Antonio over Los Angeles 4-3
Miami Heat vs. Boston Celtics
Chris Trotman/Getty Images
Is may be an unoriginal, uninspired and even boring pick, but this seems to be the most likely scenario so far. Despite the Celtics looking loose early and the Knicks looking dominant, Boston still makes more sense than New York.
It doesn't seem as if a team in the East has a real shot at beating the Miami Heat in a seven-game series unless they're slowed down to a halt and made to play in games where every possession counts. The only team like that in the East right now is Boston.
The Heat and Celtics would make for another inspired conference finals matchup and probably continue to showcase the best the East has to offer, at least at this point.
However, Miami's firepower showed to be too much for Boston's dragging pace last season. Unless Jason Terry morphs into a Heat killer again, they're long shots to win this one.
Miami should return to the NBA Finals.
Miami over Boston 4-2
San Antonio Spurs vs. Los Angeles Lakers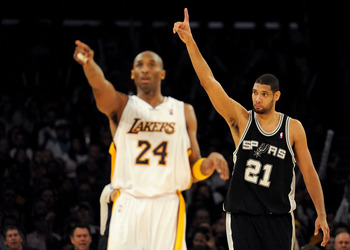 Harry How/Getty Images
For at least one more time, we'll get to see the great Kobe Bryant matched up against the historic Tim Duncan. It's happened before, but one last long series between the two would make for a memorable playoffs.
The weaknesses of the Spurs correlate directly to the strengths of the Lakers, unfortunately for San Antonio.
Los Angeles' frontcourt is going to out-enormous San Antonio. The best partner for Duncan is either Tiago Splitter or DeJuan Blair, both of whom can't possibly keep up with Pau Gasol or Dwight Howard.
It's not going to be an easy series for either team, and I'd imagine it's a fast-paced score-a-thon, but the outcome seems written on the wall, even this far in advance.
San Antonio falls to the Lakers in a long series, and the Spurs' reign of terror finally ends...although it probably won't, and they'll be tops in the league in 2013-14.
Los Angeles over San Antonio 4-2
NBA Finals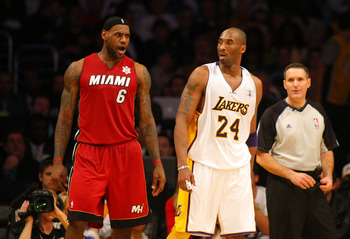 Victor Decolongon/Getty Images
The matchup that looked inevitable for years could finally be coming, only it's going to rely on a lot more than Kobe Bryant's heroics for the Lakers to take down the Heat.
The old-school, inside-outside game of the Lakers paired with the new-school mentality of Mike D'Antoni will be pitted against the new-school, small-ball lineup of the Heat, with the old-school mentality of the best player on the floor.
What makes it hard to predict this series is that it's all still just speculation. The Lakers that we know now will not be the Lakers of the next six months, so I can't tell you the strengths they'll need to accentuate and the weaknesses they'll have to downplay.
When it all comes down to it, this far in advance you've got to go with the team that has the best player on the floor.
That's still LeBron James.
I'm calling a repeat for the Heat. It may not be exciting or original, but it's the most likely scenario right now.
Miami over Los Angeles 4-3
Keep Reading