Big Ten Football: Maryland, Rutgers Would Only Hurt Conference's Reputation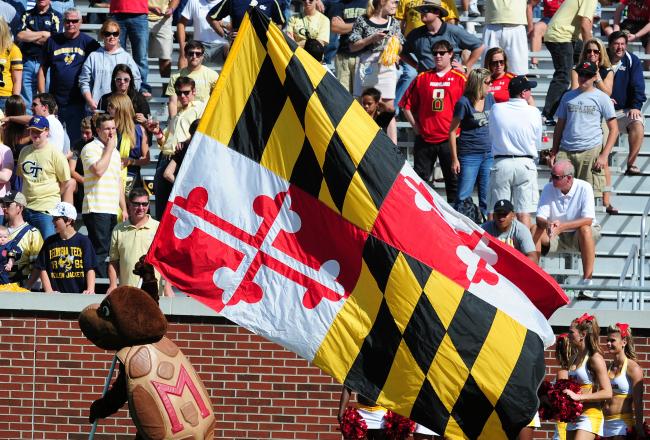 Scott Cunningham/Getty Images
Looks like college football realignment is still in full force, as an unlikely conference is looking in an unlikely place for new members.
According to a report from ESPN, the Big Ten is in "serious negotiations" with ACC member Maryland. Furthermore, the same story suggests that Rutgers from the Big East would follow the Terrapins into the Big Ten should Maryland get an invitation.
The college football world has officially gone mad.
The Big Ten's standing as a major football conference has already taken quite a beating this season. It has no teams in the hunt for the national championship, and two of its best programs, Ohio State and Penn State, are on NCAA probation and banned from the postseason.
And now it wants to add Maryland and Rutgers to the mix?
This may be the worst idea since it decided to name its divisions "Legends" and "Leaders."
Adding Nebraska a couple years back was a no-brainer. The Cornhuskers are a proven program with a solid track record under Bo Pelini. Expanding to 12 teams gave the Big Ten a championship game and all the extra money that goes with it.
Adding the Terrapins and Scarlet Knights adds...what exactly?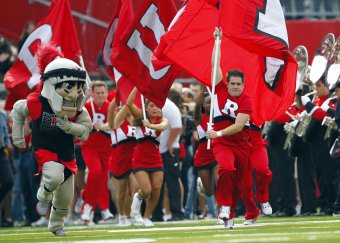 Rich Schultz/Getty Images
Maryland is a team dealing with bad karma. The Terrapins made the worst decision of 2010 by firing Ralph Friedgen after he finished the season 9-4 with a bowl win. They replaced Friedgen with Randy Edsall, who has gone 6-17 thus far.
Like I said: karma.
And let's face it: Maryland hasn't won a national title since 1953. Its last conference title was in 2001. Before that, you'd have to go back to 1985 to find its last conference crown.
Now, what about Rutgers? The Scarlet Knights are a program undoubtedly on the rise, but does anyone remember where they were before Greg Schiano came to town?
Rutgers had gone to a grand total of one bowl game before Schiano tuned things around. And as good of a coach as Schiano is, his record at Rutgers was only 68-67.
Kyle Flood seems to be doing well with the guys Schiano left behind. But who knows? Rutgers could fall right back where it was in a year or two.
Or maybe not. Then again, do you see the Scarlet Knights becoming a legitimate national championship contender?
Should the B1G Add Maryland and Rutgers?
So why would the Big Ten even think about inviting Maryland and Rutgers?
Money. Pure and simple.
Specifically, the Big Ten is looking for more TV money. Rutgers is in the NYC market, while Maryland could bring the Annapolis and Washington, D.C., markets under the Big Ten umbrella.
While bringing these teams on board would probably bring in more money, it would also dilute the Big Ten's already somewhat tarnished brand.
If the Big Ten wants to run with conferences like the SEC, Big 12 and Pac-12, it would do better to stand pat at 12. Bringing in the Terrapins and the Scarlet Knights would do more harm than good to the Big Ten's ability to win national championships.
This article is
What is the duplicate article?
Why is this article offensive?
Where is this article plagiarized from?
Why is this article poorly edited?