The 100 Hottest Female Athletes of 2012
Image via 3.bp.blogspot.com
In 30 years, what will we remember about sports in 2012? The NHL lockout? The Olympics? King James winning his first NBA title? The New York Giants upsetting the heavily favored New England Patriots, once again, in the Super Bowl?
Only time will tell. Until then, we can't waste time by thinking about the future. We have to enjoy the here and now. This is the time of year we get to slow down and enjoy the rest of 2012.
And I love to help out when I can so I put together a list of the 100 Sexiest Female Athletes of 2012. A list that might change your thoughts on female soccer players or field hockey, in general.
Enjoy.
Begin Slideshow

»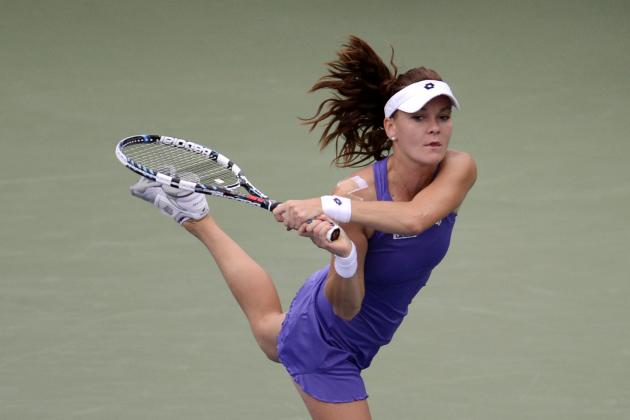 US PRESSWIRE

Agnieszka Radwanska is quietly climbing the tennis charts and becoming one of the world's best female tennis players.
How did she do it? By making it to the finals at Wimbledon before losing to Serena Williams. Some times, that is all it takes.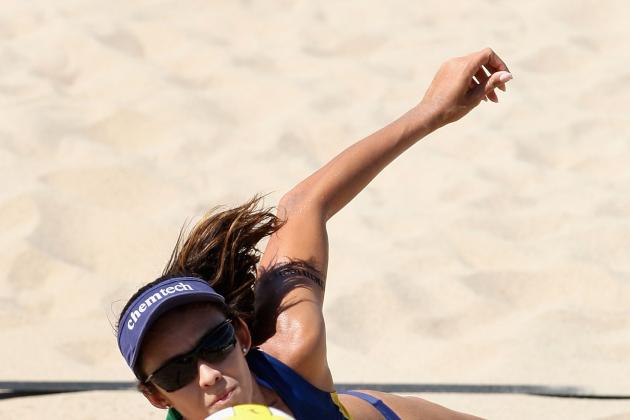 Christian Petersen/Getty Images

Talita Antunes, former FIVB 2005 Rookie of the Year, earned her way into the Round of 16 at the 2012 London Olympics with teammate Maria Antonelli but was sent home thanks to a hard-hitting Czech duo.
However, at the age of 30, she has plenty more years ahead including a shot at the 2016 Games in her home country, Brazil.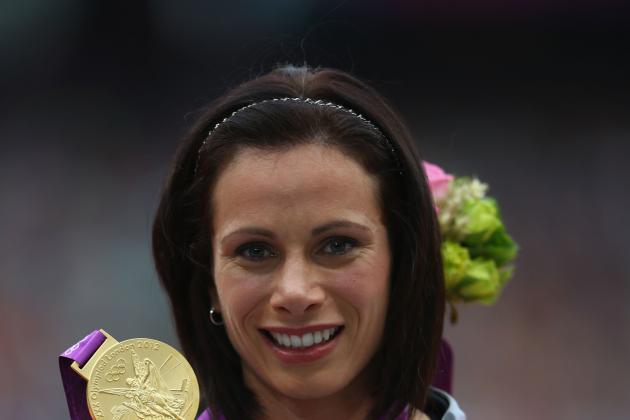 Paul Gilham/Getty Images

It took 13 years, hours of training, and two Olympic Games but Jenn Suhr finally won her first career Olympic Gold Medal. And she did it in fine form, clearing 4.75m to win.
The beautifully tall New Yorker can enjoy the next four years until Rio comes calling. Then we can see if she can bring home another one.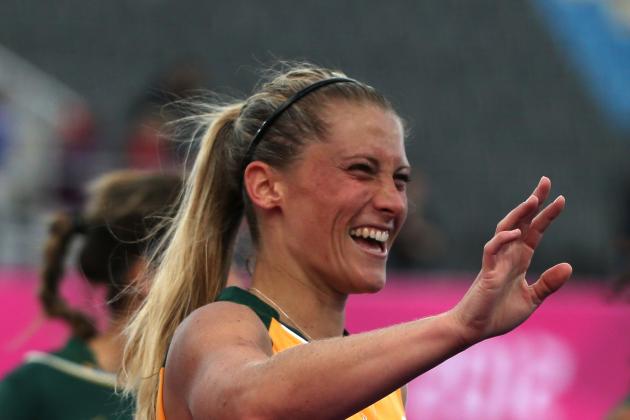 Daniel Berehulak/Getty Images

South Africa went to London and dropped four games before destroying the United States 7-0 for its only win of the Olympics.
Kate Woods didn't have any goals but she played the entire game, the full 70 minutes. So we got to watch her the entire time. Lucky us.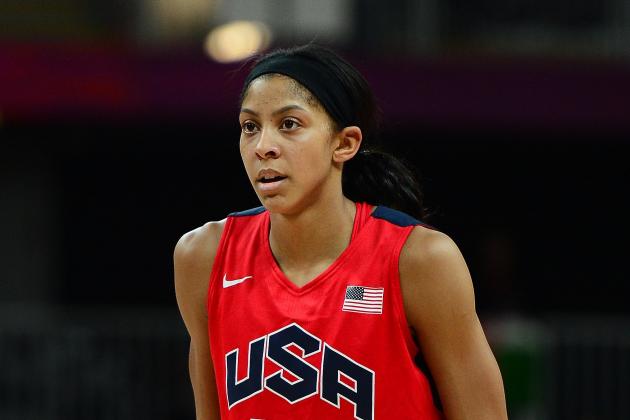 Andrew Weber-US PRESSWIRE

There aren't too many women that can say they have won two Olympic gold medals, a WNBA MVP award, WNBA Rookie of the Year Award, a Naismith Award, and the Wooden Award twice.
The sexy Candace Parker can say it. And she is only 26 years young, too.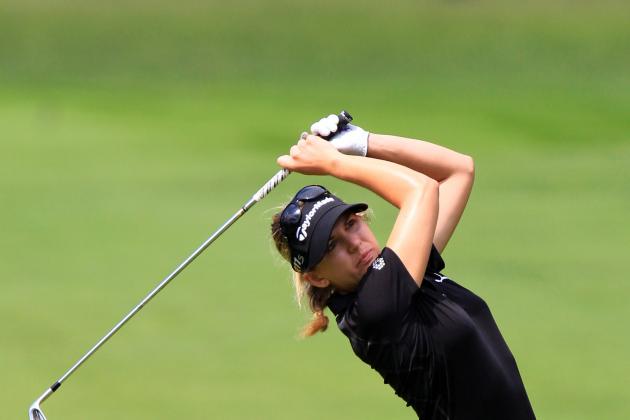 Kevin Hoffman-US PRESSWIRE

Let me take this moment to introduce everyone to Sydnee Michaels. She is a rookie on the LPGA tour this season but is making her mark already.
Back in August, she finished in seventh place, her highest finish of her career. Keep your eyes peeled for this one.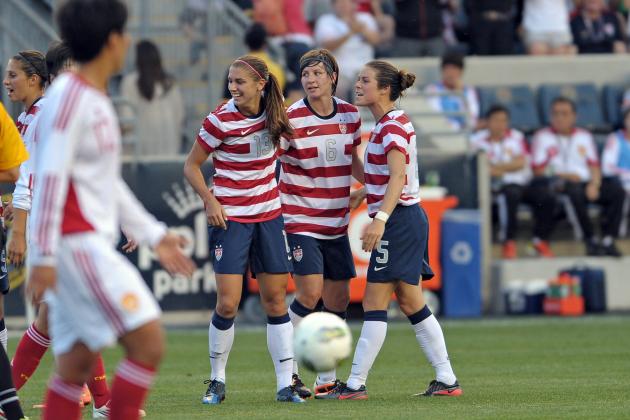 Eric Hartline-US PRESSWIRE

Kelley O'Hara is a tiny ball of fury who unleashes a world of pain on any opponent who steps onto the pitch.
Don't let the pretty eyes fool you; she can slam you into the ground faster than you can say up.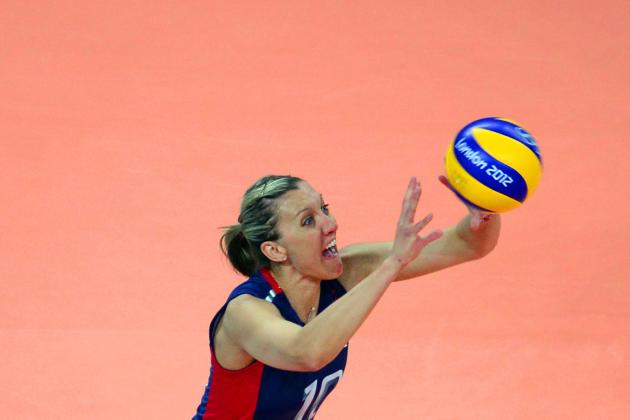 Kyle Terada-US PRESSWIRE

Team USA played exceptionally at the 2012 London Olympics. That is, until the final match against Brazil for the gold medal.
They fell a little short but still took home the silver medal. Next time will be different.
Robert Deutsch-USA TODAY

I can name about three athletes with more media coverage than Lolo Jones received in 2012, and none of them were in London.
She is beautiful, no doubt. But after four years of waiting, she still fell short of the gold medal we all hoped she would win.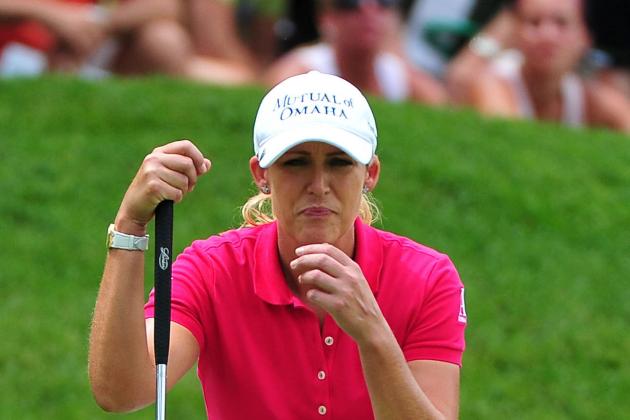 Andrew Fielding-US PRESSWIRE

Cristie Kerr has 15 career LPGA tour wins, 135 top 10s, and has brought home more than $14 million in prize money.
That is def a career to be proud of. Now it is time to move onto other ventures like modeling.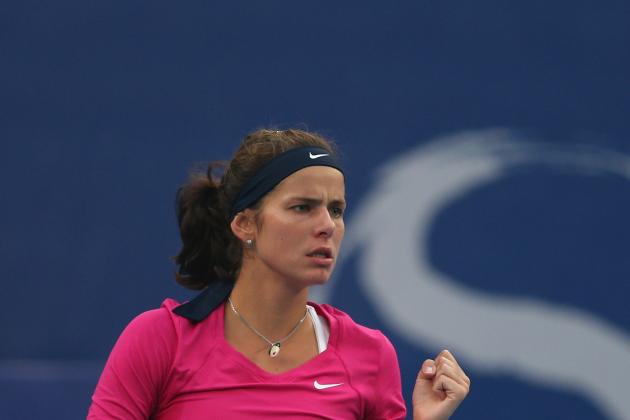 Feng Li/Getty Images

You might want to check in on the WTA rankings because Julia Goerges is rapidly moving up the charts. She has been every year since 2005.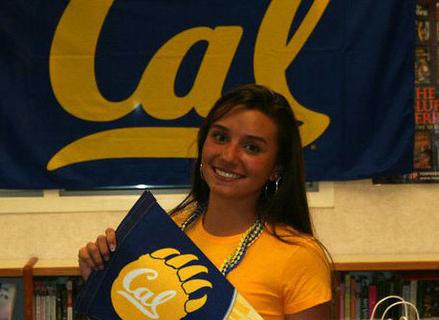 Image via usasoftball.com
Thanks to the University of Cal's softball team, I have faith that softball will rise to the level it was when Jennie Finch retired.
Cheyenne Cordes is a good start. She is entering her sophomore year looking to improve on her first year on the team.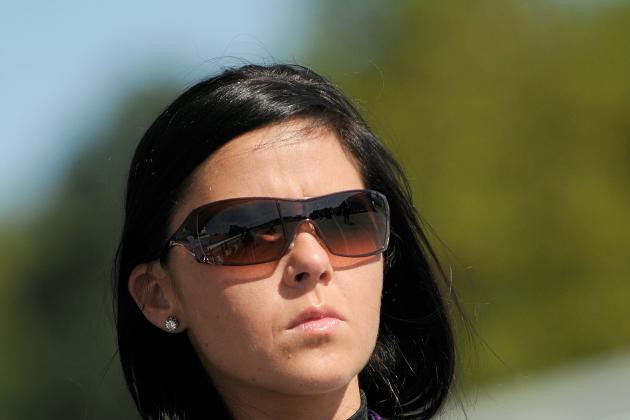 Grant Halverson/Getty Images

Natalie Sather is a NASCAR driver in the Camping World Truck Series.
She has one of the greatest jobs ever. She gets to drive fast and do it in a truck. All while looking good.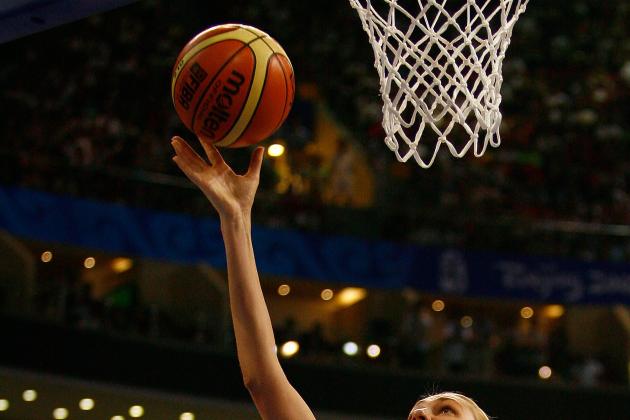 Quinn Rooney/Getty Images

That's it, I am moving to Russia. Peace out America, I am heading for snowy pastures.
Are they serious in Russia? Maria Stepanova is a gorgeous Russian basketball star in the WNBA.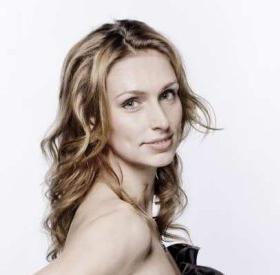 Image via radom.gazeta.pl
Joanna Kaczor is a winner. She wins at life almost as much as she wins in volleyball.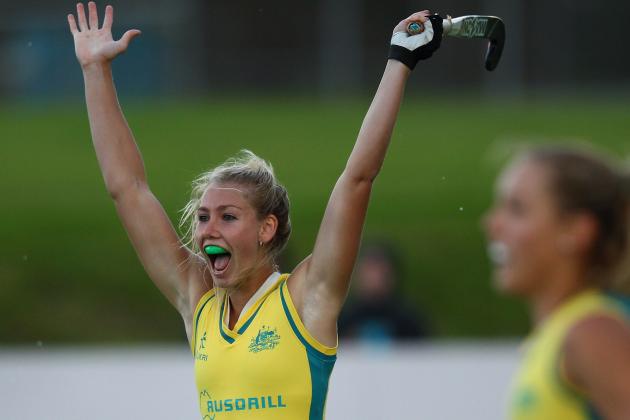 Phil Walter/Getty Images

Just because the NHL is on lockout doesn't mean the rest of the hockey world is on hiatus.
Field hockey, for example, has no issues and is going strong. So if you get tired of hoping for the NHL, head on over to a field hockey game and have some fun.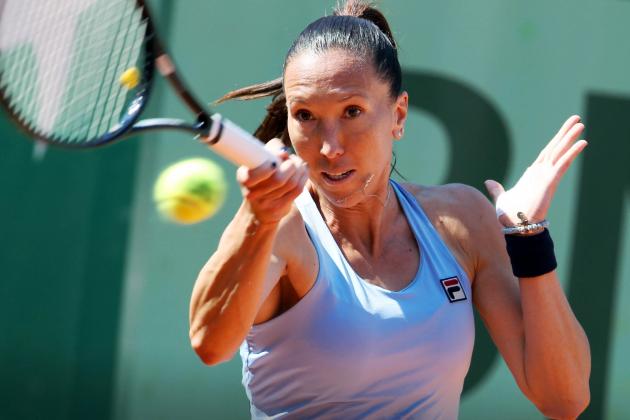 GEPA Pictures-US PRESSWIRE

From what I have seen, if Jelena Jankovic wants to give up on tennis for a professional modeling career, she will not have any issues getting hired.
But why give up on the game where you have been ranked in the top 10 for almost six years?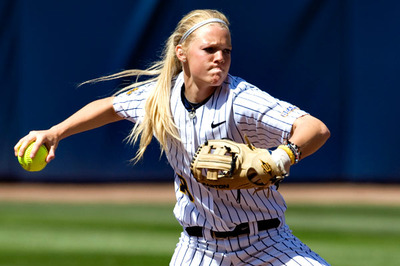 Image via sports.espn.go.com
Britt Vonk hails from Enschede, Netherlands, where she went to high school at Het Stedelijk Lyceum Zuid.
Can we get a translator in here? Anyone?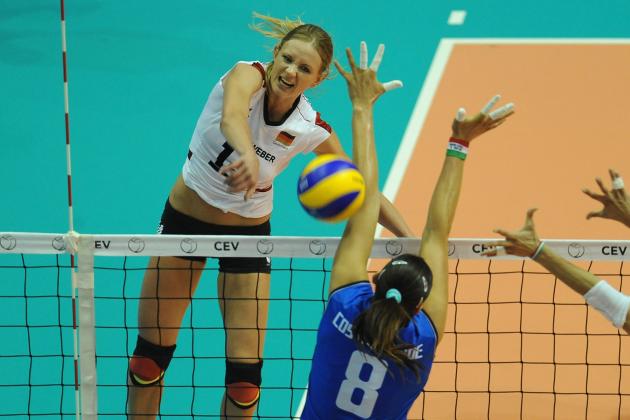 Valerio Pennicino/Getty Images

Over the course of Margareta Kozuch's career, she has played for nine different clubs in four separate countries, which isn't a bad thing. It means she is valuable and everyone wants a piece.
That and she just might be one of the greatest German volleyball players ever.
Matthew Stockman/Getty Images

Why do so many people hate on Serena Williams? Is it because she is so good that people have turned to hate?
Or is it because...nope, that has to be it. Haters gonna hate, right?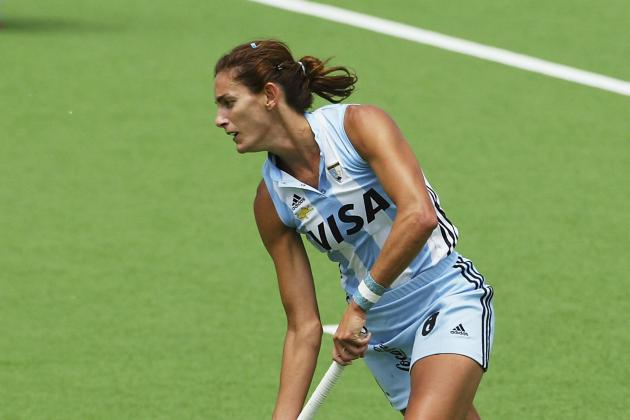 Mark Nolan/Getty Images

I say this every time about Luciana Aymar but there is no other comparison: she is the Michael Jordan of field hockey.
She has won the National Player of the Year award about ten thousand times in a row among other awards.
Joe Scarnici/Getty Images

Tobin Heath is a hybrid female soccer player. There is no reason a player of her size is supposed to be able to run so fast, handle the ball with ease, and score when needed.
But she is the reason I love Team USA and women's soccer.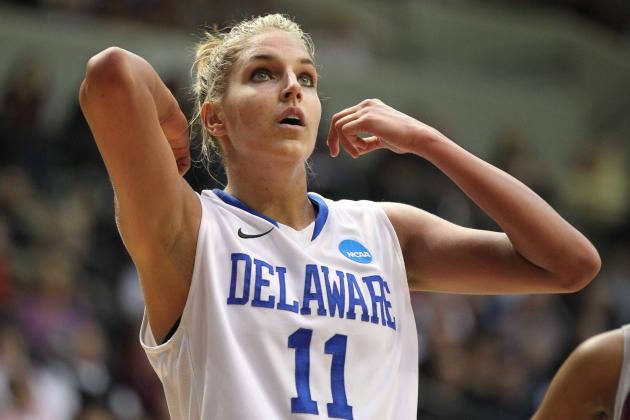 Nelson Chenault-US PRESSWIRE

Uh, no one, man or woman, is suppose to score at will.
Elena Delle Donne shoots a basketball better than Clint Eastwood shoots a revolver. She never misses. She must be a career 99% shooter from outside.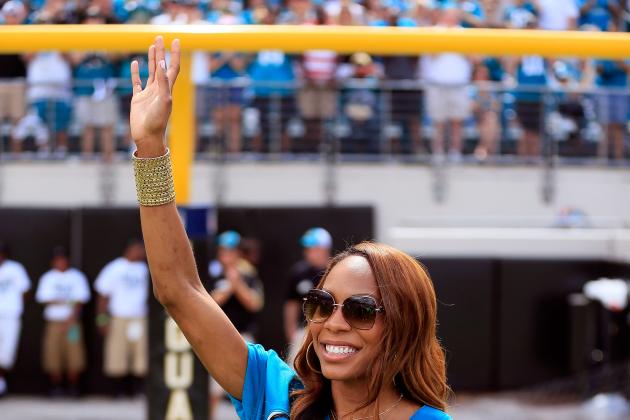 Sam Greenwood/Getty Images

Imagine what life would be like if Sanya Richards-Ross would have chosen to race for her home country, Jamaica.
How much better can that country get at track and field? It wouldn't have been fair.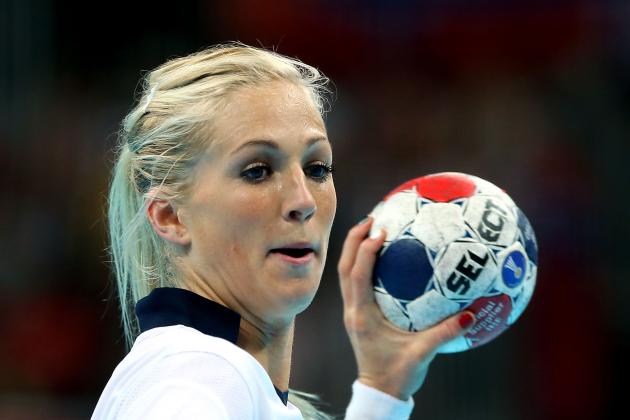 Jeff Gross/Getty Images

Try talking about the sport handball and not saying, "That's what she said." I know I can't. I just said it.
But once you get beyond the jokes, you notice Linn Jorum Sulland is actually one of the best handball players in the world. She also plays for the best national handball team in the world, Norway.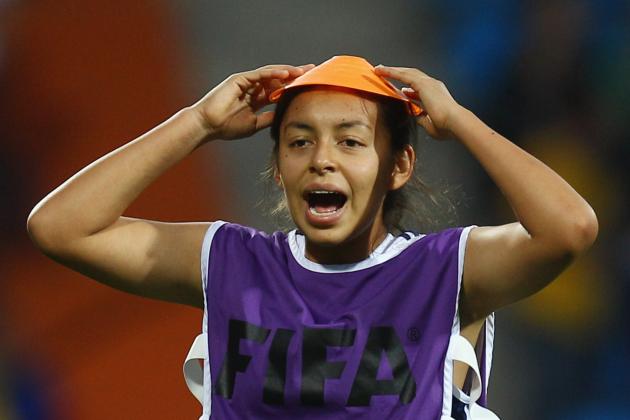 Alex Grimm/Getty Images

The Colombian women's national soccer team could use a hug after its Olympic experience. They didn't even score a goal, being outscored 6-0 in three games.
Yoreli Rincon, one of the youngest players on the team, has scored eight goals with the team and even she couldn't score a goal.
Stuart Franklin/Getty Images

Caroline Wozniacki is having an off year after finishing 2011 as the overall No. 1 in the world.
But she is still beautiful and still winning tournaments, just not the Grand Slams this year.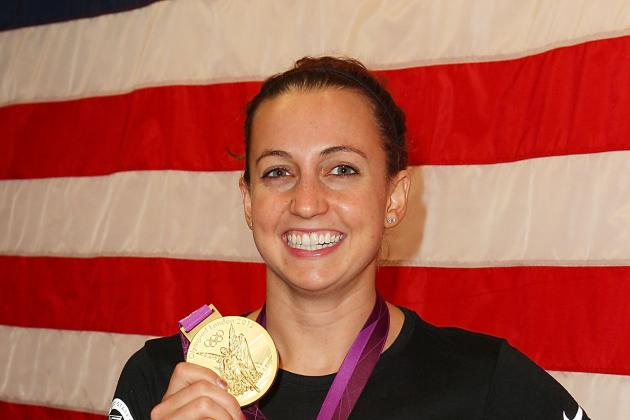 Joe Scarnici/Getty Images

With her showing in London, Rebecca Soni now owns not one, not two, but three Olympic gold medals.
How is that for breaststroke dominance?
Image via nmnathletics.com
Hanna Halteman doesn't play for NC State any more, so stop asking. But when she did, wow. Just wow.
She brought beauty to the basketball court. Thank you.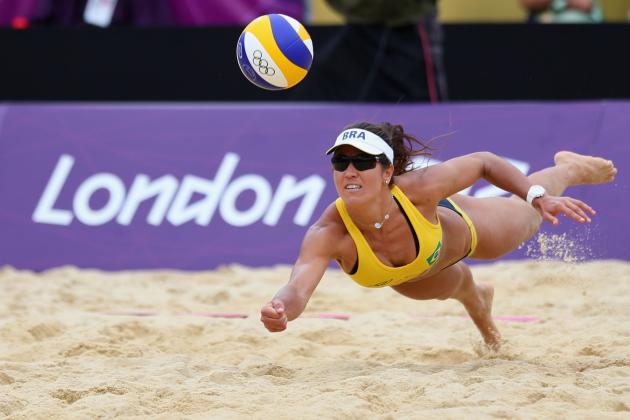 Ryan Pierse/Getty Images

It doesn't matter how you look at it, Brazil is home to more beautiful women than Colorado has Coors Light shirts.
Maria Antonelli is part of the sexiest beach volleyball duo from Brazil.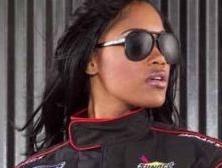 Image via washingtonpost.com
Tia Norfleet isn't just a beautiful young woman. She is the first female African-American driver in NASCAR history. A history that spans almost 70 years.
Hopefully, she isn't the last. This sport could use more women, regardless of race.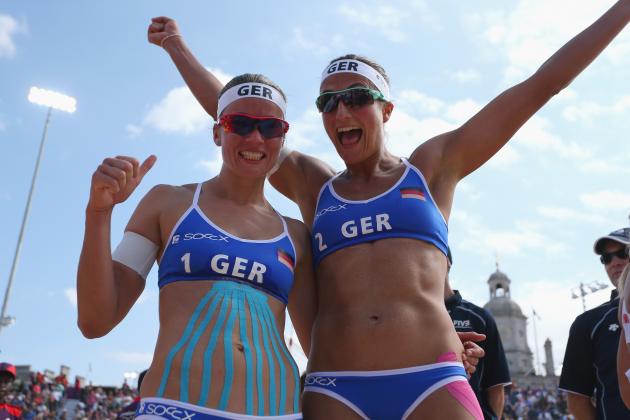 Alexander Hassenstein/Getty Images

I try not to put two women on the same spot, but Katrin Holtwick and Ilka Semmler are better as a pair.
The German power duo became one of my favorites to watch thanks to that cool-looking body tape. It is like a moth to the flame.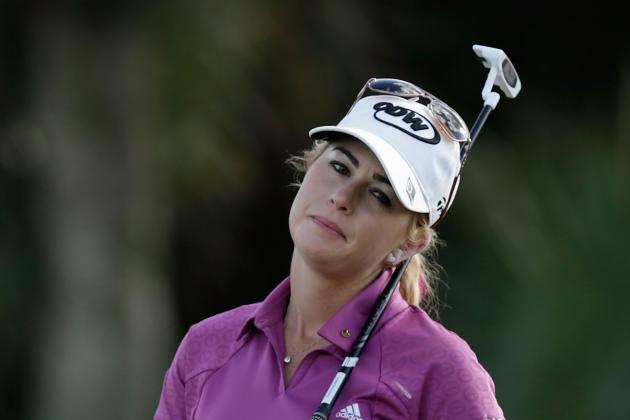 Scott Halleran/Getty Images

Golf is not as easy as the professionals make it look. I have tried. It isn't.
Paula Creamer, for example, can hit a golf ball 244 yards, on average. Once you can consistently hit the ball that far, then you can work on getting it to go down the fairway, too.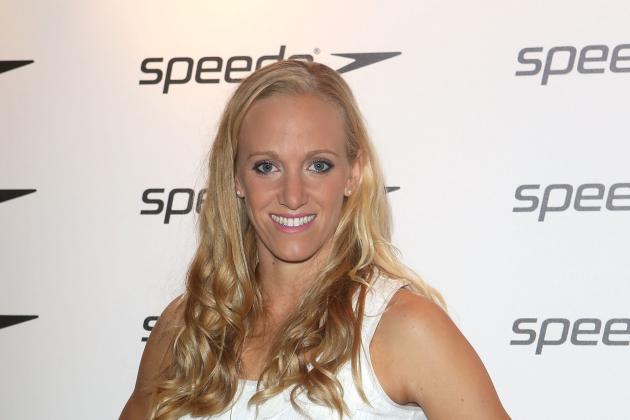 Tim Whitby/Getty Images

Dana Vollmer has virtually become one of the hottest names in US swimming since Amanda Beard, but she has been here for years.
She has been winning Olympic medals since 2004 in Athens and now owns four Olympic gold medals.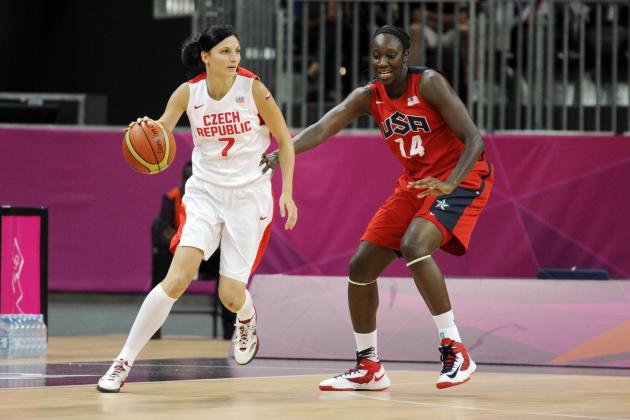 Richard Mackson-US PRESSWIRE

Women's basketball at the Olympics is a battle for second place. Same goes for the men because Team USA is just too good on both men's and women's for any other countries to compete.
So the Czech Republic just had to play spoiler and steal a few wins from the other teams. They didn't quite play spoiler, but it was seriously fun to watch.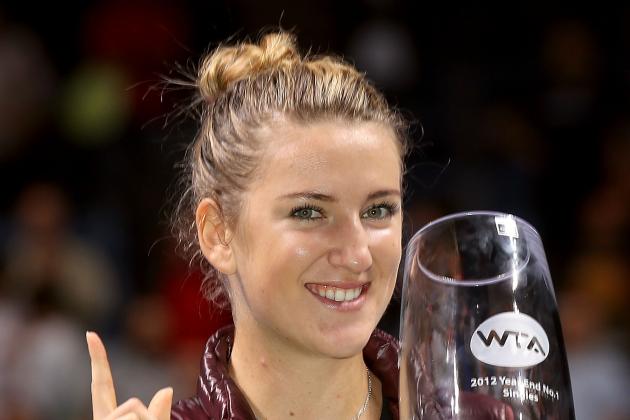 Matthew Stockman/Getty Images

Victoria Azarenka had one of the best starts to a season in tennis history in 2012. She won her first four tournaments and it continued to carry her throughout the season.
If not for Maria Sharapova and Serena Williams, she would have never lost this season. I am just saying.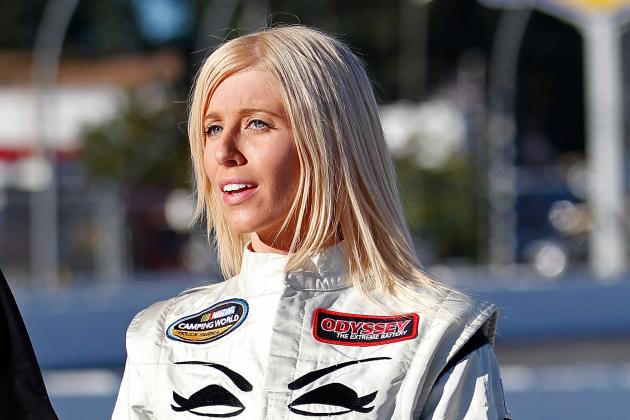 Geoff Burke/Getty Images

If you watch NASCAR, then you already know about Amber Cope. You know about her beauty. You have even watched her race in the Nationwide series.
And for those of you who don't know about her, well, she also has a twin sister.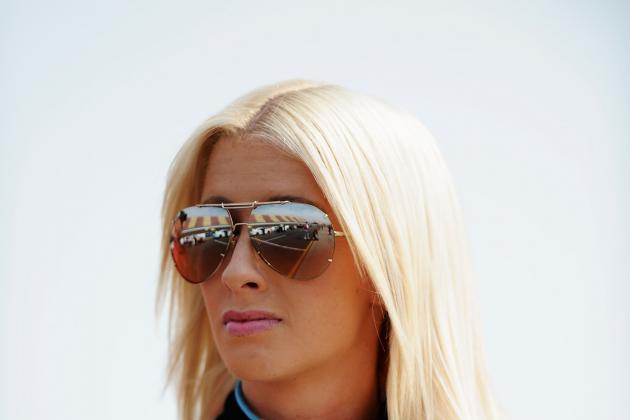 Jared C. Tilton/Getty Images

Now that is just plain unfair.
If NASCAR wants to sell more tickets, I think we might have found a marketing tool to use.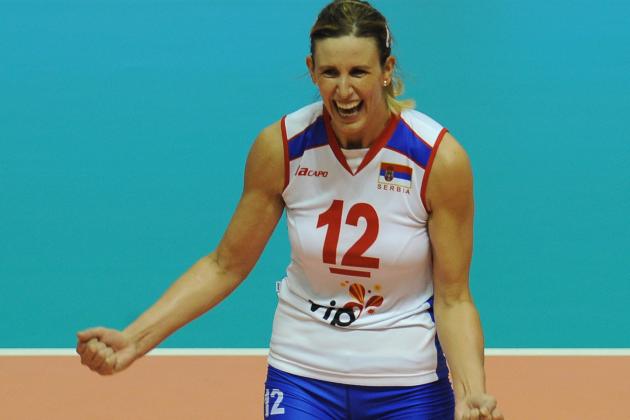 Valerio Pennicino/Getty Images

Jelena Nikolic is almost 12 feet tall when she plays because she covers so much ground. It doesn't hurt that her arms are just as long.
Did you know she can speak four different languages? She can speak Serbian, English, Italian and French.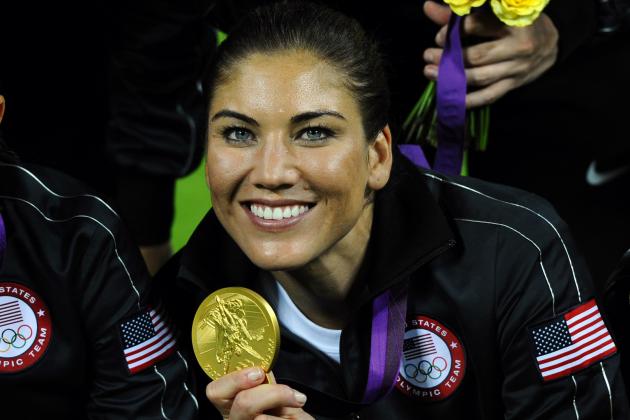 Christopher Hanewinckel-US PRESSWIRE

Hope Solo is now married? What?
She recently married former NFL tight end Jerramy Stevens. So I guess the best part about it is that she will forever be a WAG.
Paul Thomas/Getty Images

Outside of David Beckham, Jessica Ennis was the biggest name in London this past summer.
I have never seen such a popular athlete in track and field, but those English fans truly loved her. So when she won a gold medal, the crowd went nuts. I might have even cracked a tear.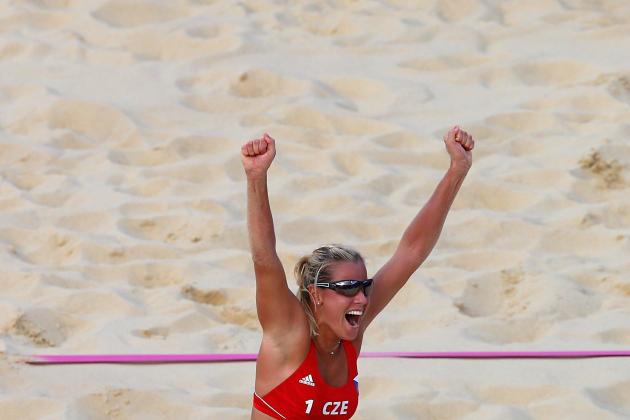 Ryan Pierse/Getty Images

Why aren't people watching beach volleyball? It is the greatest sport in the history of competition.
Marketa Slukova is young, talented, beautiful, and marketable. What's not to love?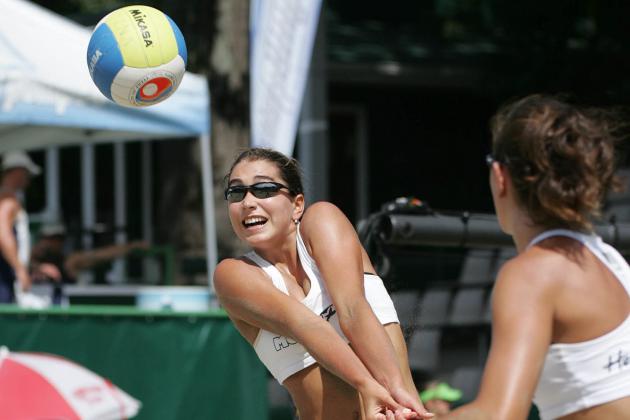 Sandra Teddy/Getty Images

Are you believing me yet?
Beach Volleyball. Beach Volleyball. Beach freaking Volleyball.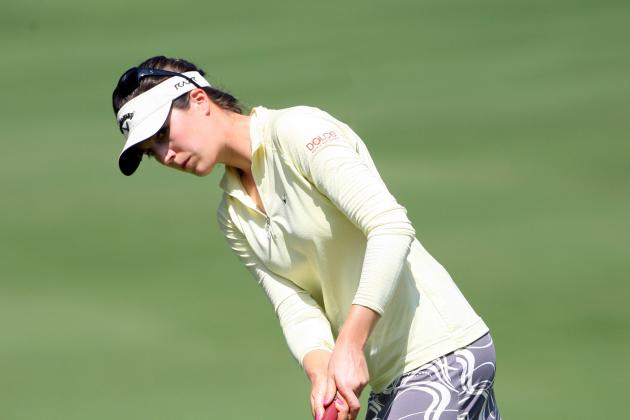 Hunter Martin/Getty Images

For the longest time, I thought Sandra Gal was nothing more than a marketing tool being used by the LPGA to grow their popularity.
I had no idea she was such a great, skilled professional. She recently finished in the top 10 for the second time in 2012.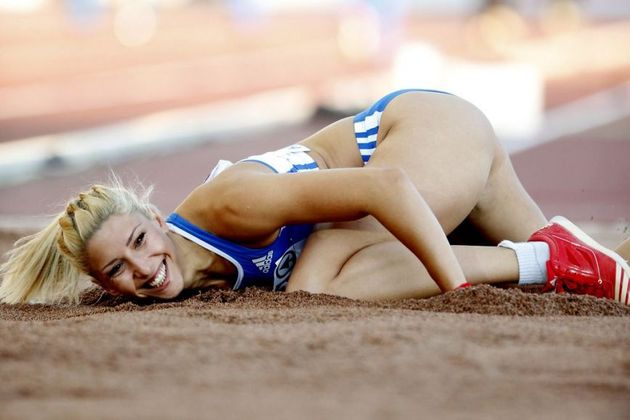 Image via tumblr.com
Voula Papachristou probably should have left her cell phone and any other electronic device she owned at home instead of bringing them to London.
At least she knows she can work her way back into the 2016 games in Rio. Just make sure to stay quiet this time.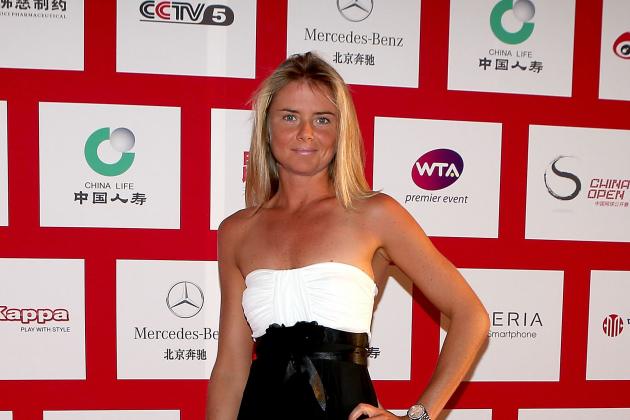 Matthew Stockman/Getty Images

Thank you ESPN. Thank you very much.
I want to buy a beer for the guy or girl who came up with the idea for ESPN The Body Issue. Maybe even two beers.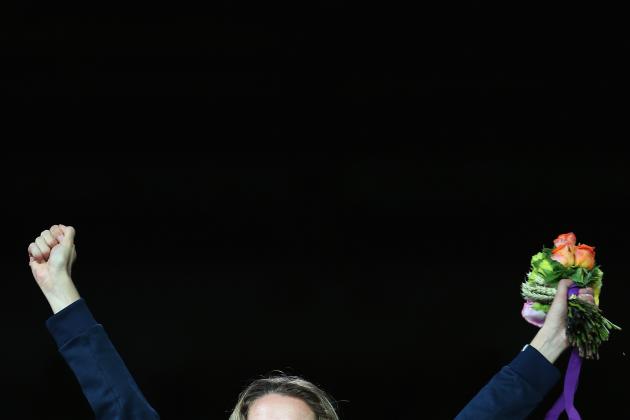 Hannah Johnston/Getty Images

Valentina Vezzali is fencing. She has been for years.
The beautiful Italian owns nine Olympic medals, six of them gold. Not too shabby for fencing.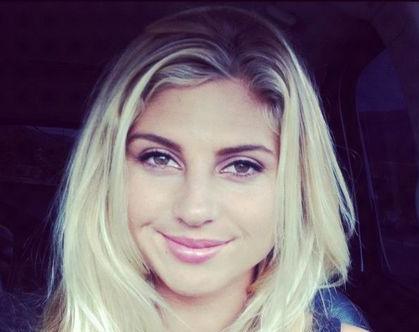 Image via twitter.com
Who is the top ranked female surfer in the world? You are looking at her.
Sage Erickson is more than a beautiful smile, she is one of the greatest surfers in the world, male or female.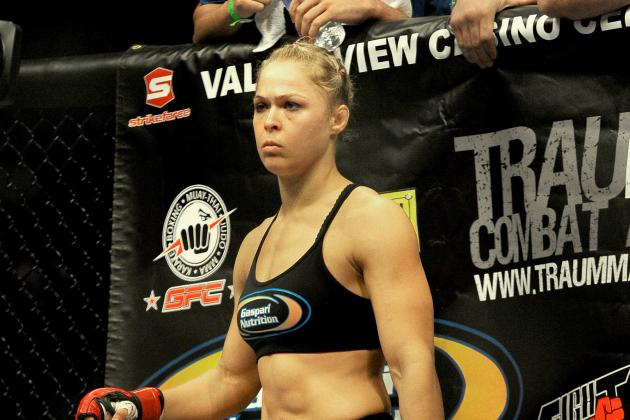 Jayne Kamin-Oncea-US PRESSWIRE

Welcome to the UFC!
I wonder how long it will take Dana White to match Ronda Rousey up with a male UFC fighter.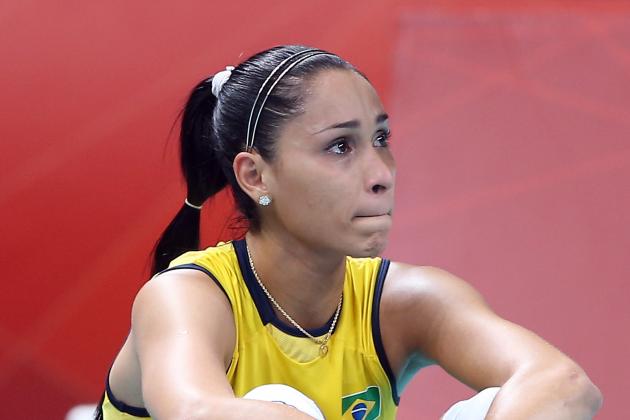 Elsa/Getty Images

Brazil's women's volleyball team went into the London Olympics ready to defend their 2008 gold medal and, for a few days, it didn't look like anyone would beat Team USA.
Then they did.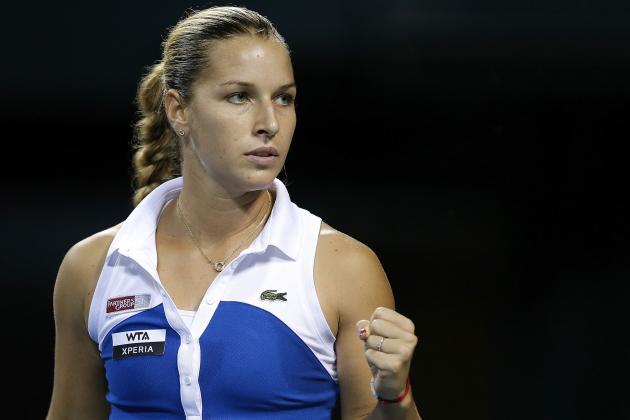 Kiyoshi Ota/Getty Images

Up until I heard about Dominika Cibulkova, I thought Bratislava was nothing more than a joke from Eurotrip. I am glad to know it is a real place. With real people.
So when she isn't winning tennis matches, she can go enjoy herself in Bratislava, a real place.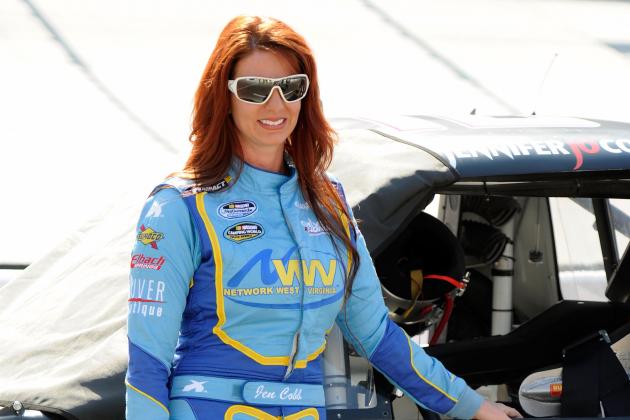 John Harrelson/Getty Images

Jennifer Jo Cobb, that is all I need to say. If you don't follow NASCAR, then you have no idea who this is, but you should now.
She is a veteran Truck Series and Nationwide driver. And at the age of 39, she keeps looking better each time I see her.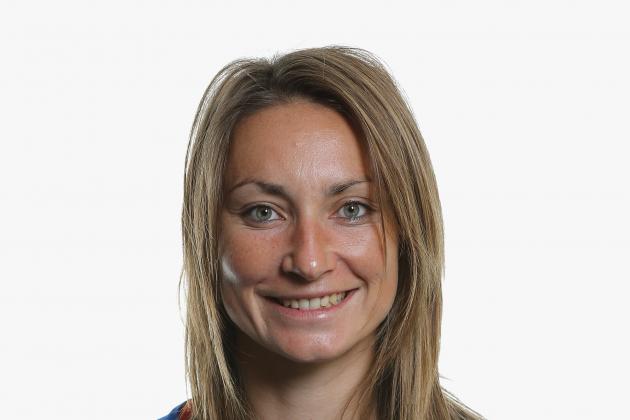 Jeff J Mitchell/Getty Images

A tall, skinny, quick, young, speedy scorer that plays soccer for the France national team. Shocking.
Gaetane Thiney is one of the many speedsters on team France that will be the reason they win a championship one day.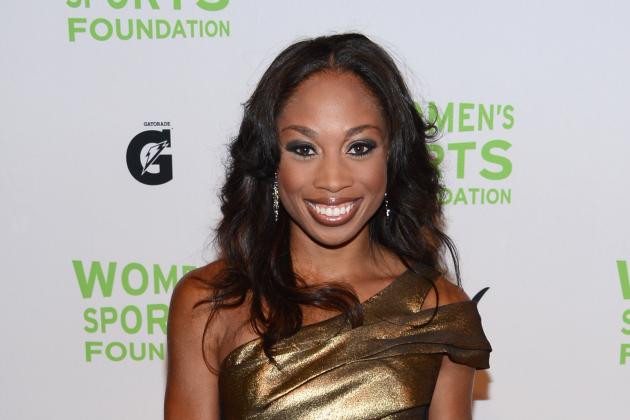 Jason Kempin/Getty Images

Now what?
Where does Allyson Felix go after her three-gold-medal performance in London? Does she retire or just lay low until 2016 and Rio?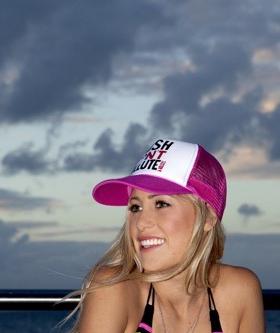 Image via grindtv.com
I chose the wrong line of work. I should be surfing in Hawaii instead of writing on my computer.
The women, for one, are at a premium. Of all the female surfers in the world, Erica Hosseini is easily one of the most beautiful. Fact.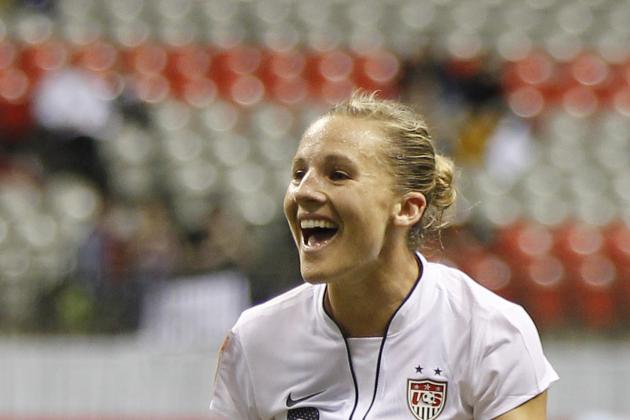 Jeff Vinnick/Getty Images

I can't get over how adorable Amy Rodriguez is. I just want to give her a hug.
But then I watched her play in the 2011 FIFA Women's World Cup and I realized that she might look cute and cuddly, but she is still a fierce competitor.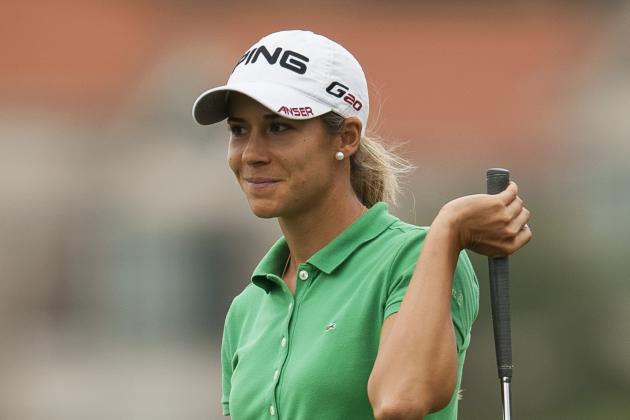 Victor Fraile/Getty Images

Azahara Munoz only has one career LPGA tour win and one LET tour win.
That would be two more than any of you have. In case you were wondering.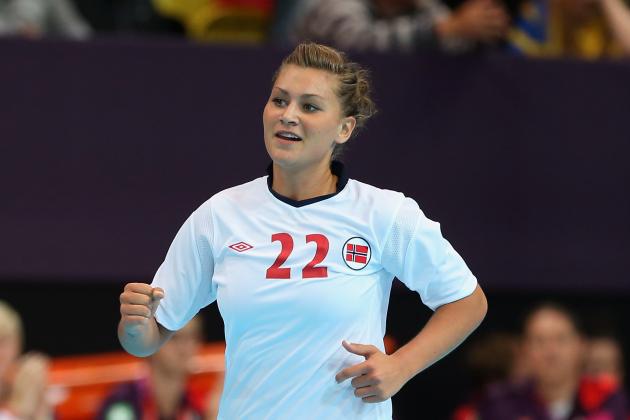 Jeff Gross/Getty Images

Where can I watch handball on TV? Is there a channel somewhere that shows obscure Olympic sports year round?
If so, I want in. I want to be able to watch the Olympic gold medalist Amanda Kurtovic play the game she was born to play.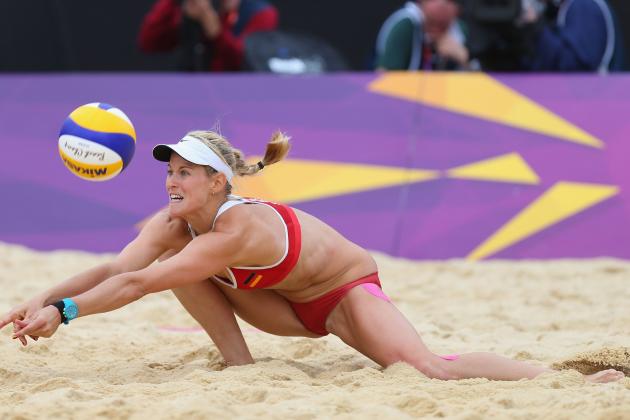 Ryan Pierse/Getty Images

Sara Goller is an old vet of beach volleyball and she isn't even 30 years of age.
All I can say is Rio, Rio, Rio.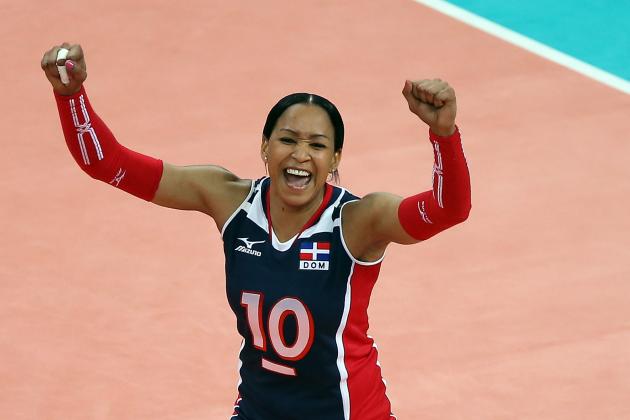 Elsa/Getty Images

Milagros De La Cruz is part of a feisty Dominican Republic squad that was ousted from the Olympics in the first round by Team USA.
At the age of 34, this just might have been her last season. But who knows.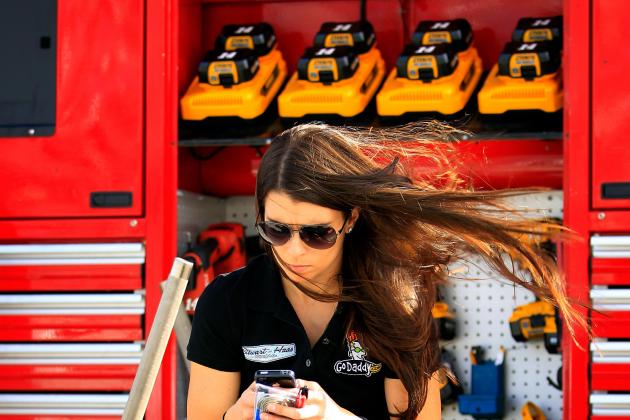 Chris Trotman/Getty Images

This picture of Danica Patrick playing on her cell phone pretty much sums up her 2012 NASCAR season.
We just might have to wait another year before she wins her first NASCAR race.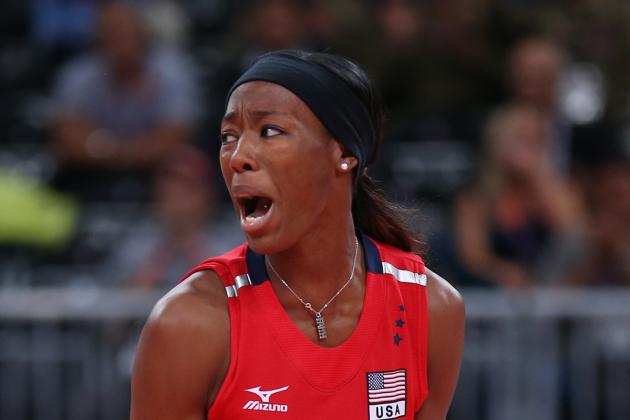 Elsa/Getty Images

I say this every time but I feel that this stat is so amazing it bears repeating.
Destinee Hooker has a 43" standing vertical jump. If you don't know how high that is, only two players in NBA history have been recorded with a higher vert.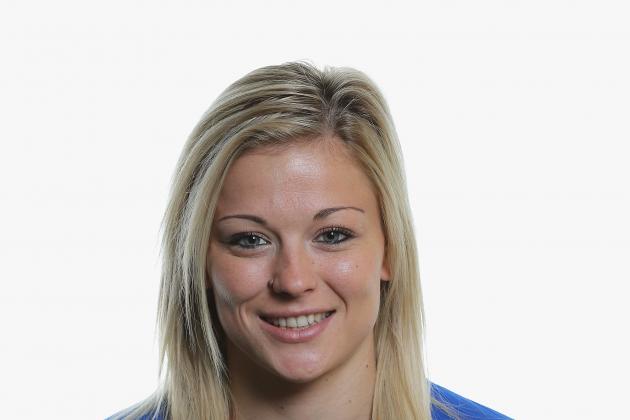 Jeff J Mitchell/Getty Images

Defenders aren't known for scoring in soccer so it is normal for Laure Boulleau to only have one career goal for France.
I expect that to change by 2015 and the FIFA Women's World Cup. Trust me.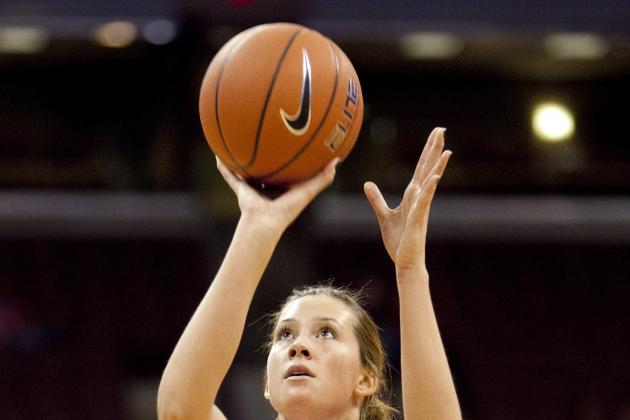 Greg Bartram-Us PRESSWIRE

Serbian women are beautiful. That is a fact.
Aleksandra Dobranic is Serbian but she is also a Buckeye, coming off the bench for Ohio State's women basketball team.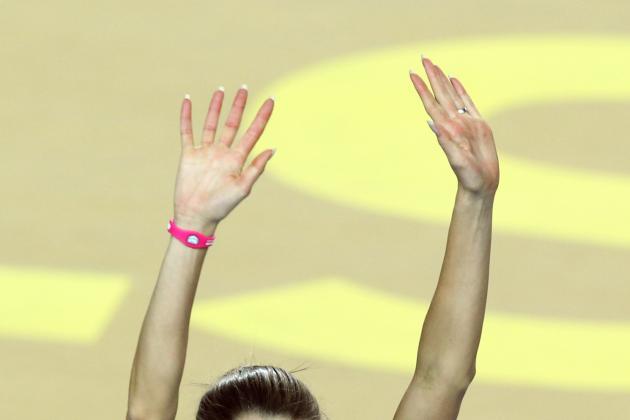 Ian Walton/Getty Images

If you think you are in shape and have a ripped body, not so fast.
Ebba Jungmark is here to show you what ripped really looks like.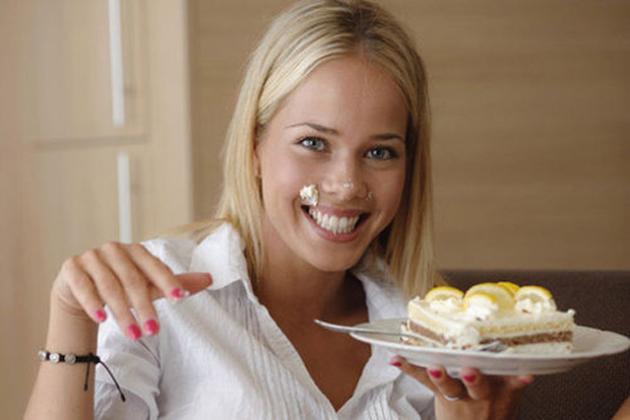 Image via rt.com
I am not the only person to realize Antonija Misura is a beautiful woman. She has been recognized by several other media outlets and has also been called the sexiest woman in sports.
As of now, she has stayed away from modeling but we all know she will eventually make the leap.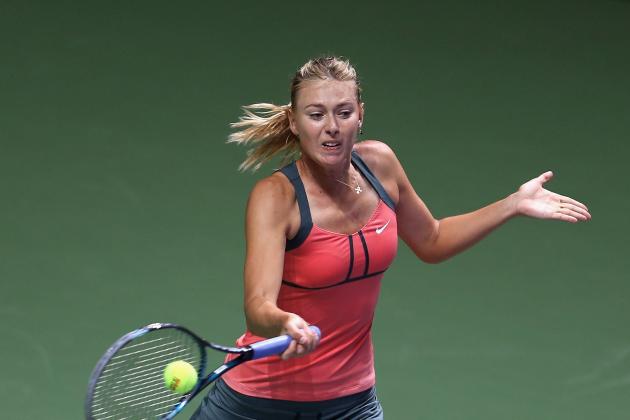 Julian Finney/Getty Images

It took 25 years but Maria Sharapova can finally call herself the winner of a career Grand Slam after she won the 2012 French Open.
Only six women have ever accomplished that feat. And now she is one of them.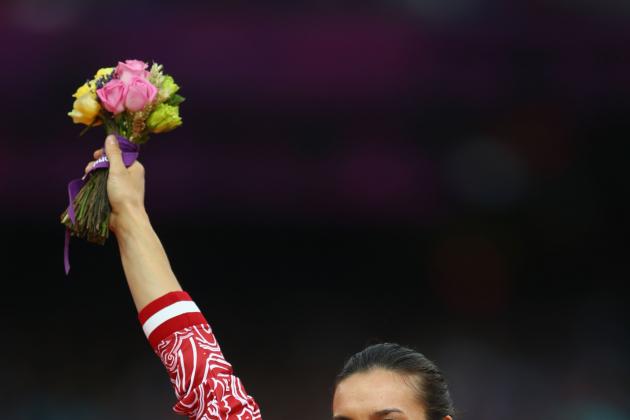 Paul Gilham/Getty Images

There will never be a female pole vaulter as good as Yelena Isinbayeva. Some might come close, but let's not get crazy, she was the greatest to ever live.
I am just glad I was here to watch her dominate a sport that gets no love.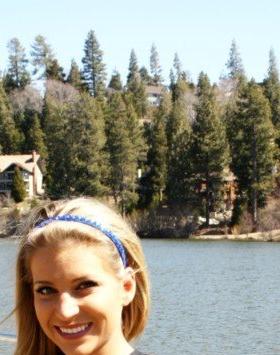 Image via golf.about.com
Hello, Meghan Hardin. Let me introduce you to my readers. They have been waiting for a beautiful golfer like yourself.
So go and win you a LPGA championship. Thanks.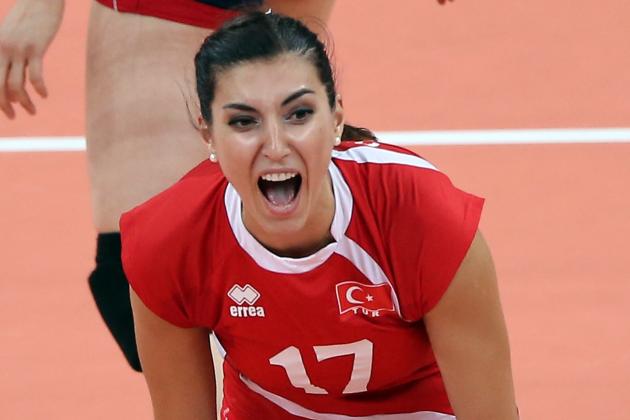 Elsa/Getty Images

Neslihan Darnel is the 2012 FIVB World Grand Prix "Best Server." And that is her most recent accomplishment. You can add that to the trophy case and all 493 awards she owns.
And just in case you ask, she is happily married, guys. Sorry.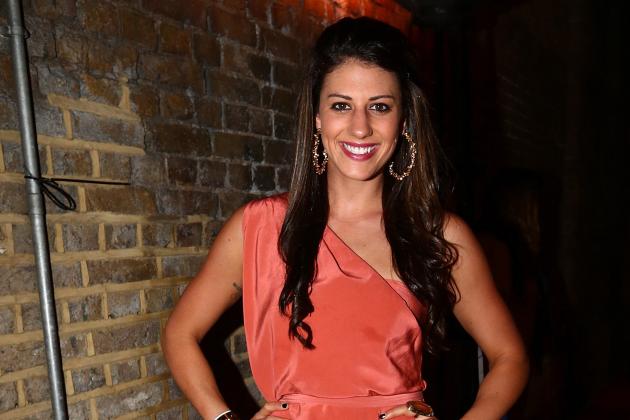 Chris Hyde/Getty Images

I couldn't have this list without featuring one of my all-time favorite female athletes.
If Stephanie Rice retires, we will miss her. I might miss her a little more than you.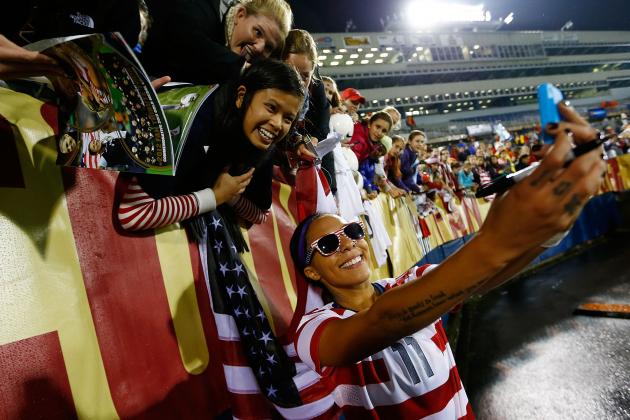 Jared Wickerham/Getty Images

If you don't own a computer, get one. If you lost your phone, find it. If you have no idea what Twitter is, I feel bad for you, son.
Because the rest of us do. And we follow Ms. LeRoux. She is the female Jim Carrey. If he played soccer, that is.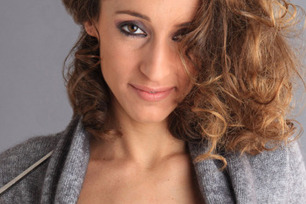 Image via pocketdoppler.com
Gold, gold, gold, gold, gold, gold...
I will get tired of typing gold before I run out of gold medals Elisa Di Francisca has earned in her fencing career.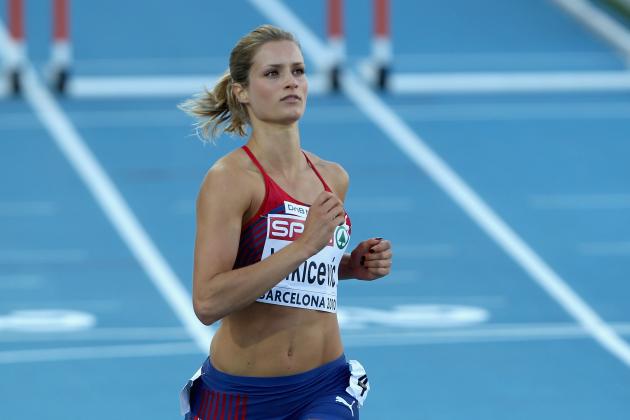 Ian Walton/Getty Images

Christina Vukicevic owns a few Norwegian records in track and field, both in the hurdles. She owns the record for fastest 60m and 100m hurdles.
Too bad she didn't make it to London this year; we just might have had a world record to talk about.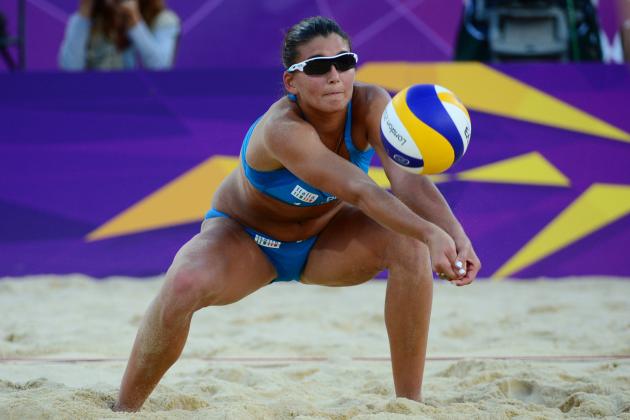 Kyle Terada-US PRESSWIRE

One of the most underrated aspects of the Olympics is all the beautiful women. Where do they come from?
Marta Menegatti is not only a future beach volleyball superstar, she is a smokeshow of hottness.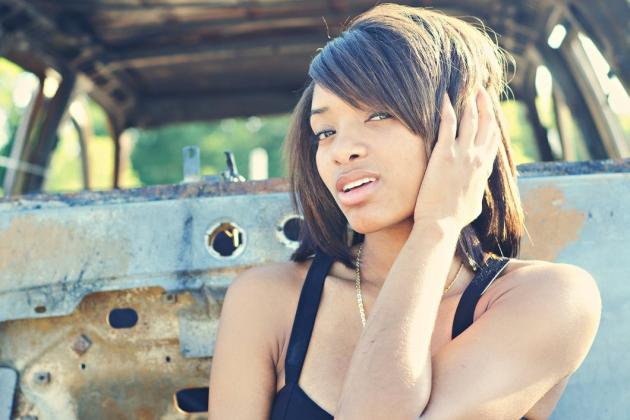 Image via KeylaSnowden.com
Keyla Snowden is beautiful, there is no way around it.
But earlier in 2012, she played a little basketball for the University of Kentucky, too. Some might consider her a double threat.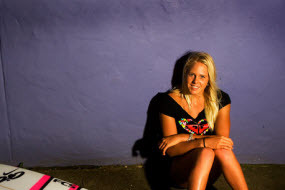 Image via grindtv.com
This Australian beauty is making a run in the ASP World Rankings. She has only one finish outside the top 10 in 2012 and it was 13th.
Laura Enever is one of the hottest young names in surfing and don't you forget it.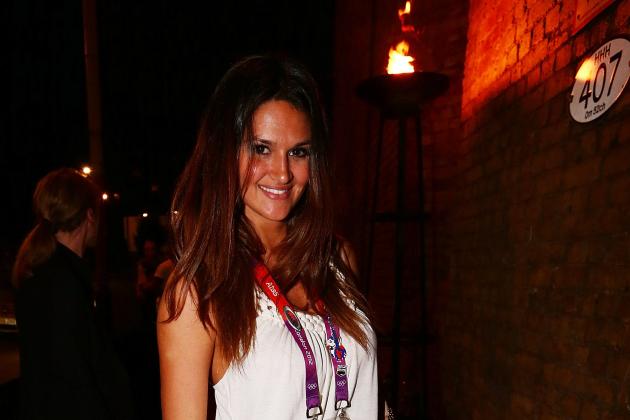 Chris Hyde/Getty Images

Even if her finish in London was less than stellar, Franco, a javelin thrower, was still one of the Games' most popular athletes.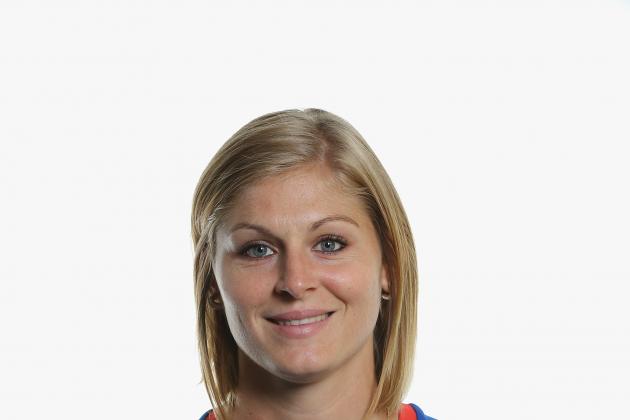 Jeff J Mitchell/Getty Images

How good are the French women's soccer team? Its roster is filled with young talent that showed signs of what they could be in a few more years.
You can quote me on this, France will be ranked No. 1 going into the 2016 Summer Olympics in Rio.
Image via tumblr.com
Blair O'Neal continues to expand into the popular female golfer we had hoped she would become when she won Big Break.
So stay patient she will start winning one day. It just might take a while.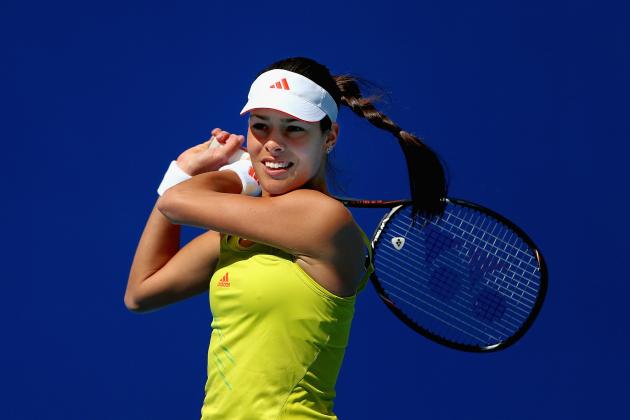 Feng Li/Getty Images

I love Ana Ivanovic. I have no shame in admitting it, either. I think she is a beautiful woman that has a very strong tennis game.
If not for a few injuries, who knows where she would be ranked this season?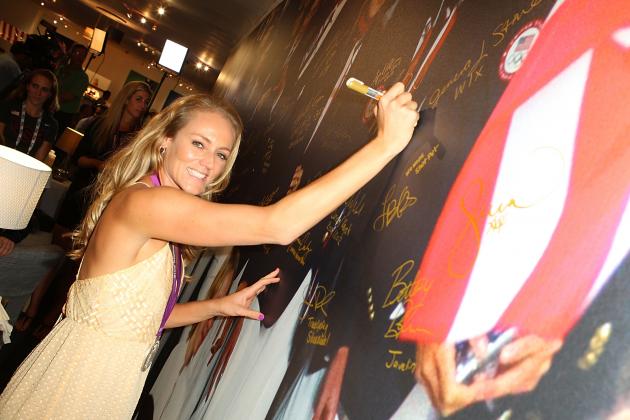 Joe Scarnici/Getty Images

It wasn't a gold medal, but it was closer than most people have come to winning one.
Jennifer Kessy has been playing volleyball almost her entire life and never got a chance at an Olympic gold medal until 2012, when she and teammate April Ross finally got their chance.
Close but no cigar. A silver medal is still a silver medal.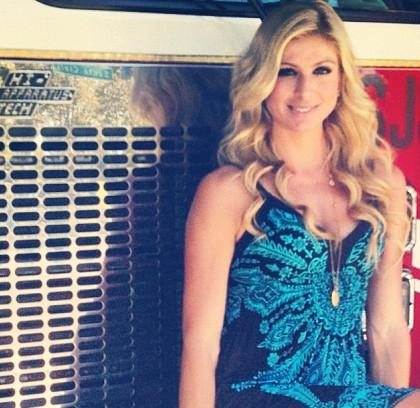 Image via maggievessey.com
Maggie Vessey is a hidden treasure. The distance runner, who specializes in the 800m, is more than just a beautiful woman, too. She is one of the better runners we have yet to see on the main stage.
Rio? Possibly. Hopefully.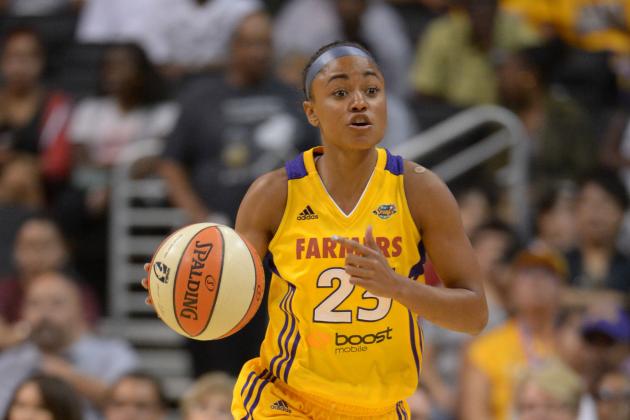 Kirby Lee-US PRESSWIRE

Dawn Evans joined the LA Sparks at the right time. They have been a mediocre team since 2006 but went 24-10 in her rookie season.
Now she just needs to find more playing time next season.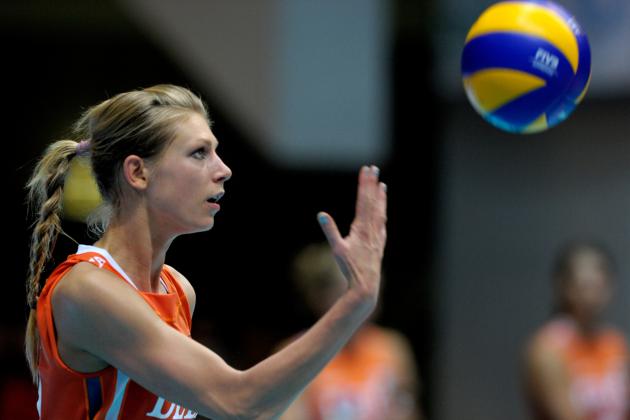 Claudio Villa/Getty Images

The Netherlands don't win too many national championships in volleyball.
But Manon Flier wins all on her own. She has more trophies than a little league T-ball party.
Ian Walton/Getty Images

Darya Klishina decided to change sports in hopes to have a better shot at winning an Olympic medal.
So not only was she good at long jumping, but she quit to become a distance runner. Impressive indeed.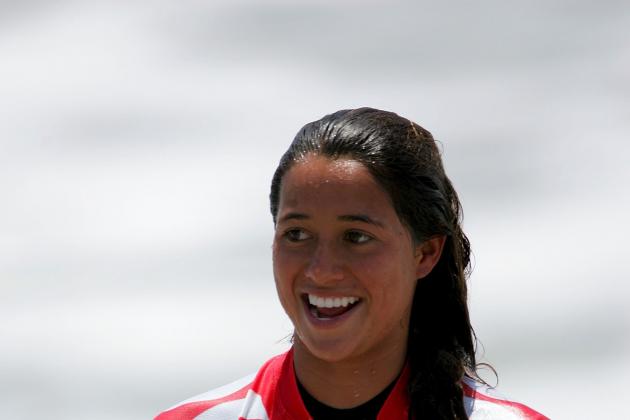 Victor Decolongon/Getty Images

Malia Manuel? Who?
This is the name you need to write down. She is the one you will be talking about by 2014.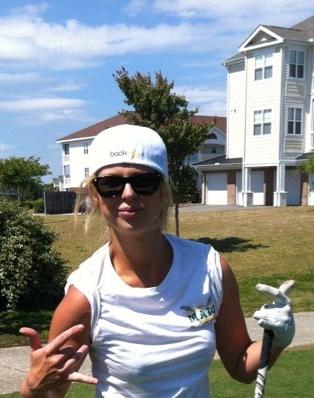 Image via whosay.com
Will we ever get to watch Sophie Horn play golf on national TV?
If she sticks around for four more years, we will. She would look great in Rio. I can't wait.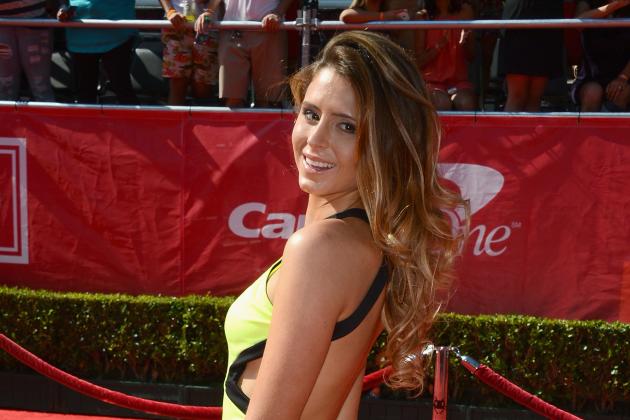 Frazer Harrison/Getty Images

How would you imagine a life where all you did was surf, party, surf, party, surf, workout, surf some more, and go to the ESPY's?
You don't have to if you are Anastasia Ashley. She lives the dream every single day of her life.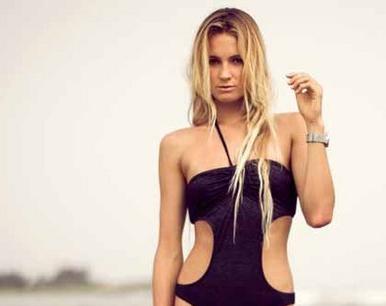 Image via twitter.com
2012 is not quite the best season of Alana Blanchard's young career, but that doesn't mean she isn't still having a good one.
She has had five top 10 finishes and is currently ranked seventh in the ASP Women's World Ranking.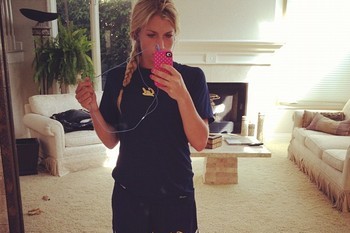 Image via twitter.com
The University of Cal softball team will never quite be the same now that Jace Williams has graduated.
They might win a few games, maybe even a championship, but they won't look as good when they do.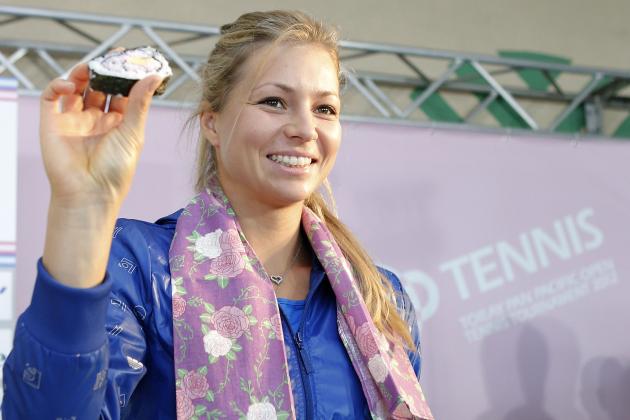 Kiyoshi Ota/Getty Images

You don't have to use the Internet to know about Maria Kirilenko.
She is a tall, beautiful, tennis star from Russia. I love me some female Russian tennis players.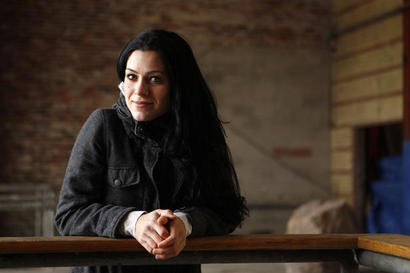 Image via thestar.com
If Canada went into the 2012 London Olympics trying to prove something, they did just that when they played the USA in one of the most epic soccer matches of all time.
Jonelle Filigno helped for the first 67 minutes before being subbed out for another beauty you will see later on the list.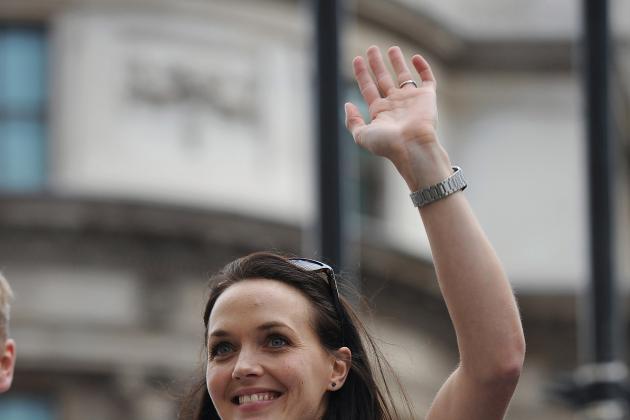 Christopher Lee/Getty Images

It won't be long before we call Victoria Pendleton one of the best track cyclist in England's history.
I know very little about the sport but when I heard about the spandex uniforms, I ran to my DVR.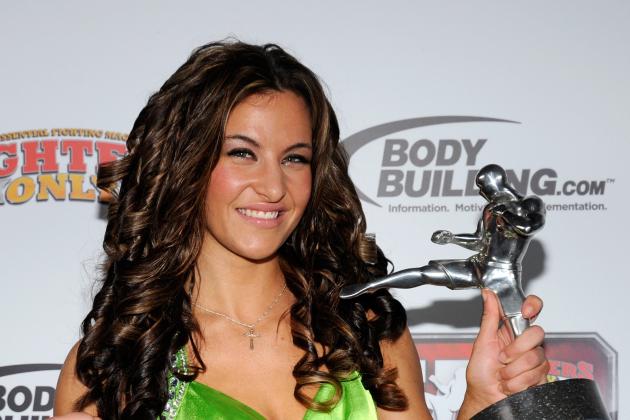 Ethan Miller/Getty Images

I hope Miesha Tate doesn't take a year off from fighting. I would miss her more than a fat kid misses cake. But not just any cake, chocolate cake with chocolate frosting. And sprinkles.
Wait, what was I saying? Now I just want to eat cake and dream about Miesha Tate.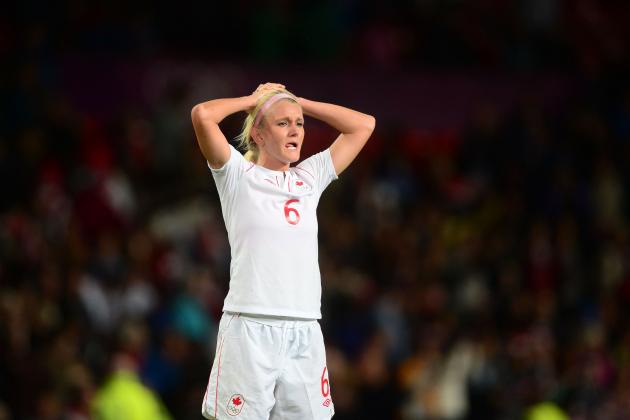 Mark J. Rebilas-US PRESSWIRE

It wasn't because Canada didn't play hard enough. It wasn't because USA was the better team that night. It wasn't because the refs were terrible.
USA beat Canada in the 2012 Olympic semi-finals in one of the most intense soccer matches we might ever see.
And you have to admire Canada's fight. They came back and won the bronze medal a few days later.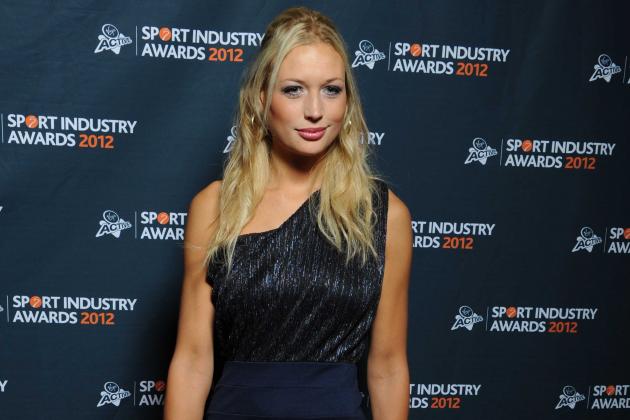 Gallo Images/Getty Images

When surfing was invented many years ago, I don't think the founders had any idea the type of women that would one day become part of the sexiest sport today.
Roxy Louw might not be winning championships just yet, but she has the abilities to.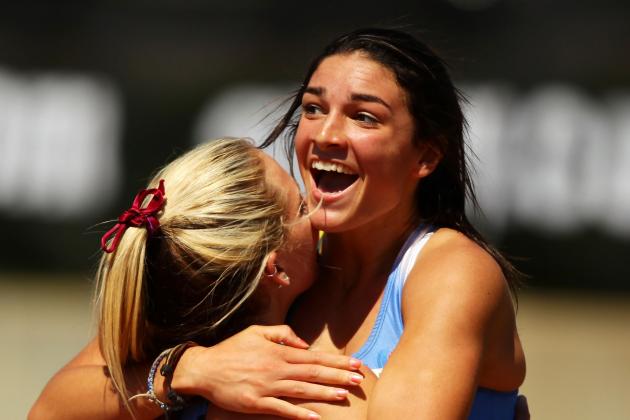 Matt King/Getty Images

In less than four years' time, we will all be amazed with the beautiful Australian hurdler, Michelle Jenneke, when she makes her Olympic debut.
Get to know her now while the world is still outside playing hopscotch.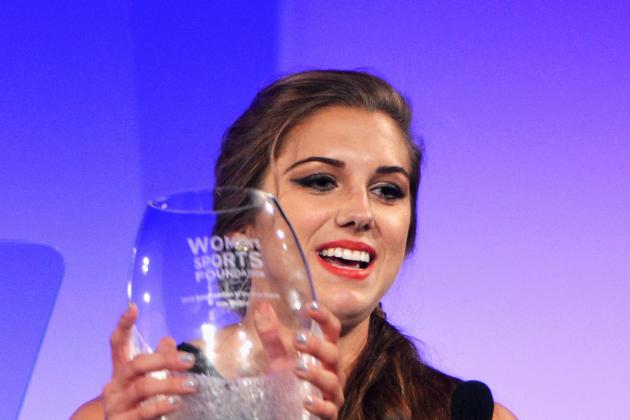 Mike Coppola/Getty Images

Alex Morgan just might be the greatest thing to happen to soccer since Pele. Not only is she one of the best female scorers in the world, she can rock a sundress, too.
She is part of the new age of women's soccer. And we all love it.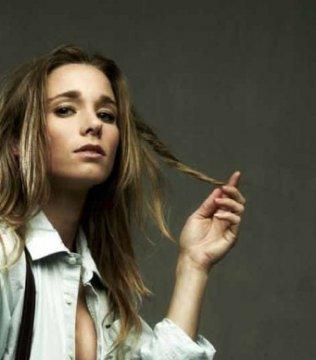 Image via globalgrind.com
Prior to 2012, I had never heard of the Dutch two-time Olympic gold medalist Ellen Hoog. I never watched her play or even knew what she looked like.
Boy, was I missing out.