UFC 154 Results: The Biggest Surprises from Montreal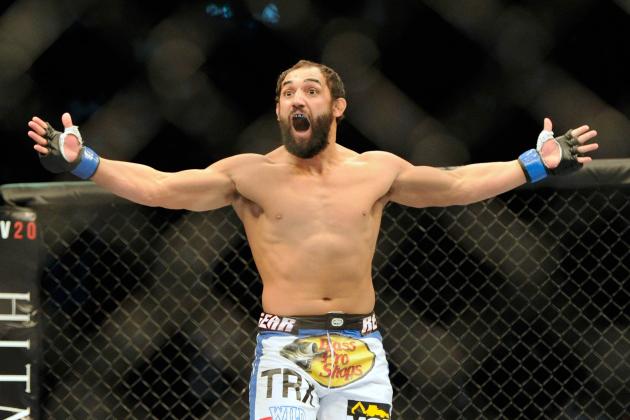 Eric Bolte-US PRESSWIRE

UFC 154 went down Saturday night at the Bell Centre in Montreal, Quebec. In the main event, Georges St-Pierre defeated Carlos Condit to unify the welterweight title. Though that particular outcome was consistent with most observer expectations, there was a surprise or two in the action. For that matter, several fights up and down the card had moments or outcomes that, to one extent or another, ran counter to conventional wisdom.
Here are five surprises from the Great White North.
Begin Slideshow

»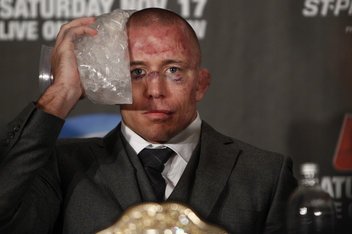 Photo credit: Esther Lin for MMAFighting
If you looked at the two mugs after the main event and had no idea what happened, you might have assumed a major upset had just taken place.
Though Condit certainly received his own share of rather visible punishment—most notably a gushing cut below his hairline—St-Pierre appeared much worse for wear. A demonic Condit head kick in the third round raised a hematoma near St-Pierre's right temple, and several sharp punches, elbows and knees had the UFC's most marketable face marked up pretty, well, markedly.
Condit has an aggressive and violent fighting style, but I don't think anyone foresaw St-Pierre talking through a bag of ice at the post-fight press conference.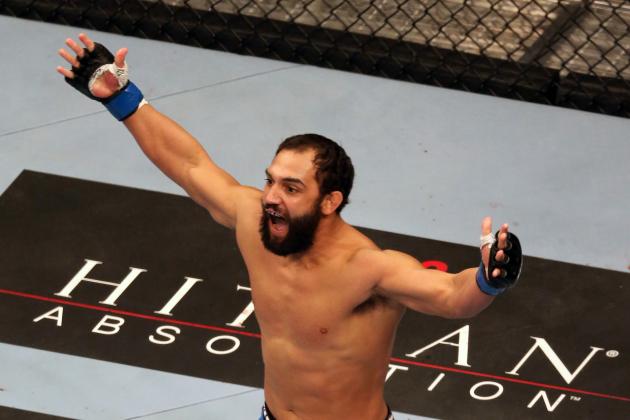 Tom Szczerbowski-US PRESSWIRE

For this one, the surprise was in the sameness.
Every close MMA observer knew about the immense power generated by Johny Hendricks' left hand. So on its face, the fact that he scored a knockout in the co-main event—and probably earned himself No. 1 contender status in the process—is not shocking.
What did come as a surprise, at least to me, was just that little sense of history repeating.
Almost exactly one year ago, Hendricks first entered the division's top echelon with a knockout of Jon Fitch. That one came by left hook, and took a mere 12 seconds.
Last night, Hendricks must have been feeling sluggish, because this one dragged on for 46 seconds, before Hendricks stiffened Martin Kampmann with—you guessed it—the left hook. Afterward, UFC President Dana White noted at the post-fight press conference that Hendricks even landed the punch in the same spot as he had with Fitch.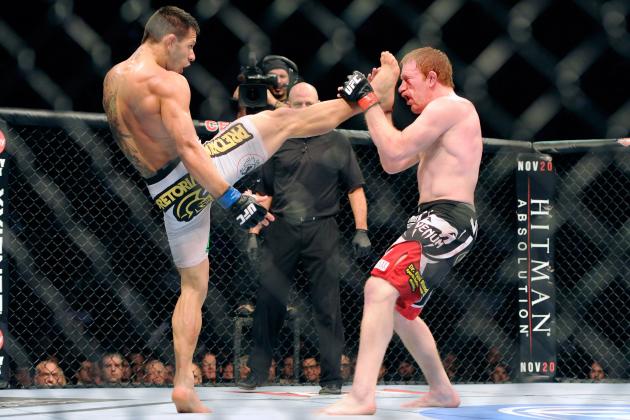 Eric Bolte-US PRESSWIRE

Mark Bocek is one of the lightweight division's best technical grapplers. But he's not the most athletically gifted fighter. If you'll pardon the technical parlance, Mark Bocek is slower than the maple syrup of his native Canada flowing up a muddy hill one gray December morn.
So everyone figured that if the fight stayed standing, Dos Anjos would have an edge, but if it went to the ground, Bocek could grind out a victory.
Pretty surprising, then, when Dos Anjos not only stifled Bocek's takedowns but landed several of his own and dominated the fight in all phases. He exposed and embarrassed Bocek, and in so doing established himself as a new force at 155 pounds.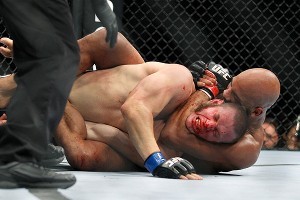 Photo credit: Ed Mulholland for ESPN.com
World-class Muay Thai striker Cyrille Diabate is not exactly the slickest customer when it comes to the ground game. Last night, he didn't need to be after Chad Griggs made what was in retrospect possibly a regrettable decision when he lifted his chin and charged directly into Diabate's fist.
Griggs followed up that strategic stroke by falling down, and Diabate proceeded to seek and then sink in a rear-naked choke. It was the light heavyweight's first submission win in six UFC contests.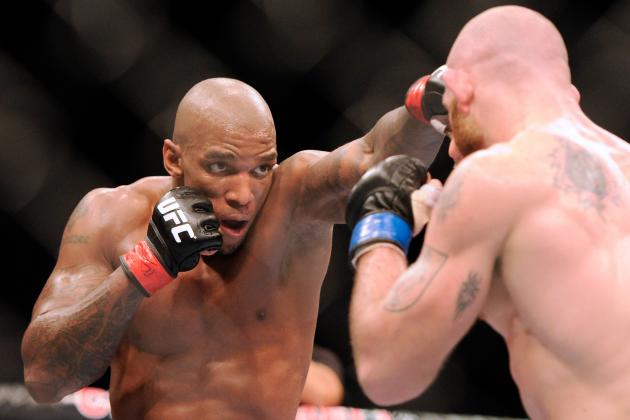 Eric Bolte-US PRESSWIRE

Probably the biggest surprise of the night came from the middleweight division, where Tom Lawlor clashed with up-and-coming Francis Carmont.
Though Carmont avoided major damage, Lawlor was the clear aggressor throughout. Carmont seemed to be thinking too much as Lawlor charged forward time after time.
So it came as a bit of a noodle scratcher when the judges awarded the split-decision win to Carmont. And in a sign of how vexing it truly was, the French Canadian crowd booed the win from Montreal resident Carmont.