Oklahoma vs. West Virginia: Live Scores, Analysis and Results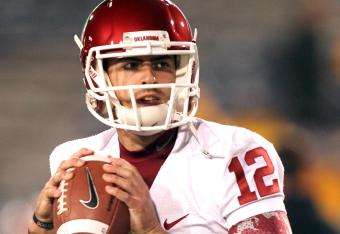 Oklahoma 50, West Virginia 49—FINAL

Oklahoma survived a classic Big 12 shootout in Morgantown, 50-49 over West Virginia. Several records were obliterated along the way in a game that featured video game numbers on offense.
Landry Jones completed 38 of 51 passes for a school record 554 yards and six touchdowns on his way to becoming the third player in FBS history with four years of 3,000 yards or more passing. Tavon Austin set a Big 12 record with 572 all-purpose yards, including 21 carries for 344 rushing yards and two touchdowns.
The Sooners ripped down the field for a touchdown on the game's opening drive and controlled the contest for the rest of the half. West Virginia flashed its dynamic attack often, but Oklahoma's blistering pace never let the hosts catch up. Each side traded big play after big play as OU took a 31-17 lead into halftime.
WVU turned the tide after the break by scoring four of the next five touchdowns. Austin seemed unstoppable as he took off for gashing gains on nearly every touch. The Mountaineers completed three touchdown drives over 90 yards.
But with all the momentum against him, Jones came up with two clutch touchdowns of his own during the fourth quarter. The second came on fourth down from the four with 24 seconds remaining.
A series of missed two-point conversions skewed the score but left Oklahoma ahead by one point out of 99 total scored in the game.
The loss is West Virginia's fifth consecutive defeat and leaves the Mountaineers one victory shy of bow eligibility. The win keeps OU in the BCS hunt as a Kansas State loss keeps their Big 12 title hopes alive.
Here's my list of 10 things we learned from tonight's game
SOONERS WIN 50-49!
A Hail Mary gets knocked down at the goal line. Sooners survive a wild one.
WVU gets to the 49 with 2 seconds left. Get it to Austin.
WVU sets up on the 23 with no timeouts, but Mountaineers are just one Austin touch away from being bowl eligible.
TOUCHDOWN SOONERS!
Jones hits Stills on a slant into the endzone for his sixth TD. The numbers in this game are beyond video game silly. Another 2PC fails.
It's not over yet.
Oklahoma 50, West Virginia 49—0:24 Q4
Now it's Oklahoma's turn to go for it on 4th down. Only 27 seconds left. It all comes down to this.
Wow by the time I get finished updating one score, the other team is already on the doorstep for another. WVU missed the 2PC. OU is now on the WVU 4.
TOUCHDOWN MOUNTAINEERS!
Geno Smith tosses an absolute perfect bomb to Stedman Bailey for a 41-yard score two plays after a 47-yard run by Tavon Austin. This game is out of control. The offense just keep swapping big blow after big blow. With just under three minutes left we should have time for about five more scores.
Oklahoma 44, West Virginia 49—2:53 Q4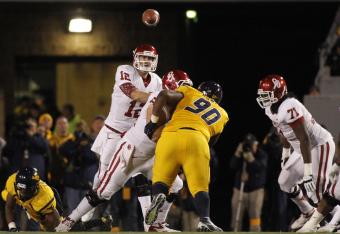 TOUCHDOWN SOONERS!
Landry Jones completes his surgical drive with another zinger to the back of the endzone where Kenny Stills makes a nice leaping catch. Jones was clearly not fazed at all by nearly throwing the game away a few plays earlier. Two-point conversion is caught out of bounds, but OU still gets the lead back.
Whew, are you following all of this. Hard to keep up with, but so much fun. And it's not over yet.
Oklahoma 44, West Virginia 43—4:10 Q4
Tuned in just in time to see WVU has 658 yards on 75 plays. 8.8 yards per play. Austin has 19 carries for 292 yards, 2 TDs? WUT?!?!

— Brandon Chatmon (@BChatmon) November 18, 2012
Landry Jones recovers from a near disaster by slinging two lasers down field to set the Sooners up at the WVU 11.
Wow, WVU drops an INT at midfield that would have been crushing for OU. Mountaineers have all the momentum and that would have been hard to recover from.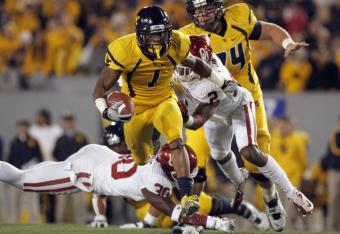 TOUCHDOWN MOUNTAINEERS!
Tavon Austin breaks loose again, this time for a 53-yard weaving run into OU territory. Two OU penalties set up WVU inside the 10. Geno Smith then finds Stedman Baileyin the corner of the endzone on the very next play.
WOW. All of a sudden WVU has its first lead of the game.
Oklahoma 38, West Virginia 43—7:12 Q4
Muffed snap in shotgun by OU allows WVU to come up with another big stop on D. Sooner punt as WVU takes over with a change to grab its first lead of the night.
WVU ball on own 15 with 8:51 left in the game
Tavon Austin has broken the Big 12 record for all-purpose yards tonight. He has 432 and counting.

— Jake Trotter (@Jake_Trotter) November 18, 2012
WVU went for two, but the conversion failed. That missed PAT will now likely factor in to the final result no matter what happens.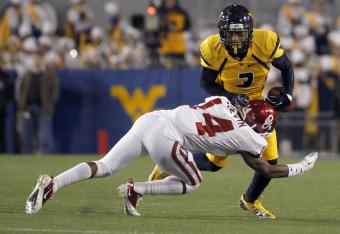 TOUCHDOWN MOUNTAINEERS!
Bailey punches it in on the next play. WVU just completely gashed the Sooner D for a 98-yard scoring drive on five plays. What a way to capitalize on a turnover. The play was reviewed and "stands."
Oklahoma 38, West Virginia 36—11:22 Q4
More poor tackling from OU as Bailey cuts his way out to the Sooner 28.
Wow, Geno Smith threads a bomb in between three OU defenders while pressured to Stedman at the 37. He needed to make a perfect pass there and delivered.
MOUNTAINEERS INTERCEPTION!
Landry Jones makes his first mistake of the night as Jenkins comes down with a pick just in front of the goal line. WVU continues to survive. This one will be fun all the way to the end.
Jones completes a huge 3rd-and-15 pass to Saunders to end the third quarter.
WVU stopped on 4th down inside the redzone.
I again like the call to go for it, and I again hate the call to run it up the middle when you have so many speedy and dynamic play makers.
OU nearly erases the drive, but drops a pick in the endzone. Mountaineers wanted pass interference on the play. They have a case, but they've gotten their share of big calls earlier in this game.
Good punt bounces harmlessly away from Austin but he does his damage a play later by ripping off a 56-yard run on another player where he looked stopped behind the sticks. This guys is ridiculous.
Oklahoma is about to punt for only the second time tonight. Waiting on the other end is... yup... Tavon Austin. Huge stop by WVU. Mountaineers have needed that for a while.
This article is
What is the duplicate article?
Why is this article offensive?
Where is this article plagiarized from?
Why is this article poorly edited?

Oklahoma Sooners Football: Like this team?