It was the best of times, it was the worst of times.
Depending on which team you support, feel free to take that sentence any way you like.
Napoli came out of the gate strong, as they often do, and AC Milan got off to a slow start.
Any of this sound familiar?
Napoli opened the scoring when Gokhan Inler fired a rocket that seemed to change direction in mid-air to beat Milan's Christian Abbiati.
It seemed like it was going to be a long day for Abbiati when Lorenzo Insigne, who started today in lieu of injured Goran Pandev, extended the lead. Abbiati got a piece of the ball, but the strength of the shot found its way over the goal-line regardless.
At that point, it seemed Napoli was going to benefit from the draw earlier in the day in Torino and gain some ground on Juventus. Milan had other plans.
The electric Stephan El Shaarawy tallied one late in the first half to give Milan some hope. Between that and whatever was said at halftime, Milan came out looking like a different side. With consistent pressure, Milan's chances piled on top of each other.
Then, Walter Mazzarri brought Insigne out of the game for Mesto, a move that seemed to illustrate his desire to play defense rather than add to the Partenopei's lead.
Shortly thereafter, Marek Hamsik shanked a one-on-one chance wide that should have made the game 3-1 in favor of the home side.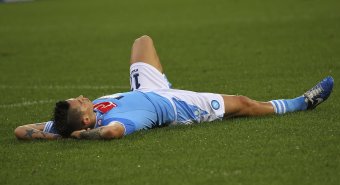 Marco Luzzani/Getty Images
Like in their game against Torino, had Hamsik scored, Napoli would have emerged victorious. Like their game against Torino, he missed and Napoli ended up with a draw.
El Shaarawy's second of the game in the 82nd minute was all but an inevitability, thus dooming Napoli to yet another draw to a squad they should have bested.
Looking ahead, El Shaarawy should continue to ignore Silvio Berlusconi and do whatever he wants with his hair, as his play has been the only thing worth cheering about for Milan fans.
He was the lone bright spot for Milan on Saturday, and it was enough to get his side a much-needed point on the road. His two tallies Saturday make him the top scorer in Serie A with 10 goals in 13 appearances this season.
Looking ahead, Milan carry quite a bit of momentum into their game against Juventus next weekend at home. In the end, they could end up doing quite a service for the Partenopei with a win next weekend.
Napoli are on the road against Cagliari who are hovering around the middle of the table. Napoli remains 5 points behind Juventus, but could find themselves outside of the top three after Sunday's conclusion. It all depends on how Fiorentina fair against Atalanta, and how Inter do against Cagliari.
One thing is for sure if they want to be real contenders for the Scudetto, Napoli must take this result seriously and figure out why they can't seem to play a solid 90 minutes.
They need to utilize Insigne more. Pandev has done well, but Insigne's speed is such an asset, especially since Napoli tend to rely on the counter attack. If Mazzarri had kept Insigne in against Milan, it's likely Napoli would have come out with a win. The way Milan's defense and Abbiati were playing, another goal was very possible.
Hindsight is always twenty-twenty, but for Napoli, they're left wondering what could have been had they played a strong 90 minutes.