GSP vs. Condit: 4 Reasons GSP Will Be the Undisputed Welterweight Champion
Eric Bolte-US PRESSWIRE

The UFC 154 main card will kick off at 10:00, November 17, and Georges St-Pierre vs. Carlos Condit will follow a couple hours after that.
The main event has garnered a wealth of attention because it marks St-Pierre's first action in almost 19 months, and signifies one of his toughest challenges in years.
But just how likely is it that Condit succeeds where so many others have failed before him?
Certainly not as significant as some of the UFC's promotional efforts have made it seem. In fact, Condit's chances are not particularly significant at all.
Here's four reasons why.
Begin Slideshow

»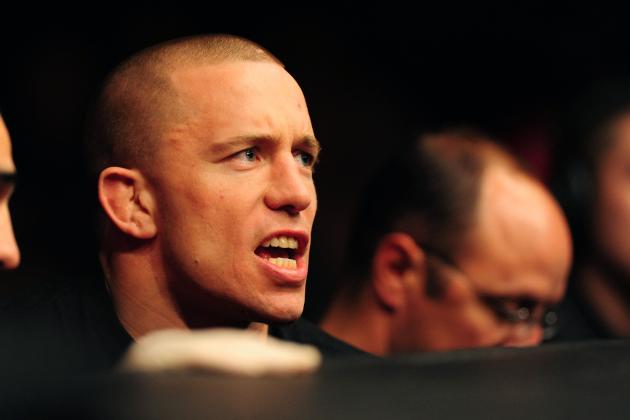 Mark J. Rebilas-US PRESSWIRE

Sometimes when you're on top, it's hard to stay motivated. Or so I hear.
At least that's something Georges St-Pierre has dealt with these past few years. Though he won uninterruptedly during that period he wasn't feeling the same hunger he had while coming up through the UFC ranks.
GSP has detailed his loss of motivation multiple times heading into his UFC 154 showdown with Carlos Condit, a theme cited in a Fuel TV video released this October detailing his comeback.
But no more.
According to St-Pierre (about the 1:10 mark of the video), the injury that has kept him sidelined these past 19 months has rekindled the fire underneath him, and he has rededicated himself to perpetual improvement.
That's good news for GSP fans, but not such good news for Carlos Condit.
If St-Pierre comes out highly motivated by his rediscovered dedication and a stadium packed with his hometown fans, it is hard to conceive a scenario that Condit pulls off the upset.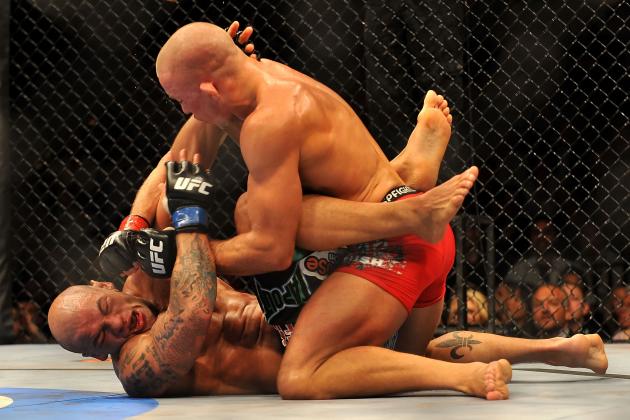 Jon Kopaloff/Getty Images

This key to victory for St-Pierre seems a bit mundane in comparison to his claims of rediscovered motivation, but it will certainly play a more tangible role in deciding the outcome of the fight.
Though Condit is dangerous off his back, he has nothing that St-Pierre won't be able to stifle while raining down blows.
Same goes for Condit's takedown defense—I'll toss it a little praise, but I certainly won't acknowledge that it's anywhere near good enough to stop St-Pierre's shots.
St-Pierre will use his takedowns to score points and look for stoppages from the top all night long, while simultaneously taking Condit's striking out of the equation.
As it always does, St-Pierre's wrestling will play a major role in seeing his hand raised at the end of the bout.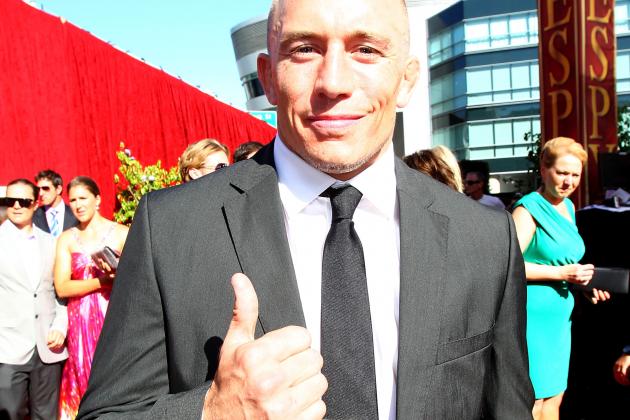 Alexandra Wyman/Getty Images

Tactically, Condit is known for his aggressive, in-your-face style—a style that has allowed him to finish 26 of the 28 opponents he's defeated.
While pressuring St-Pierre on the feet seems like a clever policy for Condit to institute, he doesn't really have the takedown defense to press forward without paying heed to his defensive openings he'll leave.
I'm sure this potential problem has not escaped the notice of Condit, so he might wish to implement an alternative set of tactics less reliant on aggression.
You know, like the ones he put on Nick Diaz.
The problem there is that St-Pierre is too disciplined to chase Condit around and open himself up by charging forward. Additionally, GSP is pretty dangerous on the feet when given space, so an inability to locate defensive cracks might be the least of Condit's problems if he takes this route.
Anyway, Condit approaches St-Pierre in the Octagon, the Canadian legend will have him covered.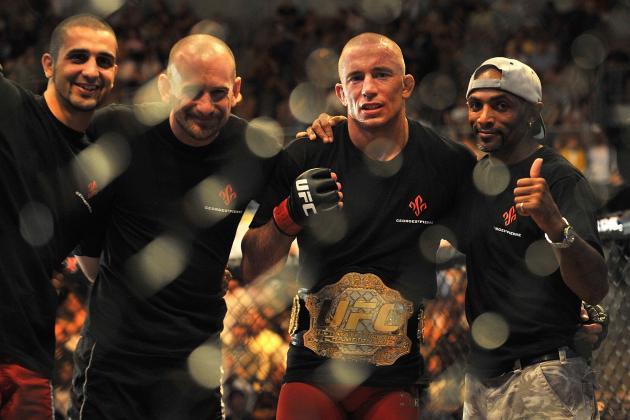 Jon Kopaloff/Getty Images

When it comes down to it, there just aren't enough places where Condit's ability exceeds St-Pierre's for me to believe he's got a significant chance of winning this fight.
St-Pierre's knee is a wild-card that could function as an equalizer, but otherwise Condit is simply overmatched.
Though he's a legitimately elite mixed martial artist, he just isn't on GSP's level. No one is. That's what has allowed the Canadian to assert himself as the most dominant welterweight of all time.
When St-Pierre is on his game there isn't a fighter at 170 that can take a win from him, Condit not excepted.
Whether on the feet or on the canvas, St-Pierre has the tools to outperform Condit for a full 25 minutes.
And outperform Condit for 25 minutes is precisely what he'll do at UFC 154—25 minutes or less.