UFC 154 Results: What's Next for the Preliminary Card Winners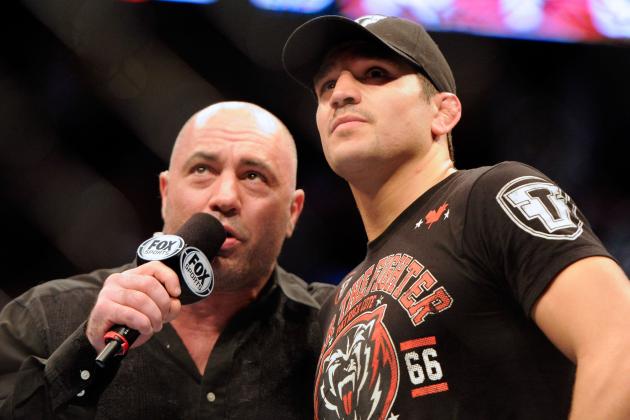 Eric Bolte-US PRESSWIRE

Oftentimes, the preliminary portion of UFC events feature quality names and outstanding competition. At UFC 154, that rang true once again, as notables like Matt Riddle, Ivan Menjivar, Sam Stout and former title contender Patrick Cote all competed on the undercard.
After seven fights that had much at stake, as many fighters had their arm raised in victory. In the fast-paced world of mixed martial arts, you've got to be looking ahead to your next fight the moment after the decision is read.
Here is a look at what's next for the preliminary card winners.
Begin Slideshow

»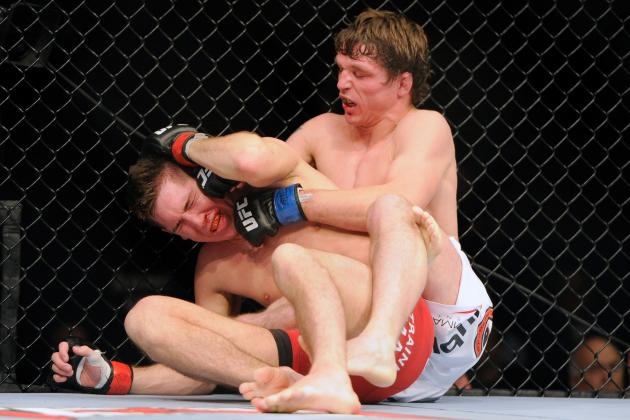 Eric Bolte-US PRESSWIRE

If you are like me, your first look at Darren Elkins came at UFC on Versus. In that contest, he met a debuting Charles Oliveira in a fight where he was submitted in only 41 seconds. If you had told me after that fight that he would win his next four fights to become a dark horse at 145 pounds, I would have laughed in your face.
Elkins has been very impressive as of late, and Saturday night was no different. His dominant performance against Steven Siler deserves applause, as well as a big bump in competition.
Now that he stands 4-0 in the featherweight division, it is time to give Elkins a real challenge. How about a former champion who has some momentum of his own.
Prediction: Darren Elkins faces Mike Brown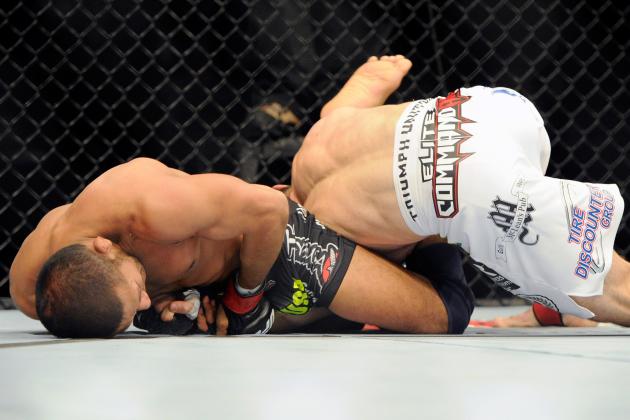 Eric Bolte-US PRESSWIRE

At 30 years old, Ivan Menjivar is a 12-year pro who has 34 fights under his belt. After submitting the debuting Azamat Gashimov in the first round, the Tristar fighter has put together an impressive 4-1 record.
This was the 25th win in the storied career of Menjivar, and he deserves to be facing other veterans instead of settling for this diet of organizational newcomers. After winning Saturday night and likely earning Submission of the Night honors, "the Pride of El Salvador" showed us that he is ready for a step up in competition.
Prediction: Ivan Menjivar faces Raphael Assunção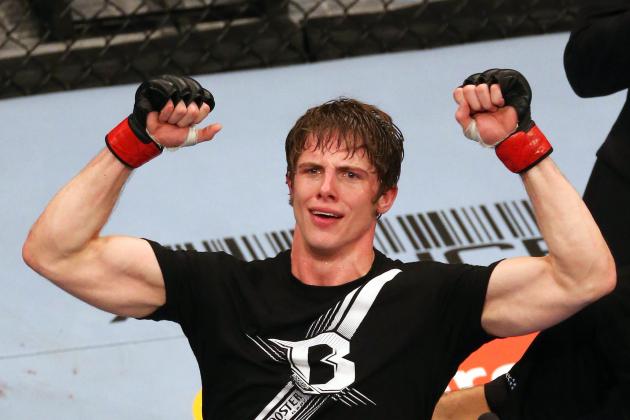 Tom Szczerbowski-US PRESSWIRE

If you are like me and believe that marijuana metabolites aren't something worth testing for, and should have no bearing on mixed martial arts, then you likely recognize that Matt Riddle has won his last three fights inside the Octagon.
Saturday night, Riddle forced John Maguire to stand and fight his kind of contest. The defensive wrestling allowed "Deep Waters" to let his hands go in signature fashion.
MMA fans love to watch a brawler, and that makes Riddle popular with the fans. It is unlikely that the UFC will deviate from their plan to put the TUF star across from exciting opponents. Maybe this time they will give him a fighter who sits a little higher on the divisional ladder.
Prediction: Matthew Riddle faces Dan Miller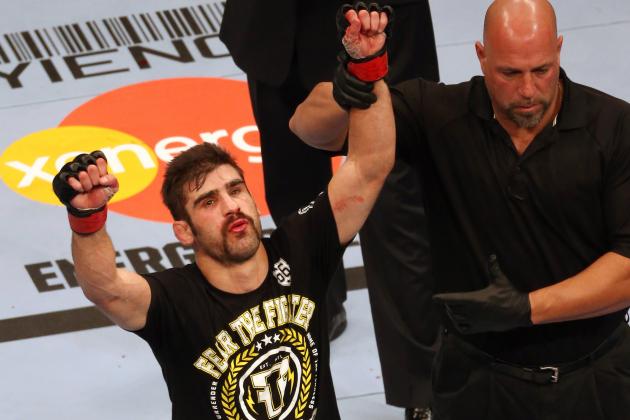 Tom Szczerbowski-US PRESSWIRE

Kicking off the FX portion of UFC 154 was a grappler vs. grappler contest between Anthony Carvalho and Rodrigo Damm. The only thing missing from the fight was grappling.
The fight was contested almost exclusively on the feet, with Carvalho leaving Damm on a bum leg after the first round. The Brazilian turned up his aggression in the last two rounds and nearly stole a decision, but ultimately it was Carvalho who took the split-decision victory.
Now winning two in a row, Carvalho has secured his place on the roster, but he isn't ready for competition with ranked competition. As long as his next opponent has comparable experience, the Canadian will match up well with just about anyone.
Prediction: Anthony Carvalho faces Robert Peralta or Rani Yahya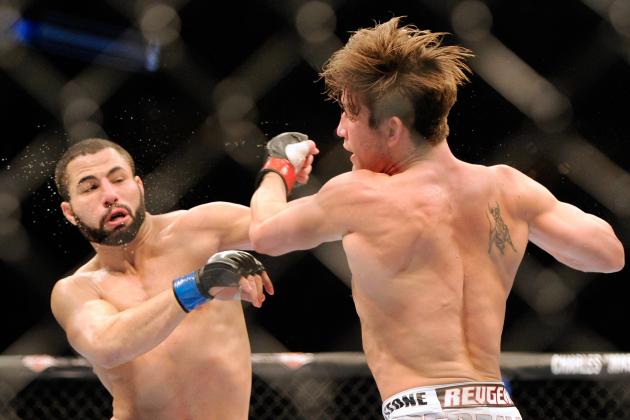 Eric Bolte-US PRESSWIRE

If FX planned on featuring pure kickboxing encounters at UFC 154, they definitely got their wish in the first two fights. John Makdessi used a jab-heavy attack to batter longtime veteran Sam Stout through three rounds.
Makdessi snapped a two-fight losing streak with this victory, and is now 3-2 inside the Octagon. Over the summer, the Canadian was scheduled to face British banger Paul Taylor. The fight didn't come to fruition, as Taylor was forced out due to injury. It's an interesting scrap that should be revisited soon.
Prediction: John Makdessi faces Paul Taylor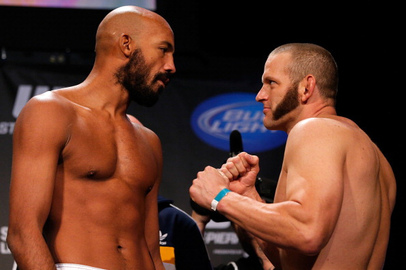 Josh Hedges for Zuffa LLC via Getty Images
Never before has Cyrille Diabate looked so good in the Octagon as he did at UFC 154. Knocking down former heavyweight Chad Griggs with a single punch, there was never a moment that the former PRIDE fighter was in trouble.
After submitting Griggs halfway through the first round, Diabate has finally put together consecutive wins in the UFC.
Standing tall at 6'6" and possessing an incredible 81.5-inch reach, Diabate is one of the most physically imposing fighters in the UFC. In his next fight, "The Snake" will face a striker who has both power and technique.
Prediction: Cyrille Diabate faces either Ryan Jimmo or Jimi Manuwa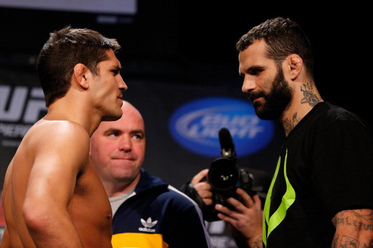 Josh Hedges for Zuffa LLC via Getty Images
Alessio Sakara vs. Patrick Cote was a short but sweet fight. Cote hurt Sakara with punches, and then Sakara hurt Cote with elbows. Cote was rocked and sent to the canvas for the first time in his professional career, and before we could see how he reacted, it was all over.
While trying to grab a single leg and get Sakara to the ground, Cote is struck with several hammerfists, most of which landed to the back of his head. The illegal strikes cost Sakara what originally looked like a TKO win as he was rightfully disqualified.
This was a very exciting fight, and the unfortunate ending robbed us of what could have been a war. Go ahead and book it again.
Prediction: Patrick Cote faces Alessio Sakara once again