Peyton Manning and the Denver Broncos are rolling to a four-game winning streak and have the chance to take a dominant three-game lead in the AFC West this Sunday. The already reeling San Diego Chargers stand no chance against being shredded by Manning again in Sports Authority Field at Mile High.
In case you were living under the proverbial rock as an NFL fan, you remember Manning's magnificent Monday night in San Diego. He led Denver to 35 unanswered points in the second half to overcome a 24-0 halftime deficit and ultimately begin the team's current scolding string of victories.
Expect something similar to occur in Week 11's key divisional showdown, only this time for the entirety of the game.
Who will win this AFC West battle?
It's well documented that the Chargers flick a switch in the second half of the season under head coach Norv Turner, but 2012 is going to be different. They do have the second-ranked run defense in the game, but that figure is definitely misleading.
Get ready for a game-by-game breakdown:
One game was against the struggling Raiders running game, one was against a still-slumping Titans RB Chris Johnson and two were blowouts against Kansas City—the worst team in the league.
Others: versus the Saints (no running game) and the 7-6 slop fest in Cleveland where Trent Richardson ran for 125 yards who passed almost entirely throughout the second half due to the huge comeback.
As much as their defense will be keyed in on stopping Manning this time around after he eviscerated them in Week 6, the Chargers will suffer a letdown in stopping bruising Bronco Willis McGahee.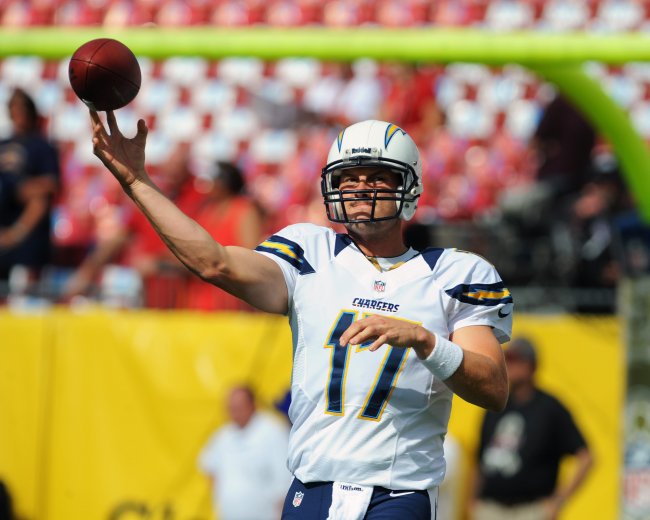 Al Messerschmidt/Getty Images
And what exactly does that have to do with Manning lighting it up? A better running game translates to more opportunities in play action and enhanced shots down the field. Speaking of running, Ryan Mathews is listed as questionable for the Chargers (h/t ESPN), which will likely force QB Philip Rivers into obvious passing situations regardless.
The absence of Tracy Porter from the Broncos secondary hasn't hampered the unit in recent weeks, so Rivers can't really take solace in that consolation. He has simply been too mistake-prone to be counted on in the past year and a half, and that was no more evident than in the first matchup between these two squads when he accounted for six turnovers.
Denver hasn't lost since. San Diego has wavered, save for a blowout over the lowly Chiefs.
A healthy dose of Rivers and the one-dimensional Charger offense should lead to the Broncos dominating the time of possession and dictating the flow of the game in front of a raucous home crowd.
That also happens to be when Manning is at his best, calling the shots in the hurry-up offense.
This one will likely get ugly pretty early, and Manning should enjoy another 300-yard, multi-touchdown performance. Because the difference between him and others QBs is that most will be figured out when more film is available on them to an opponent.
It's Year 15 for the four-time NFL MVP, and Manning has yet to be solved.
Instead, Manning continues to be the one doing the figuring.