The Tampa Bay Rays pitching staff has been the subject of several trade rumors over the years, as the team has been successful due to its top-notch rotation with an abundance of quality arms.
This winter won't be any different, especially given the intense competition in the AL East.
With the blockbuster deal the Toronto Blue Jays just pulled off to get Josh Johnson, Mark Buehrle and Jose Reyes, they have emerged as a contender. The New York Yankees will likely make a couple moves this offseason as well.
The Baltimore Orioles were one of the most surprising teams in baseball and look to improve in 2013. And after a dismal season, the Boston Red Sox will likely look to make a free-agent splash in an effort to ascend back into prominence.
In what now appears to be the best division in baseball, the Rays can't afford to get by with a lackluster offense any longer.
With names like James Shields, Wade Davis and Jeremy Hellickson being thrown around as potential trade options, the Rays will likely look to make a move this winter.
One name the Rays should keep an eye on is top prospect Wil Myers of the Kansas City Royals.
Myers did not play in the majors this season, but that was more of a formality than a player issue, as Myers is now under team control for an additional year.
Myers hit .304/.378/.554 in Triple-A this season, while slugging 24 home runs. The best prospect in the Royals' system and arguably one of the best out there, Myers looks like he's going to be a stud.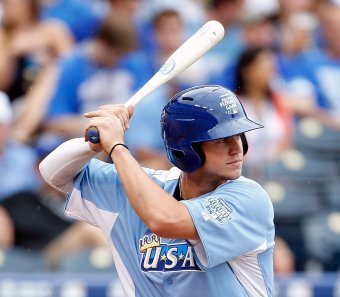 Jamie Squire/Getty Images
He would fit perfectly in Tampa Bay, as the Rays will surely lose B.J. Upton to free agency. By sliding Desmond Jennings to center field, Myers and Matt Joyce could occupy the corner outfield spots, with Sam Fuld and utility player Ben Zobrist playing there occasionally as well.
Zobrist could remain primarily in the infield, as shortstop and second base certainly lacked production last season.
A lineup featuring the improving Jennings, Myers, Zobrist, a healthy Evan Longoria,and Joyce could be enough to get by. While there are still other positions of need on offense, such as catcher and first base, the Rays could get a potential star in Myers.
So why would Kansas City part with their prized 21-year-old?
The Royals are desperate for pitching and want to contend. They have solid bats in Alex Gordon, Eric Hosmer, Mike Moustakas and Billy Butler, but their pitching remains the issue.
They have already traded for Ervin Santana from the Los Angeles Angels, but Santana had a poor year last season and it is not clear whether he will be able to return to form. The Royals took a calculated risk, but Santana is still not going to fix their pitching woes.
Likewise, they will surely be in the market for some starters in free agency, potentially pitchers such as Anibal Sanchez, Kyle Lohse, Joe Blanton, Shaun Marcum and Brandon McCarthy.
Which pitcher should the Rays trade for Wil Myers?
However, the Royals lack the financial assets to land a marquee pitcher such as Zach Greinke and may look to deal in an effort to nab a front-line starter.
As Kansas City searches for an ace, the Rays could be a fit, although the Royals would probably not want James Shields, who is under team control for two seasons, in exchange for Myers, who has plenty of upside and is under contract for much longer.
However, a pitcher like Jeremy Hellickson, who is under team control through 2016, could be a fit.
A former Rookie of the Year, Hellickson is a terrific pitcher who enjoyed an excellent season last year. Posting a 3.10 ERA and a 1.25 WHIP, Hellickson was one of the many strong starters in the Rays' rotation. A player of Hellickson's caliber could surely entice the Royals.
For the Rays, it would be tough sacrificing a 25-year-old pitcher who has shown that he can be consistently effective.
However, Hellickson is represented by Scott Boras, so negotiating a contract that buys out his arbitration years or extending him afterward swill prove to be difficult, especially given Hellickson's consistency.
For a financially limited team like the Rays, it may make more sense to trade him for a player like Myers.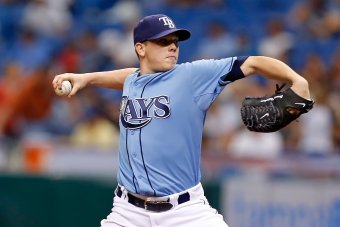 J. Meric/Getty Images
Young lefty Matt Moore also could be a trade target. However, I think it would be foolish of Tampa Bay to part with Moore after the promise he showed this season.
A 3.81 ERA and 1.35 WHIP is pretty solid for a 23-year-old rookie. But it gets even better when you look at his numbers in the second half of the season, as Moore steadily improved as the season progressed. His ERA dropped to 3.01 after the All-Star break. A strikeout machine, Moore is definitely going to make a name for himself in this league.
What makes him more valuable than Hellickson is his contract situation. Before the beginning of last season, the Rays signed Moore to a five-year, $14 million contract, a deal that will soon become one of the biggest bargains in MLB. Parting with that type of contract could be devastating for the cash-strapped Rays.
With a rotation that features reigning Cy Young winner David Price, Shields, Hellickson, Moore and Jeff Niemann, the Rays have a solid rotation. With players such as Wade Davis, Alex Cobb and Chris Archer capable of starting, it may be in their best interest to deal from this surplus to aid their suffering offense.
I don't think the Rays should trade Moore, but Tampa Bay should certainly pursue Myers as the Royals are craving solid starting pitching. Hellickon may be the best fit. If it could net the Rays an elite outfielder, it may be worth the significant loss.