Wake Forest vs. Notre Dame: Final Report Card, Player Grades for the Irish
The No. 3 ranked Notre Dame Fighting Irish(11-0, 7-0) must have been looking to make a statement today as they dismantled the Wake Forest Demon Deacons (5-6, 3-5) by a score of 38-0.
Senior night was one to remember as it felt like nothing went wrong for the Fighting Irish.
No, literally, nothing went wrong.
Okay, there was an interception thrown and they almost lost a fumble, but those are merely footnotes to all of the great plays made on the field.
Notre Dame has kept their undefeated season alive and more importantly, their BCS title game hopes alive with this win.
It wouldn't be too surprising for them to have scared people with this win either. Yes, they played that well.
Let's take a look at each positions grades and what each unit did or didn't do well. I'd love to hear your own grades below.
Begin Slideshow

»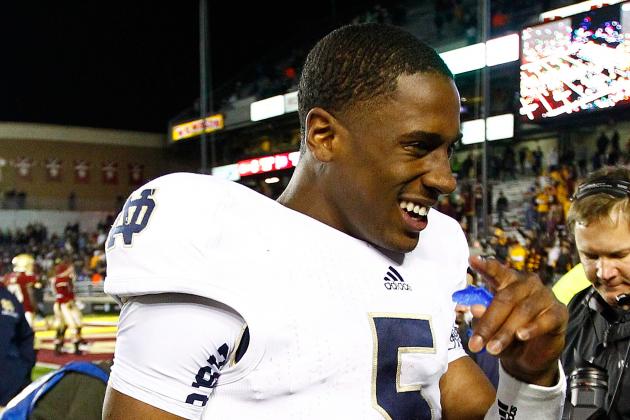 Jared Wickerham/Getty Images
Many people forget that Golson is only a freshman
Overall Game Grade: A
Everett Golson was locked in for two quarters and that'a all it ended up taking. He finished the game with 346 yards and 3 touchdowns. Nearly all of his throws were sharp and crisp, but what was most impressive was the way that he threw the long ball. He had one 34-yard touchdown and another 50-yarder that were both put into perfect spots.
Golson looked like he was confident in everything taking place around him. He knew what the game-plan was and he executed it to near perfection. Sure, he threw an interception, but that shouldn't be looked at as too big of a negative based on how well he played.
Playing USC at the Coliseum next week will be Golson's final exam. If he goes into that game in a similar fashion, then the Fighting Irish will be in great shape and will have a chance to finish the year out undefeated.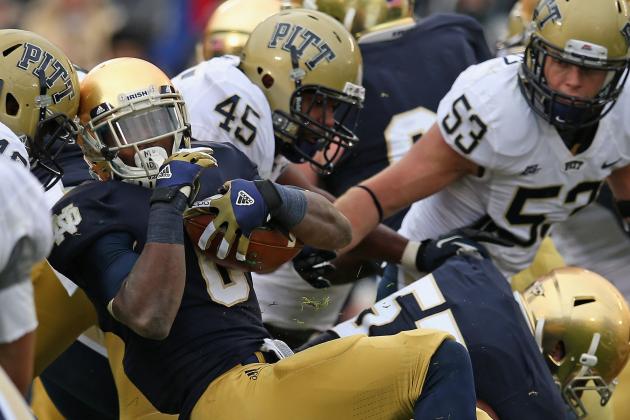 Jonathan Daniel/Getty Images
Theo Riddick moves the ball well
Overall Game Grade: A
It didn't take long for the offense to get going as they scored on their fourth offensive play of the game. Cierre Wood took the option toss from Golson and took it 68 yards for the score. Wood didn't have to do too much once he got the football but it was just a preview of things to come.
He ended the day with 150 yards on only 11 carries and was a force for the Fighting Irish. He used a one-cut style of play that ended in big gains, as is obvious by his 13.6 yards per carry average.
It's a little bit unfortunate that Notre Dame won by so much. Had the game been a bit closer, then we might have seen Wood take off for 200 or more on the ground.
Theo Riddick only carried the ball six times for 20 yards, but he also had three receptions for 58 yards. One of his catches over the middle of the field helped to set up Golson's third touchdown.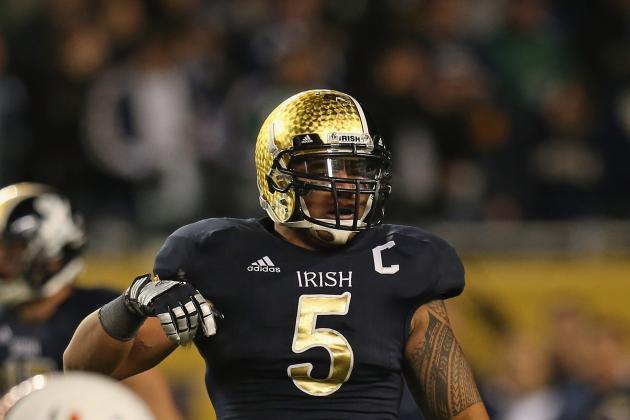 Jonathan Daniel/Getty Images
Te'o is the Fighting Irish's leader
Overall Game Grade: B
Multiple receiving targets were used on a day when Golson popped off for over 300 yards in the first half. Each and every receiver created exceptional separation from the defensive backs defending them, providing Golson with clear and easy throws. On top of that, barely any easy catches were dropped.
The main receiver was TJ Jones as he had six receptions for 97 yards and a touchdown. His touchdown was the perfect example of what Notre Dame did all day. Jones got a streak route and blew past the corner as Golson threw a perfect pass for a 34-yard touchdown.
It must have felt like the field was much bigger than it actually is, because the receivers created so much space out there. Wake Forest might be a little shocked when they go back and review the tapes on this one.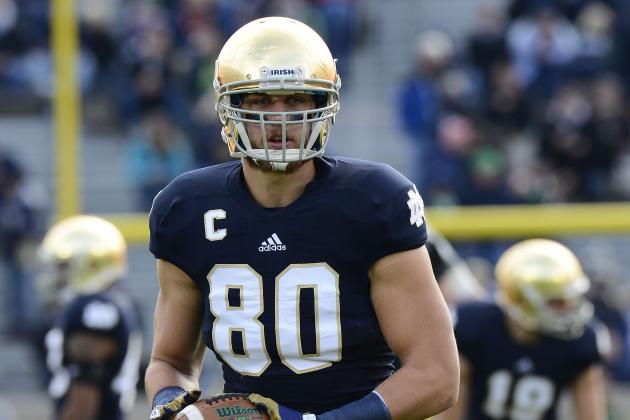 Mike DiNovo-US PRESSWIRE

Overall Game Grade: A
Tyler Eifert was the story of the game in this one. He caught six passes for 85 yards and a touchdown, but it was the matter in which he caught them in that made everything so impressive.
Notre Dame's second touchdown was almost comical. Golson was at the 2-yard line and lined up with Eifert wide to the left. Eifert, standing at 6' 6", had about a seven inch difference between him and the defensive back. Golson threw a jump-ball pass that barely went over both players and out of the endzone.
I know what you're thinking, how's that funny? Well, the funny part is that Notre Dame ran the same play again and Eifert made the cornerback look like a little child.
The highlight to the day was that Eifert became Notre Dame's all-time receptions leader among tight ends. It was pretty cool to watch his teammates congratulate him after such a big accomplishment.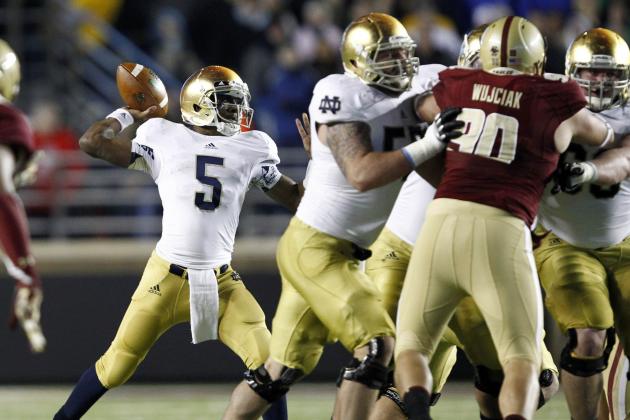 Mark L. Baer-US PRESSWIRE

Overall Game Grade: A
Protection, protection and a little bit more protection please.
Notre Dame's offensive line was lights out for the entire game. Golson was rarely ever forced to make a throw because of pressure, and he only ended up scrambling because of how much time he had in the pocket.
The first two plays of the game were slightly concerning as Notre Dame began at their own nine-yard line and didn't move the ball. Two runs were immediately sniffed out, and it took a 23-yard pass from Golson on 3rd-and-11 to keep the drive going.
The Fighting Irish must have had confidence in their rushing attack, because Wood's 68-yard run came next. This was the beginning of the end for Wake Forest as they couldn't get through the line past that point.
Playing with the same intensity and effort will be necessary for next weeks game against the Trojans. A solid run and pass ratio will be crucial, but that can only take place if the offensive line steps up and does their job.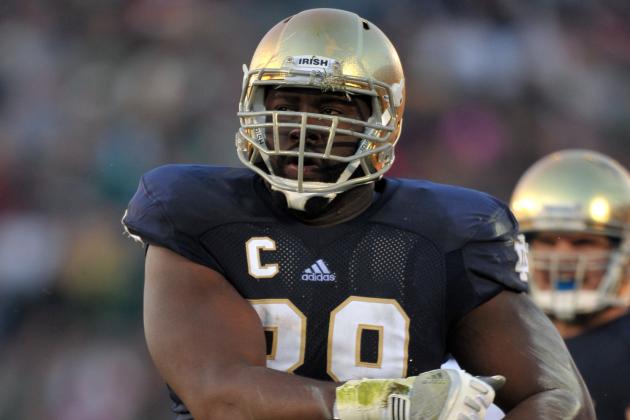 Matt Cashore-US PRESSWIRE

Overall Game Grade: A
The Fighting Irish waited until the 10:40 mark in the second quarter to record their first sack, but it was one that lit up the whole stadium.
Stephon Tuitt came off the right side of the line and put down Wake Forest quarterback Tanner Price. His play was the one highlight of the defensive line's day, but that doesn't mean that they didn't handle their job.
Wake Forest couldn't move the ball on Notre Dame and much of the reason was because of the pressure from the Fighting Irish's defensive line.
One of the more fun plays came in the third quarter when Kapron Lewis-Moore batted a ball down at the line of scrimmage. It was one that he felt like he should have had, and that would have been something considering that was his senior day.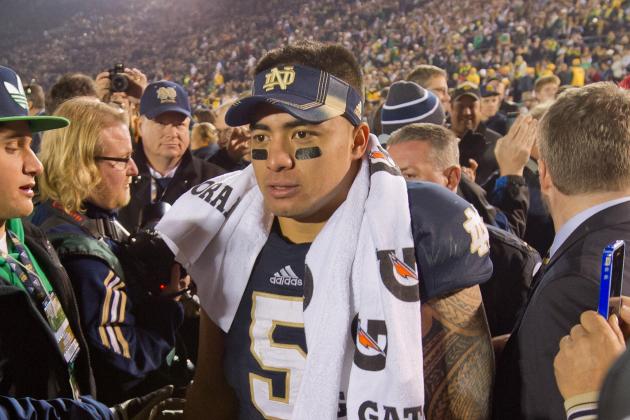 Matt Cashore-US PRESSWIRE

Overall Game Grade: A
Manti Te'o is the leader of the top-ranked defense in the country. He'll also go down as one of the best linebackers in Notre Dame's history.
Te'o didn't have too much of an impact on this game, but he did throw down a big hit on Wake Forests running back trying to make a catch over the middle of the field. It seemed like more of a thank you to South Bend and the fans for everything that they've done for him.
Carlo Calabrese provided the biggest play of the game for Notre Dame's defense. Wake Forest completed a pass short and over the middle, but the running back failed to see Calabrese coming straight for him. His hit forced a fumble on the Demon Deacon's third play of the game and let everyone know that Notre Dame was ready to play.
Notre Dame's linebackers are the main source of energy for the defense and they played great tonight.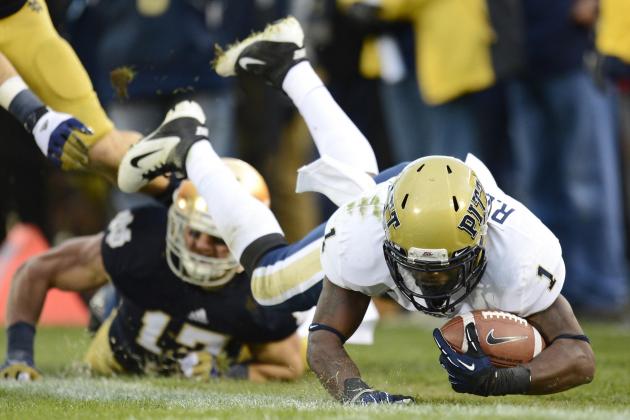 Mike DiNovo-US PRESSWIRE

Overall Game Grade: A
The most impressive part of what the Fighting Irish's defensive backs did was how they were able to step up and contribute in the run game. The entire defense swarmed to the ball, defensive backs included.
Wake Forest carried the ball 25 times for 55 yards. The longest carry of the game came from Tyler Jackson on a 13-yard carry late in the fourth quarter.
There weren't any plays made on the football from the secondary, but not because of anything that they did wrong. How is somebody supposed to go for an interception or break up a pass if there isn't a ball thrown their way? Exactly, sounds like a difficult thing to do.
There wasn't much competition in this game, but the defensive backs will have their hands full with USC next week. Maybe this week can be looked at like a week off, because the Trojans have one of the most electric groups of receivers across the country.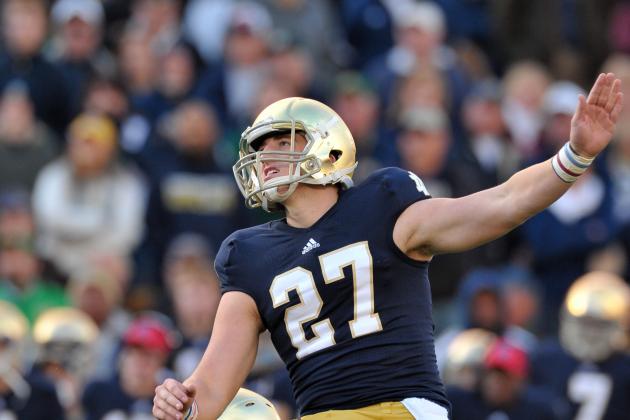 Matt Cashore-US PRESSWIRE

Overall Game Grade: C-
I'm going to start a conspiracy theory about Notre Dame's special teams play. I'm pretty sure that there is a completely different set of 11 players hiding off to the side somewhere. There job is to run onto the field for special teams play and to "look" like Notre Dame.
The reason for that ridiculous conspiracy theory is that the Fighting Irish's special teams play was so inferior to how the rest of the team played.
Punt returners failed to call fair catch on multiple punts resulting in the returner getting hit right when he received the ball. That is the perfect recipe for a fumble.
Speaking of fumbles, Notre Dame ended up putting the ball on the ground on a punt return, but was lucky enough to get the ball back.
Special teams have a way of coming up when you least expect them to, and they sometimes are the difference in games. Notre Dame needs to clean up this aspect of the game.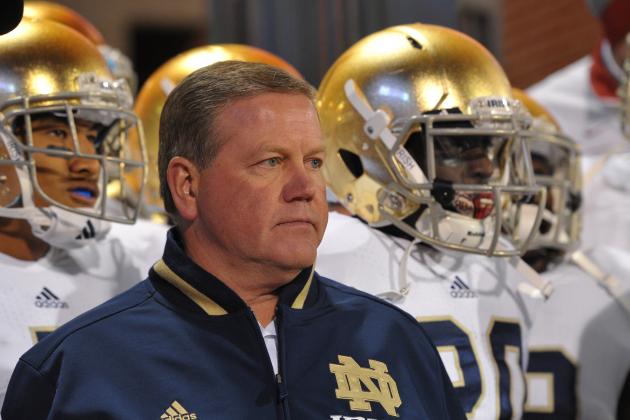 Matt Cashore-US PRESSWIRE

Overall Game Grade: A
Brian Kelly deserves the majority of the credit for the 38-0 victory.
It was clear that Kelly had the Fighting Irish ready for whatever Wake Forest threw at them. It didn't matter if it was on offense or defense, as both sides played with an amazing amount of intensity and focus.
The Demon Deacons couldn't get anything going on offense. It seemed as though passing the ball to the flats was the only way for Wake Forest to move the ball. Too bad for them that moving the ball only meant a yard or two at a time.
Also, it needs to be noted Kelly did everything he could to make this game special for his seniors. It was Senior day and he let them play into the fourth quarter, only to take them out to a round of applause.