Eagles vs. Redskins: Final Report Card, Game Grades, Analysis for Washington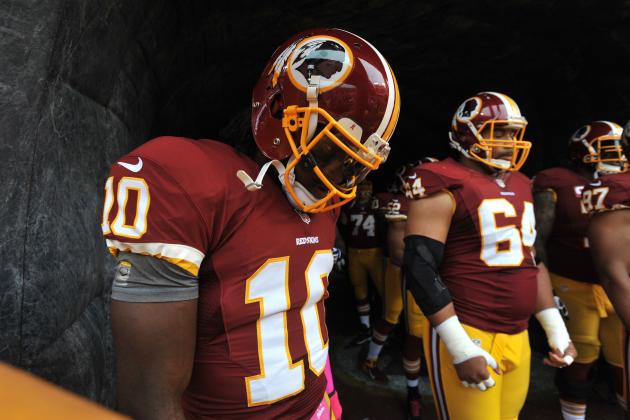 Larry French/Getty Images

Robert Griffin III threw for a career-high four touchdowns today to lead the Washington Redskins to a 31-6 victory over the division rival Philadelphia Eagles.
Rookie quarterback Nick Foles struggled to get anything going, and two early interceptions helped the Redskins establish themselves and ride the game to improve their record to 4-6 on the season.
Check out the final report card and game analysis for the Redskins' latest victory.
Begin Slideshow

»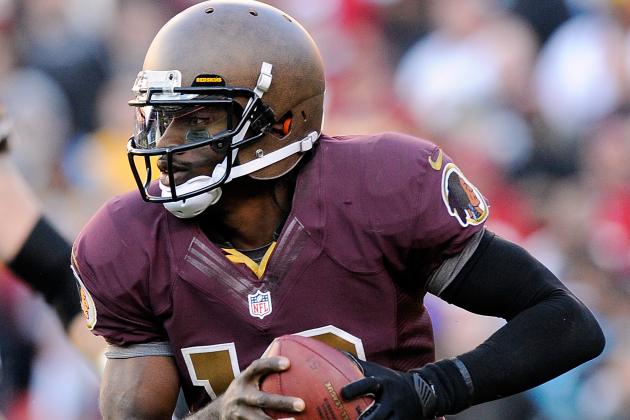 Patrick McDermott/Getty Images

Robert Griffin III: A
Throwing for a career-high four touchdowns, Robert Griffin III was perfect in today's win over the Eagles. He was mobile in the pocket, showed great awareness, and was very accurate with his passes.
Griffin claimed that he was going to come out of the bye week hungry, and he didn't disappoint. He finished the game 14-of-15 for 200 yards and four touchdowns. He also added 12 carries for 84 yards.
Pregame Analysis
From last week's column, Washington's Keys to Victory
After starting the season red hot, rookie Robert Griffin III and his game trailed off a bit heading into the bye week. Against Pittsburgh and then Carolina, Griffin threw for less than 400 yards, was averaging just over five yards per attempt, and had just one touchdown.
Coming out of last week, Griffin has mentioned that he's prepared to come back stronger than before.
"I thought I was hungry before the bye week," Griffin said. "But you come back and realize how much more energy you have. You know that everybody's looking at me to be the guy to make everything work."
Griffin is one of the fiercest competitors in the NFL, even as a rookie. He knows that all eyes are on him, and he wants nothing more than to put his team on his back and carry them. And that's exactly what I'd look for today.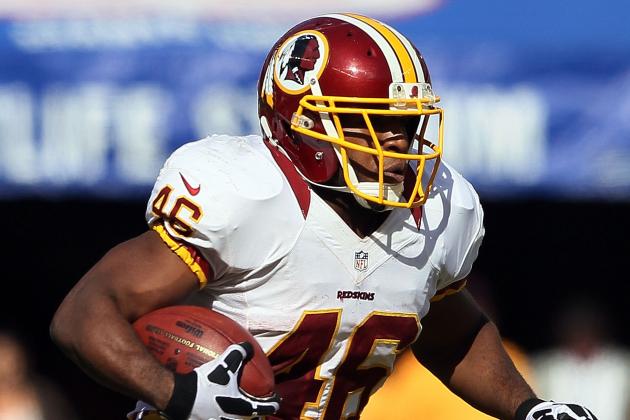 Alex Trautwig/Getty Images

Alfred Morris: B+
Although Alfred Morris didn't really get it going against the Eagles, it wasn't by way of poor running on his part. Morris demonstrated great vision in his cuts and he brought his typical explosion upon contact.
For the game, Morris finished with 76 yards on 20 carries.
Darrel Young: A
In addition to his lead-blocking duties, Darrel Young contributed with a touchdown for the Redskins' first score of the game in the first quarter. Despite not being a consistent receiving threat, Young has made defenses pay this season with the ball in his hands.
Pregame Analysis
Going against a disappointing, poor tackling Eagles defense, the Redskins will hopefully look to establish the ground game early with Alfred Morris. A successful rushing attack will open up the playbook and allow the Redskins to better execute bootlegs—which will be necessary for an aggressive game plan.
Free-agent acquisition Pierre Garcon is listed as questionable for today's game with a plantar-plate tear. As much as the Redskins and the offense could use Garcon and his game-breaking speed, we shouldn't expect much from him. The injury should leave Garcon in a lot of pain, and it will certainly affect his explosion.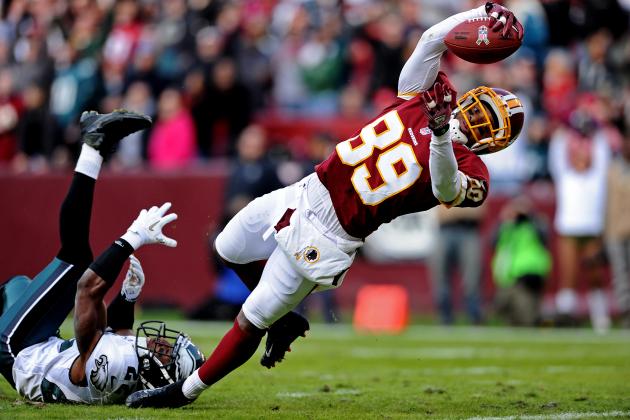 Patrick Smith/Getty Images

Santana Moss: A
He may have only gotten one catch on one target today, but man what an effort!
Streaking through double-coverage down the middle of the field, Santana Moss was able to come up with a 61-yard chuck by Robert Griffin III and turn a should-be interception into a touchdown for the Redskins.
Leonard Hankerson and Josh Morgan: B
Combining for five catches on six targets for 55 yards, neither Josh Morgan nor Leonard Hankerson was flashy today. However, they did play a big role in the running game with solid blocking on the outside and setting the edge for some of Alfred Morris' better runs of the day.
Aldrick Robinson: B
Although Pierre Garcon played today, he's nowhere close to 100 percent. Because of that, Aldrick Robinson was called on as the Redskins' leading vertical threat, and it was good to see him on display today when he hauled in a 49-yard touchdown pass against ugly Eagles coverage.
Logan Paulsen – A
Logan Paulsen's blocking was good to watch today, but everyone will instead think back to his 17-yard touchdown catch that he hauled in around the five-yard line and muscled his way into the end zone with, dragging a pitiful Kurt Coleman with him.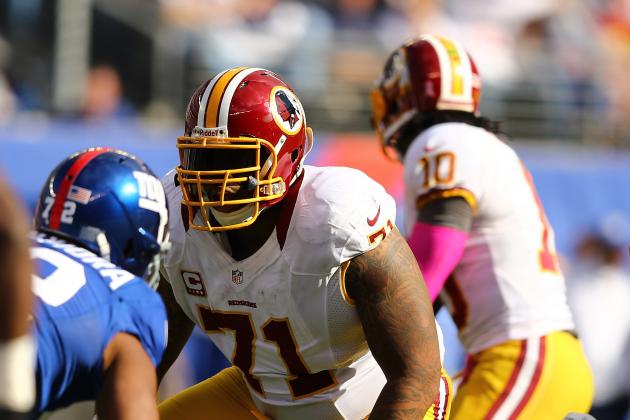 Al Bello/Getty Images

Trent Williams: B
As the best lineman on the Redskins front five, Trent Williams plays a significant role in the team's offensive success. And while today wasn't terrible, I wouldn't exactly call it par.
One thing Redskins fans have to appreciate with Williams is his tenacity while blocking and his attitude. He's a bully on the field and he sticks up for his teammates.
Kory Lichtensteiger: C
Another penalty on Kory Lichtensteiger for a second straight game. He's decent in the run game, but 'Steiger struggled (as he has all season) in the pass game. Today, even on bootlegs, 'Steiger was beat on more than a few occasions.
Will Montgomery: B
No complaints about Will Montgomery. He was oftentimes left doing more watching than he was blocking, but he was effective in the run game and it's always good to see a solid working relationship between a center and his quarterback.
Chris Chester: C
The right side of the line was noticeably weak against the Eagles, as usual. But today, Chris Chester deserves some criticism. Luckily, Robert Griffin III is nearly unfair in the NFL and has some of the best elusiveness we've seen.
Tyler Polumbus: D
See the Chris Chester description and then make it worse. Tyler Polumbus is to blame for a majority of the Redskins' suffered quarterback hurries.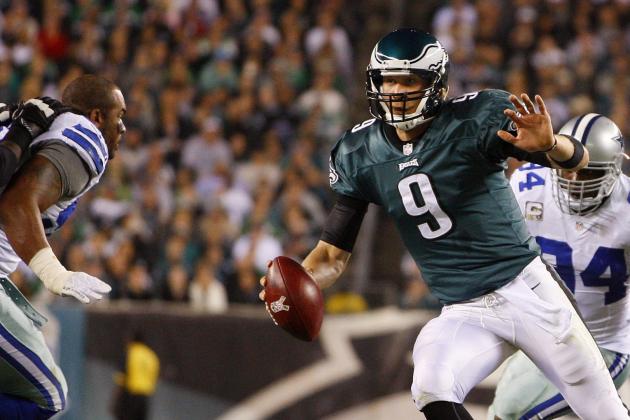 Rich Schultz/Getty Images

Jarvis Jenkins: B
Like the rest of the defensive line today, Jarvis Jenkins showed good containment on the edge and applied some pressure on the rookie passer's forming pocket.
Barry Cofield: A
Barry Cofield showed off his unique combination of size and speed today, tracking Nick Foles and applying pressure. He also came up with an expert-like strip on Eagles running back LeSean McCoy that set up the Redskins quite nicely.
Stephen Bowen: B
Like Jenkins, Stephen Bowen wasn't spectacular. But he was effective in setting the edge. Bowen continues to be a bright spot in the Redskins disappointing defense.
Pregame Analysis
The best way for the Redskins to get after the Eagles today is to get to the rookie Nick Foles and get to him often. Despite being able to move in the pocket, Foles isn't a runner. He relies on his powerful arm to make throws, and the Eagles' game plan will likely focus on the ball, coming out quick and into the hands of Philadelphia's playmakers.
Although we haven't seen much from the Redskins in terms of pass rush and decent coverage, things could change against Foles. He's not terrible, but he's inexperienced. Not to mention, the Eagles offensive line has been far from efficient this season.
After two weeks of preparation, look for some creativity on defense (we can dream, right?) and Ryan Kerrigan to get after it against a struggling right tackle in King Dunlap.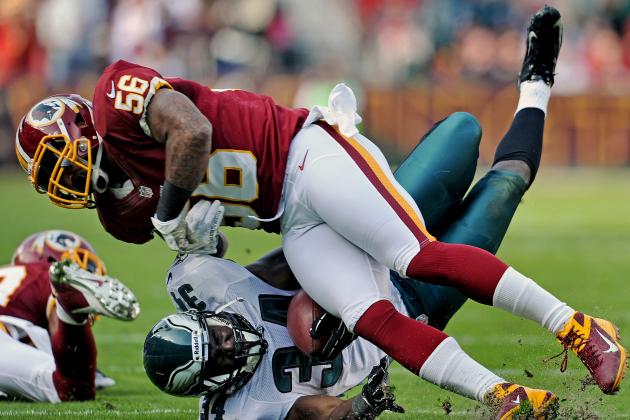 Patrick Smith/Getty Images

Perry Riley: A
Had to love the activity from Perry Riley today as he flashed all over the field and put his nose in on nearly every Eagles snap. He was a sure tackler (five), came up with a well-executed sack and contributed a pass deflection.
London Fletcher: A
Like Riley, veteran London Fletcher was very active today. Fletcher has computer-like play recognition and he plugs holes so well for this Redskins defense. He didn't struggle in coverage today like we've seen in past weeks, but the early screens from the Eagles had the linebackers off balance.
Ryan Kerrigan: A
Coming into the game, I mentioned that Ryan Kerrigan should have a field day. Despite just two tackles, Kerrigan came up with a forced fumble and a fumble recovery, essentially owning his side of the field against the Eagles. This was one of Kerrigan's best games of the last few weeks.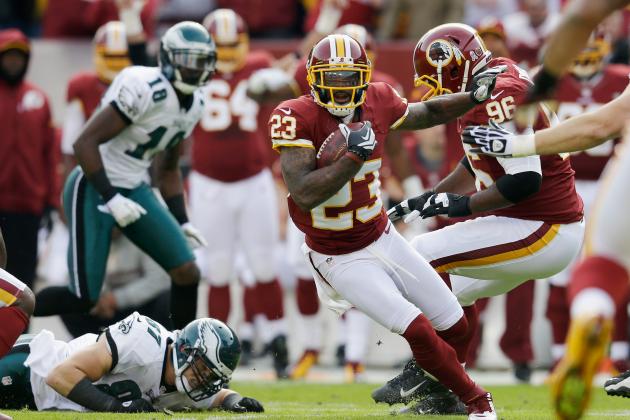 Rob Carr/Getty Images

DeAngelo Hall: A
Not that my memory is anything like that of an elephant, but today's win was one of DeAngelo Hall's better games of the season. Aside from his early interception that led to the Redskins' first touchdown, Hall was effective in coverage and contributed with six tackles.
Brandon Meriweather: A
Although highly anticipated, the return of Brandon Meriweather was a pleasant surprise. While it lasted.
Finishing the game with three tackles before being injured, Meriweather also came up with a strong interception, showed good tackling near the line of scrimmage, and seemingly provided Jim Haslett with some peace of mind in order to dial up different blitzes.
The Other Guys: B
Albeit against a rookie quarterback, the Redskins secondary played well today. Nick Foles made it his mission to work the check-down and short passes as best as possible, so open-field plays for LeSean McCoy made up a large chunk of the Eagles' offense today.
Foles finished the game with 46 tosses for 204 yards and a 46-percent completion rate.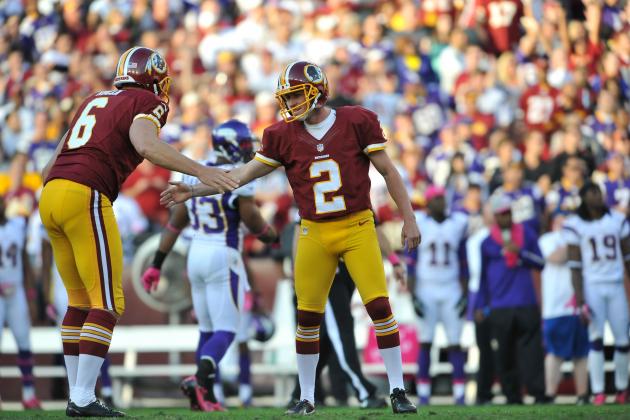 Larry French/Getty Images

Kai Forbath: A
In an overall quiet game for the special teams unit, Kai Forbath remained perfect on the season with a 25-yarder, in addition to his four successful extra-point attempts.
Pregame Analysis
Although we don't necessarily want to see field goals, it's nice for Redskins fans to have some faith in a kicker. So far, Kai Forbath has been exactly what we haven't seen in entirely too long—consistent.
Not that we hadn't heard it before, but through nine games, the roster spot for Brandon Banks is absolutely in question. Before the season, fans and coaches alike seemed to teeter on whether or not Banks was valuable enough to remain on the team. At this point, he's not. A spark (aka score) in the return game would be a nice touch today.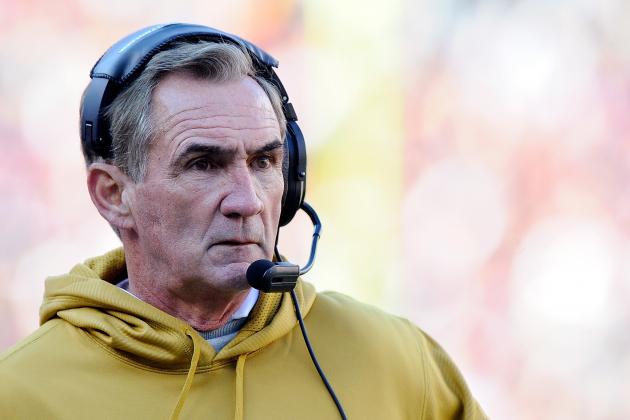 Patrick McDermott/Getty Images

Jim Haslett: B
While I didn't agree with a handful of his calls today, Jim Haslett seemed to be on his game. His blitzes were well-planned (for the most part) and he did make some adjustments to help limit the Eagles' success on screen passes and check-downs.
Kyle Shanahan: C
There were some questionable calls at crucial times from Kyle Shanahan today. As much as I like the shots downfield, I hate the decisions on 3rd-and-short and I don't like sticking with a certain style of run game when your offensive line is struggling the way the Redskins were today.
Pregame Analysis
As mentioned every week, eyes are still on defensive coordinator Jim Haslett. Regardless of what kind of potential turnaround he may be capable of pulling off, I still don't see him with the organization next season.
However, given the Redskins' current position and an NFC East division that is, in fact, up for grabs, it will be interesting to see what Haslett comes out with today in terms of creativity and blitz packages.
In his third season, currently sitting at 3-6, head coach Mike Shanahan is in the warmest seat he's ever sat in with the Redskins. While I continue to support the coach, his future likely depends on how the Redskins finish up this season and where the momentum rides.
The first step to a successful second half is today against the Eagles.
As we like to say, today's game is a must-win, but this time, not only for the Redskins' miracle playoff chances.