Sam Houston State vs Texas A&M: Live Scores, Analysis and Results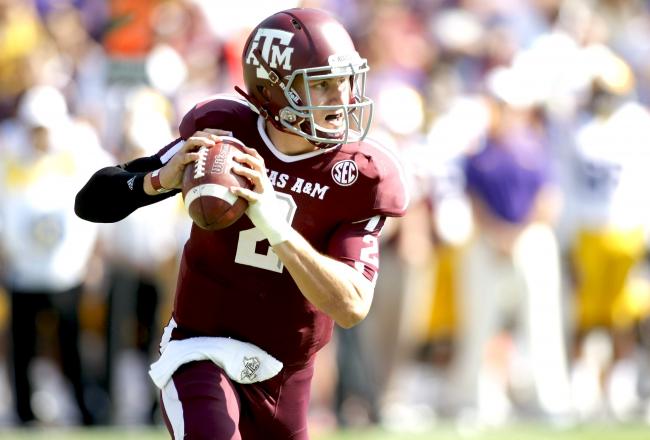 FINAL - Texas A&M 47, Sam Houston State 28

The Aggies got off to a quick start, scoring first for the 11th time this year. The Bearkats held on as long as possible but the Aggie defense forced two turnovers deep in Sam Houston State territory, both leading to Aggie touchdowns.
Multiple fouls have been called on the SHSU defense for unnecessary hits on Johnny Football and after scoring their second touchdown, the Aggies saw Christine Michael ejected from the game for "striking an opponent".
It was a little chippy in the first half but things settled down in the second after most of the starters were pulled. The Bearkats notched four late touchdowns to save face, but this one was never in doubt.
Heisman hopefully, Johnny "Football" Manziel was pulled after the first play of the third quarter—a 89-yard touchdown pass to Uzoma Nwachukwu. Manziel finished with 267 yards passing and three touchdowns while racking up 100 yards rushing on 16 carries and another touchdown.
Perhaps even more impressive was the Aggies defense, at least for the first half. Texas A&M held Sam Houston State's offense to 56 total yards and only 4 first downs in the first half. After the starters were pulled, the Bearkats managed to add another 317 total yards—more than fans or coaches would have liked to see.
Regardless, the Aggies are 9-2 with a 10-win season very much within their reach. Kevin Sumlin became the first Texas A&M coach to win 9 games in his inaugural season and the Aggies are one win away from a potential BCS Bowl birth, their first since 1998.
Welcome to the SEC!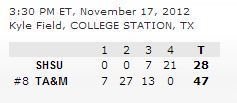 Texas A&M defeats Sam Houston State, 47-28.
Another onside kick, and once again, it's recovered by Sam Houston State.
Are you kidding me?

Another garbage-time touchdown for the Bearkats.
Texas A&M 47, SHSU 28

Trey Williams, after a nice run, fumbles the ball and it's recovered by the Bearkats.
Finish the game.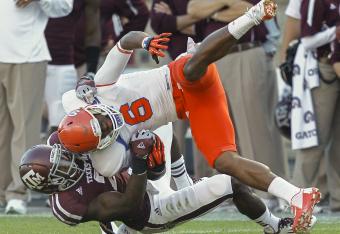 With the reserves in on both sides, Sam Houston State converts a 4th down, moving the ball back into the redzone. Moments later, the Bearkats notch another touchdown on the ground.
Texas A&M 47, SHSU 21
Matt Joeckel now in at quarterback getting some work. Aggies are just trying to drain the clock now but can't move the ball. Ryan Epperson's punt is fair caught at the SHSU 45.
After shutting down the Aggie offense and forcing a punt, the Bearkats are once again moving the ball.
3rd&3 - SHSU Ball on their own 45
Brian Bell passes to K.J. Williams for a 9-yard touchdown pass!
Texas A&M 47, SHSU 14

Sam Houston State moves the ball into the redzone for the second time today with a 26 yard pass to Chance Nelson.
1&10 - SHSU Ball at the A&M 11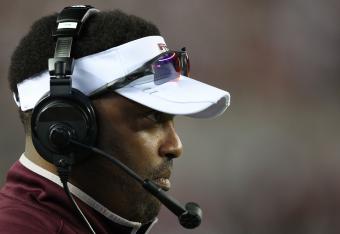 With a win today, Kevin Sumlin becomes the first Texas A&M coach to win 9 games in his first season.
Sam Houston State tries an onside kick and gets the ball back.
Why not?

Touchdown rush by Richard Sincere!
Texas A&M 47, SHSU 7 - 1:08 left in the 3rd quarter.

On third and goal, pass interference is called on Steven Terrell. Apparently, the Aggies want to give them some points.
SHSU 1st&Goal at the A&M 2
The Bearkats convert a short first down. It looks like they will get the goose egg off the scoreboard.
SHSU Ball 1st&10 at the A&M 4
The Bearkats are driving...Brian Bell passes to Trey Diller to the A&M 16. That marks the first time Sam Houston State has been in the redzone today.
SHSU Ball 1st&10 at the A&M 16
Completely different offensive set comes onto the field with Showers at quarterback. Different quarterback, same result! Touchdown, 80-yard pass to LeKendrick Williams.
Manziel is benched as kicker after his miss; Bertolet nails the extra point.
Texas A&M 47, SHSU 0
Another punt from Sam Houston State, Harris lets it go over his head an into the endzone. Let's see if Manziel comes back out or Jamiell Showers gets some reps.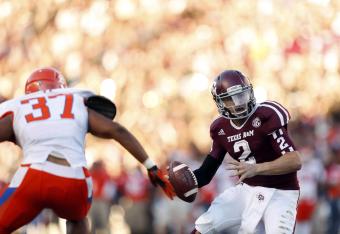 Wow! Johnny Football with a perfect 89-yard touchdown pass to Uzoma Nwachukwu.
Manziel attempts the extra point as a kicker and misses.
Texas A&M 40, SHSU 0
Another impressive stand by the defense and the ball goes back to the Aggies. Should Johnny Football even play in the second half?
1st&10-Texas A&M Ball on their own 11.
Second half is underway!
SHSU Ball on their own 25 after the kicked sailed over the endzone.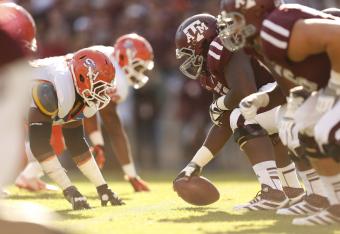 The Aggies offense got off to a slower start than fans are used to but finished the half with 312 total yards (178 passing and 134 rushing).
The only two points of improvement would be Manziel's one poor decision that resulted in a interception. The other, Texas A&M only converted 3 of 7 third downs. While this certainly is not terrible, it's somewhat surprising after the Aggies converted 11 of 18 last week against Alabama.
Defensively, you couldn't ask for any more. The "Wrecking Crew" has held the Bearkats to 67 total yards and only 18 of those on the ground. The two turnovers forced led to points and Sam Houston State quarterback, Brian Bell, is only averaging 2.9 yards per pass.
For Texas A&M, 19 first downs. For Sam Houston State, only 4.
Look for some new faces in the second half and I wouldn't be surprised if Sumlin let kicker, Taylor Bertolet, get a ton of game-situation practice.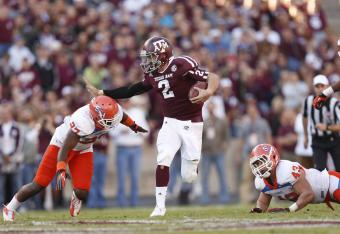 Manziel Heisman Update:
Passing: 13/19 for 178 yards and one touchdown
Rushing: 16 carries for 100 yards and two touchdowns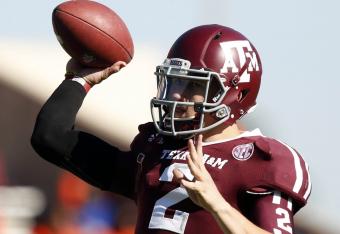 Halftime! Texas A&M 34, SHSU 0
Manziel heads into the locker room with some solid stats. The defense looks even more impressive.

Johnny Football with another rushing touchdown! The Aggies now have a 27 point 2nd quarter.

Texas A&M 34, SHSU 0
It's getting real ugly on Kyle Field. Uzoma Nwachukwu hauls in a 19-yard pass from Johnny Football.
Texas A&M Ball 1st & Goal from the SHSU 1.
This article is
What is the duplicate article?
Why is this article offensive?
Where is this article plagiarized from?
Why is this article poorly edited?

Texas A&M Football: Like this team?