7 NBA Teams with Identity Issues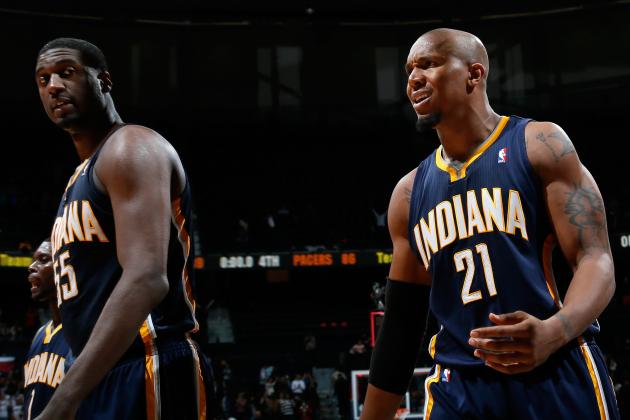 Kevin C. Cox/Getty Images
Roy Hibbert (left) and David West of the Indiana Pacers.
As of Nov. 19, every NBA team has played at least seven games. Now we're starting to get the sense that some squads might not know exactly how they're supposed to be playing.
This is not entirely surprising. Way back in the summer, you could see some organizations had no clue how to construct a cohesive roster for the 2012-13 season. In those cases, the players have taken to the court and reflected the front office's discord.
Other teams, meanwhile, have encountered some unexpected bumps in the road.
The teams on this list have found various levels of success, but they are all still grasping for their true identities.
Let's go through the teams in crisis, starting with the most obvious and working our way to the biggest surprises.
Begin Slideshow

»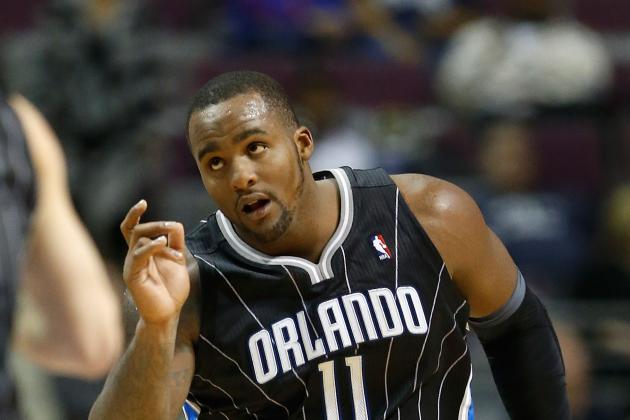 Gregory Shamus/Getty Images
Glen Davis is somehow the Magic's primary option on offense.
We knew the Orlando Magic would be in for a rough season after losing franchise cornerstone Dwight Howard.
To see Orlando's discombobulation, though, you need not look past Glen Davis. Which is convenient, since Big Baby is a difficult man to look past.
Over the course of his career, Davis has been productive playing sixth-man minutes, seeing the court 21.7 minutes and attempting 7.0 field goals per game. He's been starting for the Magic, which accounts for the jump to 32.4 minutes per game. His 16.4 field-goal attempts, however, are way too high.
It's not that Davis has become a scoring machine inside all of a sudden. In fact, his 43.9 field-goal percentage is a few ticks below his career rate. The Magic just don't have anyone who's actually qualified to carry the load offensively.
That's the same reason why they're starting 6'5" Arron Afflalo at small forward. He's clearly most capable as a shooting guard, but Orlando is just filling holes and waiting out the season.
Looking at how little rhyme or reason the Magic lineup has, it's no tragedy; it was simply an inevitability.
Christian Petersen/Getty Images
Goran Dragic is trying to follow a legend in Phoenix.
Lavish pay raise aside, joining the Phoenix Suns was a no-win situation for Goran Dragic.
Not that he's played poorly. Dragic is averaging 16.3 points, 7.3 assists and 2.0 steals per game, and he's shooting 47.4 percent from the field.
On the other hand, Dragic is one of just two remotely good defenders in the Suns rotation. The other is Marcin Gortat, who is second in the league with 3.0 blocks per game.
After them, though, Phoenix is beset by defensive liabilities. Jared Dudley, Michael Beasley and Luis Scola are absolute sieves, and there is little help to be found on the bench. That's why Phoenix ranks last in points allowed, letting up 104.3 a game.
Dragic runs a good offense but not a great one—let alone the otherworldly attacks of Steve Nash's heyday. The Suns have a decision to make: sacrifice defense and chase the explosive offenses of the mid-2000s or figure out how to shore up their failing unit.
Right now, they're hedging between the two options, and that formula is clearly not sustainable.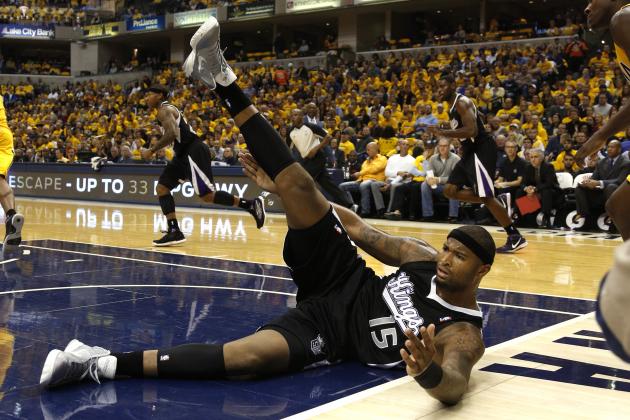 Joe Robbins/Getty Images
DeMarcus Cousins is only one of multiple headaches for the Kings.
The issues with the Sacramento Kings boil down to a matter of synchronization.
For all of his maturity issues, DeMarcus Cousins has as much raw ability as any big man around. It's a wonder that a center can put up 17.8 points per game, tops on the team, without anyone to feed him the ball.
Sacramento is last in the NBA in assists. Tyreke Evans, who has never performed a successful impression of a point guard, leads the team with 3.1 assists per game.
This would be fine if the Kings were still scoring efficiently without an emphasis on ball movement, but that's not the case. With a 41.8 shooting percentage, they are 27th in the league in that category.
Between Evans, Isaiah Thomas, Jimmer Fredette and Aaron Brooks, none of the presumed point guards on this Kings roster can consistently set Cousins up properly.
As long as that disparity exists, Sacramento's offense will continue to struggle.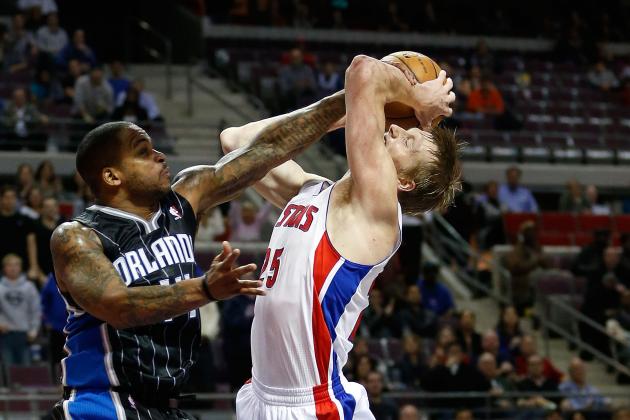 Gregory Shamus/Getty Images
Kyle Singler in a snapshot of Detroit's futility.
No matter how closely you examine the Detroit Pistons, it's very difficult to see what they are working toward with this roster.
That's been the general state of things in Detroit these past few years. Tayshaun Prince and Rodney Stuckey ought to be second-unit guys for a playoff team, not getting starters' minutes on a cellar dweller.
If you're sending Jason Maxiell out for the opening tip and playing him 26.6 minutes per game, something is fundamentally wrong with your rotation.
There are a couple bright spots in Detroit. Greg Monroe is averaging nearly a double-double and is deserving of All-Star attention for his work inside. Off the bench, Andre Drummond has been very impressive in his limited run, putting up 6.5 points and 4.7 rebounds in just 15.4 minutes per game.
A twin-tower concept organized around those two could be the key to winning for the Pistons, but Brandon Knight is not capable of running it right now. The raw talent is there, but as long as he's shooting just 38.7 from the field, he won't be consistent enough to keep opponents from clogging the paint.
The fact that Detroit is even working toward a worthwhile identity is novel progress. It doesn't look like the Pistons are going to get there this season, though.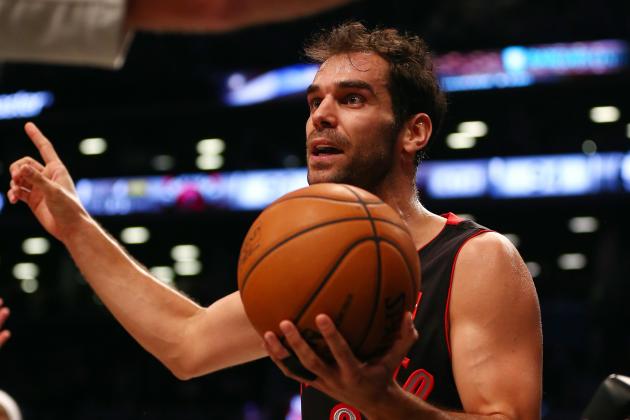 Elsa/Getty Images
Jose Calderon is a veteran Raptor still searching for some direction for his team.
The Toronto Raptors have a number of interesting pieces without much of a sense of how they fit together.
Kyle Lowry stepped in and immediately became the most talented player in Toronto, though his supporting cast limits his impact. Before his ankle injury, he was providing All Star-caliber point guard play on both ends. Unfortunately, the few talented players already on the Raptors roster are also vying for time in the backcourt.
Lowry, DeMar DeRozan and Jose Calderon are all effective players, but DeRozan is not big enough to play the small forward position. That means only two of the three best Raptors can be on the court at the same time, which is unfortunate given Toronto's spotty frontcourt.
Andrea Bargnani is shooting 35.8 from the field and pulling in 4.4 rebounds per game, which is even more abysmal considering he is a former No. 1 pick and is 7'0''. No other big man on the roster is good enough to command starters' minutes, and the Landry Fields signing is already a failure at small forward.
It will be tough for Toronto to make its way into the playoff picture with this kind of roster imbalance. As long as the Raptors have three solid guards and no answers at forward, they're going to remain on the outside looking in.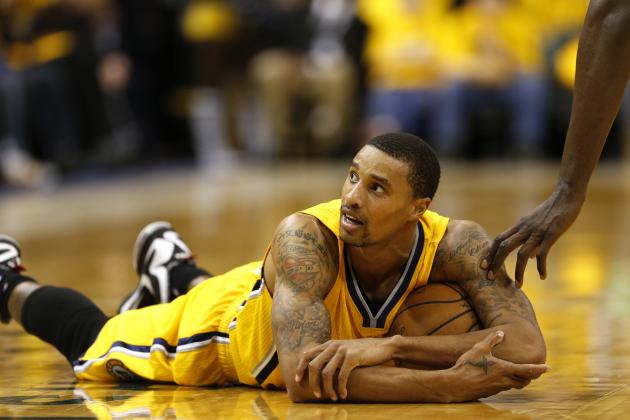 Joe Robbins/Getty Images
George Hill is not the only Pacer who is being asked to do too much.
The Danny Granger conundrum is finally coming to a head for the Indiana Pacers.
For all the Pacers' success last season, there were long-term concerns that Granger could not be the best player on a championship contender. Now he is out up to three months with a knee injury, and Indiana has been untimely forced into a post-Granger future.
Paul George has the potential to be a future star, but his offensive game still needs work. In 36.7 minutes per game, George is averaging 14.1 points, 7.2 rebounds and has a 38.5 field-goal percentage. If people thought Granger might not be able to be the Pacers' best player, George definitely can't do it this year.
Since Roy Hibbert has been little help this season, the burden then falls on guys like David West and George Hill to pick up the slack. Each has responded decently, averaging 14.9 points and 13.5 points per game, respectively.
On the other hand, Hill's team-best 5.0 assists per game points to an organizational problem with ball movement. The Pacers are 29th in the league in dishing out assists.
This passing phobia is not new for Indiana, which ranked second-to-last in that category last year. However, the 40.5 shooting percentage is .33 points below the Pacers' 2011-12 mark.
When you see a team shooting poorly and passing sparsely, the solution isn't just to wait for George to bloom. The Pacers need to take a page out of their defensive playbook and look to score through unselfish team play.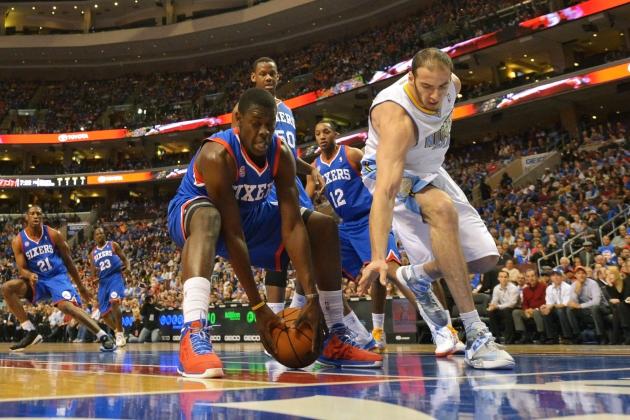 Drew Hallowell/Getty Images
Is Jrue Holiday someone the Sixers can commit to build around?
Unlike the Pacers, the Philadelphia 76ers went out and got their cornerstone player.
When healthy, Andrew Bynum is easily one of the best centers around. Health has never been a guarantee for Bynum, though. Only once, in 2006-07, did he complete a season without missing a game, and he has never done it since he became a full-time starter. Last year's breakout campaign was actually his healthiest in half a decade.
Considering Bynum is currently out with injuries to both knees, it looks like last season was an anomaly. The Sixers must have a backup plan for when he is on the shelf.
At a quick glance, it seems like Jrue Holiday may be that answer. His 18.6 points and 8.6 assists per game are impressive, but they are also inflated by his 38.1 minutes per game. He is also averaging 4.9 turnovers per game.
Holiday isn't bad by any means; like Granger and George, he's just not good enough to put his team on his back and carry it. Playing next to Bynum, he'd be a capable half of a one-two punch, but he shouldn't be trusted to shoulder the load alone.
There's no one else but Holiday who could even be considered to take the lead in Bynum's absence. If the Sixers' only plan is to cross their fingers and hope their center can stay healthy, they could be in for some frustrating times.