The Doctor's WWE SmackDown Recap: The Things We Learned, Loved and Hated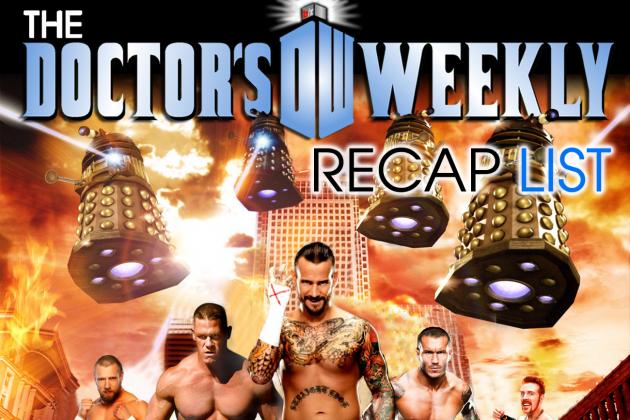 Photo by Natasha Farley (Images property of WWE, BBC and Bleacher Report)
Welcome, ladies and gentlemen, to my weekly SmackDown recap list. I always appreciate my loyal readers, but for those of you who are new, each week I recap SmackDown with a long list.

The entries are made up of equal parts observations, humor, recap, play-by-play, revelations, speculations, questions, answers and anything else I notice during the show. I sometimes comment on commercials, too, just because I get bored during them.
We are less than a week away from Thanksgiving and the worst shopping day of the year, but more importantly we are a day away from Survivor Series.
This is the final show before Survivor Series, not counting Saturday Morning Slam, so WWE is going to put any final touches on the pay-per-view matches tonight.

I try to interject some fun into these lists, so I hope you have fun reading this week's list of the 120 things we learned, loved and hated from the show.
Begin Slideshow

»
1. It feels so good to watch SmackDown and know that JBL will be here calling the action every week.
2. These opening show recaps are getting more and more annoying. I think this is WWE's way of admitting they think we can't remember anything.
3. Sheamus is shown waiting for Big Show to arrive in the parking garage.
4. We go to the ring where Miz comes out to start the show with MizTV.
5. I wonder if WWE is using the real crowd reaction to Miz tonight?
6. A Miz chant breaks out and Miz says it feels good to be home.
7. Miz's statement about being a survivor is pretty true. He had an uphill climb in this business.
8. He brings out Mick Foley as his guest and Mick comes out looking like my uncle at a Who concert.
9. Foley says he had some reservations about bringing Miz on the team and then he plugs his new children's book.
10. Shameless, but smart.
11. Foley gets two cheap pops from the crowd and Miz calls him on it.
12. Foley asks which Miz he will get at Survivor Series, the main event star or the talk show host.
13. Miz gets in his face and says he needs to look at everyone else on the team and question them.
14. Foley brings out his team one at a time to have a team meeting in the ring.
15. It is hard to say who got the biggest pop since this is a pre-taped show but I would say Orton based on the way the crowd looked.
16. Foley says whoever wants to go first can and nobody says anything. This is like the meetings we had when I worked at Target 15 years ago.
17. Bryan and Kane argue a little about Miz teaming with Kane on Monday.
18. Kane roams basements and scares little children no matter who his tag team partner is.
19. I always think Kane and Bryan are going to get stale and then one of them says something funny and I'm back on board with it.
20. Miz calls out Kofi for kicking him instead of shaking his hand and Kofi says he will do it again if Miz doesn't back away.
21. Foley asks what Orton has to say since he has been sitting to the side this whole time.
22. Orton recalls some of the fights he has had with Foley, but he still likes Foley more than the rest of his teammates.
23. Orton says he doesn't trust anyone as he looks at Miz and he knocks down the SS poster with Miz on it.
24. This brings out Team Ziggler on the ramp sans Cody Rhodes.
25. Ziggler notices that Alberto Del Rio and Ricky are not paying attention to him and he asks for their attention.
26. ADR says he should be the team leader. Ziggler says this should have been brought up backstage.
27. Foley makes some matches between the two teams after having gotten Booker's approval.
28. HA! Sandow says Cody is not here because of Kane's brutality and Kane just nods. I don't know why that is funny.
29. Daniel Bryan is the only member of Team Foley to not have a match since Team Ziggler is still down a member after Cody got hurt. Taking your best wrestler and keeping him off the card is like Popeye's discontinuing chicken.
30. Great. Now I want Popeye's.
Since WWE decided not to upload the MizTV segment, or have just haven't done it yet, I have included this week's WWE Backstage Fallout with Kofi Kingston discussing his loss to Damien Sandow, Wade Barrett talking about Survivor Series and Antonio Cesaro talking about his match against Truth on Sunday.
31. We return to hear the bell ring for Damien Sandow vs. Kofi Kingston.
32. Kofi uses his speed to get Sandow to take a powder outside the ring.
33. Kofi catches Sandow's foot and turns it into a nice arm drag.
34. These two seem to be meshing really well in the early minutes of this match.
35. Sandow and Kofi trade control back and forth a bit until Kofi gets a near fall off a nice dropkick.
36. Kofi nails Sandow in the ribs with a hard kick for a two count that even made JBL say wow.
37. We go to a break after Kofi hits a suicide dive to Sandow.
38. This is shaping up to be a good match so far. I think Kofi has really improved recently and Sandow is a future star for sure.
39. Kofi is still in control after the break.
40. Sandow hits a beautiful neckbreaker for a two count.
41. Kofi sets up for the Trouble in Paradise and Sandow runs away screaming "No, no, no."
42. Kofi keeps on him with a high cross body for a two count.
43. Sandow rolls up Kofi out of nowhere for the win. I think he may have had the tights but the angle made it hard to tell.
44. Either way, it was a good match. I am glad Sandow got a pretty clean win, even if he did have the tights.
45. After the break, we see replays of Vickie playing voicemails that AJ supposedly left on John Cena's phone.
46. A six-Diva tag team match? This should be pretty quick.
47. Natalya starts off against Aksana.
48. I guess Layla is keeping with this playful gimmick where she spanks her opponents and uses her butt as a weapon.
49. Michelle McCool must be sooooo proud of her protege.
50. Alicia Fox is a heel this week.
51. Kaitlyn comes in and beats Foxxy down with a series of power moves.
52. WWE must hope she can fill the void letf by Beth Phoenix's departure.
53. Foxxy takes the loss for her team after a reverse DDT from Kaitlyn.
54. I was right. It was quick.
55. There were a few good exchanges, but I wouldn't count on any highlight reels coming out of this one.
56. Booker is shown telling Sheamus he can't just keep waiting for Big Show in the garage.
57. Randy Orton is out next to team with Miz to take on Del Rio and Ziggler.
58. Ziggler and Miz start things off with Ziggler getting flap-jacked early for a near fall.
59. They start slugging it out and Ziggler sends Miz over the top rope while Del Rio knocks Orton off the apron.
60. After a commercial we see Ziggler taking Orton to school with a knee lift and elbow drop for a two count.
61. Orton is taking a beating from the heels in this one, which means Miz will get the hot tag and win the match.
62. Isn't it sad that a formula exists for these things?
63. Del Rio looked like he enjoyed knocking Miz off the top rope a little too much.
64. Del Rio has some of the best kicks in the business. He can use his feet from so many angles.
65. Miz back drops Del Rio right out of the ring at one point and it looked like Del Rio fell about 12 feet straight to the ground.
66. Orton gets the hot tag the second time and he takes out Del Rio and Ziggler with a ton of signatures.
67. Miz ends up getting the win after hitting his finisher on Del Rio.
68. Good match. Everyone looked really solid.
69. Miz celebrates the win until Orton hits an RKO to Miz.
70. The crowd seems split since this is Miz's hometown.
71. I really hope Orton turns heel and Miz keeps going as a face.
72. In fairness to Orton, Miz did tag himself in and steal the win.
73. After the break we get some coverage for the Big Show vs. Sheamus match.
74. Sheamus comes out to the ring and calls Big Show a coward for attacking William Regal.
75. He says he wants Big Show to come out and fight him now.
76. This gimmick of "All I want to do is fight" is starting to wear a bit thin for me. Sheamus needs to do something new or risk really turning into a one-trick pony.
77. Big Show comes out and says if Sheamus isn't careful he will get what he asked for.
78. Only Big Show can make the Big Gold Belt look like an average-sized title belt.
79. Booker comes out to stop Sheamus from attacking Big Show.
80. Booker kicks Sheamus out of the building to avoid a fight with Big Show.
81. Big Show and Booker are talking backstage and Booker puts him in a match against a mystery opponent.
82. Kane is out for his match against Wade Barrett without Daniel Bryan by his side.
83. Barrett hits the Black Hole Slam early for a near fall.
84. Sorry. Winds of Change.
85. Kane comes back quick and he sends Barrett to the outside.
86. Team Ziggler comes out and ruins what could have been a great match.
87. Bryan comes out but he isn't enough to help so Foley brings out Kofi to help.
88. Orton's music hits and he comes out to clear the ring.
89. Sandow sets himself up for an RKO like he wanted it to happen.
90. I guess Sandow is a distant relative of Samuel Morse.
91. I know it's a terrible joke. I got bored during the commercial and that was all I could think of.
92. R-Truth is out to sit in on commentary for the next match.
93. Antonio Cesaro is out to face Sin Cara after a really poorly placed commercial break.
94. I know I complain about the placement of commercials a lot, but it is a serious issue they need to address.
95. Truth: I'm good at passing tests.
96. JBL: You don't seem like an A student.
97. The Power Ranger gets thrown around by Cesaro a little bit before coming back with some high-flying moves.
98. JBL wants Truth to replace Josh Matthews on commentary.
99. I kind of do, too.
100. Cara is either botching a lot less or WWE has edited this match well.
101. Cesaro's launching uppercut is one of the most brutal looking moves in all of wrestling.
102. Cesaro gets the win, and then Truth gets on the table and talks to the crowd.
103. Nice. Truth references Hacksaw Jim Duggan before getting a USA chant going.
104. Duggan doesn't get enough credit. He was awesome.
105. Big Show is out to face his mystery opponent in the main event.
106. Khali? Why is Big Show acting scared? He has destroyed Khali several times.
107. Big Show is trying to skip the steak knives and get that Cadillac because he is trying to be the best salesman to make Khali look good.
108. Only here will you get a Power Rangers and David Mamet reference in the same place. Hold your applause.
109. Big Show is making Khali look better than anyone has in a long time. Not a lot better, but better.
110. Show gets the win with the WMD, which I guess they are now calling the KO punch instead.
111. Sheamus' music hits but he doesn't come out. Show looks around and then his own music hits and he leaves the ring.
112. They show Big Show backstage trying to get in his tour bus and Sheamus attacks him and beats him all over the garage.
113. Big Show eventually throws Sheamus onto the hood of a car.
114. Sheamus ends up jumping off the car and putting Big Show into a wind shield of another car.
115. Officials and Booker T try and break it up, and eventually we end with a downed Giant and Sheamus being dragged away.
116. Big Show looking weak means he will probably retain on Sunday.
117. There were a couple good matches but other than that tonight was a predictable mess, if that even makes sense.
118. I don't know what it is but the last couple of PPV go-home shows before events have been kind of bad.
119. I think WWE needs to refresh some feuds if they don't want to keep being looked at as repetitive.
120. I hope everyone who celebrates Thanksgiving next week has a great time on Thursday. I know I will.
Make sure to come back tomorrow where I will be covering Survivor Series live here on Bleacher Report. Follow me on Twitter @BR_Doctor