MONTREAL - Johny Hendricks was born and raised in Oklahoma. He captured three state wrestling championships while competing for Edmond Memorial High School before attending Oklahoma State University. At OSU, he was a four-time All-American and two-time NCAA champion.
When his wrestling career ended, Hendricks packed up and moved to Las Vegas to try his hand at this thing called mixed martial arts.
When Hendricks began his training in Vegas, he found himself in the same gym as his opponent on Saturday night, Martin Kampmann. That gym, Xtreme Couture, was where Hendricks would spend most of his waking hours living in Vegas.
"Out in Vegas I was a house rat, I didn't go out, I didn't do anything. I trained and I went home, because I had to," Hendricks said. "I trained six, seven hours a day because I sucked. I trained as hard as I could and then I'd go home and relax."
Eventually, those six or seven hours a day at the gym began to pay off for Hendricks, but his advances had a price. No one at the gym wanted to train with him anymore. "Once I got to a certain level, none of the guys trained with me at Xtreme Couture," Hendricks said. "I swear to God. Front to the back, because they though that I was going to have to fight them one day."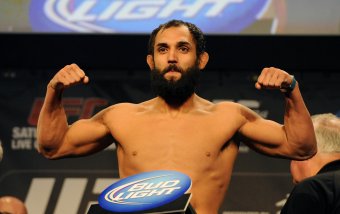 Eric Bolte-US PRESSWIRE
It seems his training partners at Xtreme Couture had a hang-up about training with someone they could have been matched up with down the road, something Hendricks says he still has no problem with.
"I'm a wrestler at heart, so if you and me train every day and you want to say 'Hey, we're gonna fight.' Guess what? We're gonna fight, that's just my nature. So, it didn't bother me at all and I understand why it bothered them," Hendricks said.
"I'd wrestle a guy every day that I'd have to compete against every weekend and that didn't bother me at all. Same thing with fighting, may the better man win that night and whoever wins gets to buy the drinks."
Over time, Hendricks did move on from Xtreme Couture, but it wasn't due to a lack of training partners. It was because he and his wife had a daughter and Hendricks, a Southern boy at heart, had no desire to have his child grow up in Sin City, Las Vegas.
"I love knowing my neighbors. I love knowing I can let my daughter out and I can let her into my neighbor's house and they can play and I don't have to worry about that at all. Vegas? You can't do that," he said.
"It took me three years to meet one of my neighbors. One neighbor I tried to meet, she slammed the door in my face. They're just not very nice, they're more homebodies and in Texas, they're more of that Southern hospitality."
Don't count on Hendricks showing Martin Kampmann any of that Southern hospitality he is so fond of when the cage door locks behind them on Saturday night in Montreal.
All quotes obtained first-hand by BRMMA