GSP vs. Condit: 5 Welterweights Who Are Very Interested in This Fight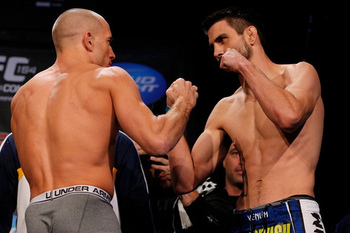 Photo by Josh Hedges/Zuffa LLC/Zuffa LLC via Getty Images
The biggest welterweight bout in almost a year is set to take place in Montreal at UFC 154 on Saturday night.
Georges St. Pierre and Carlos Condit are set to face off in a fight to unite the welterweight crown.
GSP has been the most dominant welterweight in history. If he wins, he'll have, once more, proven that he is far and above any other welterweight fighting in the UFC.
That will finally throw up the possibility of a superfight with Anderson Silva, which Silva is craving, UFC president Dana White is craving, the majority of MMA fans are craving and, probably, deep down, GSP is craving.
But let's just pretend that fight isn't a factor and that Silva's attendance at the Bell Centre on Saturday is just a mirage.
Here's five fighters who are very interested in this fight.
Martin Kampmann
Eric Bolte-US PRESSWIRE
One of two men fighting for title contention in the co-main event, Martin Kampmann, like his opponent, will likely shuffle up to the screen backstage to watch the main event after his fight is done because he could potentially face the winner for a title.
Should he get past Johny Hendricks, that is.
Kampmann has had a chequered career in the UFC, but over the course of his last three fights he has pulled himself up to a contender's spot. Win or lose, Kampmann is a top-five welterweight right now and could even look to face the loser of GSP vs. Condit should he fail to get past Hendricks.
Johny Hendricks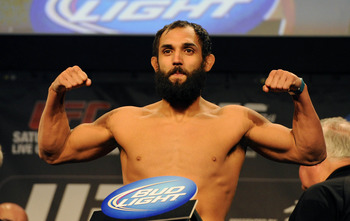 Eric Bolte-US PRESSWIRE
Johny Hendricks has been a revelation since losing to Rick Story back in 2010, having mounted an impressive four-fight win streak. On Saturday night, he's fighting to become No. 1 contender and, like his opponent, knows the winner of GSP vs. Condit will decide his destiny as well.
Jon Fitch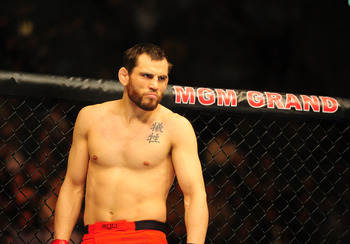 Mark J. Rebilas-US PRESSWIRE
Jon Fitch had been knocking on a title shot since 2010, when he completed an impressive five-fight winning streak, culminating in an unlikely draw against BJ Penn.
He's lost once to GSP before and gave the Canadian welterweight champion probably his toughest fight in years.
However, an unfortunate knockout loss to Hendricks ended his aspirations and Fitch became an almost forgotten fighter.
Not so anymore. His impressive win against Erick Silva after almost a year's absence was a statement of intent—a fight that almost single-handedly made the case for a Fitch/GSP rematch the fighter has craved.
Nick Diaz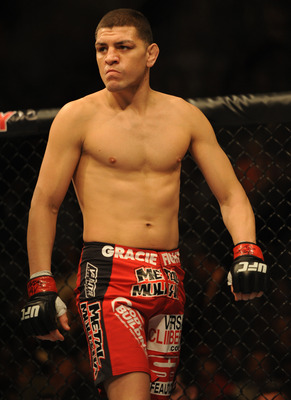 Kelvin Kuo-US PRESSWIRE
Another man almost forgotten in the maelstrom of UFC shuffles, Nick Diaz was a No. 1 contender whose future now is anyone's guess.
He lost a controversial decision against Carlos Condit in February which still divides fans, even though he was getting ready to fight GSP for the belt at the time.
It's Condit's win and Diaz's suspension that subsequently left Diaz on the sidelines. He'll be watching the main even both with an eye to a rematch against Condit as well as a shot against GSP, which Diaz feels he is owed.
Rory MacDonald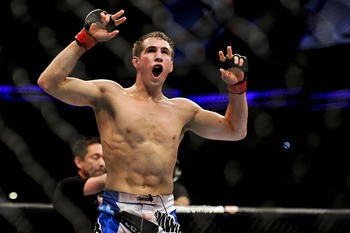 Paul Abell-US PRESSWIRE
Rory MacDonald is GSP's training partner at Tristar in Montreal. The two have told us they have no interest in fighting each other; however, MacDonald has already fought his way to the top of the division, and only B.J. Penn now stands in the way of him and a serious challenge for the welterweight title.
MacDonald has talked of stepping up to middleweight and eventually becoming a two-division champion, suggesting he has no intention of challenging for the welterweight belt as long as GSP is title holder.
That's why the main event at UFC 154 will be of particular interest to him.
A Condit win could give him the idea that now is his time, especially since he lost a close fight to Condit earlier in the year. But even if his friend and partner wins, that will also give him pause for thought for quite different reasons.
Keep Reading