Phil Mickelson: Report Card Grades for His 2012 Season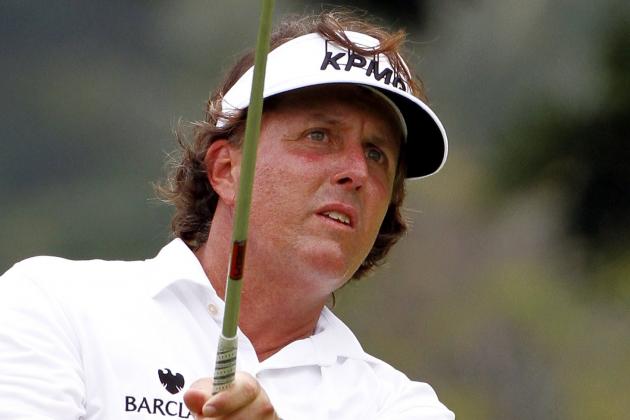 Stanley Chou/Getty Images

For the majority of his career, Phil Mickelson has been rated as one of the top golfers in the world.
Mickelson has often been in the No. 2 position behind Tiger Woods. Mickelson has regularly pursued Woods, but he has rarely bested his old rival.
However, Lefty is one of the most consistent players on the tour and he has been something of an artist with his wedge play. When it comes to hitting flop shots and landing them softly, Mickelson has often set the standard.
Overall, the 2012 season was a solid one for Mickelson. He finished eighth on the tour with slightly more than $2.3 million in earnings.
Here's a look at how the rest of Mickleson's season graded out.
Begin Slideshow

»
Mickelson did not have a stellar year in his major performances.
However, it started off quite well. He finished tied for third in the Masters, giving him hope that he might play well on golf's biggest stages.
It didn't work out that way. He got off to a poor start in the U.S. Open by shooting a 76 in the opening round and could not recover. He tied for 65th.
Mickelson did not make the cut at the British Open and he was out of contention in the PGA, tying for 36th.
Phil Mickelson was involved in the great U.S. collapse on the final day of the Ryder Cup.
He lost his singles match to Europe's Justin Rose, two and one. The U.S. team went into the final day of the competition with a six-point lead over the Europeans, and Mickelson's loss to Rose was quite significant.
However, Mickelson had done a brilliant job while teamed with Keegan Bradley in the first two days of the international competition.
Mickelson and Bradley were 3-0 in the team matches and the combination of Bradley's fiery demeanor and Mickelson's expertise and efficiency overwhelmed their European competitors and turned on the crowds at Medinah Country Club in suburban Chicago.
Mickelson completed a solid season in 2012.
While it may have been below his standards, most golfers on the pro tour would be thrilled to finish eighth on the money winning list.
Additionally, Mickelson finished 14th in regular-season FedEx Cup points and fifth in playoff points for the FedEx Cup.
Mickelson won the AT&T Pebble Beach Pro-Am and had seven top-10 finishes, ranking 12th overall in that category.
Mickelson has never been known as one of the longest hitters on the tour, but he does not get short-changed with his driver.
He averaged 294.4 yards every time he drove the ball off the tee, and that ranked a respectable 53rd.
However, Mickelson had plenty of issues with driving accuracy. He hit the fairway 54.31 percent of the time, and that's simply not good enough. That ranked 174th on the tour, which he will need to improve on in 2013.
The approach shot has often been Mickelson's signature on the golf course.
When he has a short iron in his hands, or more specifically his lob wedge, it is like watching Bobby Flay in the kitchen or Ansel Adams take a photograph.
However, Mickelson did not have his best year with the short irons. He ranked 41st on getting his shots from 50 to 125 yards close to the pin. His average shot from that distance was 17'9" from the hole.
Normally, that's an area where Mickelson could get within the top 10 on a consistent basis.
Mickelson went to a "claw" grip on the putting green and had some success with it in 2012.
Mickelson was quite effective on putts from five to 10 feet, making 59.6 percent of those shots and ranking 25th in that category.
However, on putts from 10 to 15 feet, Mickelson struggled. He made 29.1 percent of those putts, which ranked 115th on the tour.
Mickelson was at his best on long putts. He made 8.9 percent of his putts over 25 feet, ranking ninth among PGA tour golfers.