17 Oddly Specific Predictions for NFL Week 17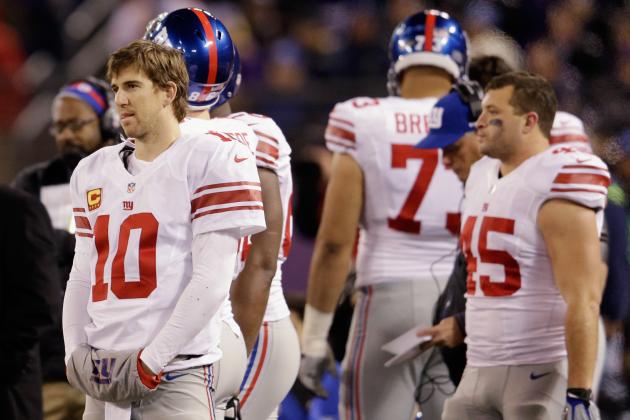 Rob Carr/Getty Images
The New York Giants are 8-7, the same record they owned after 15 games last season.
What a season? And we haven't even gotten to the playoffs yet.
The NFL's 93rd campaign has been interesting from Day 1. And with the NFC West yet to be decided and the NFC East coming down to a prime-time battle between the Dallas Cowboys and Washington Redskins, it's only appropriate that 2012 goes out with a bang.
Of course, our 239-1 record this season has been a hot topic all season as well.
As for that lone loss on our ledger, we're going to try to make up for that with an extra-special final prediction that we already know will occur.
We want to wish everyone a Happy New Year, which we are forecasting to take place on January 1, 2013.
Hey, who says we don't do our homework.
Begin Slideshow

»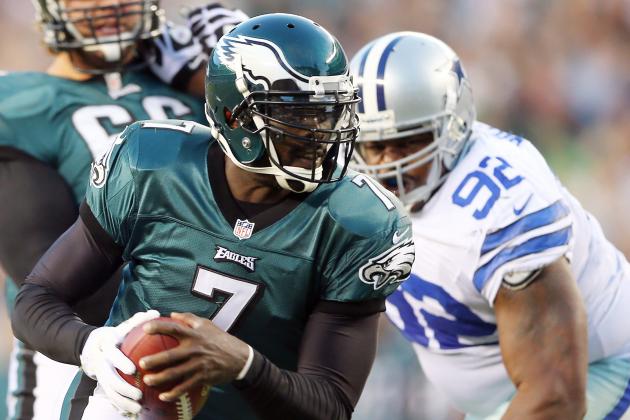 Elsa/Getty Images

In a year in which many felt the Philadelphia Eagles would finish first, it's shaping up as a season of lasts.
Last as in the case of Andy Reid, perhaps leading these Birds into action for the final time. The Eagles' sideline leader is the longest tenured head coach in the league with the same team.
And last in the sense that veteran quarterback Michael Vick, returning to action after missing six games, could be under center for Philadelphia for the final time as the Birds travel to New Jersey to face the still playoff-hopeful New York Giants.
The Eagles' four wins are the team's fewest since Reid's 5-11 debut season in 1999. But this head coach and his club won't be going down without a fight.
Despite being sacked 12 times and trailing 31-10 midway through the fourth quarter, Vick will lead Philadelphia to three touchdowns in just more than six minutes to tie the score at 31-all with 20 seconds to play.
While overtime will appear to be in the cards, Giants' head coach Tom Coughlin will look to end the affair in regulation. But rookie running back David Wilson will fumble after gaining 12 yards on a draw play, Eagles' cornerback Dominique Rodgers-Cromartie will pick up the ball and race 37 yards for what will prove to be the deciding touchdown in a 38-31 Philadelphia win.
Simply miraculous.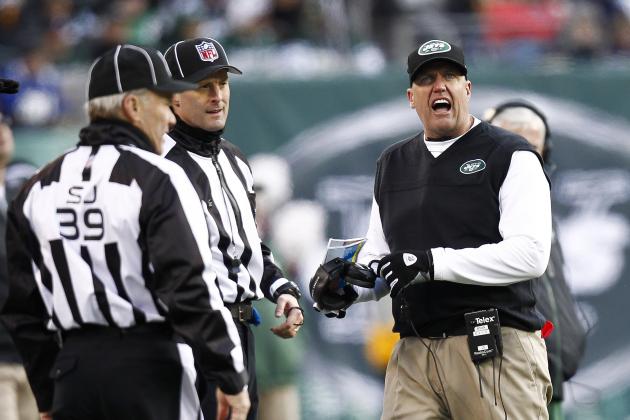 Jeff Zelevansky/Getty Images

It's been a long year for the New York Jets and an even longer season for the Buffalo Bills.
The Jets are suffering through their first losing campaign since 2007, while the denizens of Orchard Park are hoping to avoid a fifth straight last-place finish in the AFC East.
True, there were some who felt that either one of these clubs could make a run at dethroning the defending AFC East champion New England Patriots. And that would perhaps be true if these rivals could combine forces. The Jets and Bills have teamed for 11 wins, as many as New England has this season.
In any case, Mark Sanchez returns at quarterback after sitting out last week's 27-17 loss to the San Diego Chargers in which teammate Greg McElroy was sacked 11 times.
Of course, Sanchez has those 24 turnovers in 14 games. But Bills' quarterback Ryan Fitzpatrick certainly can relate, having coughed up the ball 22 times (16 interceptions, six lost fumbles) during the team's 5-10 season.
So let's make it simple. Both quarterbacks and teams will play mistake-free football and when the smoke clears…
Jets 24, Bills 22.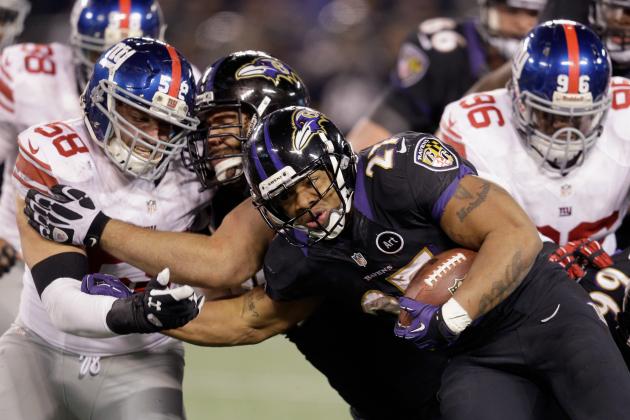 Rob Carr/Getty Images

John Harbaugh's team is back…we think.
Last Sunday, the Baltimore Ravens wrapped up their second straight AFC North title with a thorough dismantling of the defending Super Bowl champion New York Giants, 33-14. Just as important, the win snapped a rare three-game losing streak.
The Ravens will be playing football next week in the wild-card round. But first things first, and that means a rematch with the team they played in the season opener.
Joe Flacco and company routed the Cincinnati Bengals, 44-13, in the first Monday night game of 2012. But while Baltimore owns the top spot in the division, it is Marvin Lewis' team that has played better football of late.
So why not return the favor? Bengals' quarterback Andy Dalton will throw four touchdown passes, three to wideout A.J. Green, Josh Brown will kick three field goals and cornerback Leon Hall will return a Flacco interception 76 yards for a score in Cincinnati's 44-13 win.
As they say, turnabout is fair play.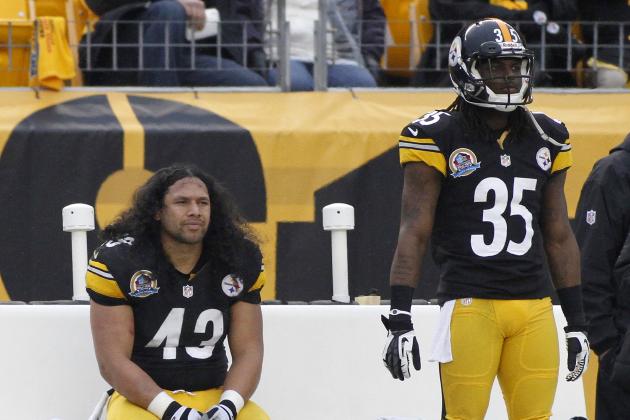 Justin K. Aller/Getty Images

When it was almost all said and done in 2012, we never did get a glimpse of the Pittsburgh Steelers that most of us know all so well.
The most consistent team since the merger (league-high 403 wins) was anything but that this season. And for the first time in his six-year career with the franchise, head coach Mike Tomlin will not enjoy a winning season.
It's strange to think that this year's Steelers are closer to the bottom of the division (two games ahead of the Cleveland Browns) than they are the top (three games behind the AFC North champion Baltimore Ravens). And when you consider the team had posted two straight 12-4 campaigns entering the season, a 7-8 mark is somewhat of a shock.
So where's the irony? The last time the Steelers finished with a losing record (6-10 in 2003) was also the last time the Browns won in the Steel City, which means Cleveland will complete its first sweep in this series since 1988 with a 21-17 win.
It's like rain…on your wedding day.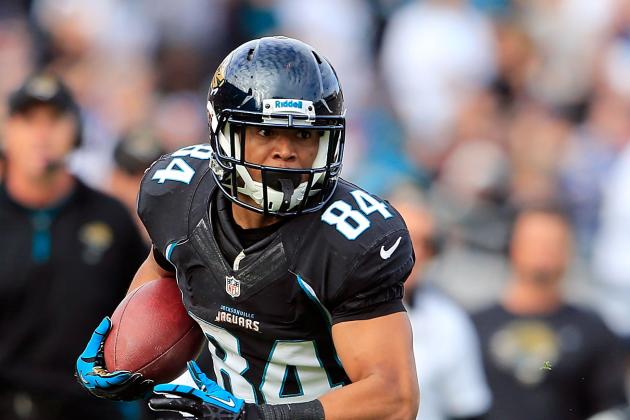 Sam Greenwood/Getty Images

Head coach Mike Mularkey's first season at the helm of the Jacksonville Jaguars proved to be record-setting.
Unfortunately, it's the kind of notoriety he could do without.
With one game to go, the Jaguars' 13 losses are already a team-high. And if the team gives up 14 points to the Tennessee Titans on Sunday, the franchise will set another mark in terms of most points allowed in a season.
Still, Jacksonville did defeat the Titans, 24-19, a few weeks ago for one of their two victories in 2012. And considering that Mike Munchak's club has allowed an NFL-high 451 points (55 coming in last Sunday's loss to the Green Bay Packers), anything is possible.
But not likely.
It will be one of those good days for Titans' running back Chris Johnson, who will run for 154 yards and a pair of scores. And since the only game this season in which Tennessee gave up fewer than 10 points was a 37-3 win over the Miami Dolphins, Munchak and company will skunk this Florida team, 34-0.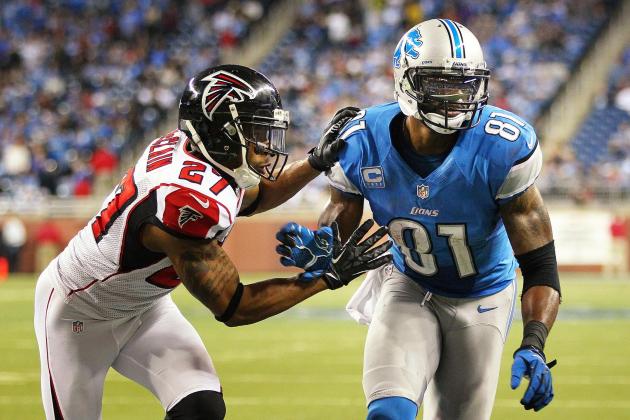 Mike Carter-USA TODAY Sports

While Detroit Lions wide receiver Calvin Johnson probably is not in the discussion for NFL MVP, the record-setting pass-catcher certainly is in the running for Offensive Player of the Year.
The amazing wideout leads the league with 117 receptions (tied for the 10th-most in a season in NFL history) for a league-record 1,892 yards. He also has an NFL-record eight straight 100-yard receiving games.
But in Week 7 on a Monday night at Soldier Field, Johnson was stifled by the Chicago Bears' secondary, totaling just three catches for 34 yards.
It will be another frustrating outing for the productive performer in this rematch. Charles Tillman and company will limit Johnson to six catches for 65 yards, giving him 1,957 for the season as the Lions will lose their eighth straight, 26-20.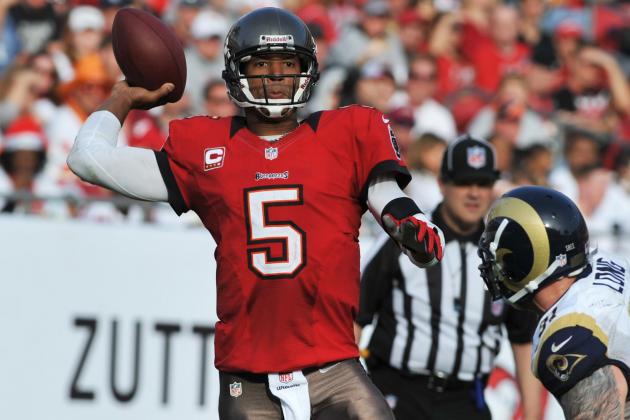 Al Messerschmidt/Getty Images

A season ago, the Tampa Bay Buccaneers won four of their first six games, including victories over the Atlanta Falcons and New Orleans Saints. It was such a motivator for the Bucs that they proceeded to lose their last 10 games.
This season, enter head coach Greg Schiano, who got the team off to a 6-4 start, But a tough 24-23 loss to the Atlanta Falcons set a five-game losing streak into motion, and now the Bucs are looking to avoid the NFC South basement for a second straight season.
It's been a rough couple of weeks for Buccaneers' quarterback Josh Freeman, who after throwing 25 touchdown passes and just eight interceptions in his first 13 games has been picked off four times each in consecutive losses to the Saints and Rams.
And the Falcons will make sure that streak remains intact. There will be no letup by the NFC's No. 1 seed as cornerback Asante Samuel will get two of Freeman's four interceptions in Atlanta's 38-20 win.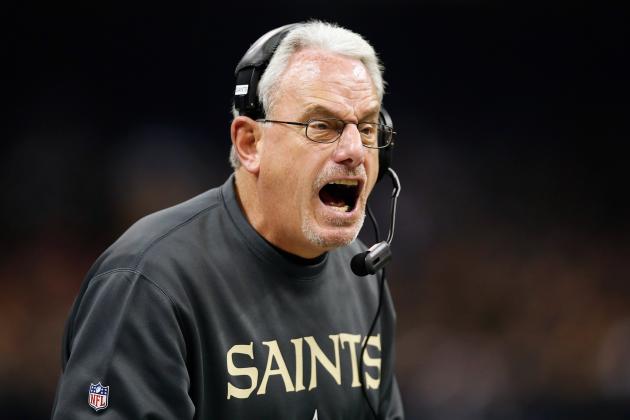 Chris Graythen/Getty Images

These have been tough times for the New Orleans Saints, who were hoping to set a franchise record this season by making the playoffs for a fourth consecutive year.
Now Joe Vitt's club is just hoping to avoid a losing season, one year after finishing 13-3, winning the NFC South and scoring the fourth-most points in a season (547) in league history.
Into town come the Carolina Panthers, one of NFL's bigger disappointments in 2012 but riding a three-game winning streak. A season sweep of the Saints (whom the Panthers defeated in Week 2, 35-27) would take a little sting out of a long year.
Quarterback Cam Newton has been hot of late, throwing 11 touchdown passes and just one interception in his last six games while rushing for 353 yards and four scores.
But Drew Brees will throw for 310 yards (giving him 5,000-plus passing yards for the third time) and three touchdowns (putting him at 40-plus scores for the second straight season), and the Cajuns will end the year on a high note, winning 35-28.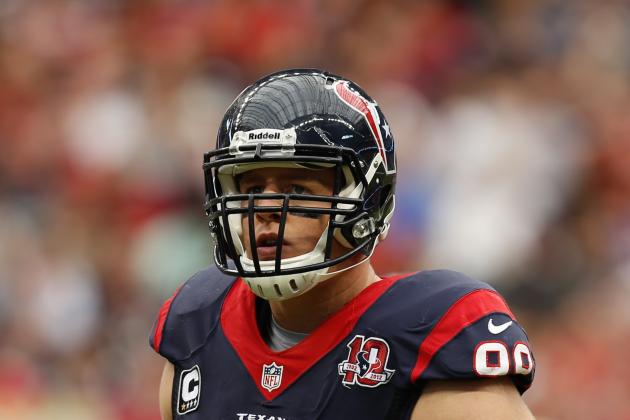 Thomas Campbell-USA TODAY Sports

We're about to find out how the Houston Texans plan to reach Super Bowl XLVII.
Losers of two of their last three games, Gary Kubiak's team is looking to wrap up home-field advantage in the AFC against the Colts at Indianapolis, a city where it has never won (0-10).
Matt Schuab will shake off what has been a rough few weeks by throwing for 258 yards and three touchdowns and Arian Foster will run for 112 yards. Then, the Texans will turn the game over to the defense and J.J. Watt.
It will be a productive day for the Pro Bowl defensive end, who will have seven tackles and a sack, as Watt will have his way with not only Colts' right tackle Winston Justice (listed as questionable on Friday's NFL injury report with a shoulder issue) but with the entire Indianapolis' offensive line.
With 2:46 to play and the Texans nursing a 35-24 lead, Colts' quarterback Andrew Luck will drop back to pass, but suddenly slip and fall as Watt swoops in for the easy sack. Watt's total of 22.5 sacks will tie the recognized NFL record set by Giants defensive end Michael Strahan vs. the Green Bay Packers (and quarterback Brett Favre) on the final Sunday of the 2001 regular season.
Game. Set. Match. And the AFC road to New Orleans now goes through Houston.
Cary Edmondson-USA TODAY Sports

It's safe to say that the reputation of the hard-hitting San Francisco 49ers defense has taken a few hits itself the last two weeks.
In splitting road games with the New England Patriots and Seattle Seahawks, Jim Harbaugh's team has surrendered a combined 76 points.
This week, the task is somewhat different as the struggling Arizona Cardinals come to town with the Niners needing a win to wrap up the NFC West. With both teams' offenses struggling this afternoon, it will become a game of big defensive plays and big defensive players like San Francisco's Aldon Smith.
It will be a productive day for the Pro Bowl outside linebacker, who will have four tackles, an interception and a pair of sacks. Smith also will force a fumble that teammate NaVorro Bowman returns 13 yards for a touchdown.
With 2:46 to play and the 49ers nursing a 14-3 lead, Cardinals' quarterback Brian Hoyer will drop back to pass and suddenly slip and fall as Smith swoops in for the easy sack. Smith's total of 22.5 sacks will tie the recognized NFL record set by Giants defensive end Michael Strahan vs. the Green Bay Packers (and quarterback Brett Favre) on the final Sunday of the 2001 regular season.
Harbaugh and company will tack on a late touchdown via a Hoyer interception for a 21-3 win. And the Niners will breathe a sigh of relief after capturing a second straight division crown.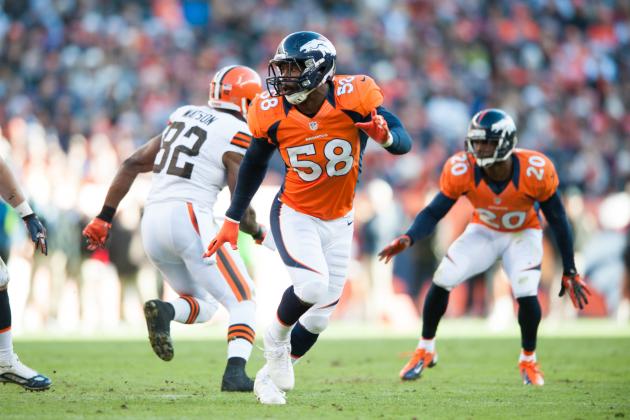 Dustin Bradford/Getty Images

The winning streak for the Denver Broncos has reached 10 straight games. And John Fox's team may be just getting warmed up, if you can believe that.
But it's been far from a one-man show in the Mile High City as quarterback Peyton Manning and the second-highest scoring team in the league has been aided by an improving defense that leads the NFL with 48 sacks.
And the 2-13 Kansas City Chiefs, who failed to score a touchdown when these teams met five weeks ago in a 17-9 loss, are about to see second-year pro Von Miller at his pass-rushing best.
It will be wa productive day for the Pro Bowl outside linebacker, who will have three tackles, four sacks and a a pair of forced fumbles.
With 2:46 to play and the Broncos nursing a 11-point lead, Chiefs' quarterback Brady Quinn will again drops back to pass and suddenly slip and fall, as Miller swoops in for the easy sack. Miller's total of 22.5 sacks will tie the recognized NFL record set by Giants defensive end Michael Strahan vs. the Green Bay Packers (and quarterback Brett Favre) on the final Sunday of the 2001 regular season.
More importantly, Denver's 20-9 victory over the Chiefs will wrap up the second seed in the AFC for Manning and company.
These are interesting times indeed for the red-hot Broncos.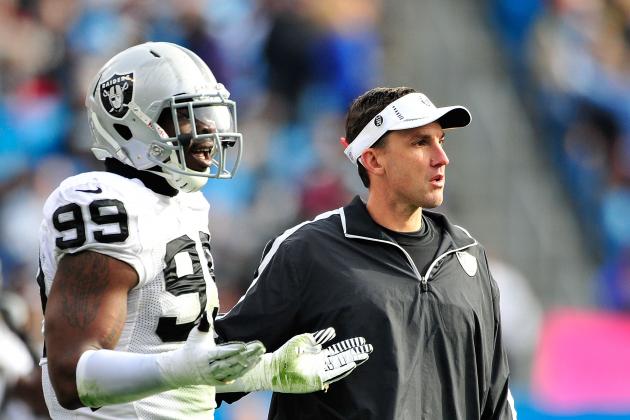 Grant Halverson/Getty Images

Happy Anniversary to the Silver and Black.
Ten years ago (2002), the Oakland Raiders were en route to an 11-5 finish and on their way to Super Bowl XXXVII and a date with their former head coach Jon Gruden.
It's been pretty much downhill ever since.
Dating back to 2003, the Raiders are a combined 49-110, have not enjoyed a winning season since '02 and have lost at least 11 games in eight of those 10 campaigns. There have been numerous head coaches and even fewer highlights.
Now Oakland closes 2012 against the disappointing San Diego Chargers, who are on their way to their first losing season since 2003. But the first of their six wins this season came on a Monday night at Oakland, a 22-14 decision back in Week 1.
Hence, Chargers' quarterback Philip Rivers will play turnover-free football for a second straight week, the San Diego defense will total 11 sacks for the second consecutive game and Norv Turner's team will keep the Raiders out of the end zone in a 24-11 win.
So make it 49-111. And counting…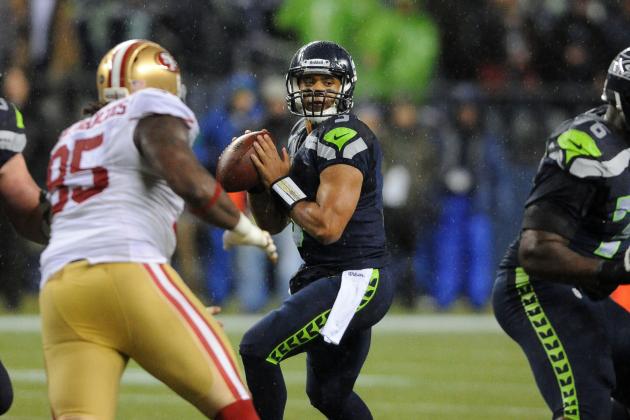 Steve Dykes/Getty Images

What is wrong with the Seattle Seahawks?
Three weeks ago, Pete Carroll's team posted a resounding 58-0 win over the Arizona Cardinals. A week later, quarterback Russell Wilson and company rolled the Buffalo Bills in Toronto, 50-17. And last Sunday night in the Pacific Northwest, the Seahawks manhandled the NFC-West leading San Francisco 49ers, 42-13.
Notice a pattern?
It's safe to say that the rest of the league is now onto the Seahawks, who have seen their point production drop exactly eight points in each of their last two contests.
Now enter the much-improved St. Louis Rams, winners over Seattle in Week 4 (19-13) and the owners of a perfect 4-0-1 record vs. their division rivals this season.
Jeff Fisher's defense will keep Wilson under wraps but will miss the mark on running back Marshawn Lynch, who will rumble for 185 yards and three touchdowns in Seattle's 34-17 victory.
Yes, the scoring slump continues for Carroll and crew.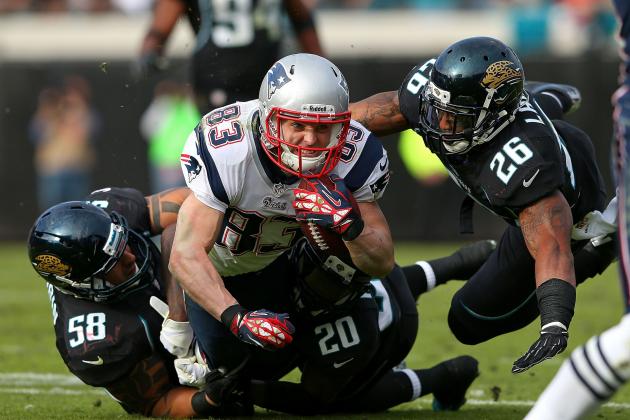 Mike Ehrmann/Getty Images

The 11-4 New England Patriots still have eyes on improving their seeding in the AFC.
The 7-8 Miami Dolphins have aspirations of a .500 record after finishing with a losing record in each of the previous three seasons.
Roughly a month ago, Bill Belichick's team survived in South Florida, 23-16, in a game in which Miami's defense kept the Pats in check for most of the afternoon.
And last week at Jacksonville, the Patriots played one of their poorer games of the season in a 23-16 win over the Jaguars.
Add up the numbers and logic says that New England will hold off Joe Philbin's team, 23-16, in Foxborough on Sunday.
Whew.
So it will be off to the playoffs for Belichick and company. Fortunately for the Patriots, they'll be done with the state of Florida, since there's no chance they'll meet the Tampa Bay Buccaneers in Super Bowl XLVII.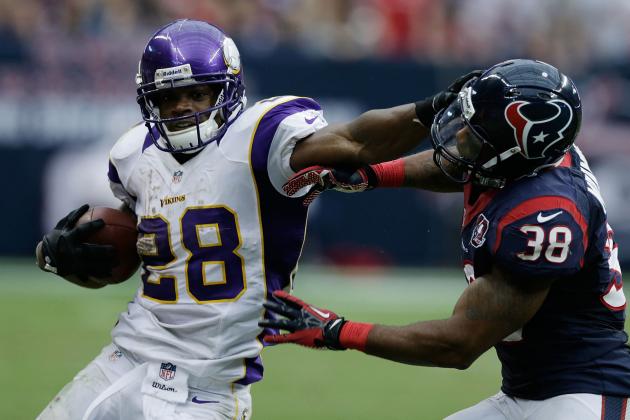 Scott Halleran/Getty Images

Can the surprising Minnesota Vikings close the deal?
Lost in the amazing story of running back Adrian Peterson and his pursuit of Eric Dickerson's single-season rushing record is the fact that Leslie Frazier's 9-6 team is in position to wrap up a playoff berth.
Remember, this is a team that was a combined 9-23 the previous two seasons.
Of course, amongst those 23 losses are four to the Green Bay Packers, who have actually defeated the Vikings five straight times, including a 23-14 decision four weeks ago at Lambeau Field in a game in which Peterson ran for 210 yards.
This time around, the Green Bay defense will do a better job, limiting the Pro Bowl workhorse to 114 yards on the ground and giving Peterson 2,012 yards rushing in 2012. But other than defensive end Jared Allen, Minnesota has no answers for Packers' quarterback Aaron Rodgers, who will overcome three Allen sacks by throwing for 319 and four scores in a 31-19 win.
Congratulations to Peterson for what has been one of the great performances, as well as comeback stories, in league history.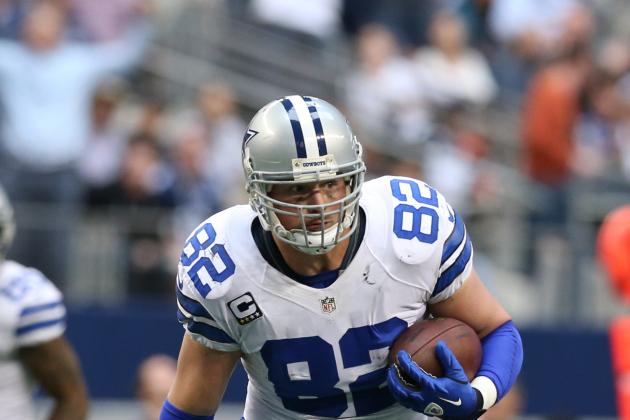 USA TODAY Sports

First things first, please.
The Dallas Cowboys are 2-1 in their last three Week 17 games.
The Washington Redskins have lost their last four regular-season finales.
In any case, it doesn't get much better than these two tremendous franchises and longtime rivals being in position for a winner-take-all game for the NFC East title.
The Pokes last won their division in 2009, while the 'Skins last captured the NFC East back in 1999 when it was made up of five teams in a league with just six divisions.
One of the big reasons for Washington's success this season has been efficiency. Mike Shanahan's team has committed a league-low 14 turnovers (down from 35 in 2011).
Still, it's interesting to note that four of those 14 miscues came in one game, a loss to the Giants in Week 7 in New Jersey.
Call it a hunch, but the turnover bug might be hungry once again this Sunday night at FedExField. Dallas' battered defense will come up with three interceptions of Robert Griffin III, and a pair of sacks will result in two more turnovers by the Washington quarterback as Jason Garrett's much-maligned club goes into D.C. and comes away with a 20-14 win.
Now, how 'bout them Cowboys?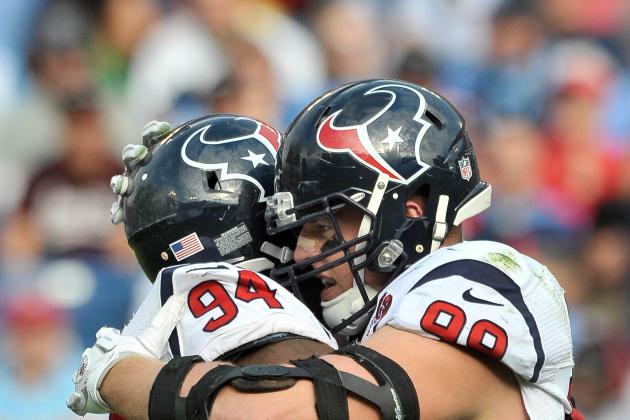 Jim Brown-USA TODAY Sports

Upon further review, we have a new sack champion (at least since 1982).
On Tuesday, there is an error discovered in the scoring of the Houston Texans-Indianapolis Colts game in which defensive and Antonio Smith was inadvertently credited with a sack that belonged to teammate J.J. Watt.
Smith wears No. 94, Watt No. 99. Hey, it happens.
Hence, the Pro Bowl defender winds up with 23.5 sacks, establishing a new mark that unfortunately doesn't recognize the first 60-plus years of the league. Perhaps one day some statistical backtracking will solve this issue.
So, congratulations to the Texans' star defender. Why? So when someone asks who owns the NFL sack record, you can say Watt.